First, let me get this out of the way, it's pronounced Poo-ket, not Fuk-it, not Foo-ket, it's Poo-ket. Now we can move on.
Phuket is one of the most popular destinations in Thailand. It's the biggest island in the country, with a lot of different beach towns. Each beach has a different vibe, so choosing the best areas to stay in Phuket is essential. Picking the wrong one could make or break your holiday. Trust me on this.
Phuket is legendary. When you think of it, idyllic beaches and all-night parties come to mind. Not gonna lie, I'm a fan of that duo. But that's not the reason we go to Phuket. We travel there because it's a paradise where you can find the beach of your dreams. From party beaches to secluded beaches and everything in between; Phuket has it all.
Some of Phuket's beaches look picture perfect. Almost too perfect, sometimes they seem photoshopped. But I am here to tell you these breathtaking places exist!
If Phuket isn't on your radar because you heard it's too touristy, it should be because you've heard wrong. Yes, there are places like Patong where there are more farangs (foreigners) than locals. But go to Nai Yang or Nai Harn, and it's the opposite. Read more about the unusual things to do in Phuket-away from the crowds.
This is a guide to get you moving in the right direction.
Phuket-It has something for everyone.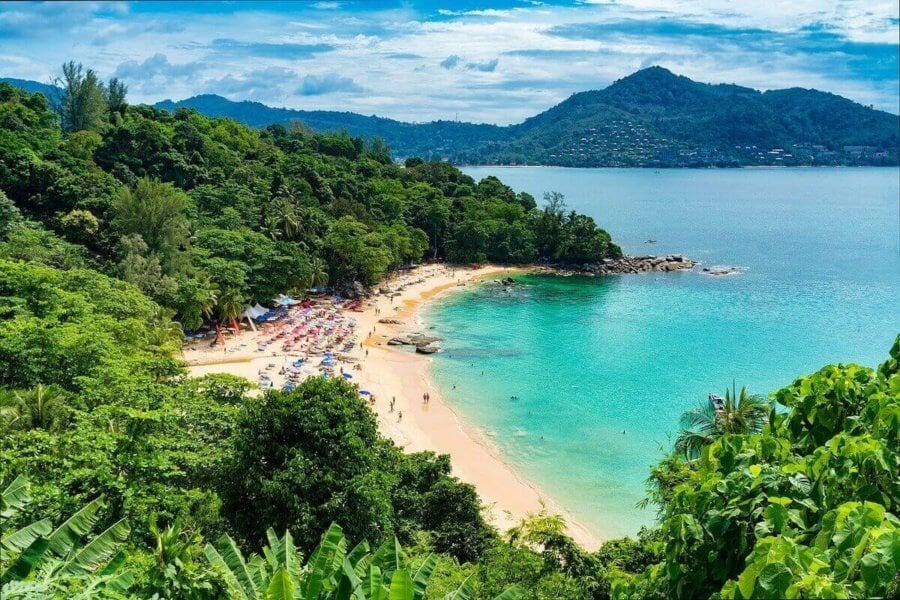 If you'd rather vacation near more locals and soak in the Thai lifestyle, head to Nai Harn. Do you want to hang out at the beach all day and party all night? That's Patong. Just want to listen to the waves lapping against the shore while you're getting a massage? That's Nai Yang.
That's the thing; Phuket can be for everyone; it just depends on what you desire.
This is not an island where you will be bored or feel stir crazy; there is a lot to explore. Besides the striking beaches, there are waterfalls and national parks, colorful local markets, award-winning golf courses, Taoist and Buddhist temples, postcard-worthy views, ladyboy cabaret shows, gibbon and elephant sanctuaries, museums, and culture abound.
Pull off the road towards the ocean, and you will likely find yourself in a small little cove with few if any others. On the other hand, if you're on a more popular beach, you'll be having sundowners with your new friends.
Phuket is big enough to explore and get off the beaten path while staying in a well-trodden one.
This post is going to give you all the nitty-gritty, not just the best areas to stay in Phuket.
There is a lot of great info here (if I don't say so myself). Grab a glass of wine and dive into my complete travel guide to Phuket.

Nai Yang–one of the best areas to stay in Phuket
It is my favorite secret paradise.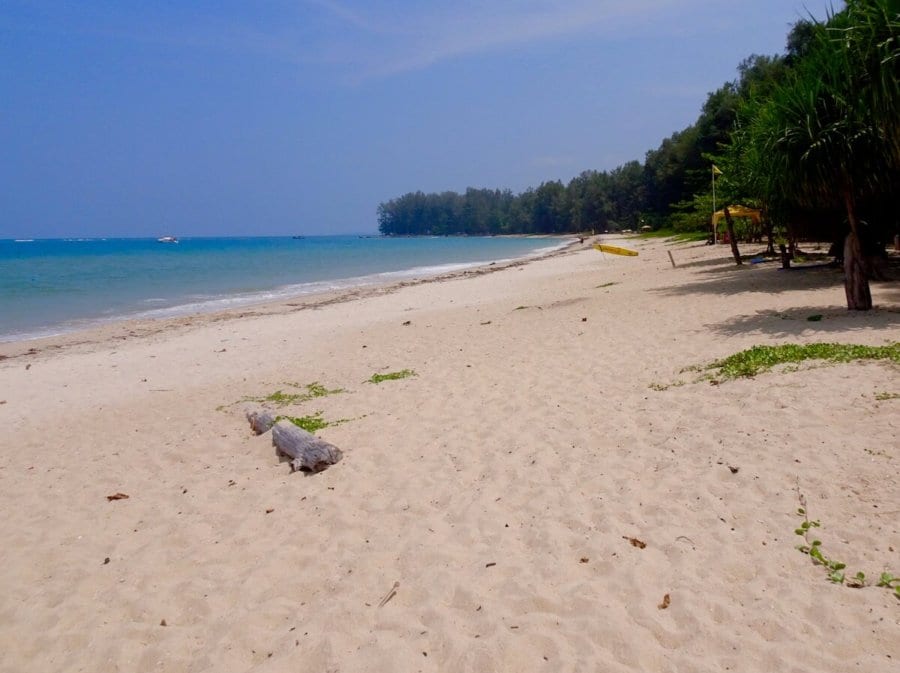 This slice of utopia is only 10 minutes from the airport. Yet somehow the masses have overlooked it… for now. How it has remained undiscovered is a mystery to me, but I'm happy that it has. The beach is practically empty; the water is calm and warm, and usually very clear.
It is worlds away from the party areas to the south. If you're looking for that, keep driving.
Sirinath National Park, which is marine and land-based, runs along the coast here which assures that there will be no development in the north of Nai Yang. From November to February, sea turtles nest and lay eggs on the beaches, which is why it's so important that no land development occurs.
Who's it for?
Nai Yang is for people who want to get away from it all. If all you want to do is read a book and listen to the waves, this beach is for you. There are only a few bars, restaurants, and spas in the area, the whole vibe is pretty mellow.
Things to see and do in Nai Yang:
Get a massage at any one of the little shops on the beachfront, or right on your beach mat. If you prefer something more luxurious, go to the Coqoon Spa at the Slate to get pampered in a Birds Nest.
Explore the Sirinath National Park.
Be extremely lazy. Sleep on the beach while getting a rubdown.
Where to stay in Nai Yang?
Budget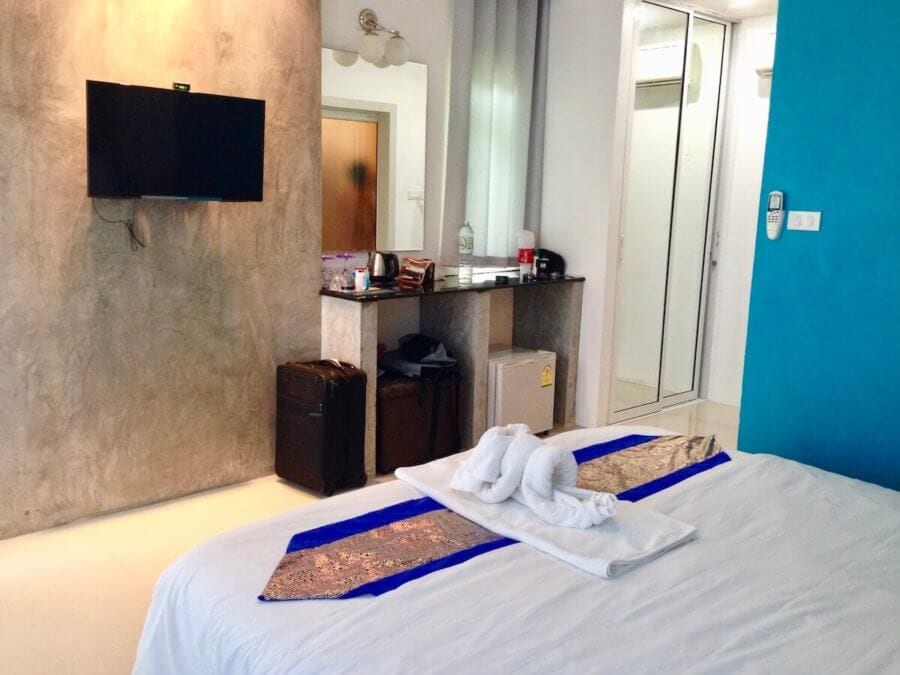 TT Nai Yang has these little concrete bungalows directly on the beach. They are clean and basic and not fancy by any means. Take one step out your door, and your feet will be in the sand. Within a minute of walking, you can be in the water. There are no amenities, and with only a few bungalows, it's a good idea to book ahead. Get the best rates here.
They do have another hotel down the beach with the same name, so when you are booking, be sure to get the beach bungalows as opposed to the multi-unit hotel.
Mid-range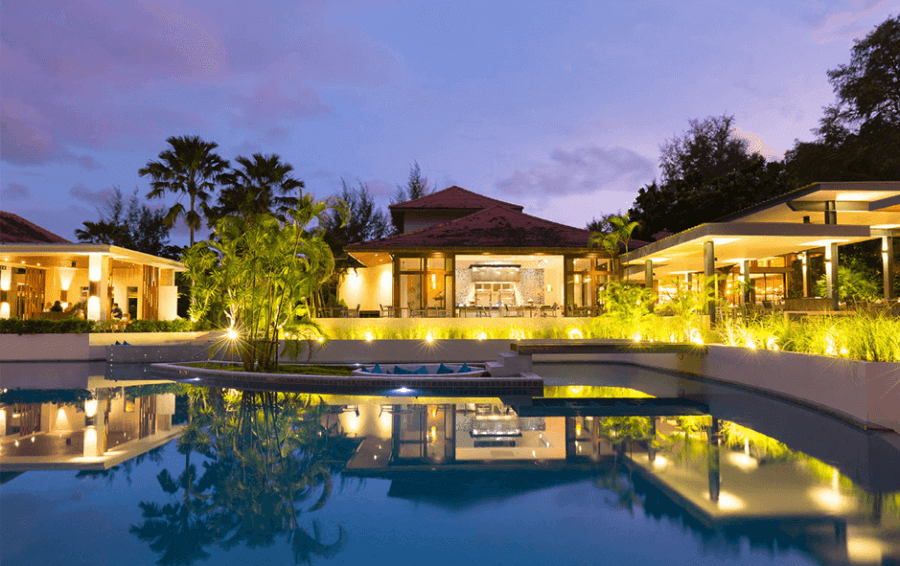 The Dewa Hotel is quiet and has all the amenities of a 4-star resort but at reasonable prices. It is just a little walk to the beach and center of town. They have a lovely spa, a large pool and a couple of restaurants on site.
The Dewa website lets you bid on rooms; we got ours for about US$50, it is worth giving that a try. Otherwise, Agoda is the way to go, they are always the cheapest. Find the cheapest rates here.
Luxury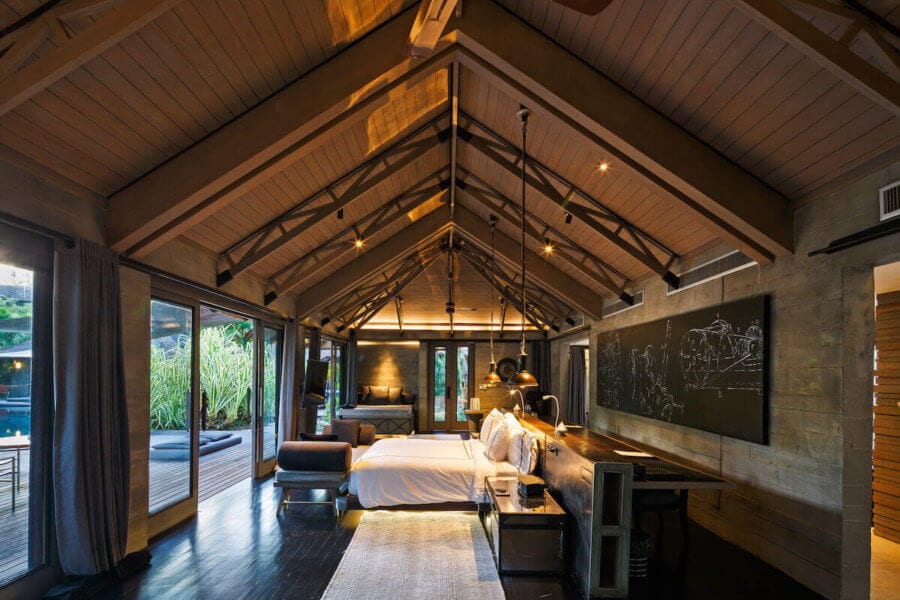 The Slate is the ultimate in indulgence. It is 5-star and one of the top hotels in Phuket. Every amenity you could ever dream of has been thought of tenfold. The Bill Bensley designed hotel is a masterpiece and a member of Design Hotels.
The all-suite hotel has 177 rooms, eight restaurants and bars, three pools, a beach club, an art gallery, and an award-winning spa. Check out the lowest rates here.
Where to eat in Nai Yang?
There isn't a lot to choose from in Nai Yang, but Good View, Phens, and Peony Café are my top choices for cheap local eats.
For fancier fare in a stunning setting try any of The Slate's restaurants.
Best bar in town is Wat's Bar.
What's the catch?
Nai Yang is far away from everything but the airport. If you plan to go into Patong for a party or shopping, it's about an hour drive.
Bangtao–the best place to stay if you like big resorts and golfing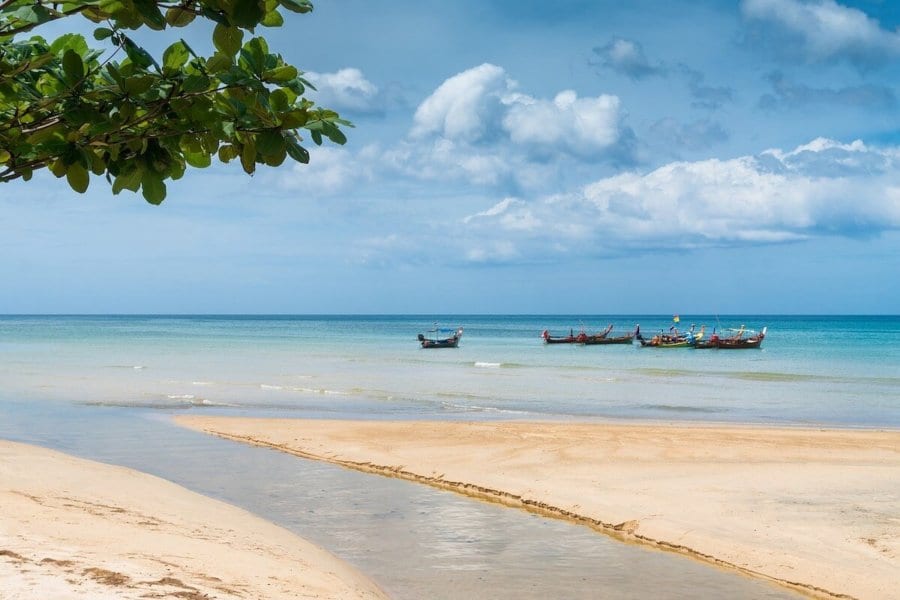 Right in the middle of the west coast, 30 minutes from the airport is Bangtao. It is known for its six-and-a-half kilometer (4 mile) stretch of uninterrupted beach that's perfect for lazing or just sipping a cocktail and watching the sunset. It's not a touristy beach area with stall after stall hawking sarongs and sunscreen. That is why this is one of the best areas to stay in Phuket.
It is also home to one of the finest golf courses on the island.
There is a large expat population here because it has a little bit of everything for everyone. There are great restaurants and bars, local markets, and a stunning beach. What more could you need?
Who's it for?
Beach lovers who want a little nightlife but without the party. It can be a bit upscale; expect those kinds of prices at some of the traveler focused places.
Things to see and do in Bangtao:
Go golfing at Laguna Phuket Golf Club.
Spend the day at a beach club–Dream or Catch Beach Clubs are the best.
Go shopping at Boat Avenue.
Learn to wakeboard at Anthem Wake Park.
Visit a temple–Wat Cherng Talay is the spiritual center of the area and has been around for almost a century.
Go horseback riding on the beach with Phuket International Horse Club.
Get pampered–pick from any number of spas in the area. The nicest ones are at the high-end hotels.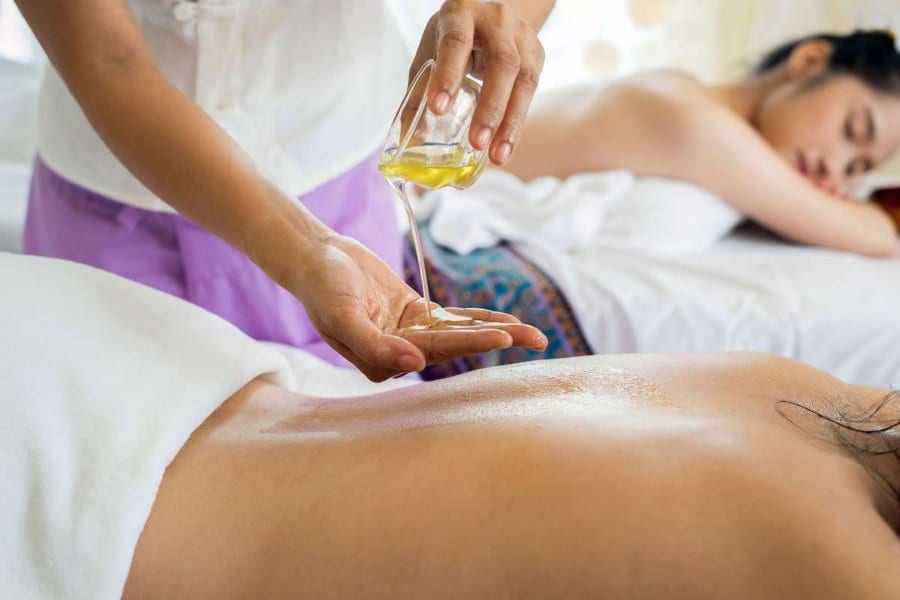 Where to stay in Bangtao?
Budget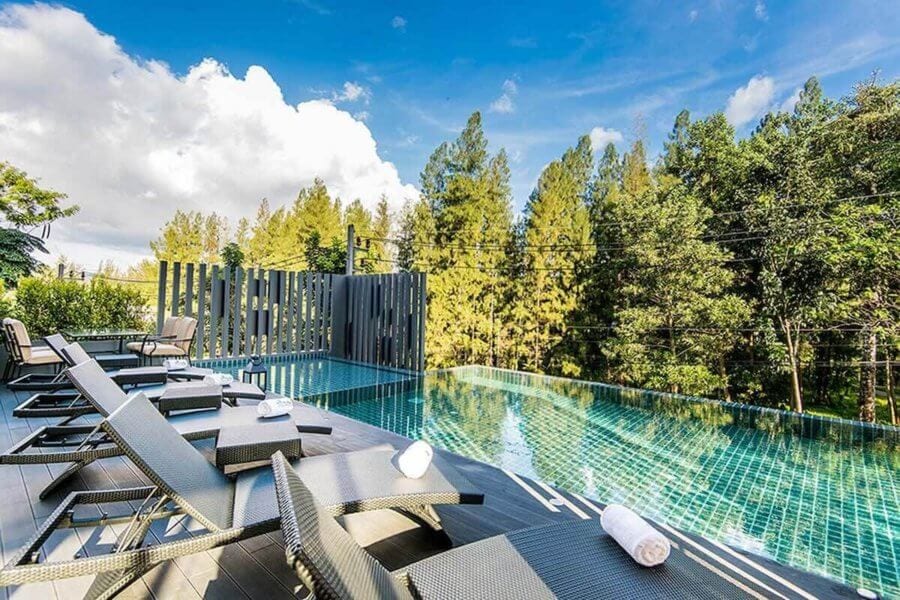 There are more lavish accommodations here than some of the other areas, so finding budget hotels can be tricky. Check out Hill Myna Condotel. It is a small hotel. All the rooms have kitchenettes, which helps keep the budget down, and balconies. There is a pool, a gym, free parking, and bike rentals. Find the best rates here.
Mid-range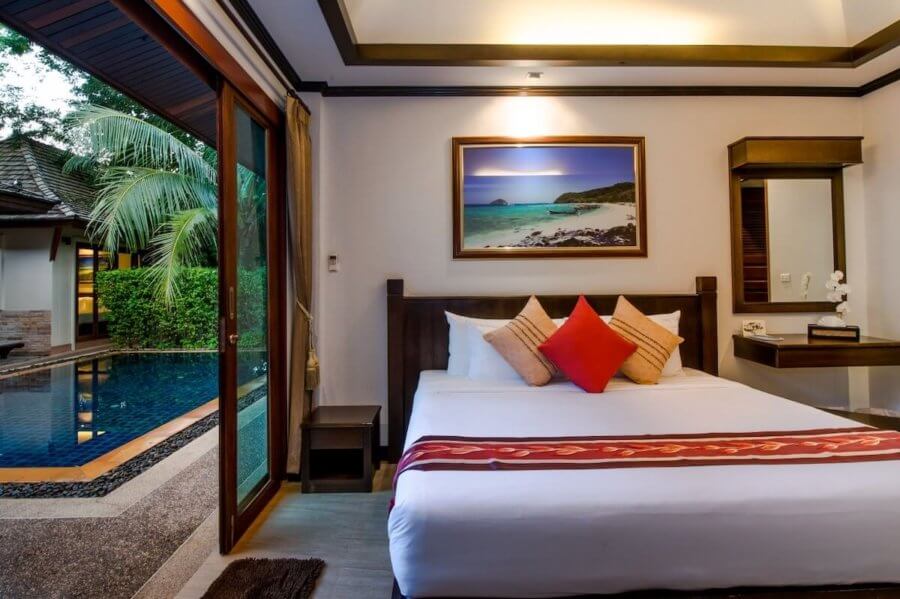 Pai Tan Villas is a small hotel with only 11 villas that are built around two pools; some villas have direct pool access. There is a lovely garden to stroll through as well as free wifi. Get the best rates here.
Luxury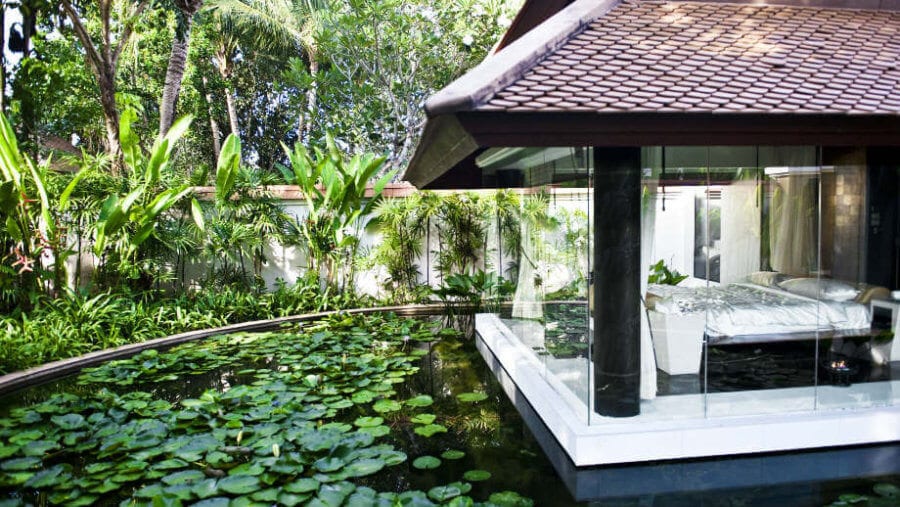 Banyan Tree Spa Sanctuary is as luxurious as it gets. Each of the 12 villas has a private pool nestled into gardens and near the lagoon. It is the perfect blend of nature and modern extravagance. Look for the best rates here.
Where to eat in Bangtao?
Have a drink at Beerbox at Boat Avenue, a quirky container mall surrounded by high-end shopping and restaurants. They have a night market on Fridays; you can get cheap eats there.
Eat Tapas at Divino.
There is no shortage of fine dining–Siam Supper Club, Black Cat, Tre.
Pru–the only Michelin starred restaurant in Phuket.
Red Sun Bar is right on the beach and my fave in the area. Nestie, the owner, makes you feel like you've been besties for a lifetime.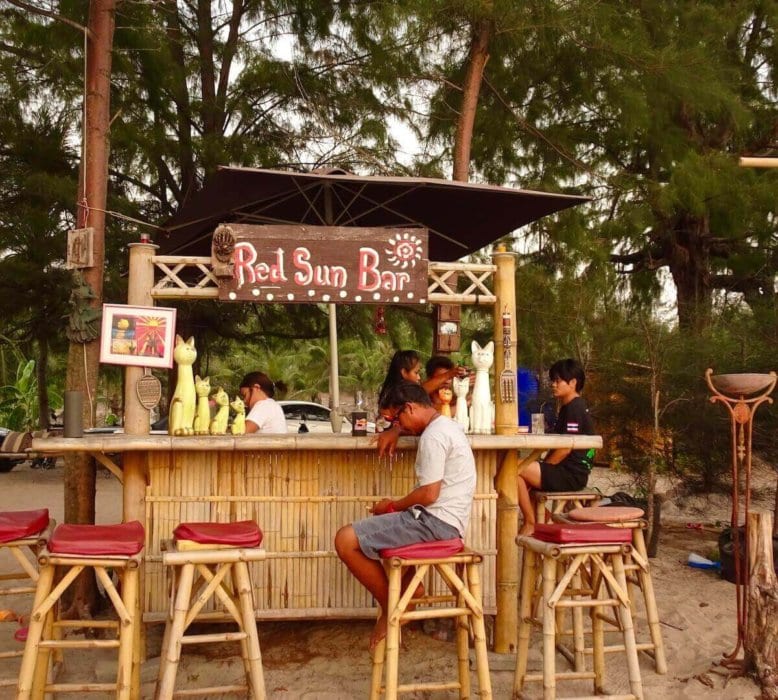 What's the catch?
It is 30 minutes into Patong, so if you plan to have a party night, you'll have to taxi or tuk-tuk into town. It is a more affluent area. Sometimes things aren't as affordable as at the other beaches.
Surin–the best area to stay in Phuket for a quiet holiday
This area is called Millionaires Row because of all the celebs and super-wealthy that have mansions there. It is just to the south of Bangtao, and the beach is like a postcard with fine white sand and sparkling turquoise water. You can snorkel along the northern part of the beach.
Who's it for?
Anyone looking to get away from it all and possibly see celebs like Madonna…she owns a home there. If you prefer luxury and high-end vacations with a quiet atmosphere, Surin may be one of the best areas for you to stay in Phuket.
Things to see and do in Surin:
Relaxing on a quiet beach
Celeb spotting
Surfing
Snorkeling
Take a cooking class
Hang out at Catch Beach Club
Where to stay in Surin?
Budget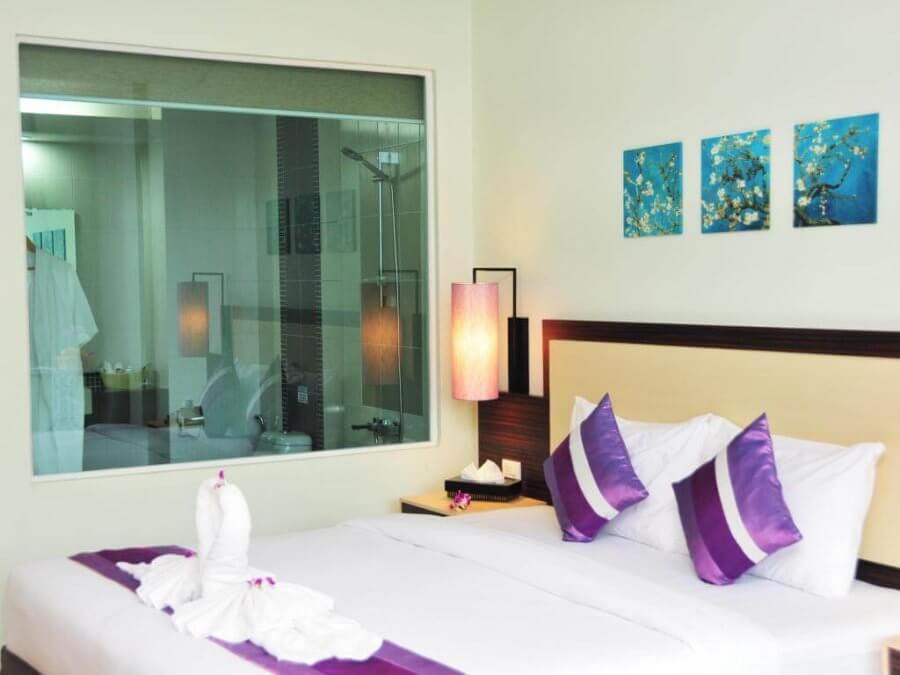 AM Surin is just a four-minute walk to the beach. The rooms are quite big and very clean. It has free wifi and a swimming pool. See the best rates here.
Mid-range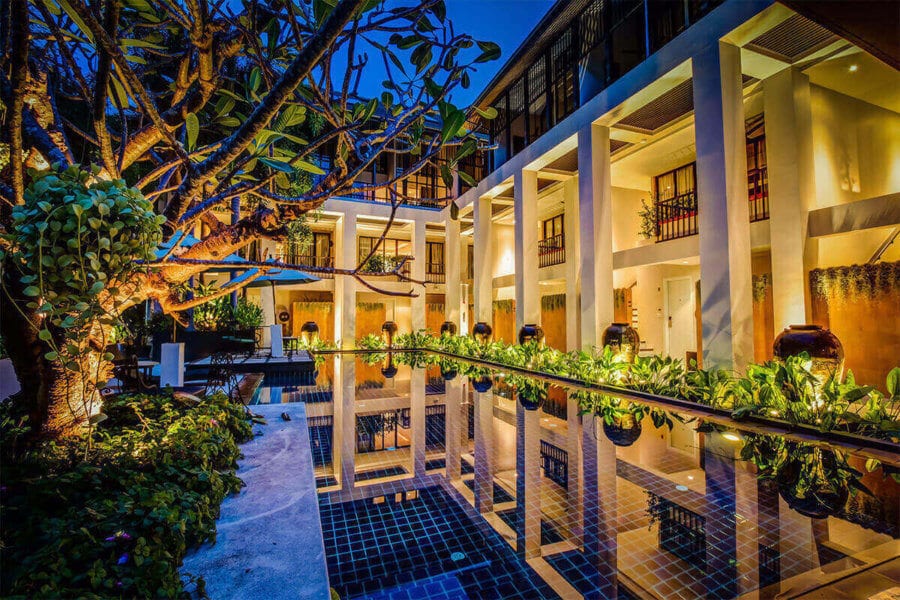 Manathai has beautiful lush grounds to explore. There are lotus ponds and exotic flowers, a pool, and it's right near the beach. They have umbrellas and mats that you can take to the beach. Find the best rates here. 
Luxury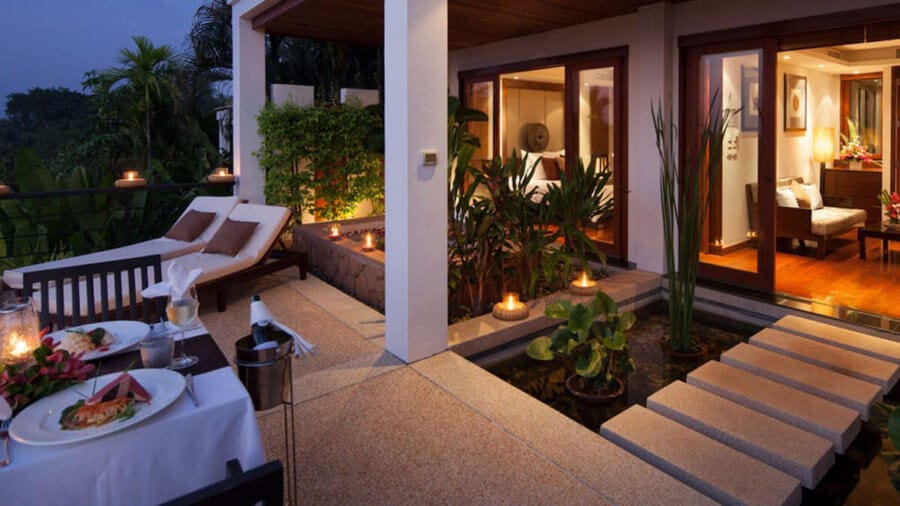 Ayara Hilltops is adults Only has 48 luxury suites set into luscious gardens. It is only a three-minute walk to the beach. Have a glass of bubbly in your private tub strewn flowers while watching the sunset. See the best rates here.
Where to eat in Surin?
Head to the market for cheap local eats.
D Restaurant has delicious and reasonably priced seafood as well as Thai food.
There are loads of fine dining places at high-end hotels near the beach, especially Twin Palms.
What's the catch?
There isn't any nightlife, if that is what you want, this isn't the best area to stay in Phuket. The sea is calm from December to April but can be rough in the low season.
Patong–the best area to stay in Phuket for the all-night party

Patong certainly has a notorious reputation. But outside Bangla Road, the one scandalous street, Patong is where most of the tourist action is at. This is the central hub of the island, so if you want to go shopping, this is your town. The Jungceylon and Central Festival malls are a shoppers paradise.
The beaches are stunning and action-packed with vendors, jet skis, and parasailing. Patong is where the densest concentration of bars and clubs are on the island.
Who's it for?
Anyone who is there to party and lay on the beach.
Things to see and do in Patong:
Hang out at the beach
Party
Go shopping
Surf in a bar
Explore the raunchy Bangla Road (when in Rome, right?)
Catch a Muay Thai fight at the Bangla Boxing Stadium
Watersports-surf, jet ski, parasailing, stand up paddleboard
Where to stay in Patong?
Budget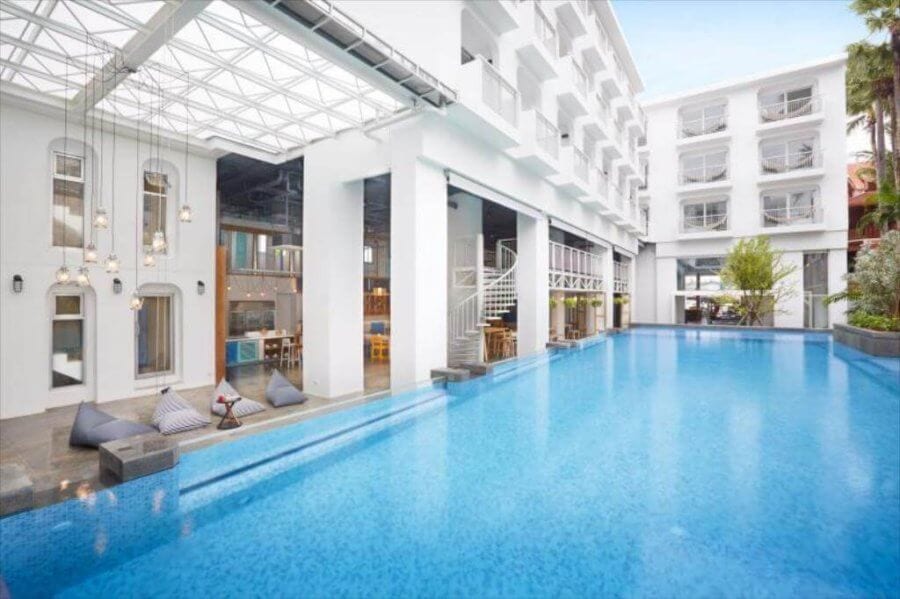 Lub d Phuket is a hostel and a hotel. It is enormous, has a dorm and private rooms; both are air-conditioned. There is a co-working space and a pool even though you are steps away from the beach. Get the best rates here.
Mid-range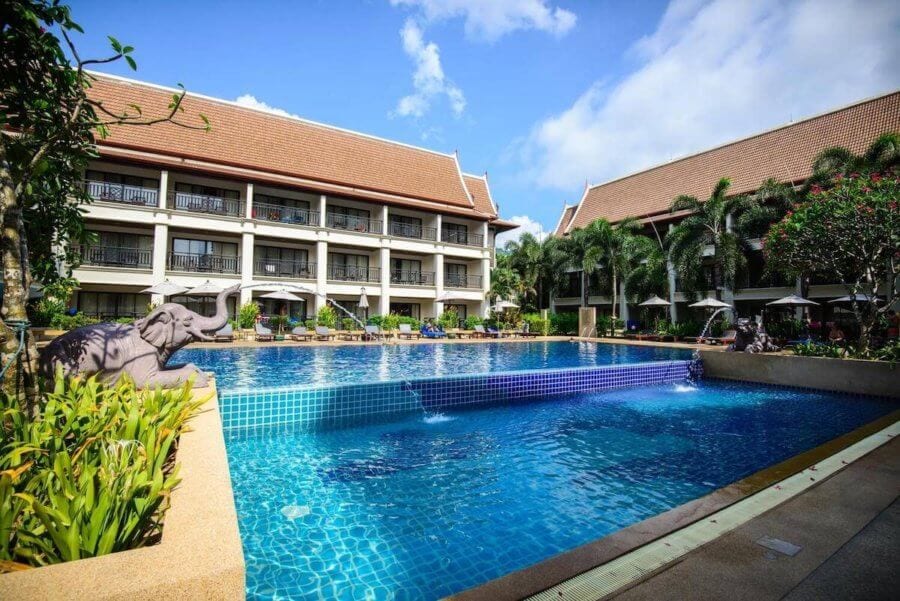 Deevana Patong Resort and Spa is only a five-minute walk from Patong beach, but it feels like a world away because it is nestled into a luscious garden. There is a spa, fitness center, two pools, and two restaurants. There is also a shuttle into town if you don't feel like walking. Get the best rate here.
Luxury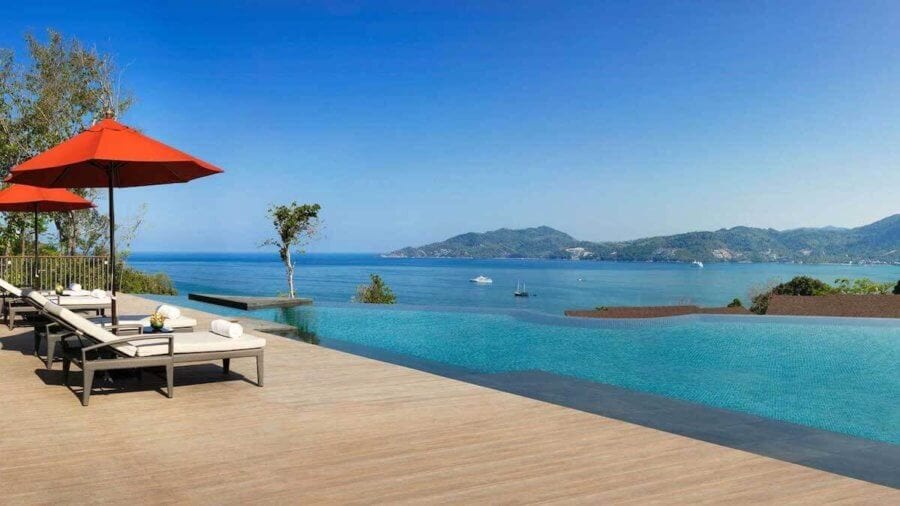 The 5-star Amari hotel is the epitome of luxury. From its private beach to the infinity pool, you'll never want to leave. There are two pools, a fitness center, a jetted tub, and multiple bars and restaurants. Find the best rate here.
Where to eat in Patong?
Malin Plaza is a market selling cheap fruits and local food.
Halfway Inn has good Thai food.
Doo Dee (unfortunate name) has great affordable seafood. Try the curry crab.
King Kong for live music and fun atmosphere.
Yam Thai for really delish affordable seafood.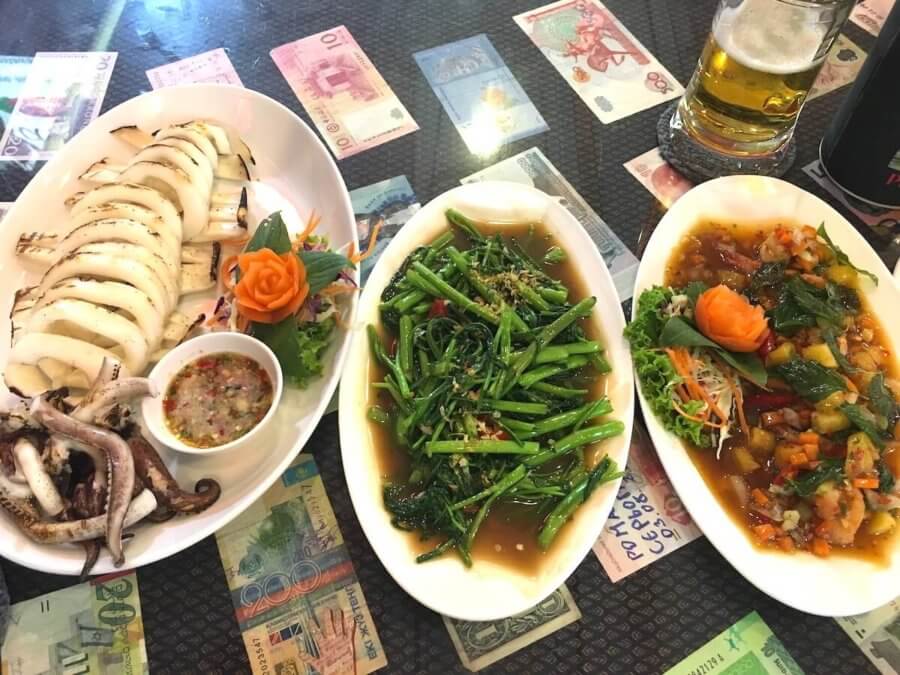 What's the catch?
It's very touristy. It isn't the most authentic neighborhood on the island, but if you aren't looking for culture, then you might not care. Bangla Road is seedy and not for the prudish or easily shocked. If you can't handle that, then this is n not the best area for you to stay in Phuket. Also, you will be hassled by vendors trying to get you into their stores/restaurants/bars.
Karon–the best area to stay in Phuket for nightlife without all the nasty
This area is just south of Patong and kind of like its little sister. It has loads to do, plenty of restaurants, and it isn't seedy like Patong can be. The beach is long and lovely and has gorgeous fine sand. It can get crowded, but since it is so long and wide, it never seems to be congested.
Who's it for?
Someone who wants the nightlife without the salaciousness. It's busy but not frenetic. It is a happy medium, and therefore, it's one of the best areas to stay in Phuket.
Things to see and do in Karon: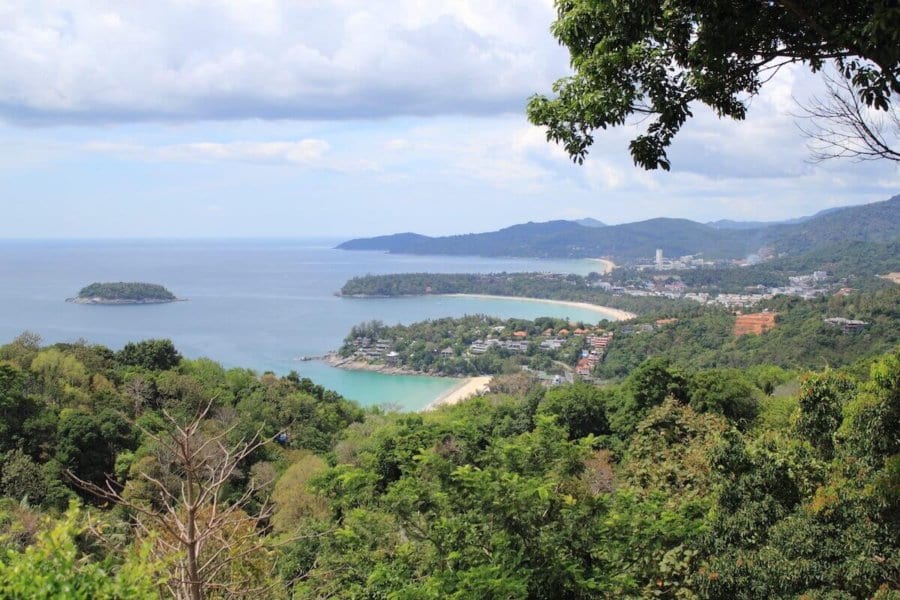 Learn to dive.
Snorkel off the beach.
Hang out at Coast Beach Club.
Watersports without the crowds-paddle boarding, kayaking, or floating on an inflatable flamingo (that's a sport, right?)
Visit a temple-Wat Suwan Khiri Khet or Wat Karon.
Take a hike to the Karon/Kata Viewpoint.
Go to the market to try exotic insects (and the not so strange things like noodles and pancakes).
Go to Dino Park for mini-golf.
Get muddy with ATV Karon.
Take a cooking class at the Centara Karon.
Where to stay in Karon?
Budget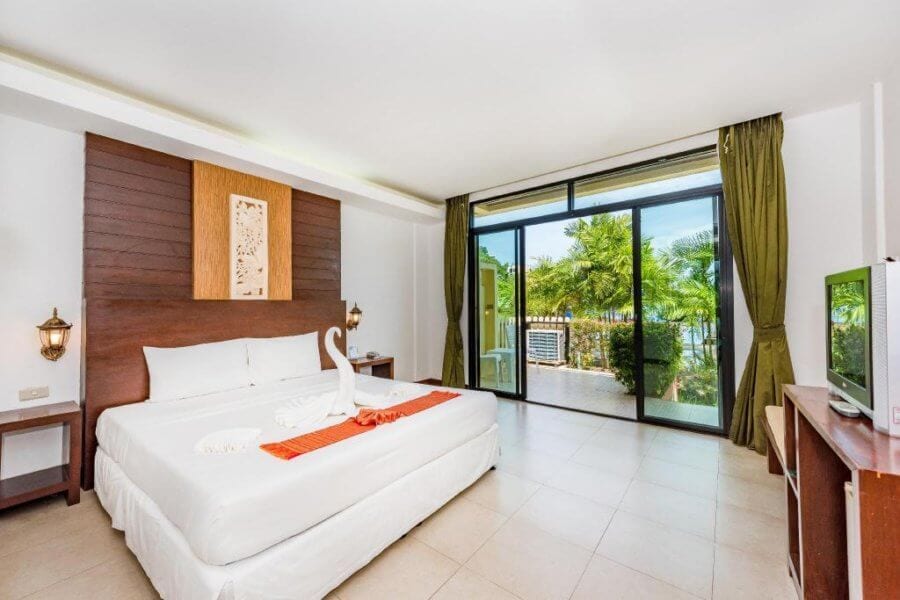 The Manohra Cozy Resort is a small boutique resort with 29 rooms spread over two wings. The rooms have balconies or patios and free wifi. It's about 2 km from the beach, but they have a free shuttle to take you back and forth. Check for the best rate here.
Mid-range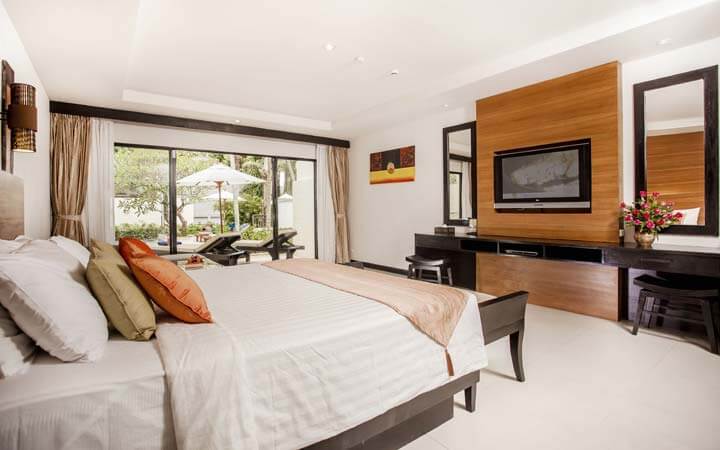 Located up on Karon Hill, the Horizon Karon Beach is quiet and private. They have tuk-tuks to get you to town. They have an adults-only wing, the Club Wing, which is more luxurious and has a private pool and jacuzzi. Find your best rate here.
The Horizon Wing has traditional Thai designed rooms with private balconies.
There are three pools in total to choose from; two have swim-up bars.
Luxury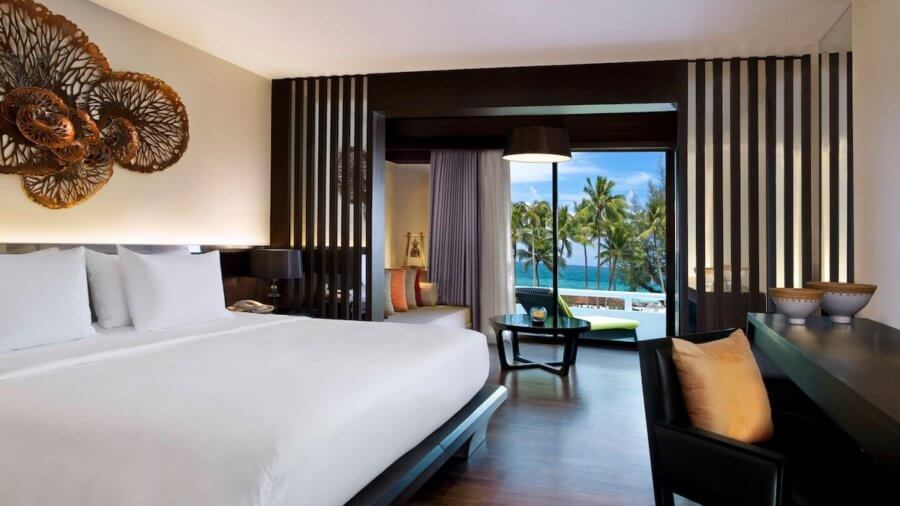 Le Meridien Phuket Beach Resort is a prestigious hotel chain that offers unparalleled luxury. It's a mega-resort but never feels crowded. There are 10 restaurants, two massive pools, a spa, a private beach, and a private yacht. You'll want for nothing there. Get your best rate here.
Where to eat in Karon?
Go to the market for cheap eats
Pad Thai Shop
Ging for local Thai seafood
Two Chefs for all different types of cuisine
Eat Bar and Grill for western food
Coast Beach Club for sundowners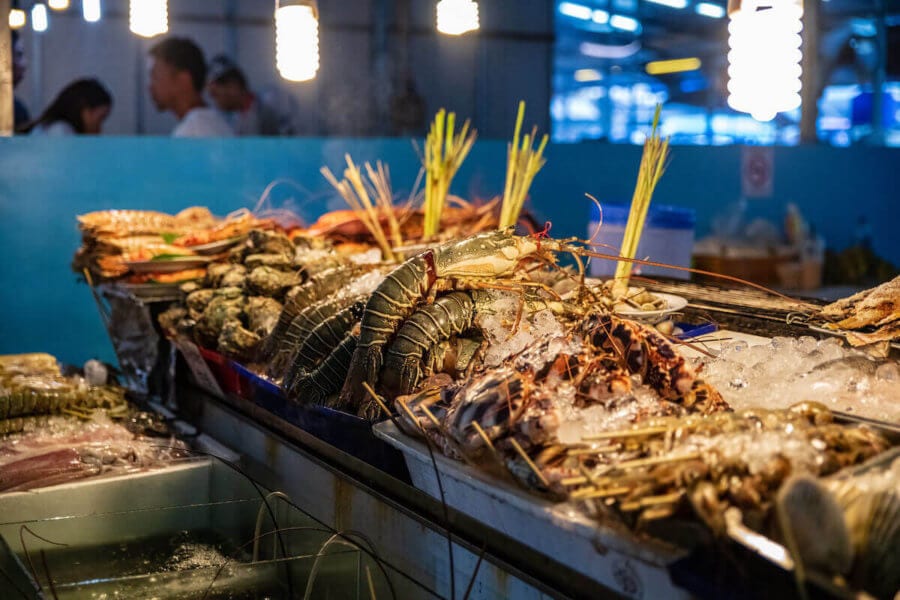 What's the catch?
Karon still has a party atmosphere, and it can get boisterous in high season. It is a bit spread out so stay in the center, or make sure your hotel has a shuttle into the main area.
Kata–the best area to stay with your kids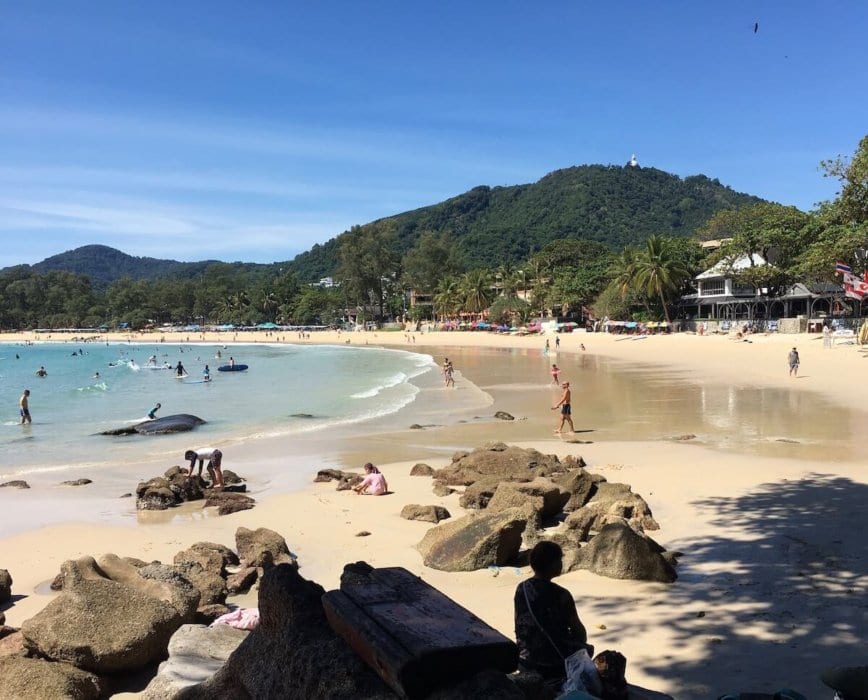 Just south of Karon is Kata. It is smaller, less hectic, and has more of a laid-back vibe than the beaches to the north. However, there is still plenty to do. There are loads of restaurants and some tame bars to check out. You won't be bored.
Kata Beach is wide with golden sand and an excellent place to learn to surf from May to November.
It is also very family-friendly, so if you are looking for a romantic getaway, this may not be the place.
Who's it for?
Families and people who want to be near all the action but not stay in it. People who enjoy the beaches and want some nightlife without the raunchy side of things.
Things to see and do in Kata: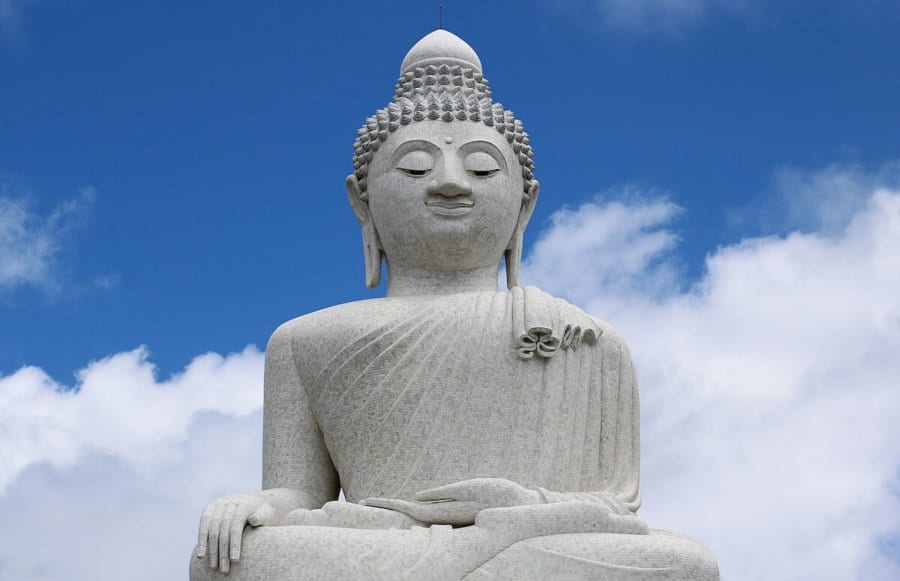 Take a surf lesson.
Watch the sunset and fire dancers at Ska bar.
Visit the Big Buddha.
Take a hike to the Karon/Kata Viewpoint.
Stand Up Paddleboard from Dec-May when the seas are calm.
Take a cocktail class or Thai cooking class at The Boathouse.
Visit Kata Temple (Wat Kittisankaram), it was built almost two centuries ago.
Where to stay in Kata?
Budget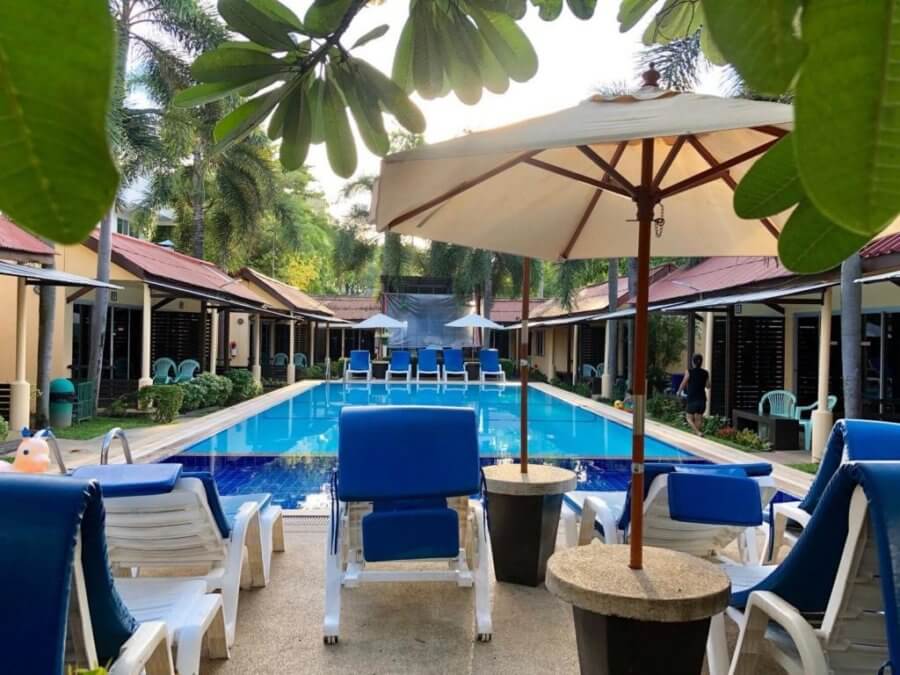 Rico's Bungalows, a small hotel, has a pool and a garden, perfect for unwinding after a long day of travel or exploring. The location is excellent; just a few minutes walking to the beach and market. See your best rate here.
Mid-range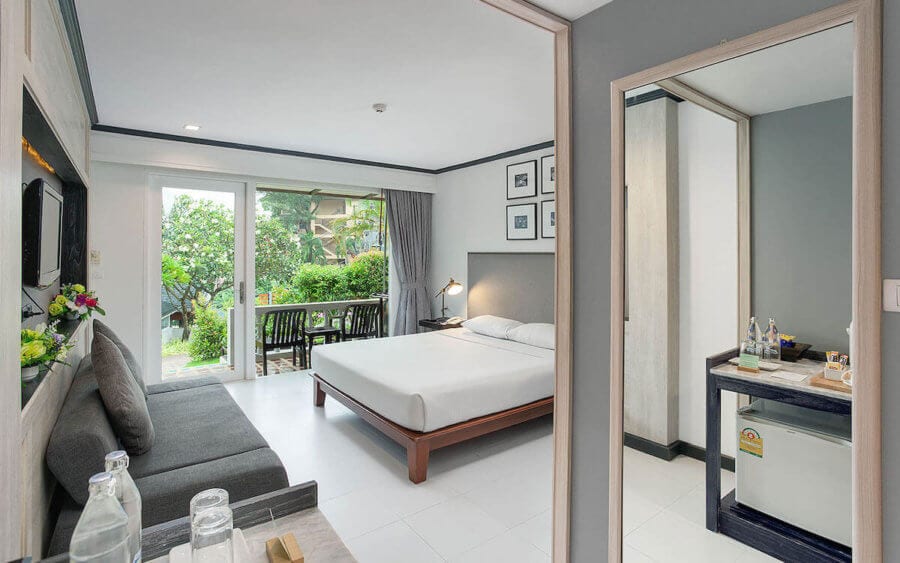 This newly renovated Orchidacea Resort is only 200 meters to the beach. All the rooms have a lovely balcony, and some have sea views. There is a pool and a restaurant on site. Get the best rates here.
Luxury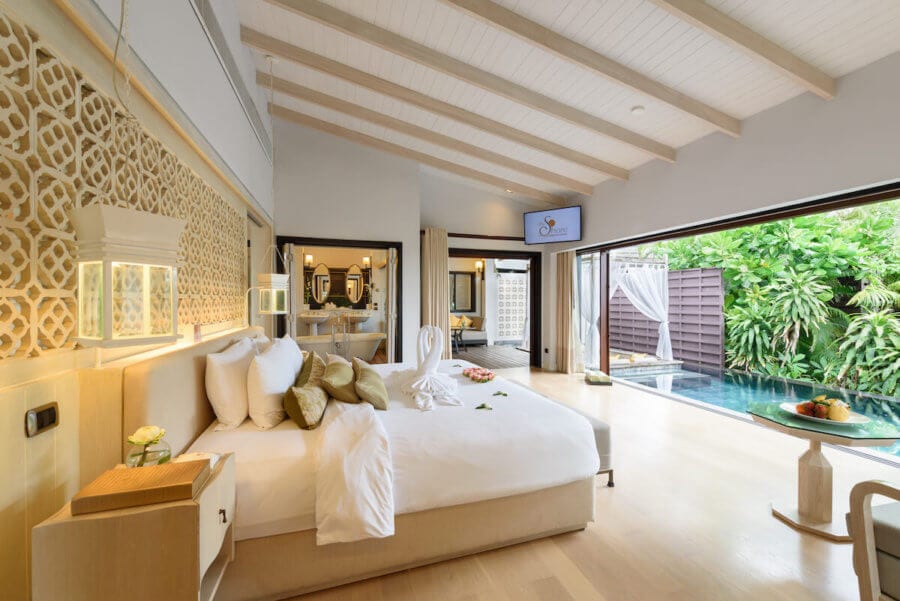 The Shore at Katathani, an award-winning resort, is for adults-only, making this a perfect choice for the ultimate couples getaway. It is one of the best places to stay on the island. It is secluded, and each villa is set into a lush garden and has a private infinity pool with views of the Kata Noi Beach. See the best rates here.
Where to eat in Kata?
The market is always the best for cheap local foods.
Eat Thai and seafood at the restaurants at the southern end of the beach. There are a few right next to each other and are all about the same.
Red Chair Café for Thai.
Moms Tri Kitchen for fine dining.
Kata Rocks for dinner with a view.
Heaven and Ska Bar for sundowners.
What's the catch?
The sea can get rough from May-November, which is beneficial for surfers, but not for swimmers. If you do go for a swim, find a spot away from the newbie surfers. The last thing you need on your holiday is to be run over or smacked with a surfboard.
Nai Harn–the best area to stay in Phuket for romance
This southern beach is a lot more mellow than its northern neighbors. There aren't a lot of big hotels, so it's not very touristy. You'll be able to get a feel for authentic Thailand.
Who's it for?
People who are seeking a real escape and want a genuine feel of Thailand. If you would rather read a book and snorkel off the beach than stay up all night partying, head to Nai Harn.
Things to see and do in Nai Harn:
Grab a snorkel and look for Nemo. The best areas are right in front of The Nai Harn resort and at the northern end of the beach.
Find the freshwater lagoon inland, just behind the beach.
Go for a surf.
Take in a viewpoint-Promthep Cape and Windmill Viewpoint.
Check out the Elephant Shrine at Promethep Cape.
Visit the Nai Harn Monastery.
Find the secret Ao Sane Beach.
Where to stay in Nai Harn?
Budget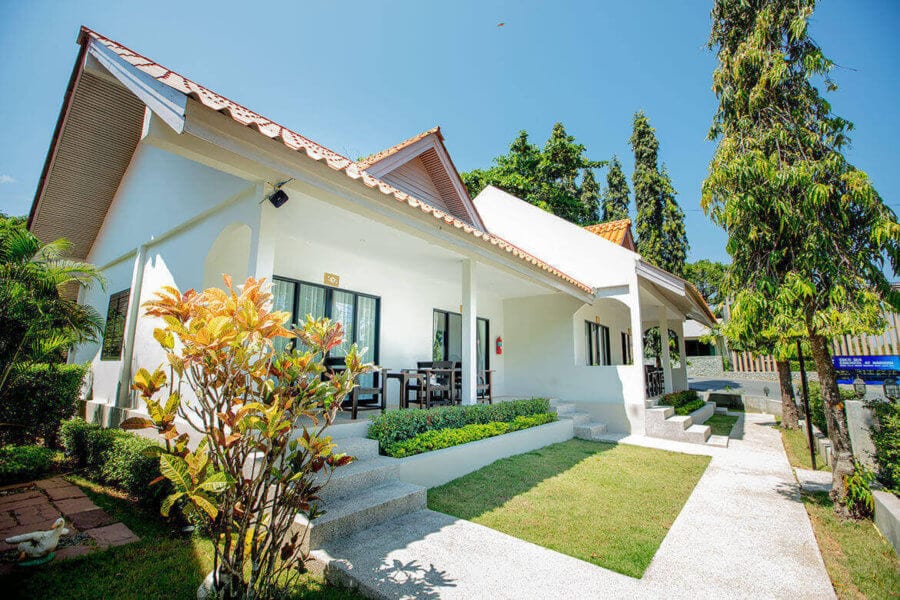 Naiharn Beach Resort is a small 20 bungalow hotel that was recently renovated. There is a saltwater pool and its just minutes to the beach. Find your best rates here.
Mid-range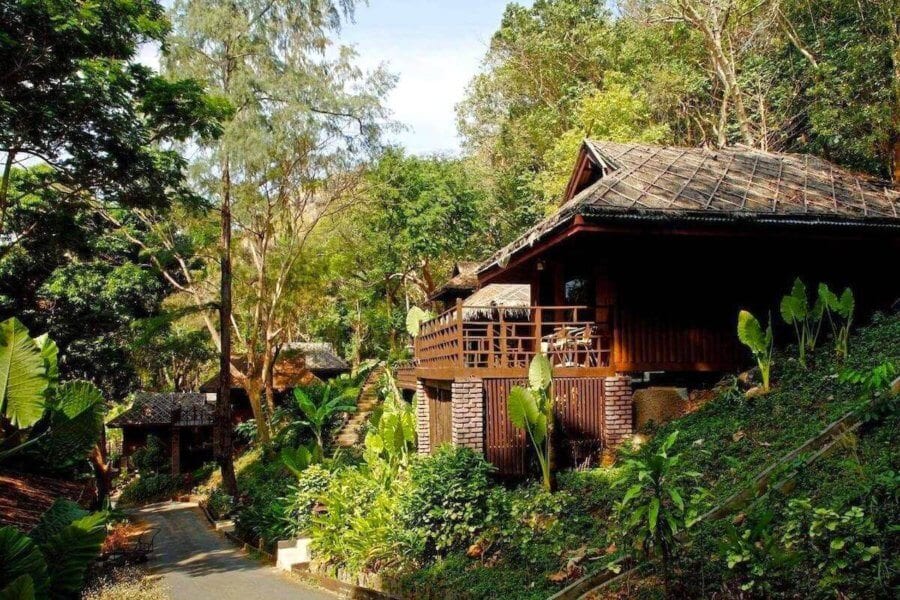 Baan Krating Phuket Resort has cute thatched-roof bungalows in the middle of the jungle. It makes you feel like you have the whole place to yourself. There is a restaurant and a pool if you don't feel like going to the beach, which is only a five-minute walk. Look for the best rates here.
Luxury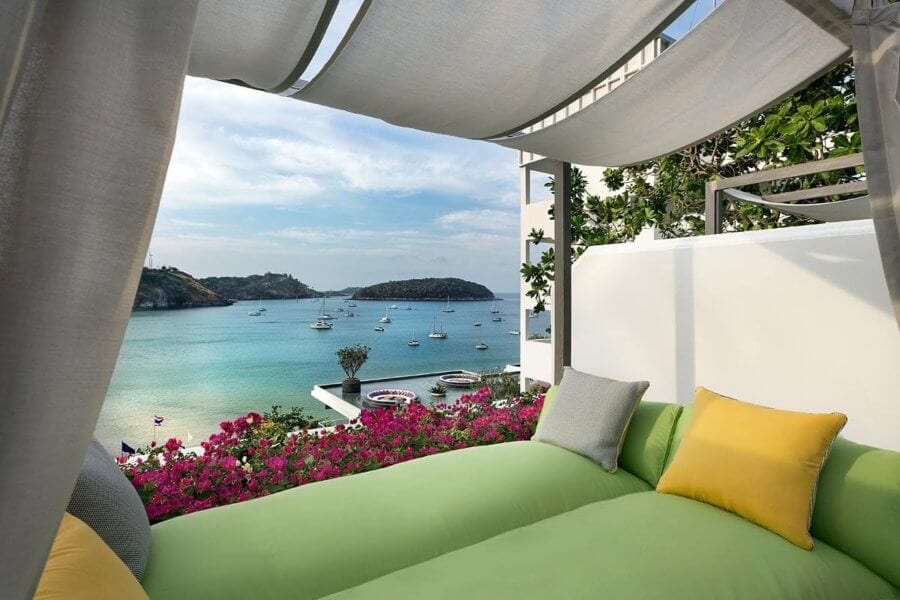 The Nai Harn, a 5-star resort, will impress you from the get-go. How could it not with a Press for Champagne button, private terraces, hot tubs, and four-poster daybeds with views over the bay. It's romantic and relaxing… you may never leave. Get the best rates here.
Where to eat in Nai Harn?
Cosmo Restaurant
Rock Salt for fine dining (and sundowners) with an incredible view
Catfish Café for Thai
Mama Seafood
What's the catch?
There is no nightlife, and it's far away from the parties of Patong. It is more than an hour drive from the airport.
---
Want to know more about Southeast Asia? Read this. Or are you more interested in Greece?
Don't care about either? Read this.
---
The Nitty
Where is it?

Phuket is located in Southern Thailand and surrounded by the crystal clear waters of the Andaman Sea. It is 48 km (30 miles) long and 21 wide (13 miles). It is 860 kilometers from southwest of Bangkok.
Language:
Thai is the native language. However, tourism is the leading industry in Thailand, with more than 30 million visitors a year. And because it is one of the largest sources of income for many locals, almost everyone speaks some level of English. That doesn't mean you won't have to play charades to get your point across, especially if you are off the tourist path.
Money:
Thai Baht is the currency. There are ATM's all over the island as well as currency exchanges. Hotels and restaurants accept major credit cards. Tipping isn't mandatory in Thailand but certainly is appreciated for excellent service.
Safety:
In general, Thailand is a very safe country for travelers, including solo women. This goes without saying, but you should always be aware of your surroundings. Don't leave your drink unattended, but I think you shouldn't do that anywhere in the world.
I know a lot of people go to Phuket and lose all of their inhibitions. They drink bucket loads of booze and wander the streets or beaches looking for a party. Phuket is not a dangerous place. But petty theft occurs and if you are a bumbling drunk fool, you are also a target.
If you wouldn't do it at home, don't do it when you travel.
Always make copies of your important documents like your passport and visa and keep them on you.
When to go?
Peak season is from November to April, it is also the driest time of the year.
Nov-Feb is the coolest with temps in the mid 70-80's °F (23-30°C).
It gets hotter from March-May (90+°F or 30+°C) and because monsoon season starts mid-May, the humidity spikes.
Mid-May to October is monsoon season, but that doesn't mean there will be a monsoon during that time. It does mean that it will rain, probably daily for a little bit. But it is THE best time to find incredible savings on hotels.
How to get there?
There is a major international airport on the island and finding cheap direct flights from Vietnam, Cambodia, China, Hong Kong, Malaysia, and Singapore is easy.
There are direct flights from all over Thailand, including major hubs like Bangkok and Chiang Mai.
You can also fly directly from Penang, Kuala Lumpur, and Langkawi, Malaysia.
There are transportation vendors inside the arrivals area vying for your business. You have your choice of taxis, buses, and minivans to get you where you need to go. Don't bother with a Grab (Uber). It isn't cost-efficient, and you'll have to walk a bit to meet your driver because they aren't allowed to pick you up in the arrivals area.
Minivans are per person and make multiple stops. The taxis are only a few bucks more.
We found the cheapest taxi service right outside the airport. You can negotiate.
The airport has ATM's and phone companies to buy sim cards.
How to get around?
Grab
It's just like Uber. You'll need the app, and you can pay in cash or on your card if you set it up in the app.
Taxis
Metered taxis can be expensive, try to negotiate a price ahead of time without using the meter.
Tuk-Tuk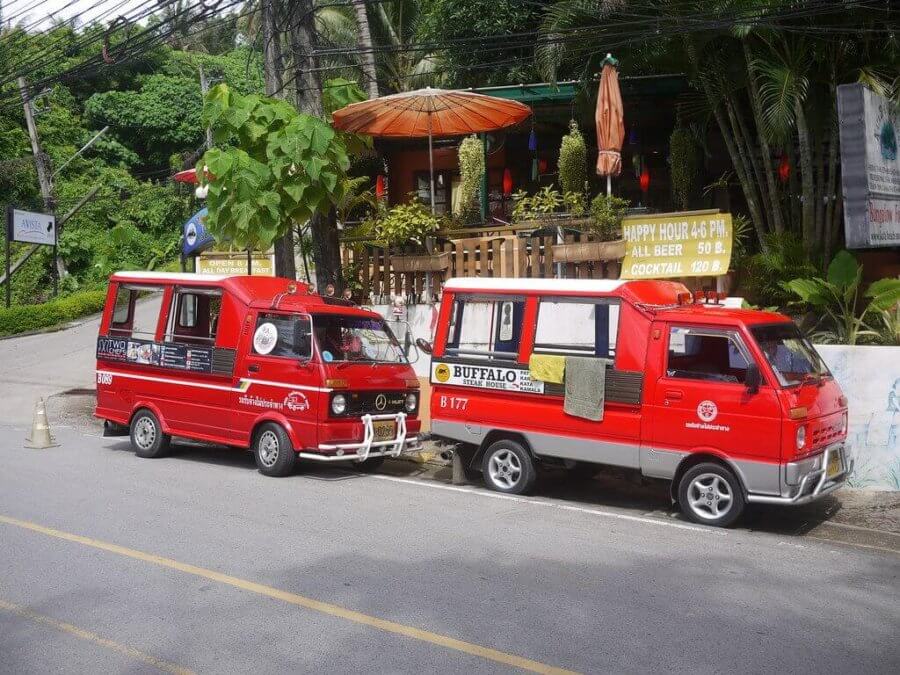 Just like with taxis, it is best to settle on a price ahead of time. And confirm that the price given is for the whole ride, not per person. Sometimes a slippery tuk-tuk driver will agree to a price and then when you get there, try to claim that it was per person.
Scooter
We always rent a scooter. You will need an international driver's license (IDL) for a scooter or motorcycle. There are roadblocks all the time, and cops will pull you over. You have to wear a helmet and have your IDL, or they will ticket you. Sometimes they will happily take a "tip" and let you go, other times, you'll have to spend the day at the police station. It's not worth it.
Also note, the rental agent will keep your passport. They have been burned too many times by jackass tourists who rent a scooter, crash it, ditch it by the side of the road, and then leave the country. Another reason to make a copy of your passport.
Most 125-150 cc scooters cost THB200-250 per day (US$6.50-8). They come with two helmets.
The Gritty
No matter where you travel, there will always be some gritty. Some places have more than others. Thankfully Phuket is large enough that you can avoid the worst of it.
Drunk and disorderly:
There are a lot of drunken fools roaming the streets of Phuket. For some reason, they come on vacation and decide to lose their minds. Don't do it. You look like an a**hole tourist.
Elephants: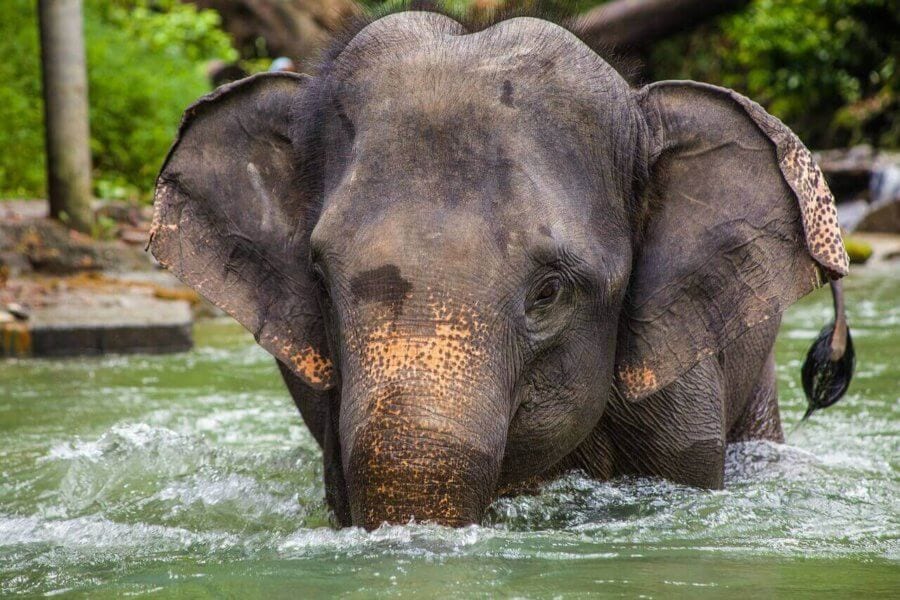 Elephant "sanctuaries" that aren't sanctuaries. A lot of places use the word sanctuary to make travelers think the elephants are really well cared for. But upon further research, you'll find that just isn't true.
Do your research, never ride an elephant, and if they are kept chained up, run far away and report them on trip advisor or on social media at the very least. It is a cruel punishment for the most loving of creatures.
And for the love of all things elephant, DO NOT go to the Phantasea show-it's a circus with captive elephants and tigers.
Toilets:
As a rule in Phuket and Thailand in general, you can't throw anything in the toilets, including toilet paper. You have to throw it in the garbage can in the stall. That is pretty common in a lot of countries in this region, and although I've been here since 2013, it still grosses me out.
Traffic:
With over 5 million tourists per year, traffic can really suck.
It can be very overcrowded in some of the areas, especially during high-season.
Sex tourism is a real thing:
People (ok it's usually men, but not always) travel to Thailand specifically to have sex. It seems crazy that they can't find someone to do it with in their own country, but it is a huge industry and Thailand is a popular destination for it.
Ladyboys are all over Thailand, and Phuket is no exception. Don't get sucked in. If she looks too perfect, it is a good chance she is a he. I am often amazed at how incredibly sexy and feminine they are and have been known to ask for a make-up tip or two.
If a pretty woman is really flirting with you 1. She may not be a woman, and 2. She might expect money. Bangla Road in Patong is the center of this sort of action, but that doesn't mean you won't see it elsewhere. You have been warned.
If you do go to Bangla Road, you will be handed a menu with THE most vulgar offerings. People are selling tickets to live sex shows and ping-pong shows, and that is the tame stuff. Again, you have been warned.
Scams:
There are a few scams that occur if you aren't in the know… so now you know:
Jet-ski/scooter/car rental
Less than savory rental places will lease you a toy, and upon its return, they will say you damaged it. They will show you a scratch or dent that was always there and blame you. No matter what you rent, whip out your cell phone and take a slow video while walking around it. Get up close, take pics of every nick you see. Don't leave it up to them to do it, you do it on your phone.
Read more about travel scams to avoid.
Final Thoughts on The Best Areas to Stay in Phuket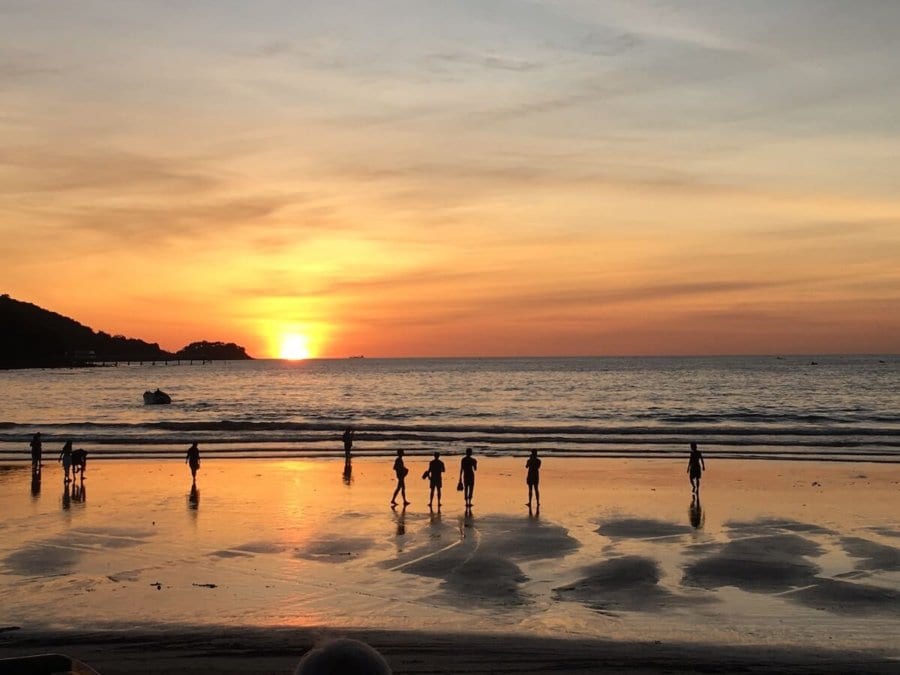 Now that you've read my complete travel guide, you know everything about the island–not just the best areas to stay in Phuket.
If you have the time, stay in two different areas so you can get a better feel for the island. Even the most luxurious of hotels in Phuket are a fraction of what they would cost in other countries. You can find a 5-star resort with unparalleled amenities and pay less than $150 a night. Thailand has affordable luxury at its finest.
If you have a lot of time and feel like getting off Phuket, there are 32 other little islands at your doorstep. Go island hopping or just drive over the Sarasin Bridge to the mainland and explore the neighboring Phang Nga Province; it has some of the most magnificent landscape on earth!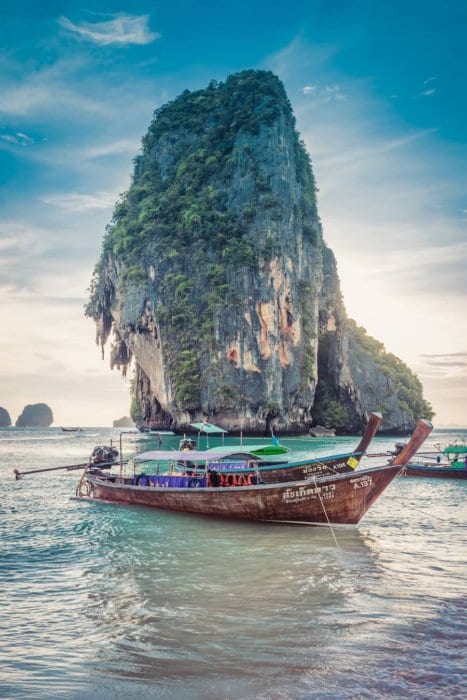 What do you think are the best areas to stay in Phuket?
Is there anything you want to know that I haven't covered here? Let me know in the comments, and I'll get right back to you!
Quick note: Prices will obviously vary from high season to low season, in some cases by almost 50%! When I was writing this, I found 5-star hotels for hostel prices. We were very tempted to hop a flight back. Personally, I think Phuket is the best in October, its shoulder season, there usually isn't as much rain, and has less tourism during that time.
Disclaimer: Some of the links in this post are affiliate links. This means that if you book your accommodation through this site, Sand In My Curls will earn a small commission at no extra cost to you. Your support helps keep the site going and gives me a little extra vodka money–thank you!
Photo credits:
Karon Viewpoint-Flickr Max Pfandl (CC BY 2.0)
Thai seafood-Flickr Luke Strange (CC BY 2.0)
Tuk-tuk-Flickr Julien G. (CC BY 2.0)