Last Updated on January 24, 2021 by Kirsten Raccuia
Well, here we are again. MCO part deux. No one is happy about it. And we are all worried about the economy. To play a part in helping our island paradise's economy, I refused to cook for an entire week. Simply refused. I know. I'm very selfless. My refusal to cook meant finding restaurants that will deliver for the ultimate in my laziness the economy 😉. There are many options for food delivery in Penang, and I was determined to find the best ones. 
Sometimes, we prefer to go and pick it up, just to get us out of the house. But all these places deliver, so if you are feeling lazy (no judgments here), then you are all set.
So, after a week and a few extra kilos, here is my list of the best restaurants for food delivery in Penang, in no particular order…
Il Bacaro (Italian Food Delivery in Penang)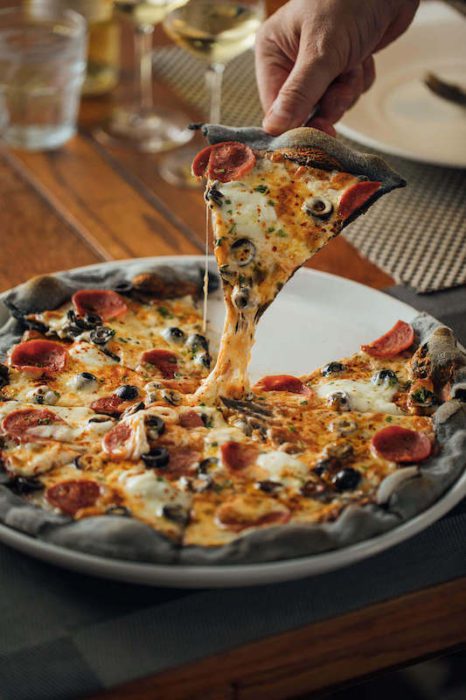 We were feeling Italian. Real talk = I'm always feeling a little Italian (if you know what I mean, sorry, mom).
Il Bacaro is inside the wonderfully restored Campbell House Boutique Hotel. It's owned by hubs and wife duo Roberto and Nardya, who are just lovely.
We ordered the special black pizza with truffle paste, egg, and parmesan cheese. Mark and I fought over the last piece. It wasn't pretty.
We had never had black pizza crust before. Charcoal gives it the color, but I couldn't taste any difference. However, the pizza was divine. The gooey egg running over the truffle paste is a match made in pizza-heaven.
I'm pretty sure I was truffle sniffing pig in one of my past lives because all I have to do I smell it, and I start salivating.
We also ordered homemade squid ink tagliolini with crab meat and shaved lemon zest. It was full of crab with a very subtle flavor, which allowed the crab meat to stand out. Gorgeous!
If you are feeling a little Italian (I'm not sharing mine), call Il Bacaro.
How to order
Call – 042618290
WhatsApp – 011-6399-7580
Facebook @BacaroPenang
online order link – http:/bit.ly/ilbacaro
Grab Food & Food Panda
Promo
*Free delivery over 120RM through online order link above. 15% off for self pick up for direct orders via WhatsApp
Viva Victoria (Worldwide Flavors for Delivery)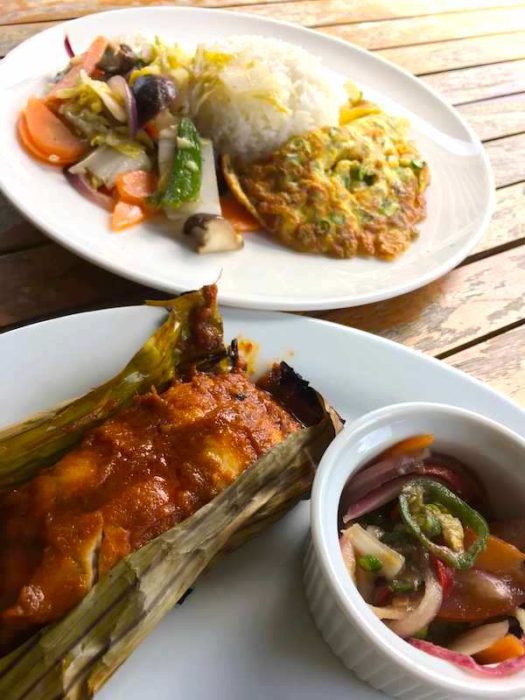 What I love about Viva Victoria is that Tina is always changing up the menu. She's one of those creative people that can pretty much create anything. She's an incredible painter, jeweler, chef, and innovator of things. Tina's got mad skills!
Anyway, back to her food. She started adding vegan fare to her menu, and truth be told, I had no interest.
I am a meat-eater, and I'm not unhappy about it. Plus, if you add butter, cream, or cheese to anything, it makes it better. So, for the most part, when something is labeled vegan, it's a hard pass for me.
However, she told me about her jackfruit curry, and we gave it a whirl.
It was beyond heavenly.  
No joke, Mark was licking the container clean. But between licks, he said to me, "If Tina put that curry on my old dirty gym shoes, I'd eat them. It's THAT good." And I agree. It also happens to be her gramma's recipe.
Since then, we've been dabbling with other vegan things on her menu. But always with a side of meat or fish, just to keep us grounded.
Current faves:
Mushroom Rendang
Nangka Kapitan (Jackfruit Curry)
Ju Huu Char (shredded jicama with dried squid wrapped in lettuce leaves)
Ikan Bakar (barramundi smothered in chili paste and cooked in a banana leaf)
Sambal Terung (eggplant with green sambal)
We didn't order it this time, but her truffle mushroom cappuccino is to die for. As is her beef rendang and her desserts.
We over-ordered so we could try more things and have leftovers for lunch. Except we ate it all—every damned bit. Then I had to lay on the couch like Al Bundy with my pants undone. And it was all worth it.
How to Order
WhatsApp Tina directly at +6012-493-0886
Delivery is RM5
Oppa (Korean Food Delivery)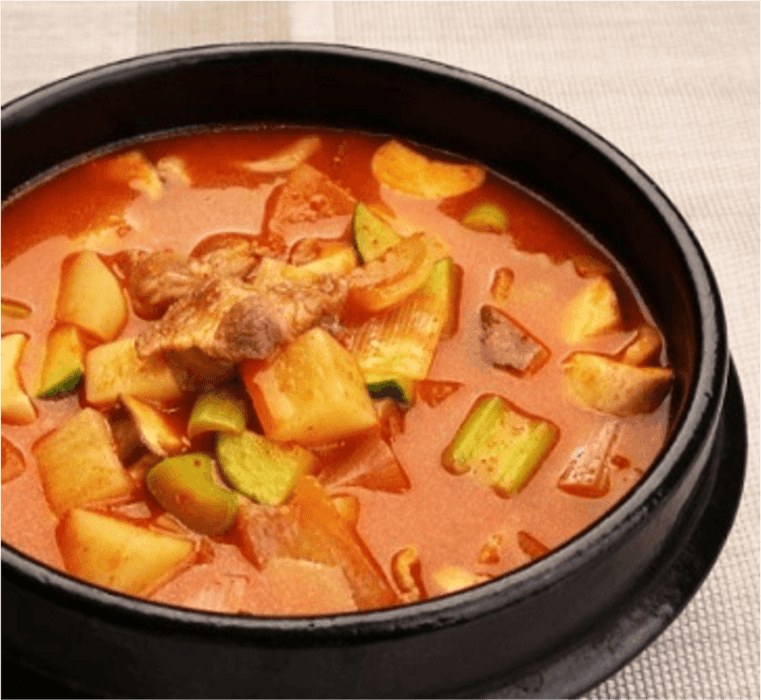 Oppa is our local neighborhood Korean joint. Cho, the owner, just opened up his second location in George Town, so keep your eyes peeled when we get out of lockdown.
We asked Cho for his recommendations our first time there, and he didn't steer us wrong. Ever since then, we've been kind of addicted to his tteokbokki (rice cakes in a chili sauce-although it's not spicy).
One of the things I love about Korean food is the variety of little dishes that come with every meal. There is always kimchi, potato salad, pasta salad, and an omelet. It varies depending on the day.
Current faves:
Tteokbokkie
Kimchi pancake
Stir-fried pork with Korean chili paste that comes with lettuce for wrapping
Fried dumplings
Pork and veggie stew
But seriously, you can't go wrong with anything on the menu. And we always wash it down with Soju, a Korean vodka-ish drink.
How to Order
Call direct to 012-429 0747
Food Panda
Delivery Eat
Quallys (Malay Food Delivery Service in Penang)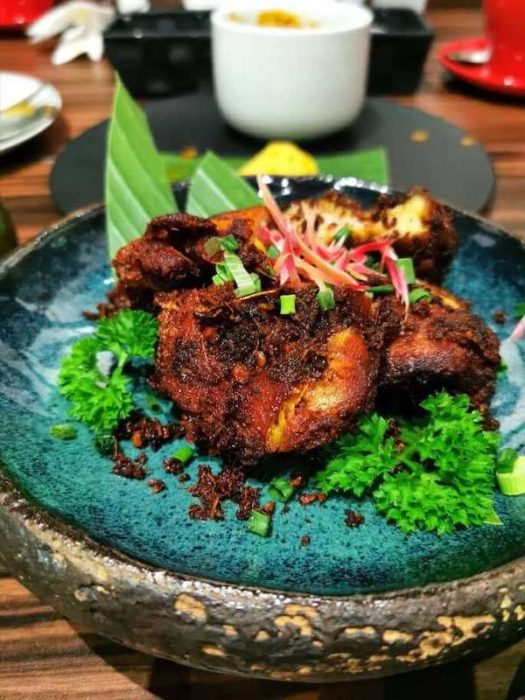 Quallys is the new kid on the block.
Ayu, the chef-owner, opened her very first restaurant in November of 2020, in the middle of the pandemic. Big kudos!
The menu is in Malay, so Ayu will walk you through it if you have any trouble. Tell her what kind of protein you like, and she'll tell you what's available.
Ayu's food has a way of teasing the palate. It went from delicately flavored aromatic fried rice to grilled beef brisket with a pungent sauce, both ends of the flavor spectrum. Every dish had its own unique flavors, which we both really appreciated.
The servings are small, almost like tapas, but the prices reflect that since everything is under 10RM. For two people, I would order four mains/veggies and a couple of orders of fried rice.
There are a few very minor kinks to get through, as there would be at any new restaurant. However, her flavors were amazing, and Ayu has a passion and heart for her food. It oozes from her pores. We will def be ordering again.
How to Order:
WhatsApp:
Ayu: +6017-529-6674
Yatt: +6019-567-9974
If Ayu does the delivery, the fee is between RM3-5. Otherwise, Food Panda will deliver.  
Indochine Cafe (Pan-Asian Food for Delivery in Penang)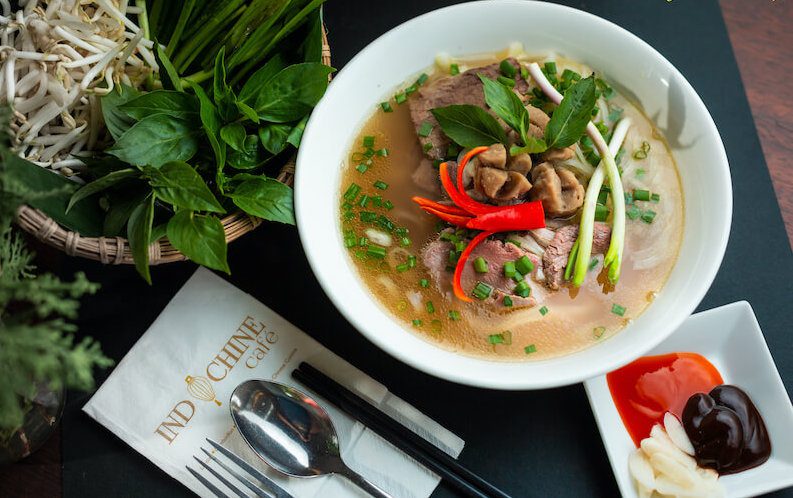 I've got to say, Indochine is our go-to for our neighborhood Pan-Asian food fix.
First of all, Lyna is a doll who is consistently giving back to the community and has a heart as big as Texas.
Secondly, this woman knows her food. She has authentic Laotian, Cambodian, Vietnamese, Thai, and Indonesian fare on her obviously extensive menu. We've never had a bad meal there.
When you aren't ordering food delivery, go and dine in at Indochine. The ambiance is beautiful, and the food presentation is stunning. Lyna goes all out and does it with a smile.
Current faves

:

Laotian

Thai:
Yum Woon Sen
Green Curry
Beef Garlic and Mango Salad
Vietnamese:
Pho
Lemongrass Chicken Sticky Rice
Bahn Mi
How to Order
WhatsApp Lyna directly at +6017-409-7748
Promo
Pick Up is 25% off; otherwise, delivery is through Food Panda
Honorable mentions:
After eating out daily for nearly a week, we felt like hell. We were overindulging and eating far more decadently than usual. Veggies? What are veggies? We felt like stuffed pigs and needed to lighten things up a bit. That being said, we've lived here long enough to know loads of great restaurants that deliver.
Here are a few more:
Sizzling/Knife and Fork

(Batu Ferringhi)

Liang, the dimple faced chef behind what many people know only as "Sizzling" in Batu Ferringhi, has another restaurant called Knife and Fork. Try the black pepper or black vinegar chicken, Liang's special curry, and mixed veggies. Loon, her hubs will deliver free of charge. WhatsApp her for free delivery at +6016-423-1511
Gustos Cafe

(Tanjung Bungah)

Jason has good burgers and switches his menu up frequently. Call or WhatsApp Jason +6012-595-9811. Free delivery.
Gooday

(Tanjung Bungah)

Gooday makes incredible fish curry, bean curd, and fried rice. Order through Grab Food. Delivery is 2RM.
Hudson's Deli

(Tanjung Bungah)

Great for salads and sammies. They are takeaway only and close at 5pm. WhatsApp Christian 016-213 8344.
What SUCKS About Food Delivery in Penang?
Plastic! So much friggin plastic.
It's my biggest complaint with the delivery service in Penang. None of the places we ordered from used anything besides plastic. Yes, it is reusable, and I know there aren't many affordable alternatives, but it still breaks my heart.
We bought some tiffins, but they don't work for delivery. They don't work well for takeaway either. Not unless you can drop them off ahead of time or convince them not to package your food until you get there with your tiffins.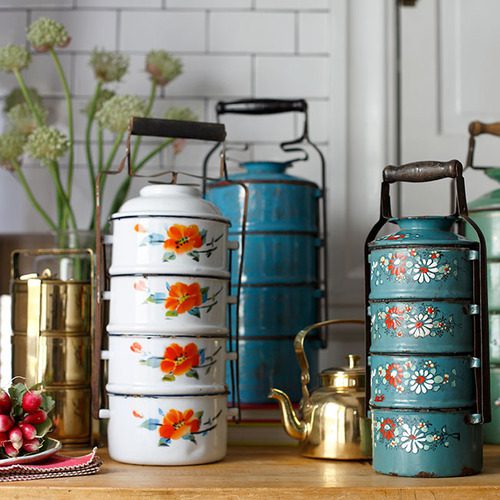 However, there is one exception to the rule – Kebaya in the Seven Terraces hotel is doing tiffin delivery, and I'm here for it. Kebaya is one of my all-time fine dining faves for a special occasion or date night.
They offer a family meal deal for 2-3 people, which comes with a full set of 2 starters, 3 mains, 2 greens, and 2 desserts for RM150, RM160 with rice. It comes in a stainless steel tiffin (or tingkat) that is yours to keep. Every time you order after that, they will swap it out for a new one (while supplies last).
I mentioned the tiffin idea to Ayu from Quallys, and she will happily use yours, just let her know when ordering. I'm sure these other restaurants will too, just ask.
Things to Note
*All promos, fees, and offers were correct at the time of writing.
*Some restaurants are understaffed now because they don't have the money to pay their employees. Be mindful of that and try to order as early as possible, especially for delivery.
The Wrap Up
Given the option, we much prefer dining in at all these restaurants in Penang. No cooking, no cleaning; it's totally my style. But since that's not an option, we did the next best thing, food delivery or takeaway. We totally took advantage of the food delivery services in Penang. It was nice to be lazy for a while.
And let's be honest, we've all seen the Food Panda and Grab drivers speeding down the road on their scooters. Usually, they're texting or using the Malaysia-hands-free method. You've seen it. When they wedge their phone between their helmet and ear while weaving in and out of traffic like maniacs. Yeah, those guys.
We might as well use them for something.
There are so many places, we couldn't possibly eat at them all. If we missed your fave, tell me in the comments below so we can make this a great resource and try them all.
Happy Eating!