Chinese New Year is around the corner. And even though we can't celebrate in the way we are used to, I couldn't let this year pass without writing about it. It's far too special to ignore. So, I decided to learn a little more about the holiday and pick up some good quotes about Chinese New Year.
Who am I kidding? I was really just trying to impress my local friends with something other than Gong Xi Fa Cai. Which loosely translates to "wishing you to be prosperous in the coming year."
I had no idea there were so many Chinese New Year wishes. I mean, for our new year, the one on Dec 31st, we keep it basic.
But not the Chinese. No-siree-bob. They make it complicated.
There are:
Chinese New Year quotes 2021
Chinese proverbs about New Year
Chinese New Year wishes traditional style
New Year quotations for friends
Chinese New Year wishes to colleagues
Chinese New Year wishes to your boss
New Year wishes for daughters
Chinese New Year sayings in Cantonese
Chinese New Year words in English
I mean, we got options, people. And that's just the tip of the iceberg. Showoffs!
I was actually overwhelmed by all of them.
We just say "Happy New Year," and that covers it – for everyone. And if you want to say that in Mandarin, it's xīn nián kuài lè and in Cantonese, try sun nin fai lok. Easy right? Don't ask me how they are supposed to sound because Chinese is on a whole different level when it comes to sounds.
Why do I care so much about CNY?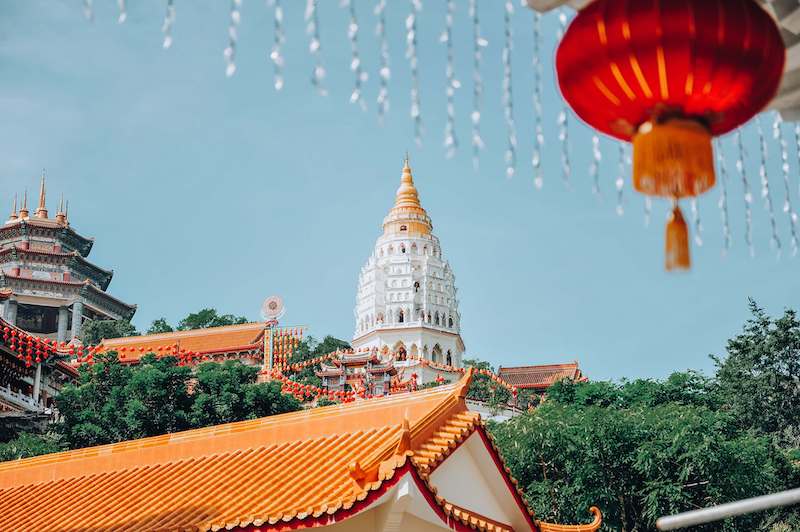 I can hear a lot of you thinking (yes, I'm that good)… "But Kirsten, you live in Malaysia, not China. Why are you celebrating Chinese New Year?"
I get that. Many people think Malaysia is a monoculture of Muslim Malays. I did too, before I started researching. But that couldn't be further from the truth.
Let me break that down. Malaysia is made up of 67% Malays, 25% Chinese, and 7% Indians.
However, Penang's demographics are different. Penang island has an even balance of Chinese vs. Malays. The last census was in 2010 (they are currently doing one), and both ethnicities were around 43%.
Penang is a Chinese run state and has been since its inception. It's the only one in Malaysia.
Historically, George Town was the first stop for Chinese traders and merchants, and most never left. So Penang has more Chinese people here than any other spot in Malaysia.
The largest temple in Southeast Asia, Kek Lok Si, is just 30 minutes from our home. Every year at this time, it is illuminated with more than 10,000 lights. It is a brilliant sea of lights and lanterns that remains on for 30 days.
So, now you know why Chinese New Year is one of the best celebrations in Malaysia. And why I wanted to write a lil something on the quotes about Chinese New year.
Now that we've gotten that out of the way let me tell you what the holiday is in the first place.
What is Chinese New Year?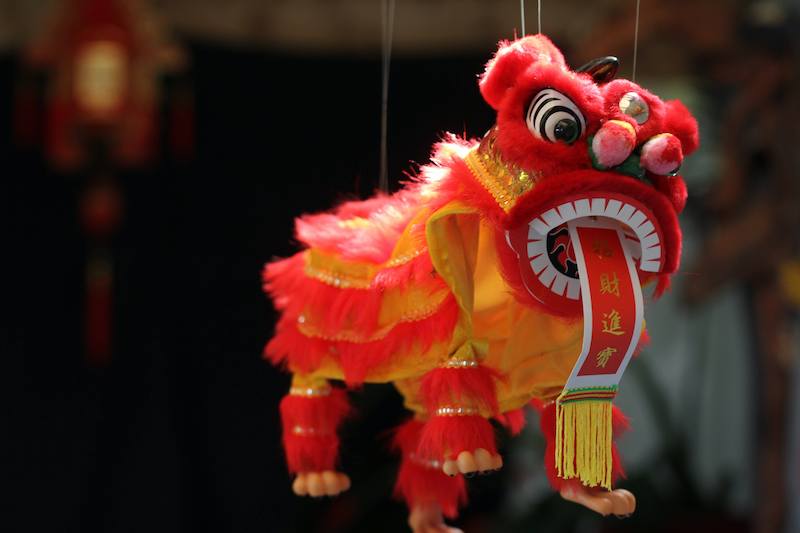 The traditional Chinese calendar is not the same as the Gregorian calendar. The first day of the Chinese new year coincides with the new moon's start – when it's just a sliver – and culminates when the moon is full.
It's also why it is sometimes referred to as Lunar New year.
The first day is somewhere between mid-Jan to mid-Feb, but there is no fixed date. In China, it's called the Spring Festival.
Like our New Year, it represents a fresh start. A time for new beginnings. But unlike ours, Chinese New Year lasts for 15 days. That's right. More than 2 weeks of parties! Each day has its own meaning, rituals, and celebration.
How SHOULD We be Celebrating?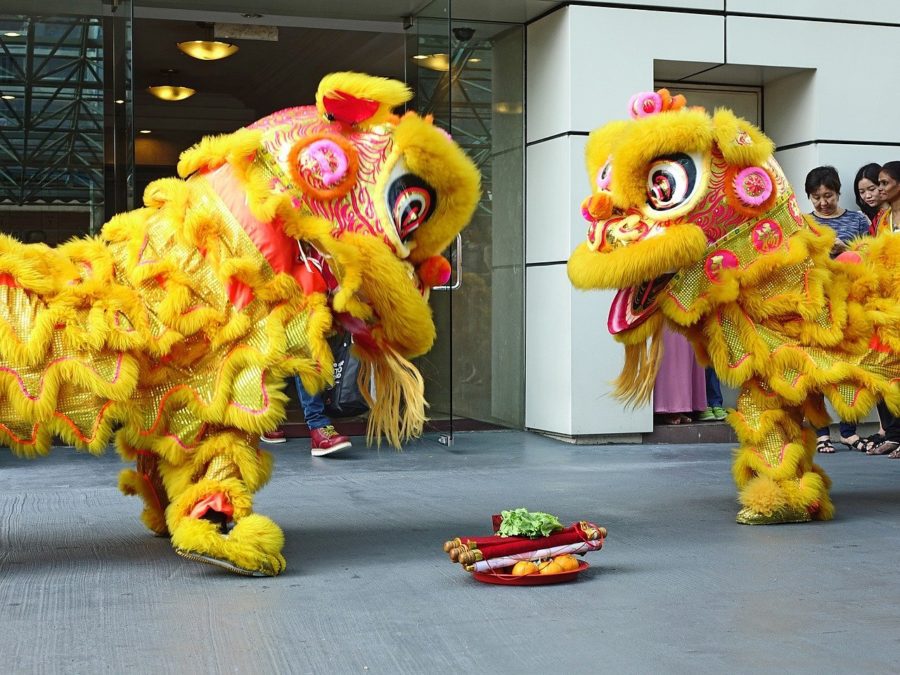 Obviously, due to Covid, a lot of the celebrations are impossible. But this is what SHOULD be happening…
During the two-week holiday season, families have reunion dinners. Family members travel from across the world to be together during this time. People declutter and clean their homes. They have specific rituals to attract good luck and bring health and long life to the family.
It's when you wake up to the smells of incense burning. You hear loads of firecrackers off in the distance to signify the beginning of a lion dance. Then the rhythmic pounding of the drums and clashing of the cymbals to ward off the evil spirits.
Our first year here, we didn't know about the firecracker ritual. We were sleeping when we were jolted awake by a sudden crack-crackity-crack-crack-crack.
Coming from Chicago, where firecrackers aren't common, but the odd gunshot is. We both assumed it was gunfire and almost lost it. Until we heard the drumming. Once we started breathing again, we scurried downstairs to find the lions dancing through the lobby of our condo building for good luck.
We haven't missed a lion dance since!
Ok, you're totally up on your Chinese New Year knowledge to let's get to the quotes, huh?
Traditional Quotes about Chinese New Year:
These are the go-tos. The tried and true ones that have lasted centuries.
Gong Xi Fa Chai! Happy Chinese New Year 2021!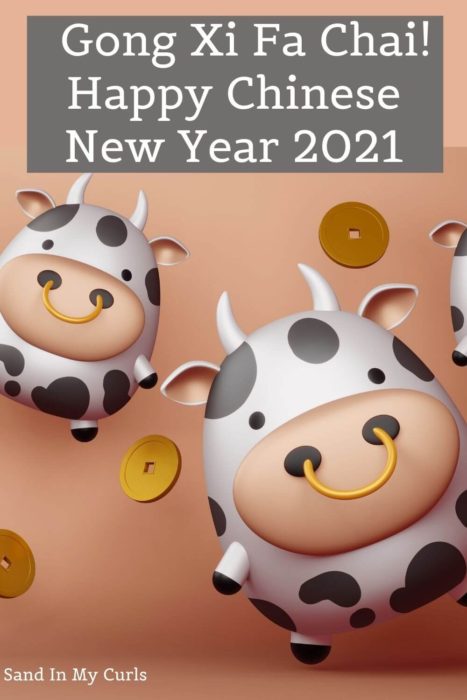 Simple and to the point. Aka "wishing you to be prosperous in the coming year."
Happy Lunar New Year. Wishing you success in your career and happiness for your family.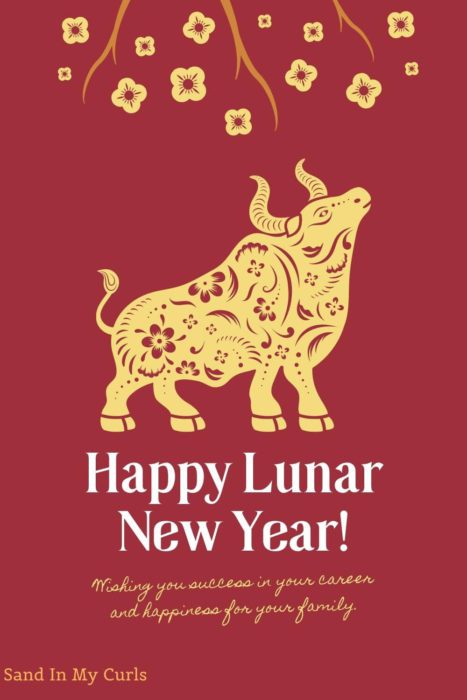 This Lunar New Year quote only needs health and it's the perfect trifecta of greetings for Chinese New Year.
Wishing you a year of perfect health and unparalleled success.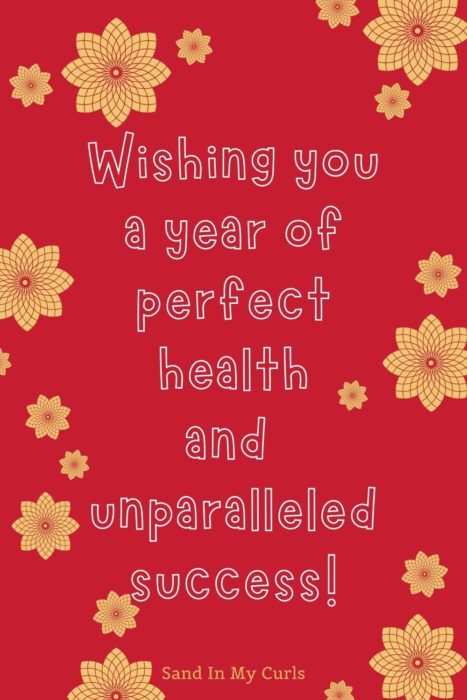 Health and success. I'll take these Chinese well wishes.
May this New Year be as melodious for you as a sweet song.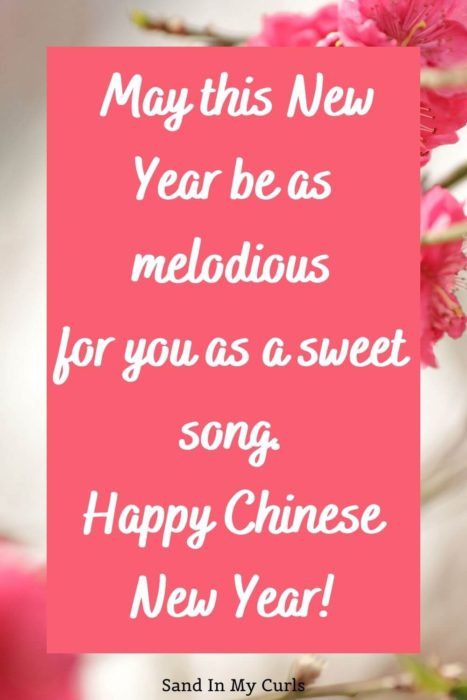 How sweet is this one?
This New Year, do not live in the past for it may make you depressed; do not live for the future for it shall only make you anxious. Live only in the present, for that alone will bring you peace.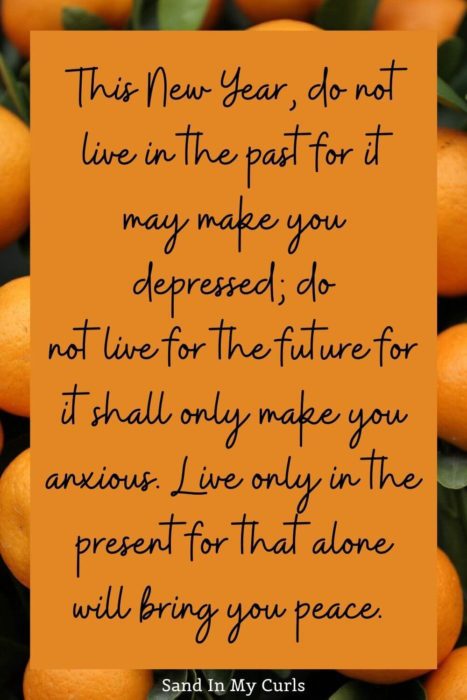 I feel like Oprah would say this to Gayle. Good stuff, right?
Chinese New Year Proverbs
I'm pretty sure Confucius said these proverbs mostly because he's the wisest of all sages! And truthfully, because I know no others.
A great fortune in the hands of a fool is a great misfortune.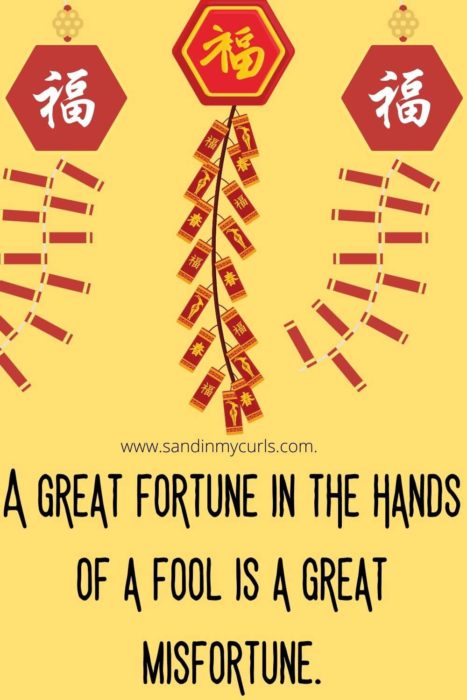 Indeed it is. Plus, it's really annoying.
You cannot prevent the birds of sorrow from flying over your head, but you can prevent them from building nests in your hair.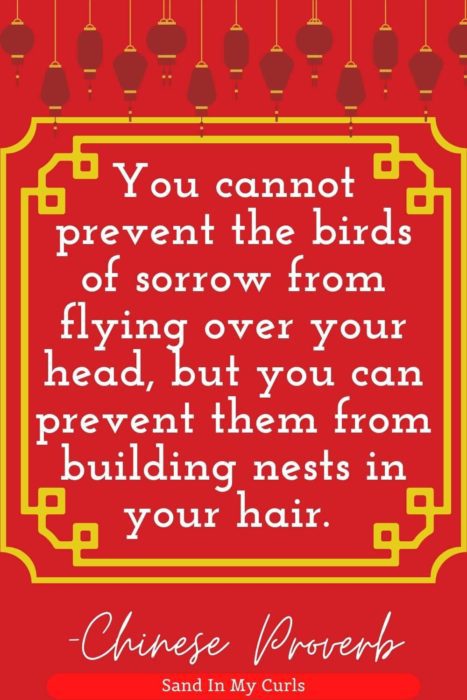 I mean, come on with this one! LOVE!
Sincere Chinese New Year Quotes
Hope you spread happiness in everyone's life just like the moon reflects light in the dark.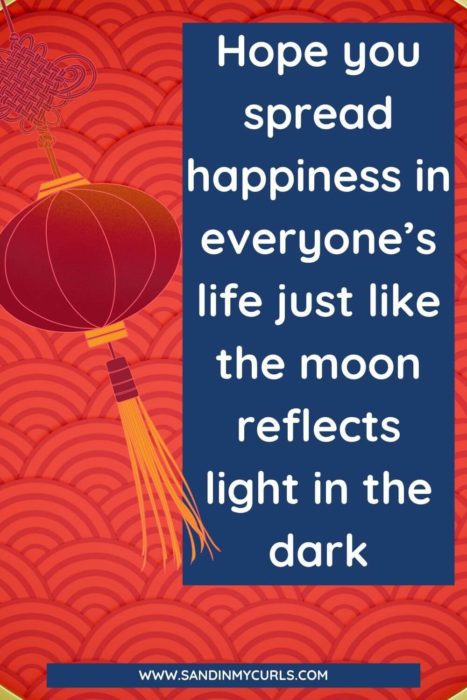 Ok, this one conjures up such a lovely picture in my mind. I can imagine Maya Angelou using this in one of her books, can't you?
I'm a true believer in spreading happiness and try my best to do that for those around me. So, this one holds a special place in my heart. What can I say? I'm a sucker for this kind of stuff.
May the old year take with it your anger, jealousy, and ego, and may the New Year bring with it modesty, humility, and honesty.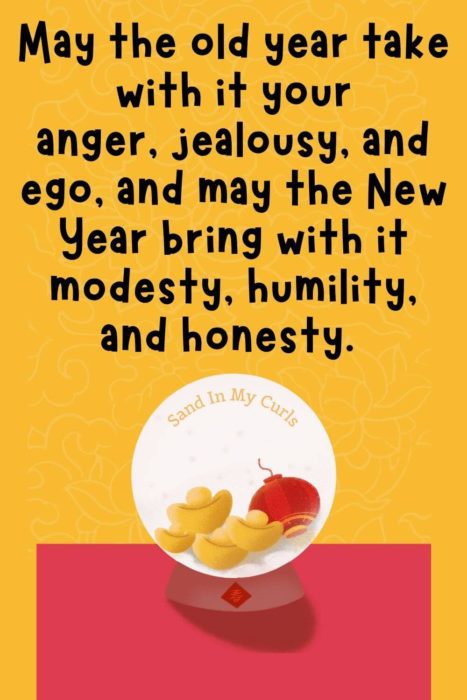 Out with the old, in with the new–it's something to strive for.
May you always be surrounded by sunshine.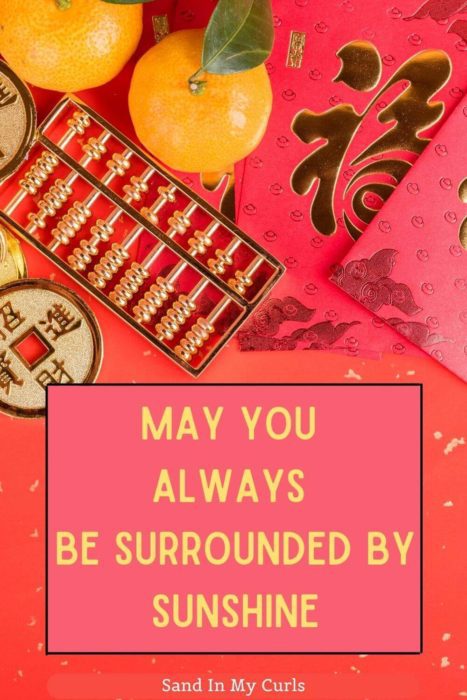 It's simple, but a very meaningful Chinese quote.
This New Year, may you find peace from within, and may you be capable to spread such contentment around you. Happy Chinese New Year!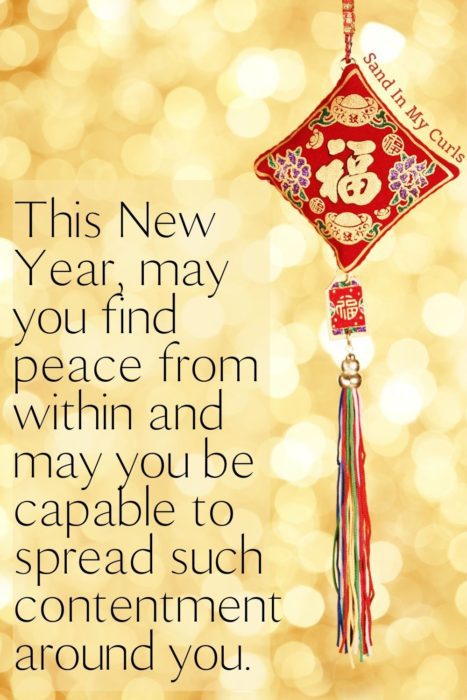 I love this New Year peace quote. Finding peace within is extremely challenging for so many. Especially when there doesn't seem to be an end in sight regarding Covid. But heed this advice the best you can – Confucius' orders.
Always welcome the new morning with a new spirit, a smile on your face, love in your heart, & good thoughts in your mind.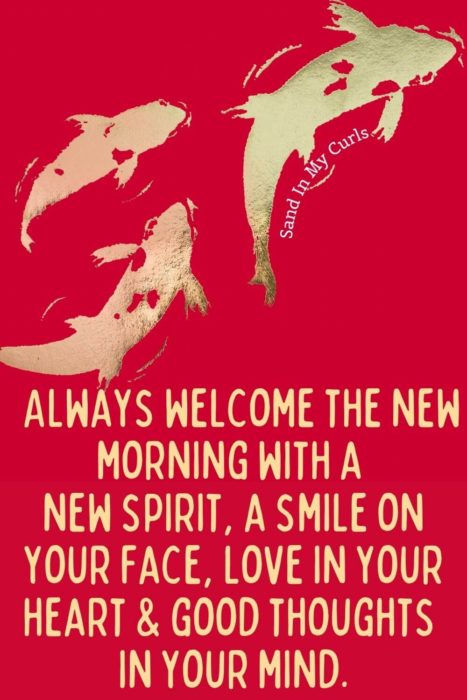 Words to live by, my friends.
This new year, do not get impatient if things seem to be going slow for you; remember, as long as things are moving, you are lucky.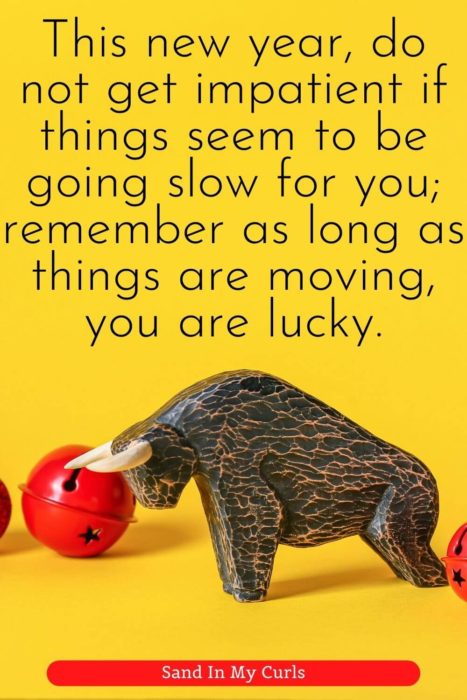 This one is a little gloomier than most quotes about Chinese New Year, but it's also true. Not moving is generally considered a bad thing, so if your moving, you're alive, which means it's a good year. As my gramma used to say, "Every day above ground is a good one!"
Hilarious Chinese New Year Wishes
These wishes are funny quotes about Chinese New Year. You didn't think I would just write about the traditional ones. I'm far too uncivilised for that. Plus, we could all use a little naughty humor these days.
May you receive lots of red envelopes filled with money & a great family gathering, except facing the annoying question, "Why are you still single?"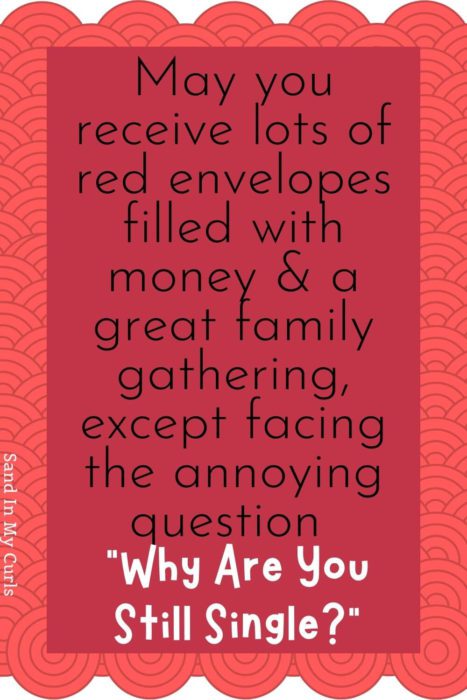 Red packets, or ang pow, are little red envelopes full of money. They are given to single people and young kids, and if you are from a massive, wealthy family, you can make bank.
Hope you are bouncing with health. 🤣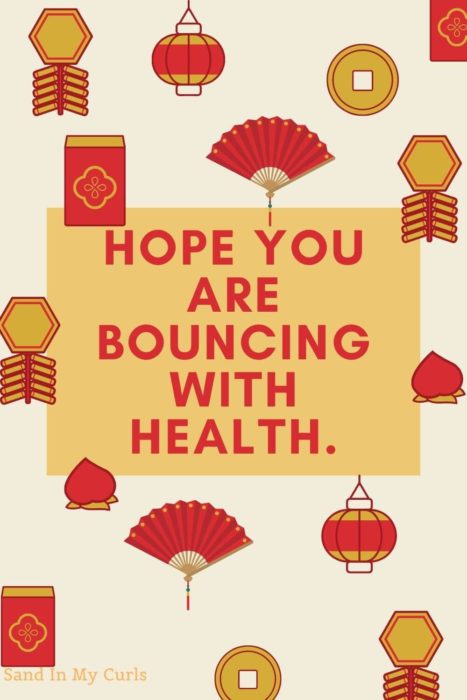 There is a possibility this great New Year saying was translated incorrectly. But I love the image it conjures up in my pea-sized brain and love it just the way it is.
It's a chance to start anew. Settle your old debts. Forgive grudges, and give your neighbor back that tool you borrowed months before.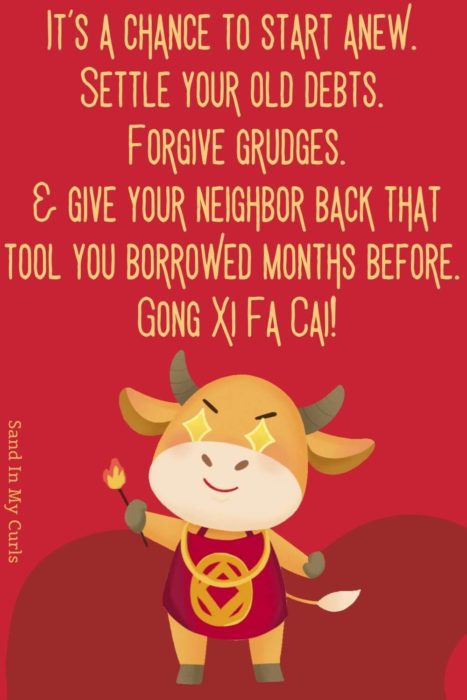 This one is snarky and I'm here for it. We've all had that neighbor, haven't we?
2021 is looking good… and so are you!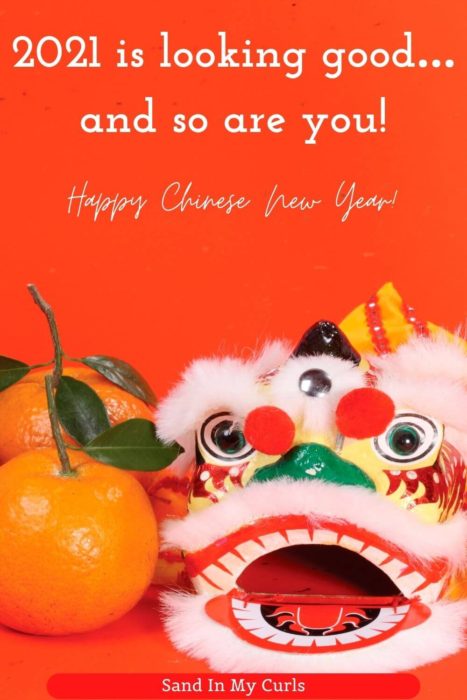 I'll take this Chinese New Year greeting any day. Can we extend this one throughout the year, please?
Let's get wild this Chinese New Year by NOT asking the restaurant to leave out the MSG. –someecards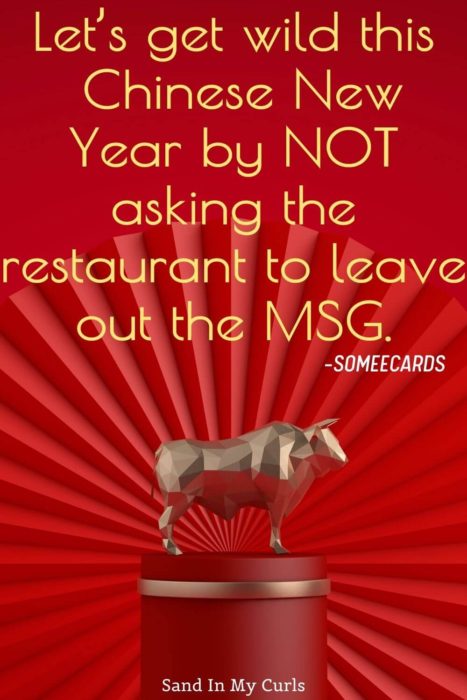 In case you are wondering, this is not one of the original Chinese sayings for New Year. If you are unfamiliar with someecards, do yourself a favor and check them out when you want a laugh. You'll be happy you did.
May happiness follow you everywhere… just like we do.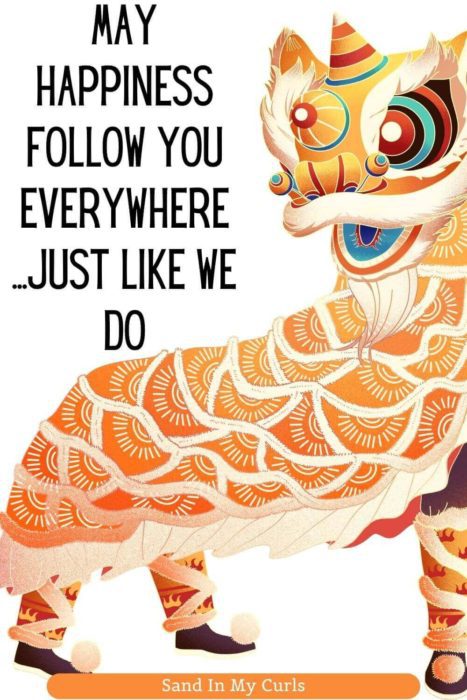 Ok, so this Chinese greeting for New Year is a little stalker-ish. But I like the sentiment (at least the first part).
I'm wearing red on Chinese New Year to ward off evil spirits and make random white guys slightly hornier than usual. –someecards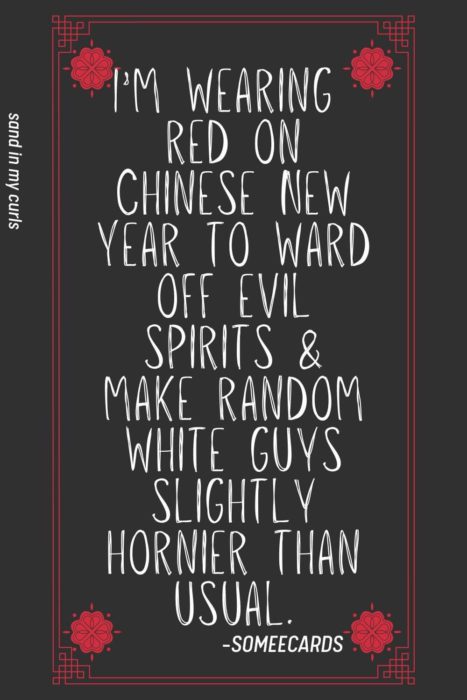 I have no words.
May your fireworks help ward off evil spirits and not cause my dog to unleash his bowels all over my apartment. –someecards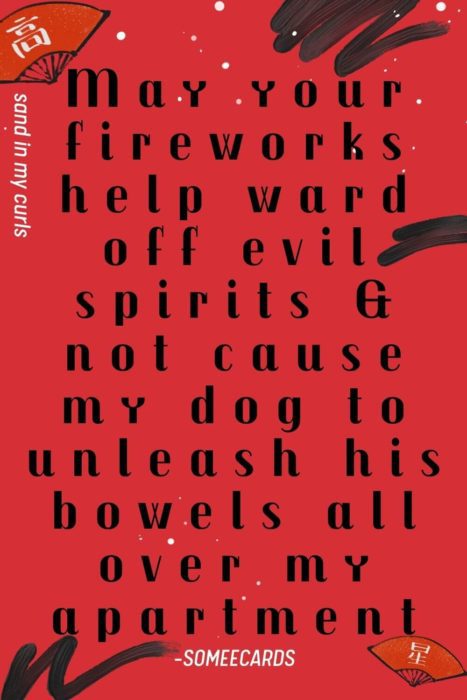 Told ya someecards is hilarious.
So there you have it, my fave quotes about Chinese New Year. What was your fave? Tell me in the comments below.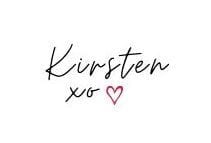 Like this blog post? Save it for later so you can impress your friends. Pin It❣️