Last Updated on February 24, 2023 by Kirsten Raccuia
Kota Kinabalu is as exotic as it sounds. If the name conjures up visions of headhunters, indigenous tribes, and people living in the jungles hunting food with blowpipes, you are spot on. That's how it used to be. And deep in the jungle that still exits.
But that is not the KK of today.
KK is the gateway to incredible wildlife, breathtaking scenery, and its namesake Mount Kinabalu, Malaysia's highest peak. This Kota Kinabalu itinerary is packed with adventure. There is enough to do there to spend a month or more, but that would be a lot to write about. So I figured I'd start with a Kota Kinabalu 5d4n itinerary blog instead.
Without further ado, let's get crackin'.
Kota Kinabalu Info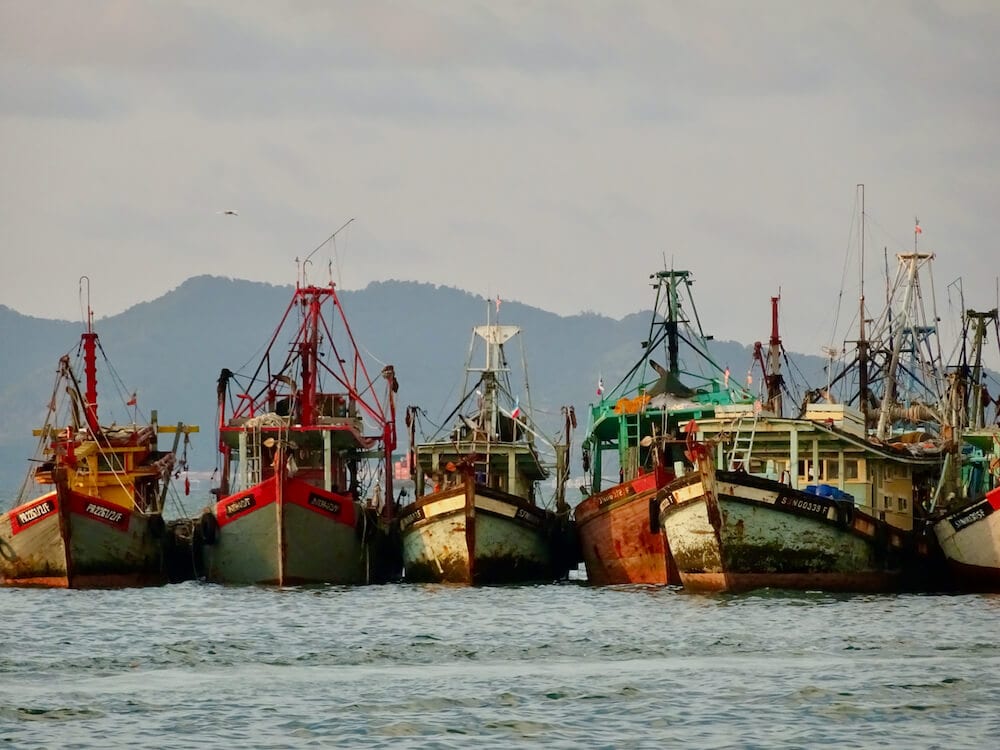 KK, as the locals call it, is the capital of the Malaysian state of Sabah, on the island of Borneo.
It's the third-largest island in the world and is divided amongst three countries; Malaysia, Indonesia, and Brunei.
Kota Kinabalu city isn't anything super special, but it's the perfect place to start your adventures. The coastal town has a population of more than 450,000, with another 175,000 in the outlying areas.
Day 1: Island Hop & Sunset at The Waterfront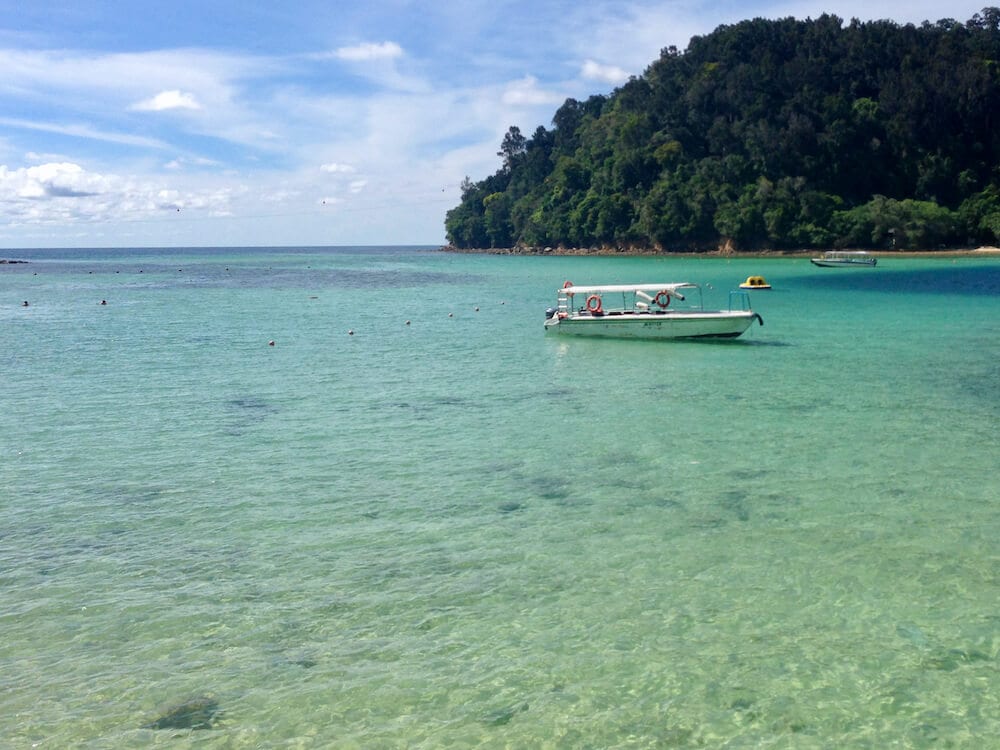 Spend your first-day island hopping in the Tunku Abdul Rahman National Park (TAR).
This is a DIY island hopping tour. There are loads of tour companies that will take you to a couple of islands and provide lunch, but it's not worth the premium you'll pay. You can take a quick and cheap ferry ride from Jesselton Point Ferry Terminal (see the details below) and spend the day lounging on white-sand beaches.
The islands rarely get over-crowded, and the beaches are clean. From the minute you step off the boat, schools of fish are visible right off the pier. The water is the kind of translucent blue where you can see your toenail polish. Just standing there, I could see massive schools of little fish darting around my waist.
My Kota Kinabalu island hopping tour has five islands to choose from, each one is a little different, so it is worth checking a few out.
The Islands: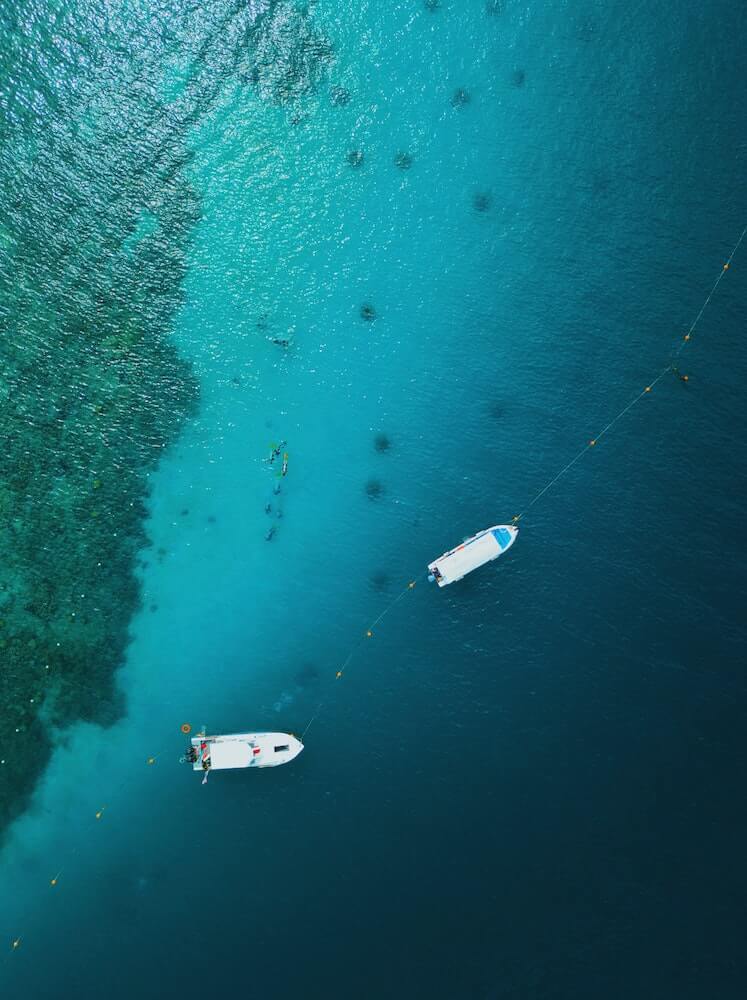 Sulug Island is the most untouched of the group. It's also the furthest from KK. Reefs surround the island, so bring a snorkel.
Sapi Island is the closest and has a few small stands selling food. However, they were pretty much out of everything, including ice, which put a damper on the cocktails we brought. Thankfully we brought a little picnic to tide us over. At low tide, a sandbank links to Gaya so you can visit both. You can try sea walking, where you put on an astronaut's helmet connected to oxygen and walk along the ocean floor.
Mamutik Island is the smallest of the bunch, just a little bigger than a football field. There are a few basic facilities, but I also heard there are sand flies, which kept me away.
Manukan Island is the second-largest island in the Abdul Rahman marine park. The best beach is on the eastern tip and has good snorkeling. It has a few hotels and chalets as well as restaurants. This island has the most facilities if you don't feel like bringing more than sunscreen and water. There are water sports available here if that is your thing.
Gaya Island is the largest island and is covered with dense tropical forest. The most popular beach is Police Beach. There are marked trails for easy hiking if you are like Mark and get antsy just lazing on a beach.
There is an island for everyone, you could easily spend a full day a day at each, but half the fun is popping over to the next island.
How to Get to the Islands: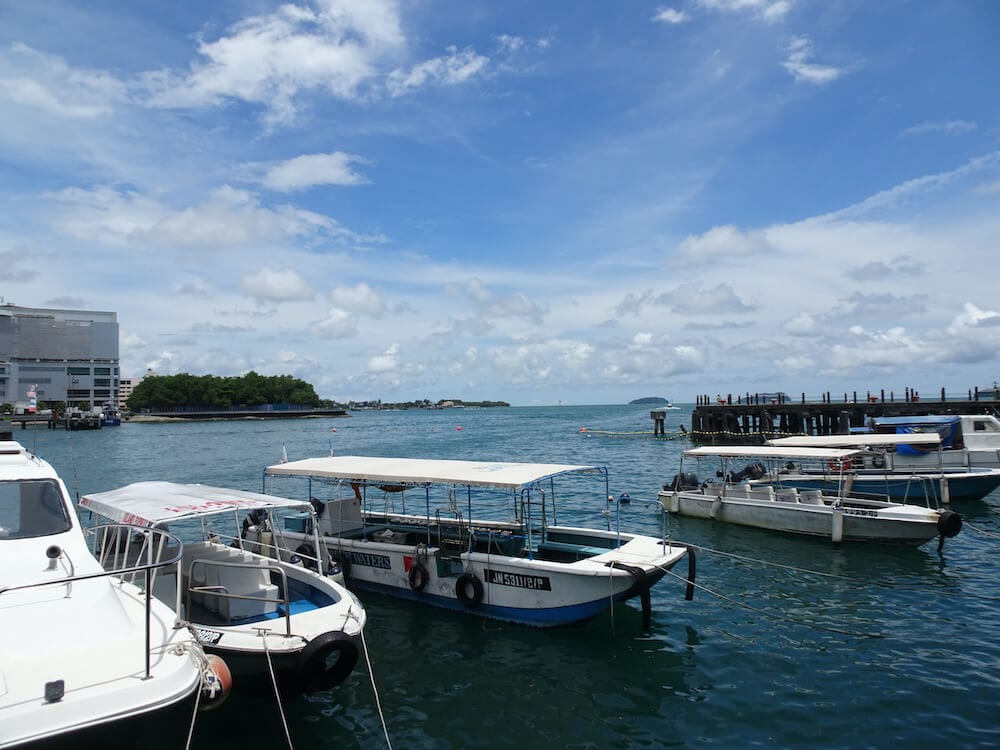 Take a Grab over to the Jesselton ferry port in Kota Kinabalu city, pick a boat operator from the dozen or so selling tickets, and choose how many islands you want to visit. Depending on how much time you have, you can select up to three islands in one day or spend the day lounging on one. The islands are within 3-8 kilometers from Kota Kinabalu, so the longest ride is only about 30 minutes.
If you don't have snorkel gear, you can rent that from the boat operator for a whopping RM10/$2.35.
It really couldn't be simpler. If you decide to go to a couple of islands, ask the times when you book the tickets. They are continually shuttling in between the islands, so you'll never have too long of a wait. Just make sure you get on your boat operator's boat.
The first ferry starts at 8:30am. The last boat back to Kota Kinabalu from any island is around 4:30.
Ticket prices:
One island is RM25/$5.85
Two is RM35/$8.20
Three is RM45/$10.54
There is a ferry terminal fee of RM7.63/$1.80, which is sometimes included in the ticket and a conservation fee of RM20/$4.85 for the park.
Sunsets at The Waterfront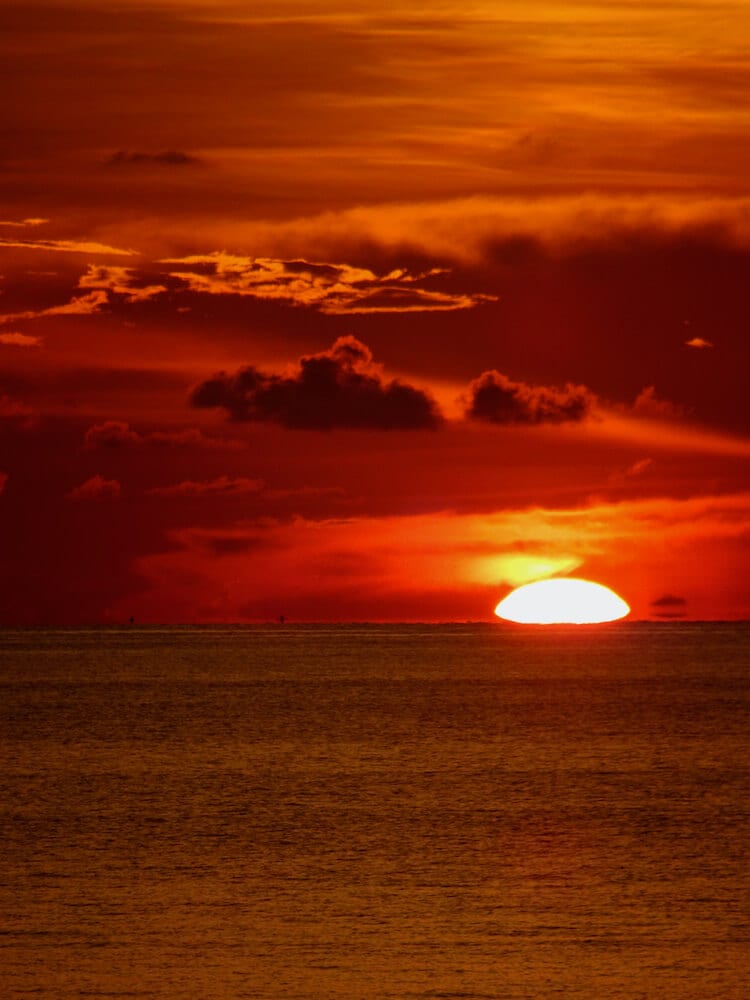 Head to The Waterfront to have a cocktail and watch the orange globe fade into the sea. It is actually called The Waterfront, so if you take a Grab, just type that in. Make sure you stop for a foot massage right at the entrance. What's better than relaxing with a cocktail in hand, staring out to the horizon, and getting a foot rub? I'd bet to say, not much.
Not sure why but the sunsets in KK produce some of the most vividly colorful skies I've ever seen – make it a priority.
Day 2: Breakfast at the Wet Market & Proboscis Monkeys & Fireflies Tour
AM: Morning Wet Market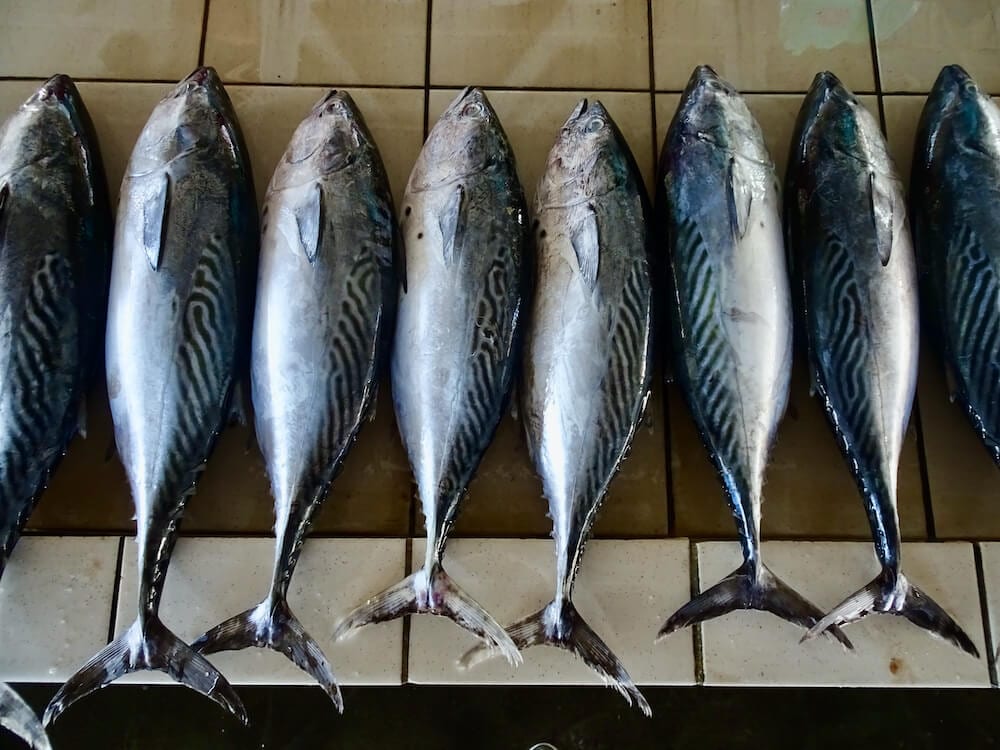 The sign on the massive waterfront building says "Pasar Besar" which translates to "large market," and the name doesn't mislead. The bottom floor has all the local produce, chicken, pork, beef, eggs, and spices separated into different areas. But the seafood area is around back, in a stand-alone building, right by the water's edge.
Head there as early as possible, and watch the trawlers unload their nets and carry it over to the market to be sold.
I had just seen parrotfish with their bright blue lipstick swimming around my toes, and now they are at the seafood market – I feared for Nemo. There were blowfish, vast piles of silver tuna with yellow spikes on their backs, small, leathery sharks, large crates of clams sorted by size, and heaps of other fish unknown to me.
But then I spied the sweetest sight ever, the prawn aisle – there were mounds and mounds of them; little white ones, thick gray striped ones, light peachy pink ones, and even golden ones with blue tips. Each variety had a different price, but they started at RM17-29/$4-7 a kilo.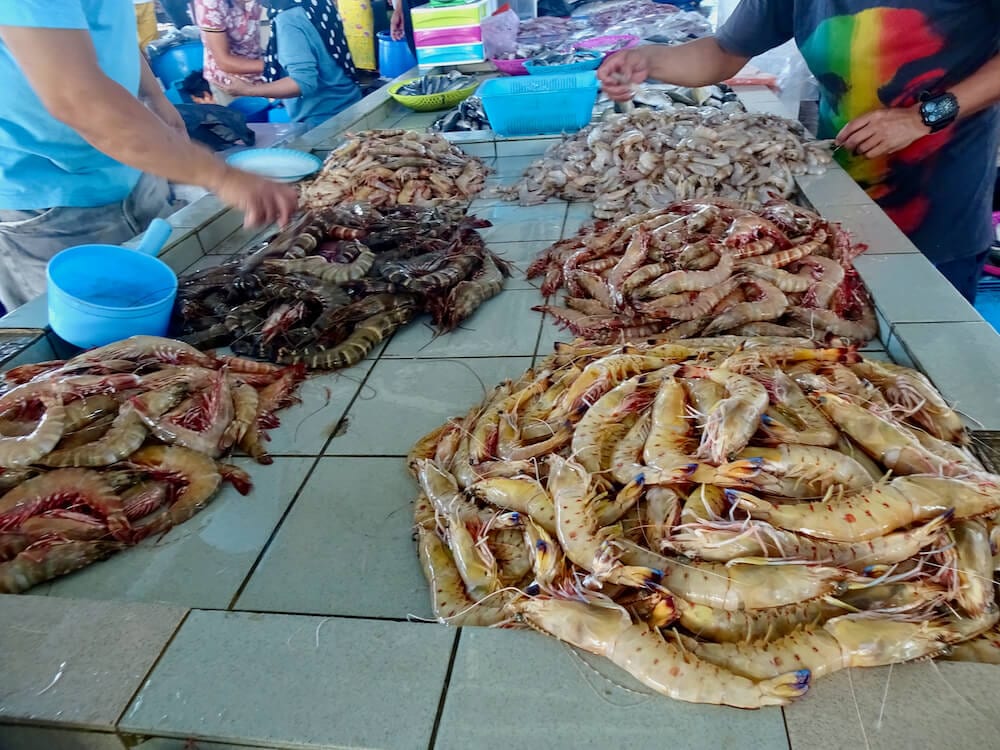 I lamented that I had nowhere to cook those gorgeous beauties, and the fish-man said, "No problem lah, you buy here, go upstairs, they cook for you." This is the first market I've been to in Asia where they cook the food you buy!
We took his advice, and it was the best seafood breakfast I've ever had.
On to Monkey Business
Ever since studying primates during my anthropology years, it had been a long dream of mine to see proboscis monkeys in the wild.
Proboscis are endemic to Borneo and endangered, so this was my chance.
The males have big pot bellies and very phallic long noses that hang down and can grow up to 17 centimeters. Sometimes they have to push their noses out of the way to eat. The longer and bigger it is, the more attractive they are to the females (I guess humans aren't the only ones). The females have the daintiest little turned-up button nose, which is absolutely adorable.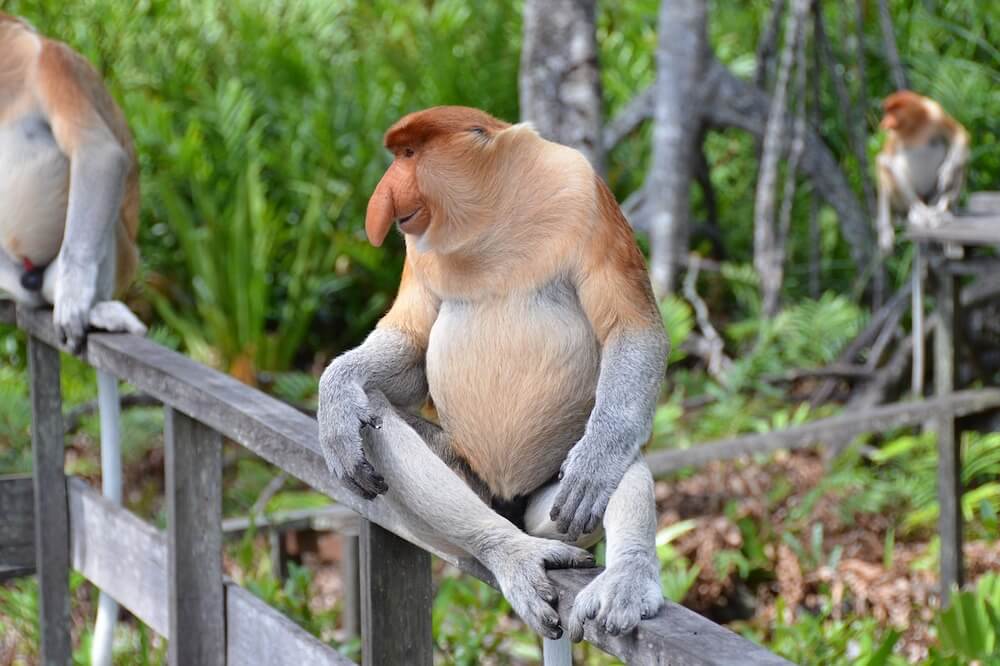 Part 1: Reunited and it Feels So Good
It had been blue skies for the past two days.
An hour before we were getting picked up, it started to pour, not just a little drizzle, a complete black-out deluge. I couldn't believe it; I had been waiting years to see these crazy looking monkeys, and here I was, a few hours away, and the chances were slim to none that I'd see anything in this rain.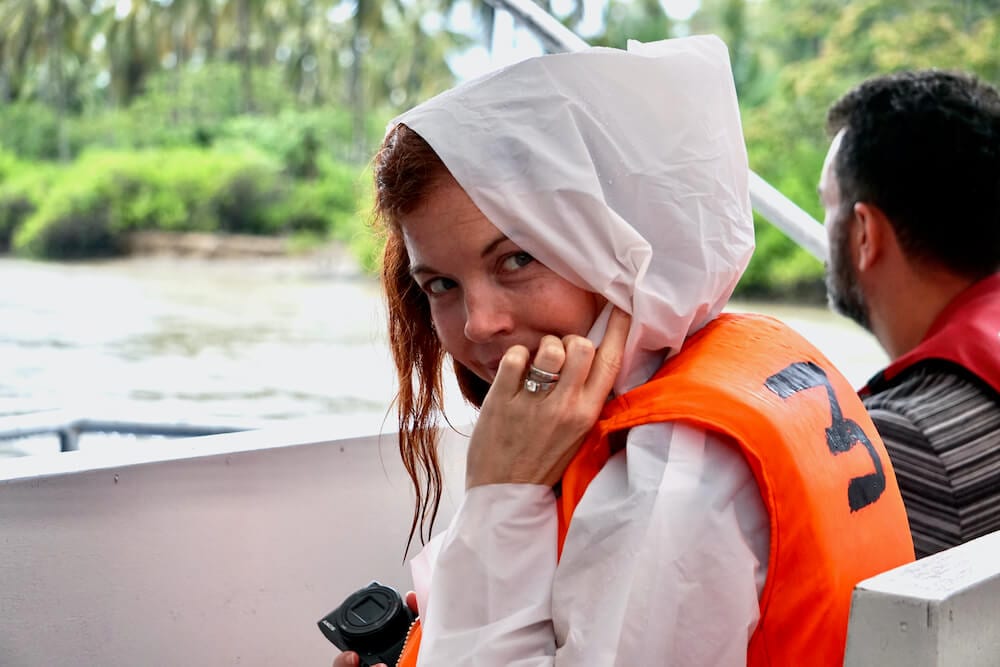 As we drove two hours through the downpour, the guide told us not to get our hopes up. Seeing my long lost ancestors in the rain was a longshot. As I donned my stiff plastic raincoat and boarded what could only be described as a small barge, I wasn't hopeful.
As we ambled on board, the guide started rushing us and took off sputtering across the river. There they were, a whole troop of them; the huge floppy nosed males with their turned-up pointy-nosed companions. I couldn't believe it, not more than 10 seconds on the river and there they were, swinging in the trees!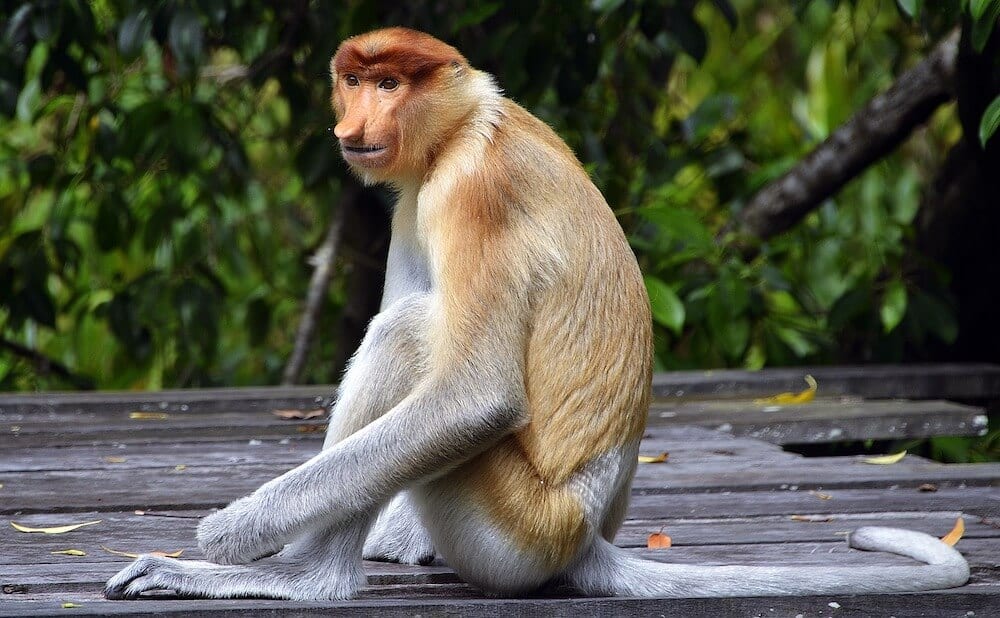 If it were up to me, I would have stayed for hours. However, it wasn't. So my mission was complete, and I was elated.
We continued down the river, spying several birds, playful macaques romping in the water's edge, and languid monitor lizards watching us watch them. But truthfully, I could have cared less about those creatures. I was in long nosed-potbellied glee.
Yes, seeing monkeys in the wild makes me giddy, I realize I'm a total weirdo. And I'm totally cool with it.
Part 2: Dinner and a Light Show
After we stopped off for an incredible buffet filled with delectable Bornean specialties, we hopped back onto the boat in the dark of a moonless night. Our tour was far from over. When we were planning it, I hadn't paid attention to anything other than the monkey stuff. All I cared about was seeing the proboscis.
Nature's Pyrotechnics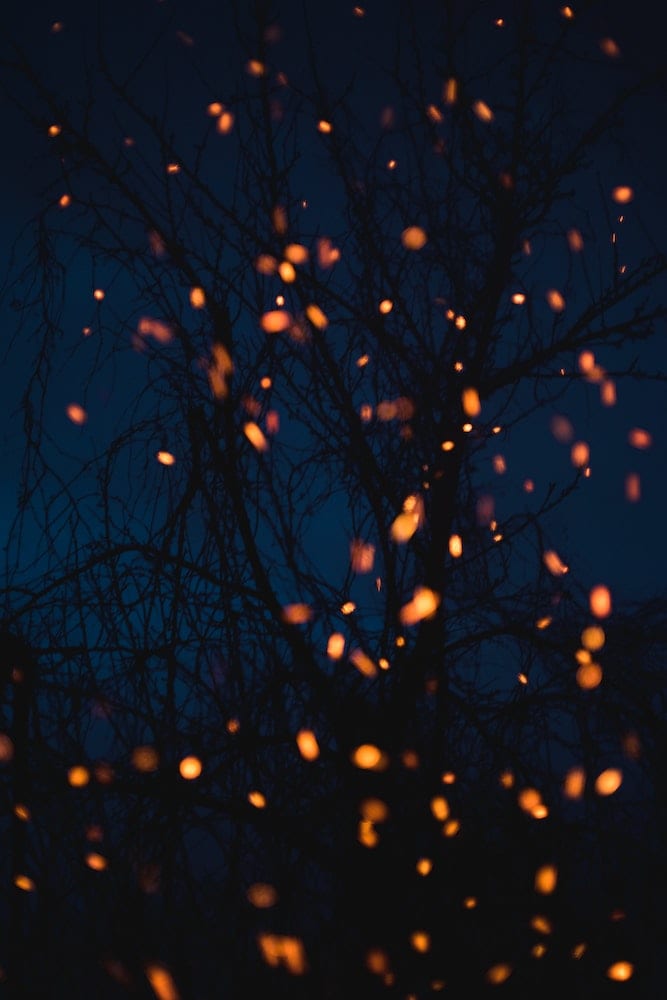 Our guide had a flashlight, but it wasn't to light the way. It was to lure tens of thousands of male fireflies to our boat. They thought the torch was the firefly queen and were about to get their lucky date. As soon as the males saw it, they were hypnotized and started swarming.
Within seconds we were surrounded by the tiniest fireflies; they were in our hair, on our faces.
The lonesome males were just hoping to have some wacka-wacka time with the queen. But as soon as they realized they'd been duped, they flew back to the comfort of the mangroves. It was as if someone decorated the mangroves with millions of fairy lights.
And not being the brightest of insects, they all come flying back as soon as the guide turns the light back on. If I hadn't seen it with my own two eyes, I wouldn't have believed it.
I didn't think the day could have gotten any better, but the cherry on the wildlife cake was the firefly cruise in the mangroves.
The details:
Even if you aren't a monkey weirdo, this should be on your Kota Kinabalu itinerary.
The day was spectacular and only cost RM195/$45 per person with Down Below Adventures. They picked us up from our hotel around 2:00 and drove two hours north to Kota Belud. After a big dinner, we hopped in a van to the Nanamun River for the fireflies. We arrived back at the hotel around 10 pm.
Tip: Bring a zoom lens in case the potbellied wonders are a bit far from your boat.
Day 3: Scuba or Snorkel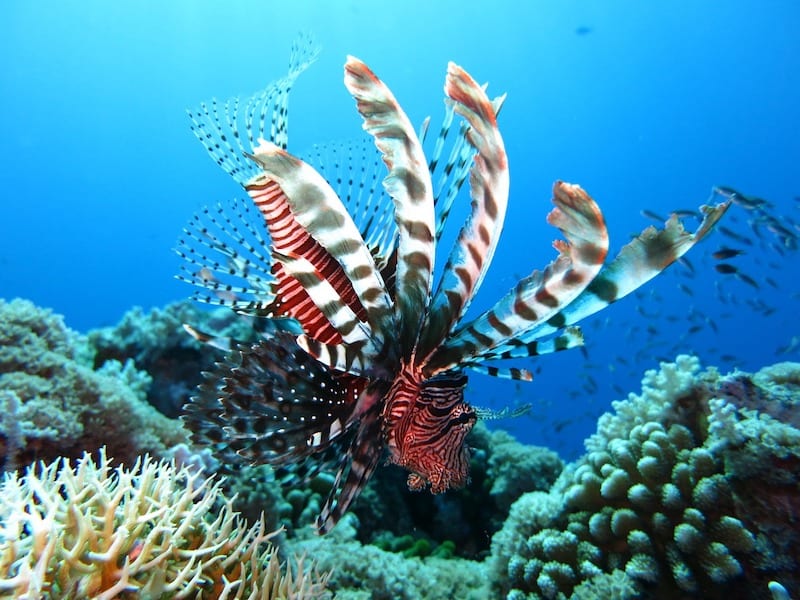 No Kota Kinabalu travel guide would be complete without a day underwater.
The TAR marine park is an aquatic paradise for divers and snorkelers. The marine park has been protected since 1974, and the underwater world is teeming with colorful fish and coral.
There are 49 dives sites to choose from within a 10-minute boat ride of each other, so you don't spend the whole day on the ship, just minutes. If you're not a diver, there are a bunch of snorkeling options.
We chose a 1-day dive using Down Below Adventures again. They are a 5 star PADI operator and were top notch. There are a gazillion dive and snorkel packages to choose from: half-day, full-day, multiple days, various islands, you get the point.
Mark and I did different dives. It had been a long time since my last dive, and I needed a refresher. Oh, and I'm a freak underwater. I need a divemaster to hold my hand and remind me to stop panicking, which never really works.
Even though it had been raining the few days before our dive, the visibility was still excellent, and we saw loads of curious creatures… bright purple sea slugs 7cm long, colorful coral teeming with tiny fish darting in and out of their crevices, and massive parrot fish with their blue pout.
Turns out, as much as I want to be a mermaid, scuba diving scares the sh!t out of me. I love the idea of it but get me dressed up and ready to go below sea level, and I lose it.
One day/three dive packages start at RM380/$88. It also includes hotel pick up/drop off, all jetty and national park fees, and lunch.
Day 4/5: Climb The Beast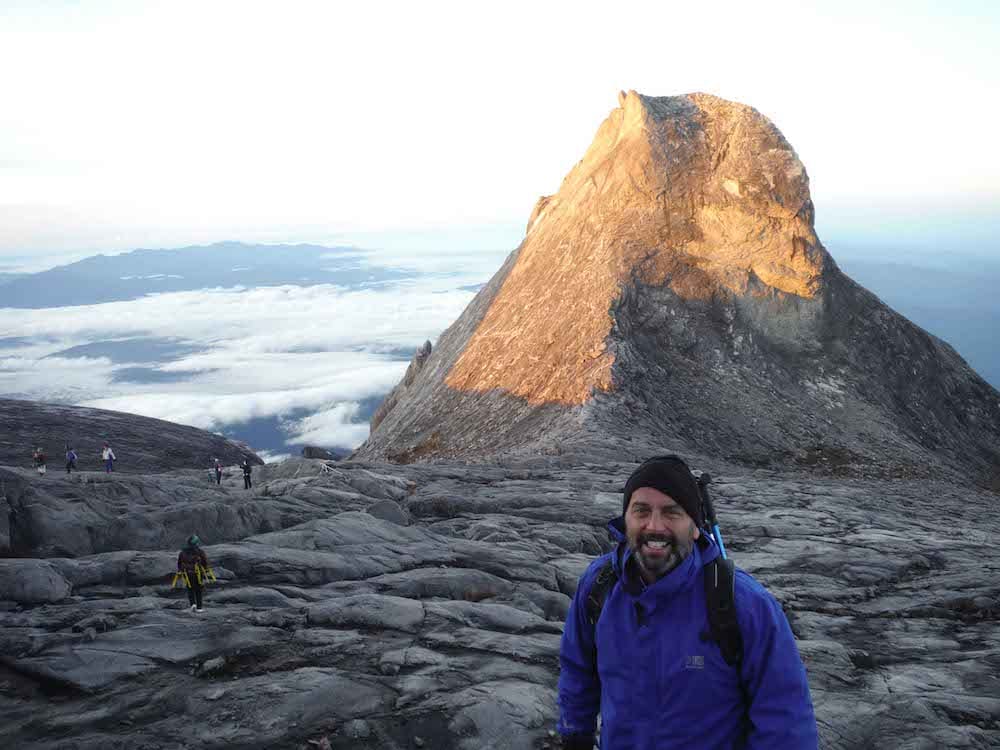 Mount Kinabalu is the highest mountain in Malaysia and the 20th in the world. The locals have a spiritual bond with the mountain and consider it sacred. It is often why people come to KK, to climb the beast. It's a two-day event where if you are lucky, you'll get to see the sunrise at the peak.
The climb isn't for the faint of heart. At 4095 meters, it's a two-day climb with views that amaze. And before you think I've gone and lost my mind, I didn't go. What? Do you think I'm crazy?
While I like adventure, I'm more of a beach girl, not a two day, high-altitude, hiking in the dark to see the sunrise kind of adventurer. I left that escapade to my husband, Mark, while I worked on my beach bum abilities on a nearby island.
In case you're wondering, I have mad beach bumming skills.
Anyway, if you are like Mark and conquering the summit isn't enough adrenaline for you, take on the world's highest Via Ferrata. It's a series of cables, rungs, rails, and suspension bridges built into the rock face for unfettered access to breathtaking views and restricted areas. Think of it as a ropes course while hanging off the side of a mountain.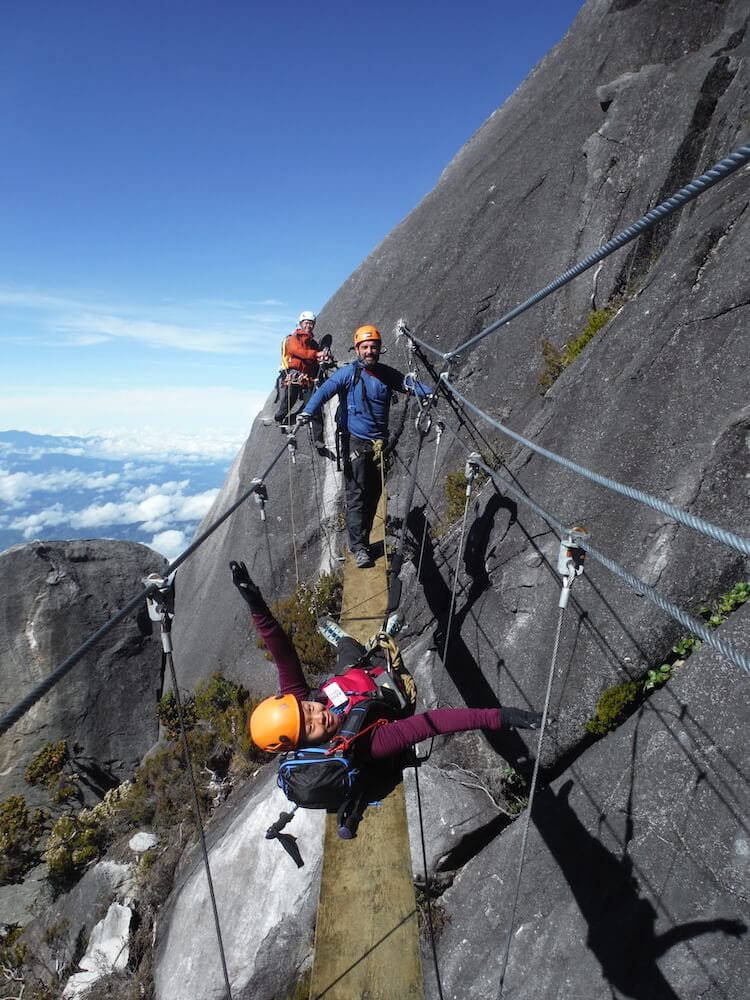 Mark said it was one of the coolest things he's ever done. At all times, he was connected to secure lines and felt completely safe. Personally, I love the idea of doing the Via Ferrata but hate the idea of hiking to get to it!
Mt Kota Kinabalu Itinerary
I would recommend planning this at least four months in advance to avoid conflicts, only 135 people are allowed to climb daily. You will need a permit and a guide to climb which is all handled by the tour company you choose. Mark went with Amazing Borneo who have an excellent reputation and are extremely professional.
The Deets:
6-7 am: Hotel pickup
9 am: Paperwork and details
10-11 am: Hike to basecamp, which will take 4-5 hours. Once you arrive, you'll relax, eat dinner, and settle in for a few hours of sleep.
2 am: Wake for a snack and start hiking to Low's peak.
7 am: See the sunrise and begin the descent back to base camp for a late breakfast and check out. Trek down the rest of the way to the Kinabalu Park headquarters, where a buffet lunch is waiting for you.
3-5 pm: Transfer back to the hotel. Depending on how fast you trek, you will be home by late afternoon/early evening.
This package starts at RM 1180/$274, but it depends on the time of year you go.
If you want to add on the Via Ferrata course to your Kinabalu tour package, you start that after sunrise at the peak. At RM 2030/$472 it doubles the price, but Mark said it was well worth it, and his favorite part of the entire experience.
Another Hiking Option
If you don't want to climb the beast, you can hike around Kinabalu National Park instead. Amazing Borneo also has day trips. The park is at the base of Mount Kinabalu. It has 5000+ plant species, including 1000 orchid species and two rare Rafflesia species. There are over 326 bird species and 850 butterfly species to spot as well.
On the way back, you will head to the therapeutic Poring Hot Springs to reward your tired muscles. After you've relaxed, you can go on a Canopy Treetop Walk, which is a 105-meter length walkway suspended 30 meters above the lush jungle.
You can go with an organized tour or use the public buses to get there. However, it will take about two hours to get there from KK, so be sure you know the return bus schedule.
What to do in Kota Kinabalu if You Don't Hike
So here is the scoop. Climbing the mountain takes up two days of your Kota Kinabalu itinerary. If you want more wildlife, or just want to check out KK city, check out these two alternative Kota Kinabalu Itinerary 4d3n.
Keep the first three days of the above KK itinerary, but instead of hiking, take a day trip.
Go Visit the Orangutans & Sun Bears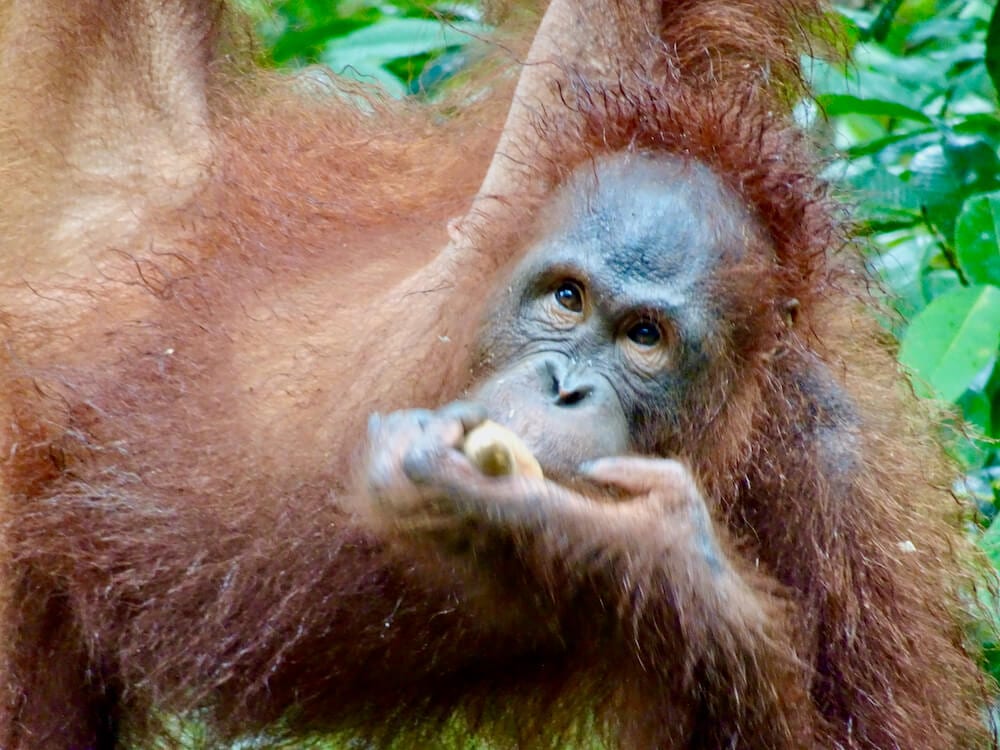 The Sepilok Orangutan Rehabilitation Centre is only a 40-minute flight from KK. This is your chance to get up close to the critically endangered copper-haired apes.
They are free to roam as they please and are usually in the wild until the feeding times at 10 am and 3 pm. They are fed a monotonous diet of bananas and milk to encourage them to forage for their food. But let's be real, a banana handed out on a platform is easier than the one they must ferret about for, so they still come down for a feed.
There are no cages or walls, but you must respect their space and let them eat their bananas in peace. Even if they get close to you, don't touch them. They aren't used to human germs, and it could be very detrimental to their health. The feeding area gets pretty hectic, so avoid going on the weekends if possible. If you are around a noisy group of people, try to find a serene spot until the loudmouths move on.
Stick around for a while after the feeding, sometimes stragglers come a little late to the party, and you might just have the little furry guy all to yourselves. Just sit back quietly and wait, they are more prone to come out when it's peaceful. There is also a nursery to watch the little ones romp. The grounds are lovely and worth a wander.
I suggest planning your flights to stay for both orangutan feedings, just in case they don't come out for the first one.
Bornean Sun Bear Conservation Centre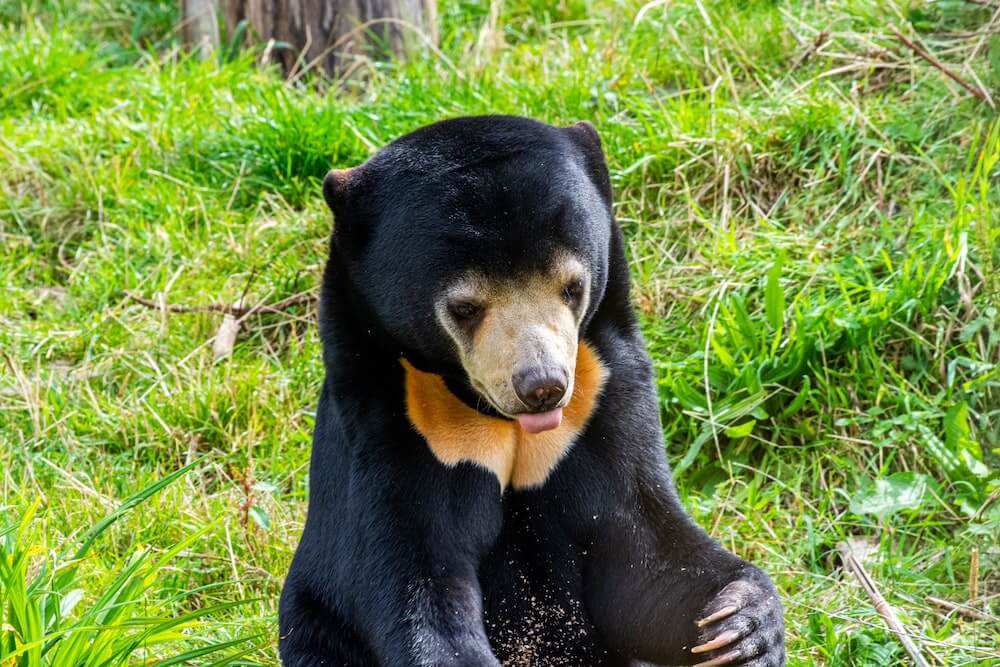 It's right next door so you can walk between the two centers.
In between the feedings, you can head next door to the Bornean Sun Bear Conservation Centre (BSBCC). There are 43 sun bears in sizeable outdoor enclosures. The owner and staff are very passionate about the conservation of these little bears and are happy to share with you.
In the rain, the orangutans tend to hide, but that is when the sun bears come out to play, so use the weather as a guide and go between the two centers.
The Logistics:
Sepilok is open for 8-5.
The BSBBC is open from 9-3:30.
There are roundtrip flights from KK to Sandakan on Air Asia and Malaysia Air. It is only a 40-minute flight and costs around RM120/$28. They fly as early as 7 am and return as late as 8 pm.
The 17 km Grab ride from the airport should cost around RM50/$12.
The entrance fee to each is RM30/$11. There is a RM10/$3 fee for bringing your camera in, ridiculous but true. But hey, it all goes to good causes, and $3 means nothing to us.
At Sepilok, they make you put all your belongings in a locker before you enter so the apes can't accidentally get into something they aren't supposed to.
Over Wildlife? Take in some Kota Kinabalu Culture
There are plenty of sights around the city itself:
1. Mari Mari Cultural Village is about 30 minutes outside of KK in the countryside. The village is a living museum to preserve Bornean ethnic culture. There are five different tribes represented, all who are there showing you their traditions from carving knives to using blowpipes, to playing traditional instruments. Each tribe has its own home that you walk through to see how they live.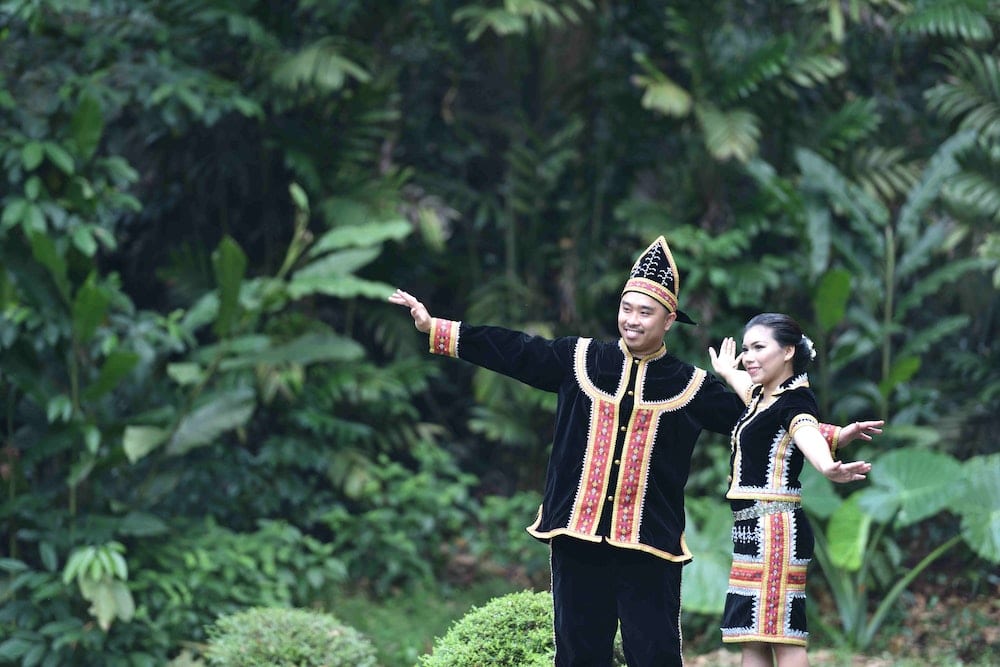 2. Sabah State Museum and Heritage Village is more than just a museum. It has multiple buildings onsite: Scient and Education Centre, Ethno Botanical Garden, Art Gallery, and a Heritage Village. There is a whale skeleton, exhibits on head hunters, and one of the largest collections of ceramic in Southeast Asia.
3. Gaya Street Sunday morning market. If you are there on a Sunday, you won't want to miss this market. There are antiques, batiks, sarongs, traditional jewelry, food, and more. It's not a tourist market, it's where the locals go for their everyday needs.
4. The Sabah State Mosque is uniquely beautiful with its modern silver and gold domes.
5. The Kinabalu City Mosque is visually stunning perched over the water, so at high tide, it looks like its floating.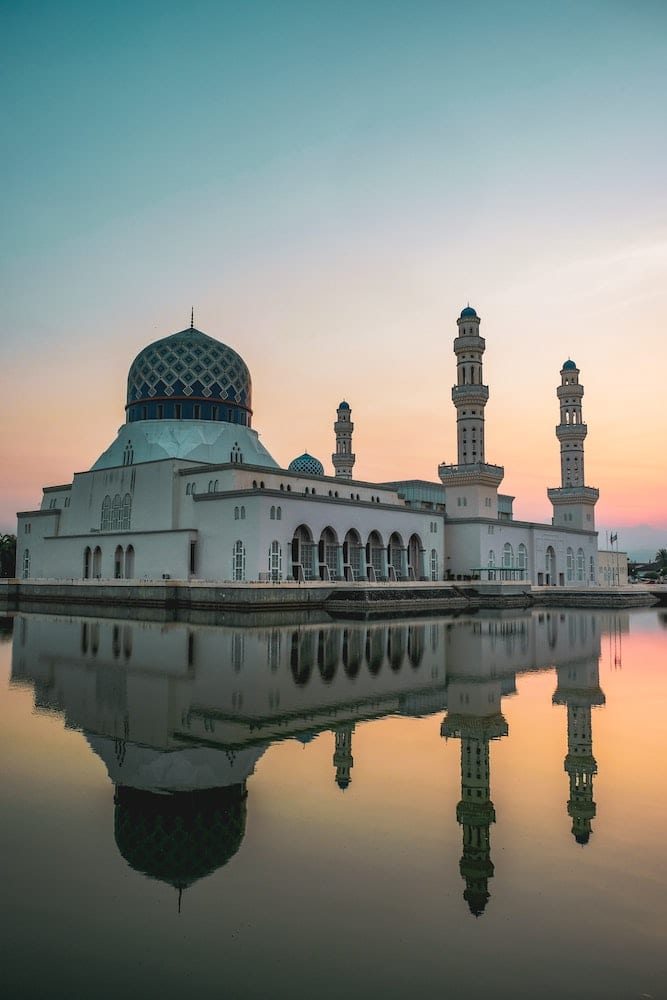 Where to Eat: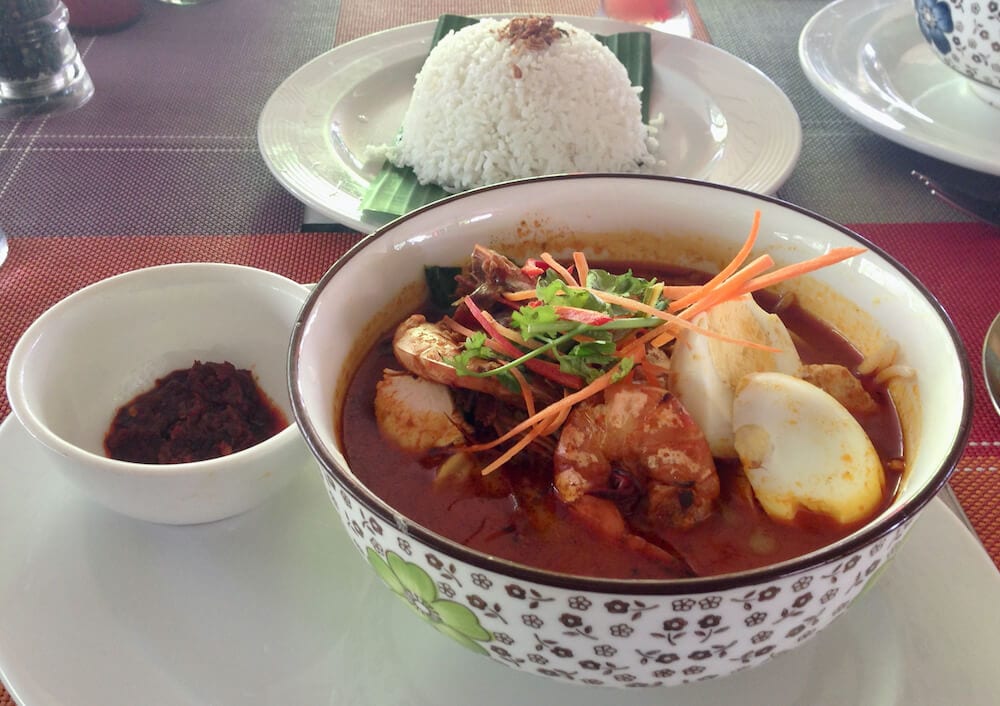 At The Waterfront, you'll have plenty of options; Italian, Thai, Malaysian, even an Irish Pub. One of the best Italian restaurants in town, Gusto's, makes a killer thin crust pizza. It's helmed by an Italian chef, is very authentic and comes with views to die for.
The Night Market is a block away from The Waterfront and has hordes of food stalls selling local food. Wander about and take in all the options. Find a busy stall and sit down at a nearby table and order up. The vendor will help you if you are unsure of what to order.
Welcome Seafood was recommended by a few locals, so we had to check it out. It wasn't the quaintest of restaurants, but it's one of the best. It's one of those places where you get to walk up to the tanks and pick out your dinner. If that freaks you out, they will do it for you.
It's a massive chaotic place where you might have to share a table with strangers, who will inevitably tell you what to eat, and you should listen. Malaysians know food, it's their business.
We got succulent butter prawns and hotter-than-hades chili scallops, a vibrant plate of local greens, and a heaping plate of fried rice for RM124/$29. It was enough for 4 people
How to get to Kota Kinabalu
The descent in the airplane was awe-inspiring. Just imagine a handful of lush green islands dotting the shore. And dozens of massive fishing vessels bobbing up and down in the stained glass blue water.
Direct flights to Kota Kinabalu Airport
From Penang: Just under 3 hours starting around RM280/$67
From Kuala Lumpur: Just under 3 hours RM240/$56
If Kota Kinabalu is your first stop in Malaysia, there are direct flights from 8 other international countries, including Singapore and the Philippines.
The airport is only a few kilometers from town, so taking a Grab will only cost you a few bucks.
Getting around KK
Grab, which is Southeast Asia's version of Uber, is everywhere and the cheapest way (other than buses) to get around. You'll never spend more than a few dollars to go anywhere in the city. It is a walkable city if you don't mind the heat.
All of the tours I've recommended include pick up and drop off from your hotel.
Where to Stay in Kota Kinabalu
ibis Styles Kota Kinabalu Inanam Hotel 
Best Time to Visit Kota Kinabalu
KK, like the rest of Malaysia, is equatorial, which means it's always hot and humid. Year-round average temp is 27c/ 80f degrees, with humidity hovering at 75% and higher depending on the month.
You can visit all year long, but I would suggest avoiding the rainier months if you want to climb Mt. Kinabalu.
January to April are the best months because it's a bit cooler and drier than normal.
Temps rise after April, and October is the rainiest month.
The Wrap Up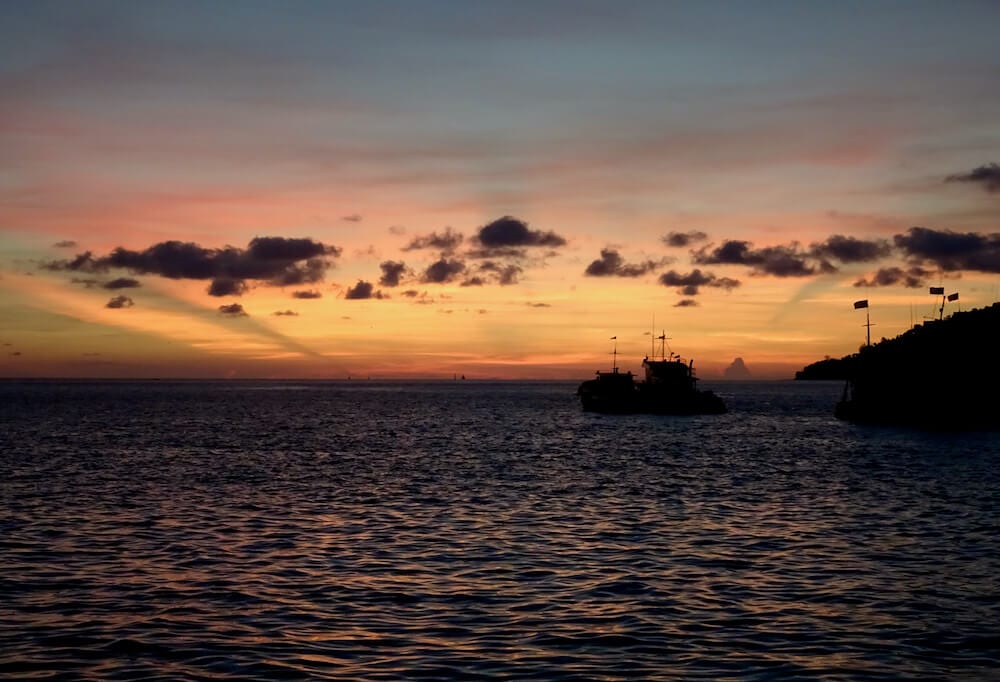 Malaysian Borneo is one of the most beautiful natural islands in the world. So much of it remains untouched, and KK is just the tip of the iceberg. Check out my friend Marco's Perfect 2 Week Borneo Itinerary – he leaves no stone unturned!
However, this completes my adventurous things to do in Kota Kinabalu itinerary.
If you are the kind of person who wants an entire Kota Kinabalu travel package, you can pick one outfitter to do it all. Some of the tour operators offer a Kota Kinabalu 3 day itinerary or 4 day itinerary.
I hope this has helped you plan your holiday to Kota Kinabalu. If you have more time there, I am happy to help you plan–just shoot me an email.
Does KK sound like a place you'd like to visit? Tell me in the comments below.
And don't forget to Pin this post for a later date.