Last Updated on September 7, 2020 by Kirsten Raccuia
Malaysia is full of island paradises. Some are easier to get to, some are pretty commercial, and others are super remote. But the three most popular islands for a short getaway in Malaysia are Langkawi, Perhentian and Tioman.
All three are vastly different from each other, and all have pros and cons. Luckily for me, I've been to them all and luckily for you this blog compares them!
Whether you are looking for a short getaway in Malaysia for family or budget weekend getaways for couples, I've got you covered.
So which island is the best getaway in Malaysia? Keep reading… but first, a map.
1. Location and ease of getting there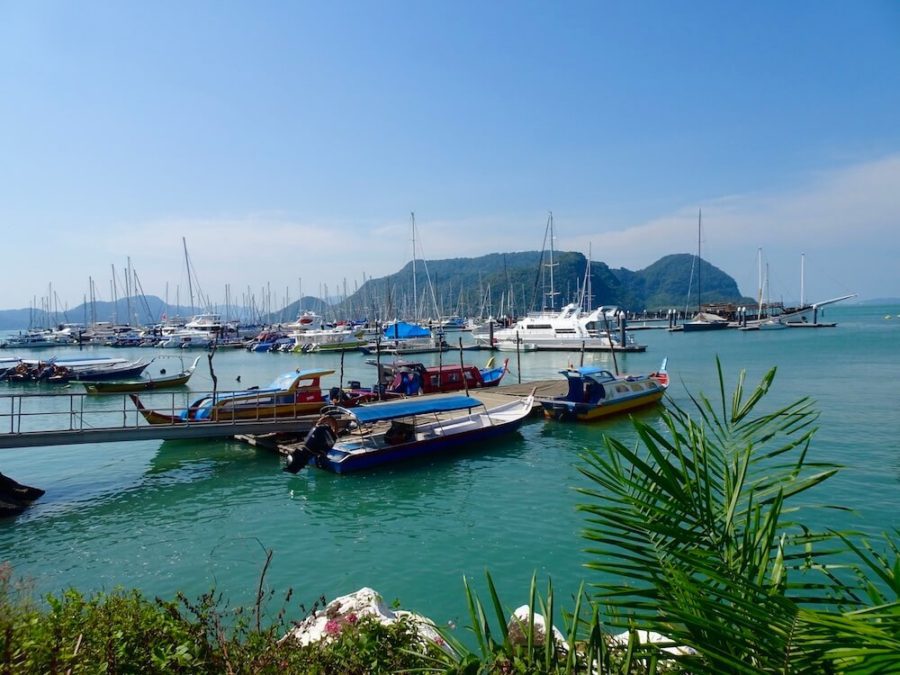 Hands down, the winner is Langkawi. No matter where you are coming from, unless it is Borneo or somewhere on the east coast, getting to Langkawi is a piece of cake.
I'm always ready for a short getaway in Malaysia for couples, and Langkawi is perfect.
From Penang, it is just a 17-minute flight (I've waited longer for my luggage in the Penang airport than that!).
It's also a short trip away from KL; the flight is only an hour.
There are also ferry options from Penang, Kuala Kedah and Kuala Perlis. I've taken the car ferry over, but not the people ferry from Penang. I'm not a fan of listening to or smelling other people's vomit, so I steer clear. But the car ferry was easy and not a barf bag in sight.
As for Tioman vs. Perhentian, they are both a bit of a challenge, but Perhentian wins (unless you are coming from Johor Bahru).
We drove to the Kuala Besut jetty from Penang in 6 hours; it's about the same from Kuala Lumpur. But the ferries run very often and regularly until about 4 pm. When they fill the boats, they go. Depending on which island you are going to, the ride from the jetty to the islands takes between 30-45 minutes.
Getting to Tioman from Penang is an 8-hour drive (4.5 from KL). You have to leave at Oh-dark-thirty to get to the island the same day if you can get an afternoon ferry. The ferry times are inconsistent best. Somedays there are 3 options – others only 1. It is a 1.5-2 hour ferry ride depending on where you need to get off. And the entire system isn't as clear cut as it is in Perhentians, but that is a whole different blog.
2. Ease of getting around the islands
My number one vote goes to Langkawi again.
Langkawi is the only island of the three that you can drive all the way around on a scooter or car. Scooter hire is cheap at only RM25 a day. If you don't want to rent a scooter or a car, there are Grab taxis everywhere.
Second place goes to Perhentian.
There are no cars in Perhentian, but the sea taxis are plentiful and everywhere. However, the cost adds up, and the price doubles after 7.
There are a couple of roads in Tioman but not worth renting a scooter or car for. Especially when the cost to rent a scooter for a day is RM100. Again, there are sea taxis, but not that many, and because everything is far apart, it gets quite expensive.
3. Best ocean for diving and snorkeling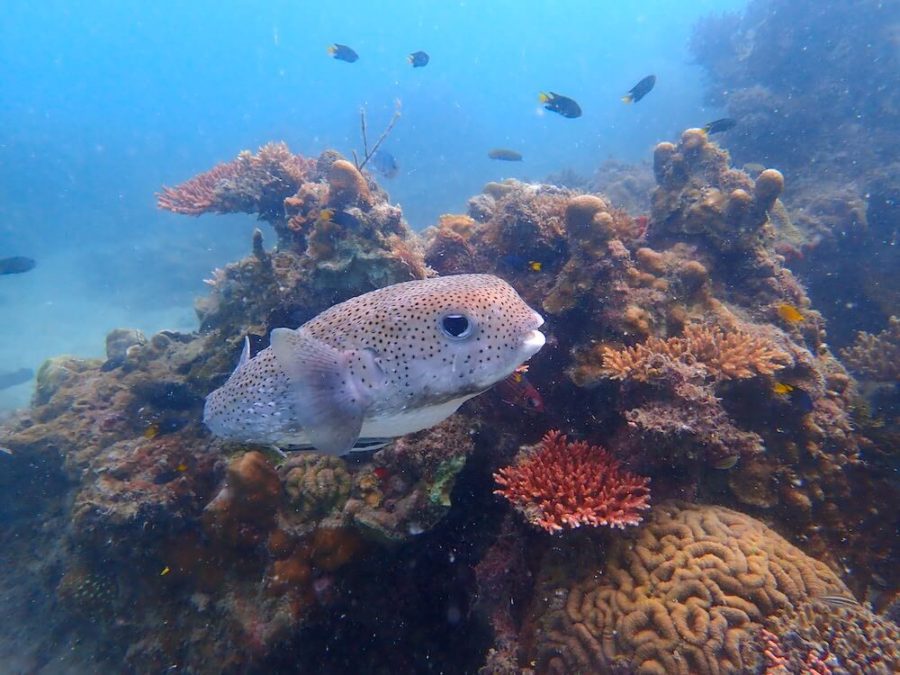 Tioman takes the cake here! Hands down.
Mark and I have dived and snorkeled in Mexico, Jamaica, Bali, Bahamas, Hawaii, and Kota Kinabalu. We have never seen such incredible marine life and coral.
Sadly, most coral these days is bleached and broken, and there was a little of that in Tioman, but on the 3 trips we took, the coral was so vibrant. The entire ocean floor, as far as the eyes can see, covered in mauve, cerulean, pale pink, bright purple, and cobalt blue coral formations.
It's the kind of stuff you see in the National Geographic documentaries. I never thought I would see that in real life.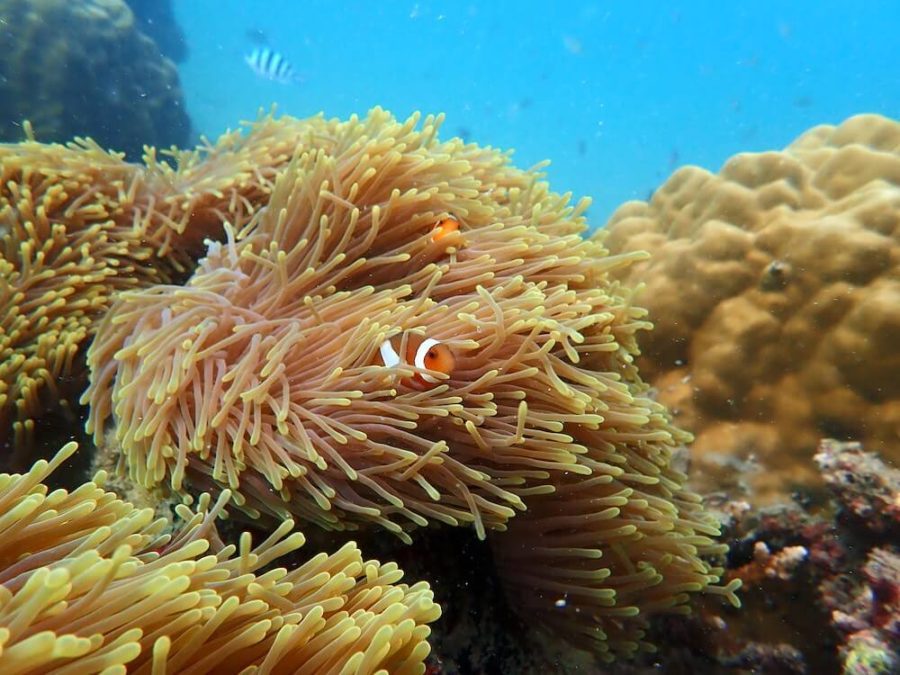 We also saw blacktip reef sharks, turtles, nemos, parrotfish, pufferfish, schools and schools of other fish unknown to me.
Second place def goes to Perhentian. We saw loads of gorgeous fishies and a grouper that could swallow me whole. No joke. However, there was so much broken and dead coral that it was heartbreaking. It was everywhere. Even washed ashore on a lot of the beaches.
Langkawi really has no diving/snorkeling worth a mention unless you hop a boat to the Pulau Payar Marine Park an hour away.
4. Most activities other than water sports
Langkawi is the winner here. My itinerary for what do in Langkawi details it all out.
I'd say there is a tie for second place in this category.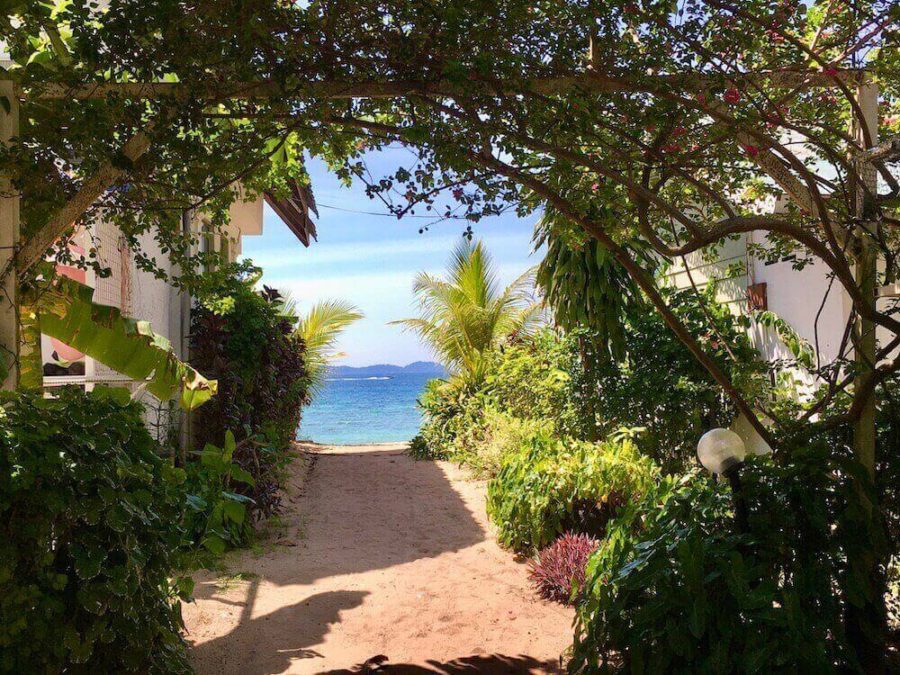 Both the Perhentian islands and Tioman have good hiking and jungle trekking. But because Tioman is so spread out and not easy to get from place to place, your options are more limited to whatever area you are staying in.
Both Tioman and Perhentian have turtle sanctuaries, waterfalls, and quiet beaches to explore.
5. Best nightlife for a short vacation in Malaysia
Langkawi is the clear winner here as well. If you stay in Cenang or Tengah, there are loads of restaurants and bars to hang out at. Since it is a duty-free island, booze is cheap and plentiful.
On Perhentian Kecil, Long beach is the only strip of nightlife. That being said, there are only a handful of places for dinner and drinks. We did see a pretty cool fire show one night, but overall, it's pretty mellow and a great place to relax in Malaysia.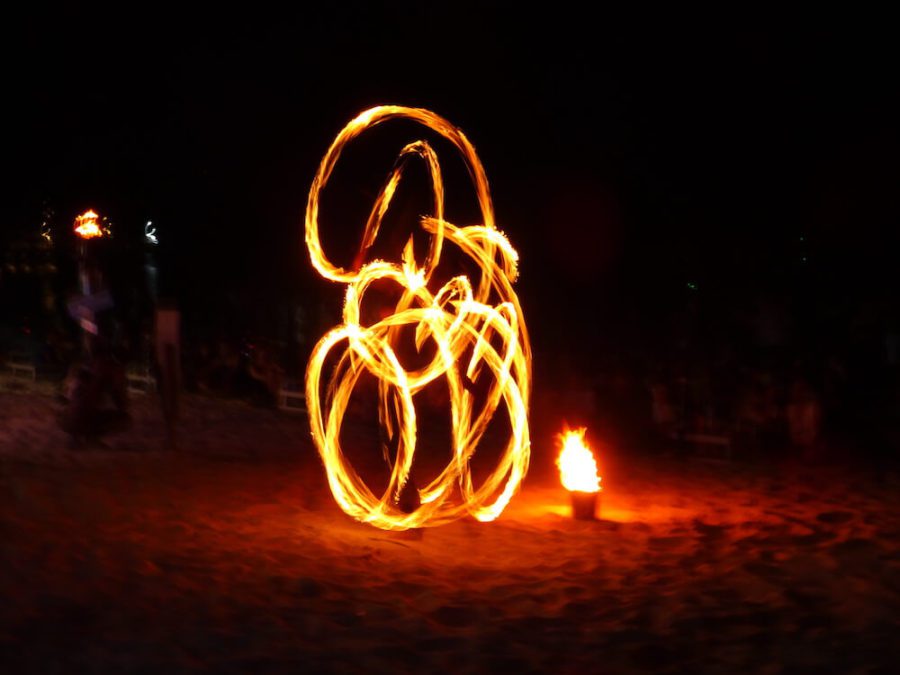 Tioman is also a duty-free island. However, we only saw 1 duty-free shop, and it was pretty lame in comparison to those on Langkawi, as well as in most airports. We did find some unique bottles that we've never tried before, so that was a bonus, but don't expect much. And the booze is more expensive than in Langkawi.
Regardless of the duty-free status in Tioman, it's not easy to find restaurants that sell any beer, wine or liquor. You can take your own to some restaurants, but only if you also bring a cup and dispose of it afterward. The island is mostly Malay, which means they will not touch anything with alcohol, nor will they allow you to pour yours into one of their glasses. And they certainly, will not dispose of your empties.  
6. Best internet service on your Malaysian getaway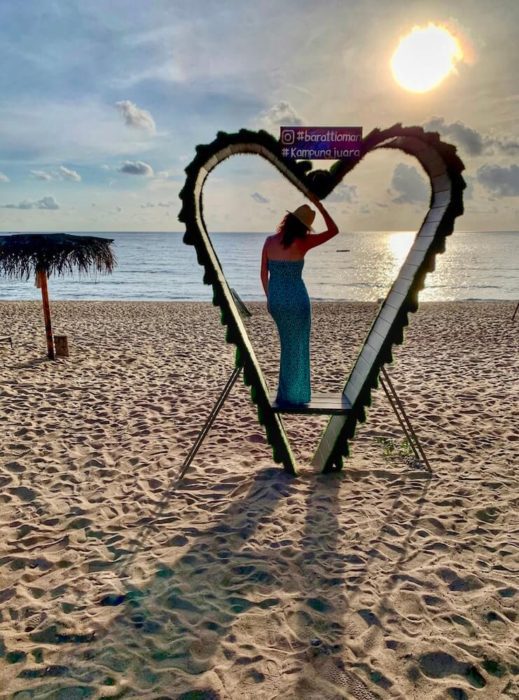 I'm gonna start with third place on this one… drum roll please… the loser goes to Tioman.
We stayed in Tekek and Juara, on opposite sides of the island. Neither area had internet. Really. None. And even the "free wifi" in the lobby of our chalets and hotels had little to none.
That being said, we had friends staying in another area called Paya, and they had WIFI.
We were told that the only cell services that work on the island are Maxis and Celcom; of course, we have Digi, so that didn't help the situation.
Langkawi and Perhentian both have reliable internet.
7. When to go on your short getaway in Malaysia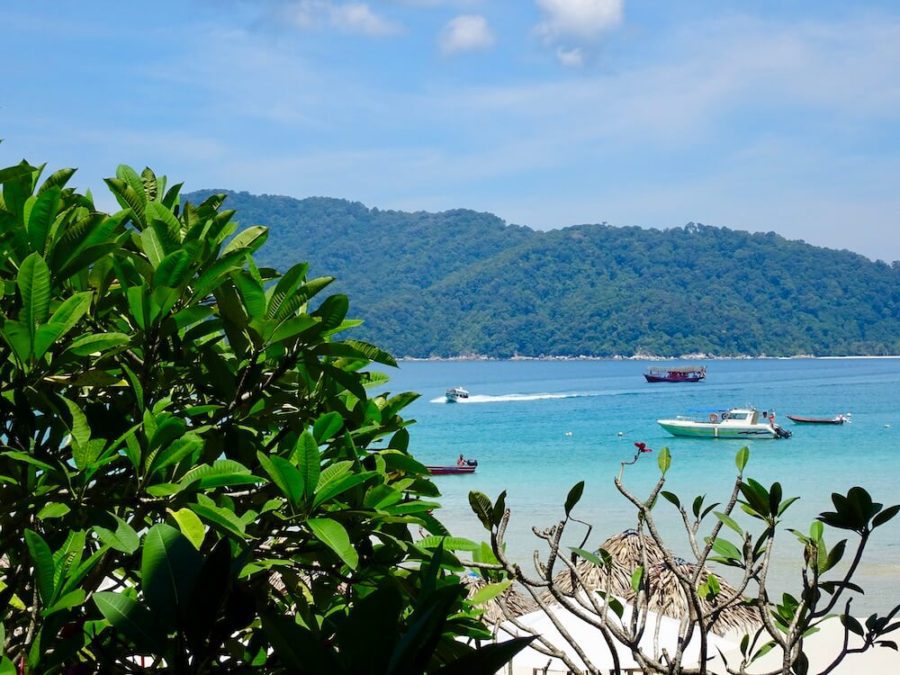 Nov – Feb is the monsoon season for both east coast islands.
Tioman doesn't shut during their monsoon season. In fact, it becomes one of Malaysia's best places to surf. However, ferries are more infrequent. There is a possibility that you might get stuck on the island until a ferry can make the crossing (sounds like a barf fest waiting to happen). There is a Tioman surf festival in February.
Perhentian does close down during the monsoon season.
Since Langkawi is on the western side of Malaysia, it has the opposite rainy season. But it's not as severe as the east coast rains, so the island never shuts down. Some months are rainier than others, but overall, you can go any time.
Where to stay on your tropical island getaway in Malaysia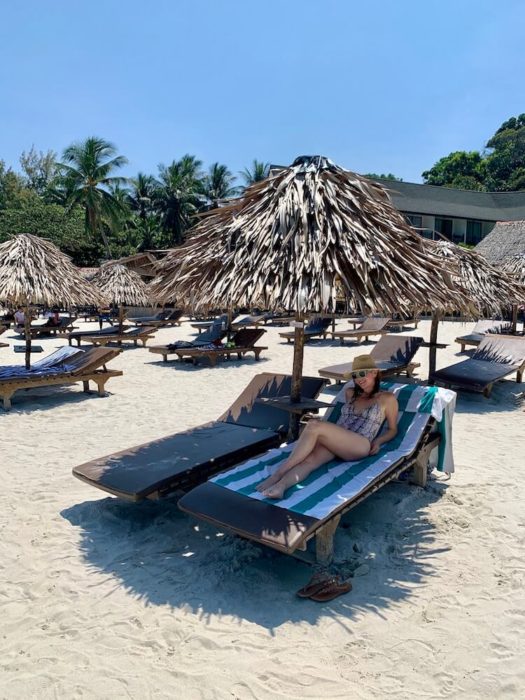 So here is the deal, Covid happened, and tourism around the world is at an all-time low. Malaysia is no different, and the hotel industry has taken a severe beating. Without hotel guests and tourism, most hotels can't keep up with all the maintenance that is needed regularly.
We went on our east coast road trip after months of a shutdown, so I have to judge all the resorts on Perhentian and Tioman with a little grace and leeway.
What I'm trying to say is that not all the hotels are at their finest. They need some TLC.
That being said, I'm not sure the hotels would have been any different if we had visited a year ago before Covid.
Hotels in Malaysia aren't known for maintaining the same standards from year one to year two to year three. We often try to stay in newer properties for that reason. However, one of the reasons we took this road trip was to spread some love to the local hotels. And that we did.
So, knowing all that… here is my list of hotels.
Where to stay in Perhentian Kecil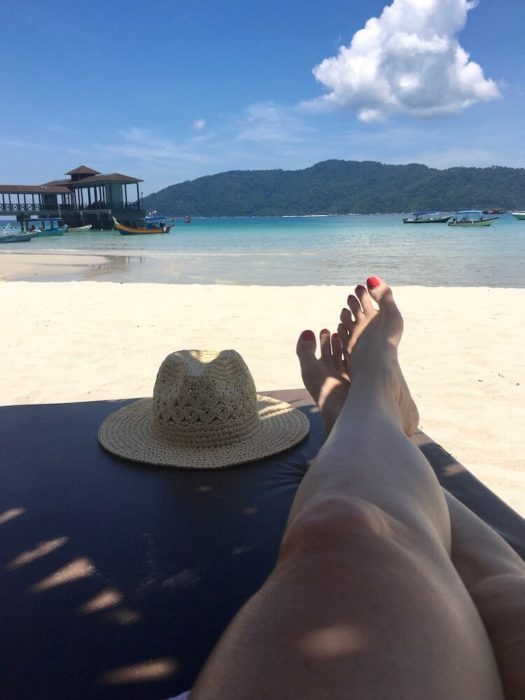 If you want to have any sort of nightlife, you really need to stay in Long Beach. If you stay in other areas, you are kind of sequestered there unless you want to take the sea taxis everywhere, which can be pretty expensive.
But Long Beach is beautiful, and the beach is clean, so why stay anywhere else?
There are a lot of super budget, no A/C bungalows in the area, which are not an option for us. There are also some guesthouses along the beach if you don't want to spend a lot of money. Or you can also rent a tent just off the beach for super cheap, but again, that's not my style.
I am not a backpacker, flashpacker maybe, but tents and a shared bathroom? No thank you.
Bubu Resort and Villas
They have two properties that flank either ends of the beach: Bubu Villas and Bubu Resort.
We stayed at Bubu Resort, and it was def the nicest hotel we stayed in as they are a 4-star property.
The rooms are very well laid out. You enter your room through the bathroom, which at first seems strange but actually is very thoughtful. It's a beach resort; you will inevitably be tracking sand wherever you go. This way, you walk into the room and shower off the sand before you track in into the bedroom. Smart, right?
All 36 rooms have a balcony/patio with a garden or sea view. There are no TVs. There are loads of power plugs, and many have USB ports. The safe fits a computer, there is good water pressure and heat, plenty of storage in the room, and the rooms are spacious.
The staff are wonderful and informative, and the manager Celina was lovely. Most of the service was exceptional. They will come and grab your bags off the sea taxi or from the pier if you let them know when you are arriving.
They have daily sunrise and sunset yoga, free snorkel gear, and one complimentary cocktail from 4-6 daily that comes with a little snack.
BuBu Villas
BuBu Villas, on the other end of the beach, is a more expensive hotel option with only 18 villas on the property.
Each villa has an outdoor shower (and an indoor one) to get the sand off before you enter the villa. The villas are pretty close to each other, but they've designed them so well you would never know you have neighbors. They are super private, and it feels like you have your own little house a few hundred feet from the beach.
They are very well appointed with beautiful gardens and are a complete respite from the world around you.
If you want a romantic dinner, they will make you a candlelit table under billowing white curtains on the beach.    
Brandon, the new manager at Bubu Villas, was supposed to show us a few of the villas, and we ended up spending a couple of hours hanging out and chatting with him. Even though he had only been there for two weeks, he was extremely knowledgeable about the property. He was on top of everything from the staff to every guest that walked by. BuBu did right by hiring him!
All the rooms come with breakfast, which you can have at either resort. At Bubu Resort, breakfast consisted of a small buffet and an egg station.
Both BuBu's have nightly seafood BBQs for dinner with whatever was caught fresh that day. But they also have full menus if you don't want seafood.
BuBu Villa has an extensive Italian menu, and we had a great seafood pasta there. BuBu Resort has a monstrous menu with everything from salads and burgers to curries and local foods. Neither are cheap.
Traveler tip for both BuBu's: Be sure to check the prices on their website – they are often the lowest.
Cons:
The only real downside of the BuBu hotels is that they are expensive. And if you need a TV, this isn't the place for you.
Where to stay in Perhentian Besar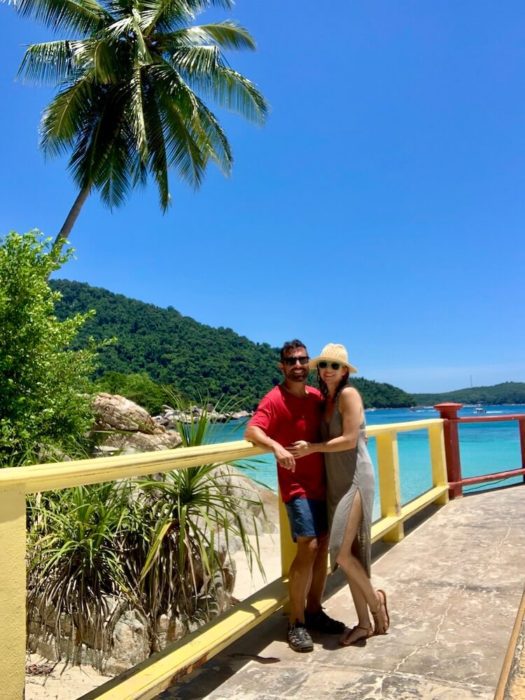 This island has more accommodation options for all budgets.
Barat
They have their own pier, so you get dropped off right on their property, which makes it easy.
Barat has 54 different rooms/chalets to stay in. The entire property has loads of trees and wooded areas, which give it a cozy campground kind of feel that is lovely. There are quite a few hammocks and chairs on the property but no real beach, so this is not the place to go if you need a beach right outside of your room.
The staff was friendly and very helpful. They will organize everything for you, from snorkeling and fishing trips to water taxis and kayaks. We took a 3 island snorkeling trip and saw schools and schools of curious fish. It was amazing – they came right up to my mask checking me out and had no fear of me at all.
All the food was great, from the roti canai to the nightly seafood BBQ.  We ate grilled squid both nights, and it was divine! The prices are great for food and beer.
There are families of sweet dusky leaf monkeys that apparently love jackfruit, so they were always sitting in front of our chalet munching away. There was also a massive bat that hung out (see what I did there?) in another tree nearby.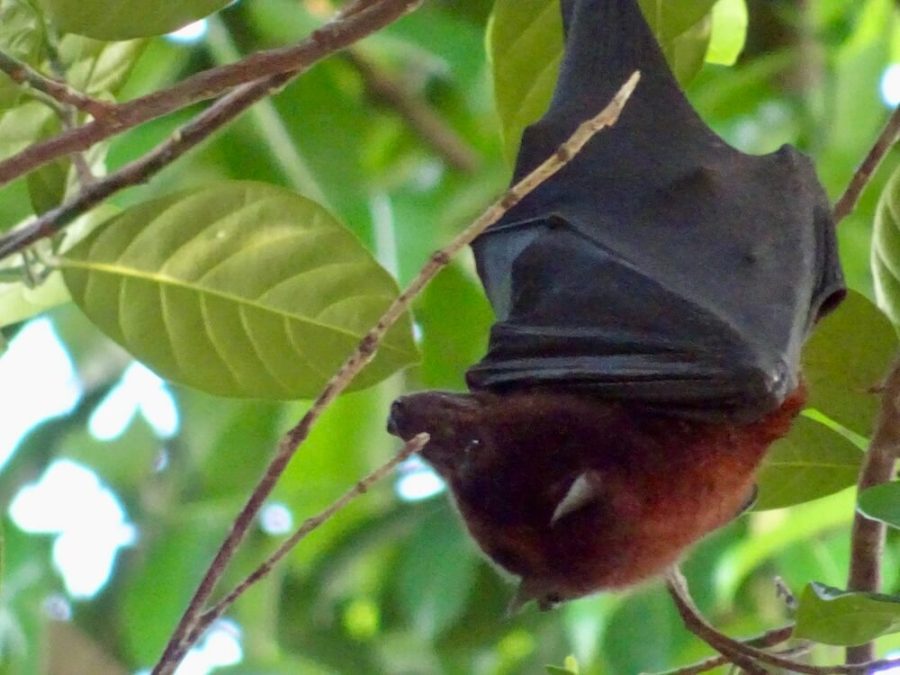 We stayed in one of their garden chalet standard queen rooms. It was a little set back bungalow with a shared porch area to sit out front. The rooms are very basic and small but comfortable. They all have wet showers, a mini-fridge, a small safe and a flat-screen TV.
One thing we loved is that they gave us a hard drive with tons of movies on it. Perfect for a rainy day or lazy evening – which they all are on Besar.  
If you want a sea view, choose the Seaview Deluxe Room, which is located above the restaurant area. They have a large balcony with a table and chairs as well as 2 loungers. Perfect for happy hour as the sun sets. But do note – the sun doesn't set on this part of the island, so you won't actually see the golden orb sink into the ocean.
Traveler tip: The room we chose was tiny with not much space for luggage or anything else, if you travel with a lot of stuff, choose a larger room.
Cons:
There is no beach to sit on. If you want a beach, you have to walk in either direction to Coral Bay or Tuna Bay, both within a 5-10 minute walk.
The rooms are tired and could use a refresh.
There is no electrical grid on Besar, it is run off generators.  At night when they are switched, all the electricity goes off of a few seconds and then turns back on, which isn't a big deal. However, our A/C never went back on – we'd wake up sweltering two times a night and have to turn on the A/C.
We did mention it to the front desk, and they said they'd have maintenance look into it, but nothing changed.
Tuna Bay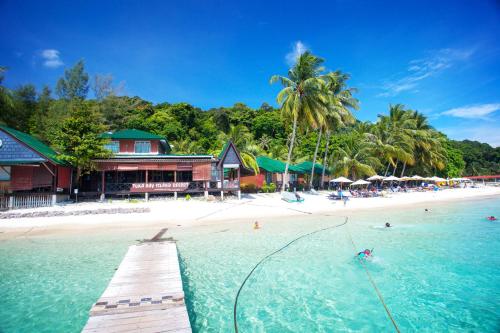 Tuna Bay is a good option if you want a beachfront property. You can snorkel right off the beach or laze in one of their sun loungers.
They have a good restaurant and bar with a great overall relaxed vibe.
The chalets have aircon and are a little more expensive than the Barat, but they do include breakfast. There are various sized rooms, some are more spacious than others. Some of the places have a private porch out front with two chairs and a table for relaxing. Others are steps off the beach.
If traveling with friends or a big family, they have interconnecting chalets.
Their staff can organize diving, snorkeling and fishing trips as well as sea taxis.
Cons:
Rooms can be dark and a little dated.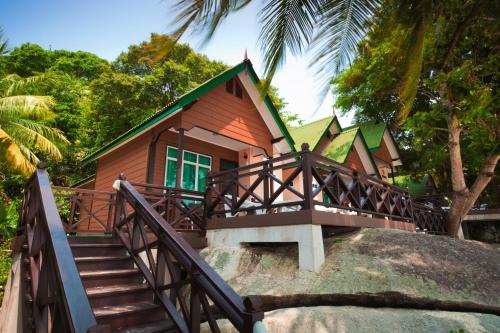 Where to stay in Langkawi:
We've been to Langkawi a bunch of times over the last 7 years. Usually staying at different places each time.
My ultimate Langkawi itinerary and guide has all the hotel info you need. I will be going to Langkawi in a couple of weeks and will have a few additional hotel options to add to that blog. So check back soon.
Where to stay in Tioman:
Tekek Village
Tekek is the most commercial area on the island, which doesn't mean much because there isn't a lot there. The one main duty-free shop is here, as well as a dozen or so restaurants, a grocery store, and a few kiosks selling snorkeling trips, but that's about it.
It's not a very cute village, but the beach is lovely, and it's got all the basics you need.
Cheers Chalets
We stayed at Cheers, a family-run operation with about 28 chalets. Each chalet is nestled around a garden that Mr. Teo lovingly tends to daily.
Ms. Teo might be the cutest property owner in Tekek. She is bubbly and happy to help with anything you need. The budget chalets were basic but very clean and had plenty of space.
There is a convenience store next to reception for anything you need.
There are no TVs or mini-fridges in the rooms as these are more budget-minded, but there is a shared fridge by the desk. We put beer and sodas inside, and no one touched them.
As much as I didn't love Tekek Village, I would stay there again because of Ms. Teo.
Cheers is about a 3-minute walk to a gorgeous beach that has a couple restaurants and a few other hotel choices.
Cons:
No internet in the rooms, and for any signal (albeit a very weak one), you have to go to the reception area.
Juara Village
Juara is more remote and on the east coast of Tioman. It's about a 30-minute drive from Tekek over the spine of a mountain.
It def has more of a village or kampung feel than Tekek. There are small chalets for rent right next to local homes, so you really feel like you are part of a neighborhood.
Barat
This Barat hotel has more of a resort feel. Even though the hotel is right on the beach, they have a large pool and a mini one for children.
They have an experienced, friendly, and super helpful dive center if you want to get certified or just want to go for a few dives.
The staff was very helpful and lovely. They have an all-day restaurant with an extensive, varied menu. Everything we ate there was good.
You can choose from chalets or a hotel room. We stayed in a Deluxe Room, which was very large, with a cute balcony overlooking the pool and a partial sea view. There was plenty of space for luggage, and our room had two queen beds.
All rooms and chalets have a mini-fridge as well as a flat-screen TV. Just like the Barat in Perhentian, they give you a hard drive with loads of movies.
They rent out stand up paddleboards, snorkels, and kayaks if you don't want to go on a snorkeling trip, which they will organize for you as well.
They have a spa room as well as a tower overlooking the beach for massages. While Mark went scuba diving offshore (which was incredible), I had a fantastic massage in the high tower. My masseuse was very skilled, although she is not there full time, and between her and the waves roaring below, it was blissful.
Cons:
The Barat is directly on the beach, which is fabulous, but they have little to no real shade.
For someone as pasty as me (and every Asian woman), shade isn't an option; it is a necessity. Unfortunately, the umbrellas at Barat didn't provide proper shade.
They were made from palm fronds and were relatively sparse and bare, so the sun poured through, making it impossible for me to sit under. In fact, there wasn't much shade at all, other than a few tables to eat at. But nothing for relaxing on the beach all day.
There was supposed to be wifi in the restaurant area, but there wasn't. I even stood in front of the modem by the front desk and couldn't get a signal to save my life. The hotel sells an extra internet package (RM10 for one GB), which is supposed to work in the room – but it doesn't. It kept kicking me off every three minutes.
The staff did try to help; they reset the modem and offered to give me my money back. I do recognize it is not their fault, and maybe because it was a Malaysian holiday, the internet was worse than usual. But just assume you will be on a digital detox when you are there.
1511 Coconut Grove
1511 Coconut Grove is right next door to Barat at the end of the beach. It is a small family-owned hotel and is super cute. They have small basic chalets with thatched roofs right across from the beach and tucked into a garden-like setting.    
We met Kelvin and Jip, who are running the show. They are both super kind and lovely to chat with. We went there for dinner one night, and Kelvin is a natural entertainer. He sang and played guitar while we chatted the night away in their restaurant.
The rooms include breakfast.
Cons:
There are no safes, TVs, or mini-fridges in the rooms.  There weren't many beach chairs for relaxing and also little to no shade.
My Closing Argument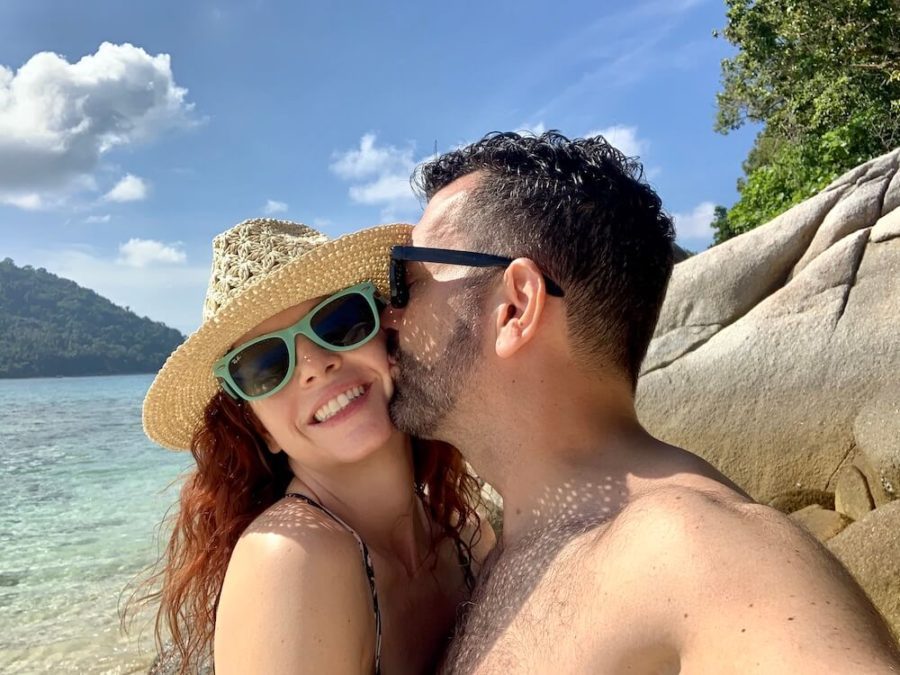 Now you know where to go in Malaysia for a short trip, and you can see why it's so hard to pick an overall winner.
My best advice… go see them all for your self.
They are all so different.
It depends on your mood, what you are looking to do, and your vacation style.
I love Langkawi because it is easy. It's great for a good time and things to do outside the water. But crap for snorkeling. Langkawi is also great for a budget weekend getaway in Malaysia.
I love Tioman for snorkeling and really getting away from it all.
I love Perhentians for a little nightlife, good snorkeling, and ease of getting around.
If you are unsure of where to go, be on the lookout for promo Malaysia getaway packages. A lot of hotels on Tioman and Perhentians offer 2 days/ 3 nights with transfers and snorkeling. There are some excellent deals to be found.  
There are plenty more places for a short getaway in Malaysia like the Banjaran Hot Springs, Cameron Highlands, and Port Dickson, but I haven't been to them yet. However, since we aren't allowed to travel internationally, I suspect we'll be making our way to those places pretty soon.   
So, what is your fave island in Malaysia? Tell me in the comments, so I can start planning our next trip!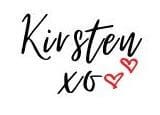 Disclaimer: We were guests at some of these hotels, and our stay was covered. However, these reviews are 100% my own opinion regardless of what came out of my wallet.
Disclaimer: Not gonna lie, if you decide to stay at any of these hotels and book through my links, I'll earn a small commission. It doesn't change the cost for you. But it proves that someone besides my mom is reading this and that my site is actually helpful. And that makes me super happy. So thank you in advance for your support!❣️
TLDR Save this post for later and PIN IT