Get excited my friends, because I have a treat for you! I normally interview other expats about their lives abroad, but today I have a special guest.
Drum roll please…🥁🥁
It's Matt Kepnes! Yep, Nomadic Matt, creator of the award-winning travel site NomadicMatt.com.
If you don't know him, you're about to. So, let's get to it.
How will Covid impact the way you plan travel & travel in the future?
I think for the near future travelers are going to need to show proof of a vaccine for most international travel. Much like countries now require visitors to have certain shots, travelers are going to be required to show proof of a vaccine (or at the very least a recent negative COVID test).
We're already seeing countries start to work out how they will monitor travelers once borders reopen so that seems to be the most likely option.
The real question is how long will this last? Is COVID with us forever? Will we find a cure that wipes out the virus? It's all up in the air now, but I'm hopeful that, at the very least, we will be able to travel once the vaccine is more widespread later in 2021. Fingers crossed, anyway!
In light of the world today, what motivates you to keep doing what you do? What excites you the most?
Since I'm unable to travel, I've been able to devote a lot of time to improving my business and kick start some new projects. We've launched a membership community, started hosting tons of virtual events via The Nomadic Network, and are planning some in-person events for whenever that's safe. I've also been planning all kinds of trips for later in the year, which has been fun distraction.
But, like most people, I've mostly been hunkered down. I'm reading a lot (I've launched a monthly book club discussion group), cooking more, and catching up on TV and movies. I'm enjoying being a hermit knowing full well that, once the borders reopen, I'll be back on the road.
You've written books, created e-courses, founded a nonprofit called FLYTE, launched TravelCon. What's next for your ever-evolving business?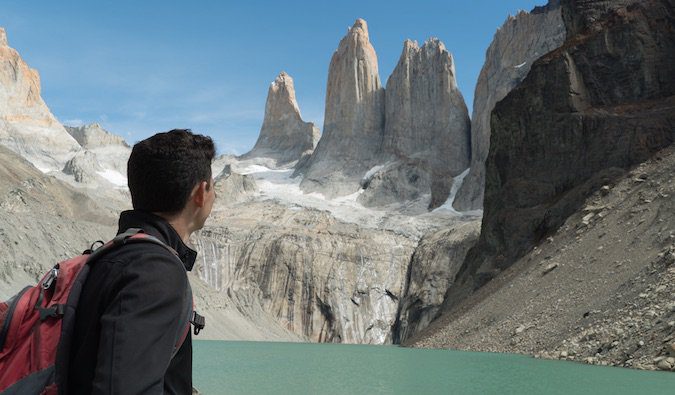 Right now, we're really focusing on community-driven projects. We're adding a new member section to the site as an evolution of our Patreon, I've been doing tons of Instagram lives and collabs, and we're hosting all kinds of weekly events including happy hours, book clubs, and travel talks.
If the pandemic has taught us anything it's that our community is vital. Without them, we wouldn't be here. We're doubling down in 2021 to focus predominantly on strengthening our community and making sure everyone feels engaged, connected, and supported.
When you've seen so much of the world, how do you pick where to next?
I don't have a bucket list or anything so I just go wherever I feel like going! Sometimes, I'll go places after reading a book about the destination and sometimes I'll go somewhere just to meet-up with a friend. There's no rhyme or reason to it; I just go wherever seems interesting.
As for what's next, the Middle East, the Balkans, India, and Bhutan are all vying for attention so I'll likely visit some (or all) of them once it's safe to travel abroad.
Then again, I'm known to change my plans on a whim so who knows!
You are a resource for travel planning. You write about the importance of traveling with a plan, but also without one. After 10 years, how do you find the balance?
I love travel planning, so I'm happy to read guidebooks and blogs and plan out an itinerary. It helps me get excited for a place while also teaching me about its history and culture so I'm better prepared for when I arrive.
However, after over a decade of traveling the world, I've found that the best experiences are often those we don't plan. For that reason, I make sure to keep my plans flexible and make room for things to unfold naturally.
Whether I'm planning another Paris itinerary (a city I've been to dozens of times) or going somewhere new, I always draft a rough itinerary and tweak it as I go. On the days when I do make specific plans, I only plan one or two things so that I have time to explore and relax as well.
Over-planning can take the fun out of things and not planning enough can leave you unprepared. I always try to aim for that middle ground. Doing that seems to always offer the most memorable and enjoyable experiences.
In my opinion, 10 Years a Nomad is a love letter – to travel, to love, to self. What did you learn most about yourself when you were writing it?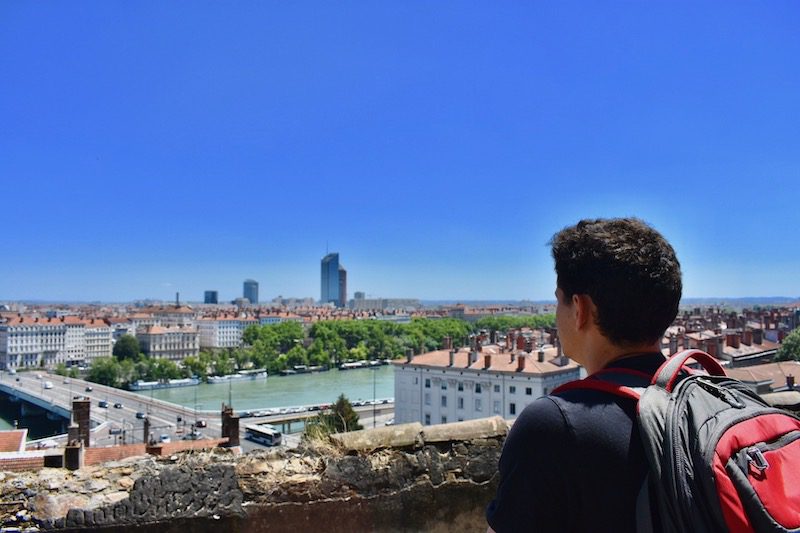 Ten Years a Nomad is my opus on travel. While it highlights my personal travels from over a decade of wandering the globe, the focus of the book is the philosophy behind why we travel. It examines wanderlust and what long-term travel can teach us about ourselves and the world we live in.
Writing it was a uphill battle and I spent almost two years putting it together. Bringing the book to life helped me shape and hone my own views and philosophies and evolve my thoughts and feelings into something cogent.
Just as importantly, though, writing the book let me walk down memory lane to revisit my favorite experiences. It reminded me where I came from, where I've been, and that without the help of tons of amazing people along the way I wouldn't have gotten far. It's my love letter to travel and the people who made me who I am.
For my readers who haven't read 10 Years a Nomad, what made you, a self-proclaimed nomad, stop being a nomad and move to Austin?
After over ten years of traveling, it was time to plant some roots. Long-term travel, while fun, can be exhausting — especially if you're also running a business. Settling down helped me evolve my business and give me some well-needed rest from the road.
Of course, I didn't stay put long (I never do) but having a semi-permanent home base was a nice change of pace. It helped me recharge my batteries between trips so I could enjoy them more. 
So, now that you are in Austin, do you have it all? A garden? A partner? Roots? Balance? Is it possible to have your cake and eat it too?  
I've definitely settled into life here a bit during lockdown. I've been reading a ton, learning to cook, and taking chess lessons. I even bought a car (you really need a car here in Texas).
In a nutshell, I've been able to develop a healthier lifestyle and a better work/life balance.
However, as of April I'm giving up my apartment to hit the road. Maybe I'll do another US road trip, maybe I'll head abroad. I'll have to wait and see what COVID allows. But I'm ready to get back out there for some long-term travel. I love Austin, but it's time to get back to my nomadic roots.
I have a grass is always greener side to me. I love the adventure and always have a bag packed. How do you know when you're just chasing greener grass vs it's time to move to the next phase? I struggle with that.
I think you need to have a good grasp of your own wants and needs to be able to decipher the distinction. The more you know yourself, the easier it is to see when you're chasing something vs when it's actually time for change. I think that just comes with age, experience, and self-reflection.
Sometimes I still get caught up in the hopes of the grass being greener (I imagine we all do). But, with some reflection and patience, I can usually untangle the two. But it's always easier said than done, of course!
What does home mean to you?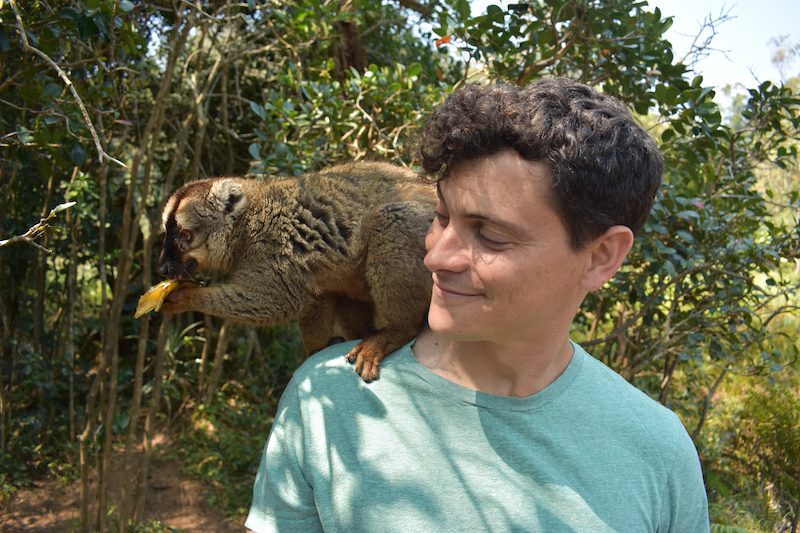 When I first started traveling, "home" was a dirty word. I idolized long-term travel and shrugged off any ideas of going home or settling down. The road was life.
I've since learned that home can be just as exciting — and just as necessary — as travel. Home is a place to plant roots, to enjoy community. Home is a place to recharge and reflect on your travels. It's the deep breath before the plunge.
Home doesn't have to mean "boring." If you bring the spirit of the road home, you can still have an exciting and engaging life. You can still learn and grow just as you do on the road. It might take more effort, but it's definitely possible. Home is what you make it.
Where do you see yourself in 20 years?
I imagine I'll still be traveling! Maybe I'll have a house and some roots by then, but I don't expect I'll have stopped traveling. There's too much to see and do — and too much to eat — for me to just stay home.
So, while I'll likely have a few more wrinkles and grey hairs, I think you'll find me doing what I do now: hunting for cheap flights, reading travel guides, and helping people travel the world on a budget!
Matt Kepnes runs the award-winning travel site nomadicmatt.com, which helps people travel the world on a budget. He's the author of the NYT best-seller How to Travel the World on $50 a Day and the travel memoir Ten Years a Nomad. His writings and advice have been featured on CNN and the BBC and in the New York Times, The Guardian, Lifehacker, Budget Travel, Time, and countless other publications. You can follow him on Instagram at @nomadicmatt. When he's not on the road, he lives in Austin.
Big thanks to Matt for being so kind and participating in this interview. Stay tuned for Matt's interview with me! It's coming soon!
Want to save this gem of an interview for later? PIN IT! Go ahead. I know you want to.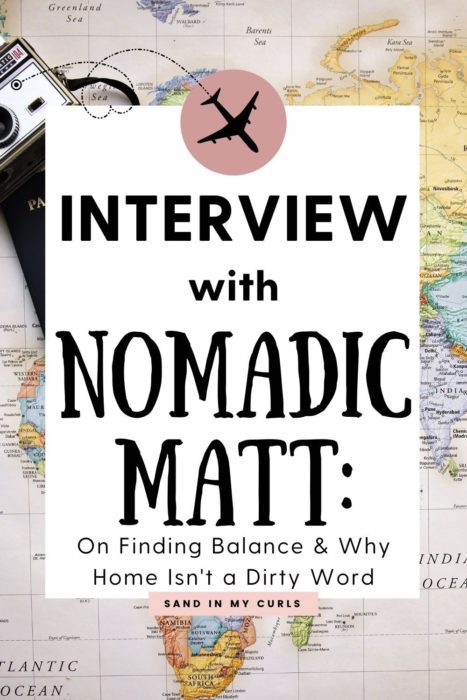 Want more? I have loads of other interviews about travel and expat life. Check out my expat interview series.