Not gonna lie; when I go back to the US and go grocery shopping, I lose my mind. Sooo many tomatoes. So much bread. And the cheeses! Praise cheesus! All the things I used to buy in 2.2 seconds now overwhelm me with choices. It's not like we don't have cheese or bread at a Malaysian supermarket. We just have a lot fewer options.
For most things, anyway.
Unless you are looking for rice or soy sauce, and then it can be daunting.
When we first moved here, I got lost in the soy sauce aisle. Isn't all soy sauce the same? All dark and salty? No, my friends, it is not. I had to call a friend to rescue me.
I've learned a lot since then and now have a fave brand and type. But that was 7 years in the making.
Truthfully, I miss all those choices. And I'd kill for a salad bar – with hot and cold food.
Although it is possible to buy everything you need at a Malaysian supermarket, some things are better at other stores. I prefer to buy veggies from a local stall at the morning market. But you can't get toilet paper there. So, grocery shopping here is more like a time-consuming epic journey, not a quick shop.
Let's start the tour…
Places to Shop for Groceries in Malaysia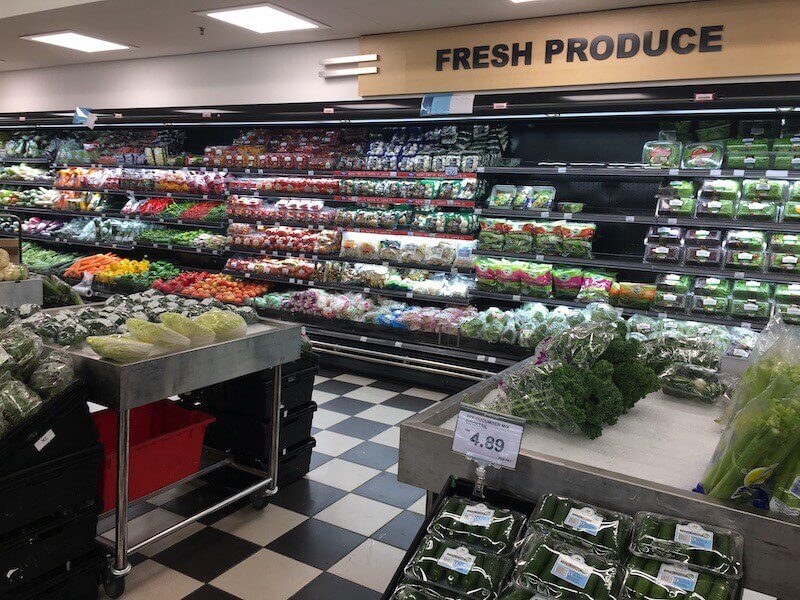 Let me break down the shopping options in Malaysia.
My weekly shop has about four different stops. And it's not just me being a high-maintenance weirdo. It's the way a lot of people shop here because each place has certain items you need.
Stop 1: The morning wet market
This is my fave for all my veggies, eggs, chicken, fish, and pork—also things like chilies, curry, and coconut milk.
I love to support all the small vendors. It feels like I'm helping my own community.
The market is part of daily life. It's the best way to immerse yourself in the culture here or any country, for that matter. Wherever we travel, our first stop is ALWAYS to the local morning market to see what life is like and eat with the locals.
I'm also able to cut down on plastic because I bring my own bags and reusable containers for chicken and pork.
But if you are squeamish and don't like seeing your chicken naked and in a pile on the counter, then you might prefer the Malaysian supermarket.
Stop 2: The frozen meat store
We have two options in my neighborhood: Muthu and Cilantro. It's where you can buy Australian beef, lamb, duck, fish, and other sundries.
These stores are the ones that provide rarer cuts of beef. Like if you want a brisket or wagyu, that's where you'd go.
Stop 3: Our neighborhood fruit stand
Tony is our fruit man. He's on the bottom of our hill, and we rarely buy fruit from anyone else. He's taught us a lot about fruit like dragon fruit and rambutans and always picks us the perfect ones for the day we want to eat them.
Stop 4: The Malaysian supermarket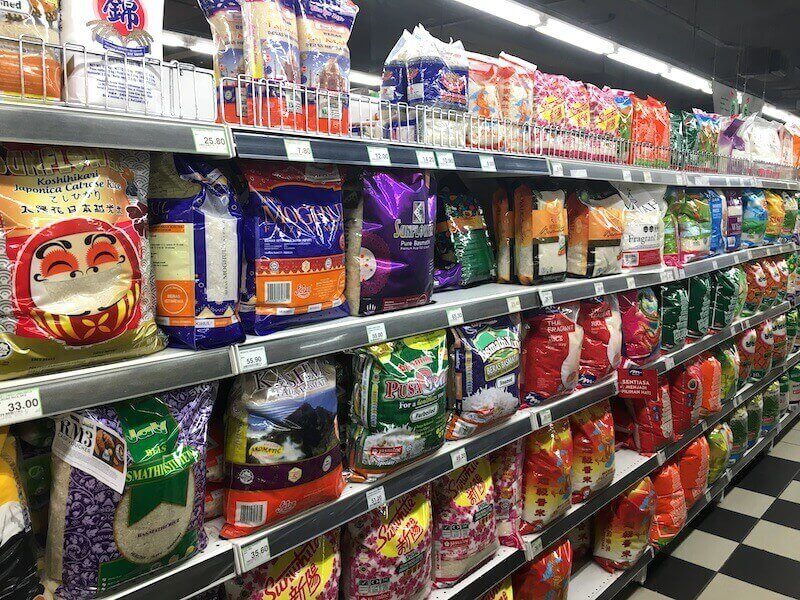 The Malaysian supermarket, just like any other, is a big faceless chain store. I know the clerks and the manager because that's how life is here. It's a small island, and if you go to the same store for 7+ years, someone is bound to recognize you (even if we all look alike😉 .
A lot of the grocery stores here are in major shopping malls. That's great if you are already there shopping. But it's a pain if you want to run in a get a few things.
For most of your staples like toilet paper, beans, western spices, soy sauce, noodles, you have to go to a grocery store.
There is a whole list of supermarket chains in Malaysia. The big chain stores you can find throughout the country are Tesco, Cold Storage, Mercato, BIG, Village Grocer, Jaya, Giant, and Aeon.
Now you know why I said it was an epic journey.
My Fave Malaysian Supermarkets & My Embarrassing Avo S

ituation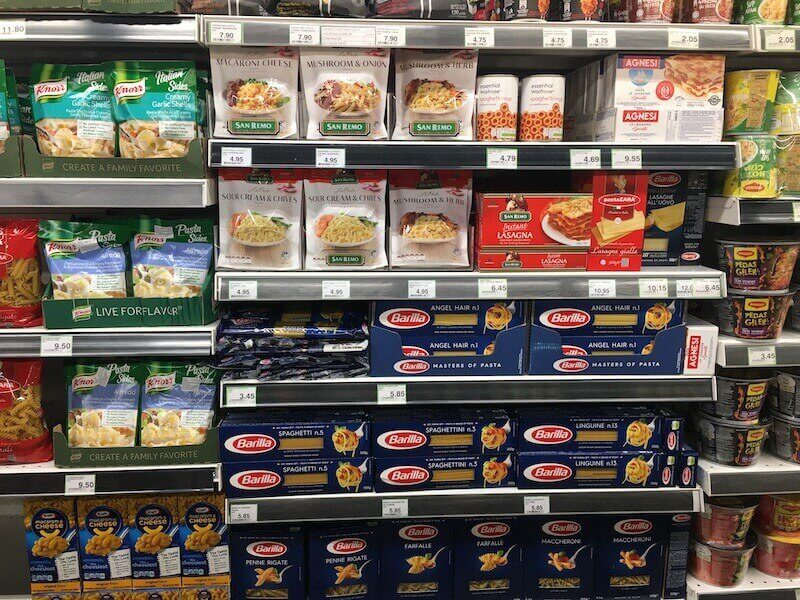 Within five miles from our home, we have five Malaysian supermarkets to choose from. Of course, they don't all have the same stuff. That would be too easy. If you can't find pancetta at one, keep driving, and you'll probably find it at the next one. Epic.Journey!
Some chains are cheaper than others.
Tesco is probably the cheapest. But it doesn't have everything I want. Their cheese selection isn't fab, and it doesn't have a coffee grinder, an essential for us. But their paper products and spices are cheaper.
I stopped buying produce at Tesco since they refused to let me buy it without plastic bags. All I wanted was a few avocados and for the clerk to put the price sticker directly on my avo. She refused and put them in a bag, which I refused, and around it went as the line behind me got longer.
Not gonna lie… it got a little heated.
I got extremely frustrated when she threw the whole bag of avos down the conveyer belt. At which point, I tore the bag open and dumped them out on the counter, and left.
Not my finest moment and not one I'm proud of. But I'm here fessing up to it because sometimes shit like that happens here. Ya know the old saying, "The customer is always right?" Here they have a different version. It goes something like this, "The customer is always a pain in your ass. Treat them that way." Or the customer is always an asshole, so treat them as such."
In case you're wondering, customer service here is a joke.   
But I digress…
On to my faves
If I'm in a hurry and don't feel like going to multiple stores, I prefer Cold Storage. It's the closest store with a coffee grinder. We can pick coffee beans from around the world and grind them on the spot. The parking is easy. They'll put stickers directly on my avos. And I don't have to go into a big mall to shop. It's my go-to.
The Village Grocer in Kuala Lumpur has an oyster bar where you can sit and have a glass of bubbles while you slurp away the briny goodness. We are getting a Village Grocer in Penang any day now, so fingers crossed they have an oyster bar. It's the little things, right?
The Booze and Pork Predicament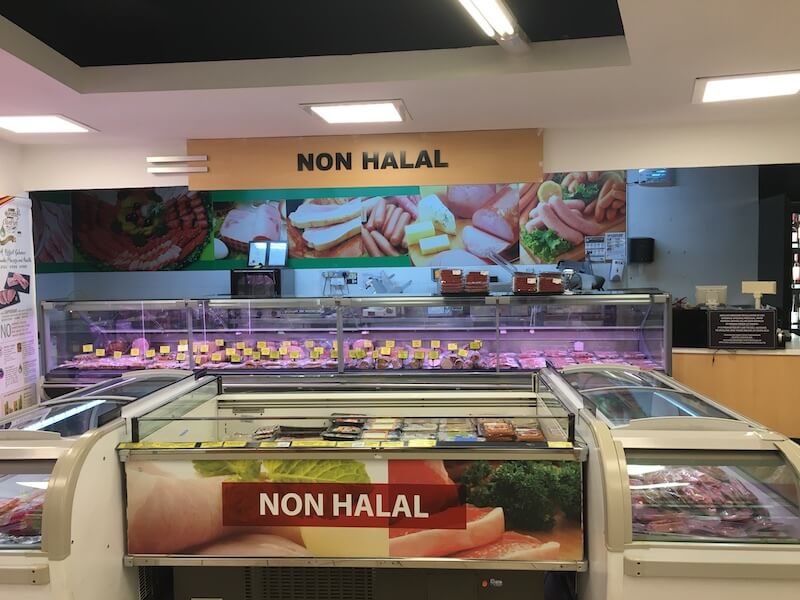 Living in a Muslim country doesn't mean it's difficult to buy pork or booze. On the contrary, all the Malaysian grocery stores have a non-halal section where you can buy all the pork your little heart desires: bacon, ham, pate, sausages, prosciutto, you name it. But probably not all at the same shop.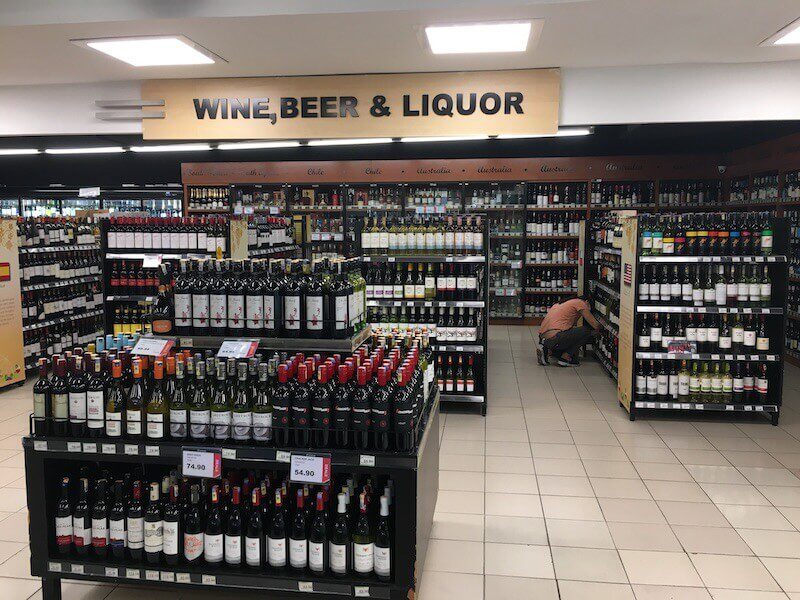 As for booze, you won't go dry here. Promise. It's right next to the pork section. We usually don't buy from there because we go to a specialty shop for wine and a hush-hush duty-free place for our spirits. But it's available.
And at Cold Storage, there is even some pushy woman trying to sell you something she's never tasted and knows nothing about, but it's there.
My Malaysian Supermarket Haul: What I got for $20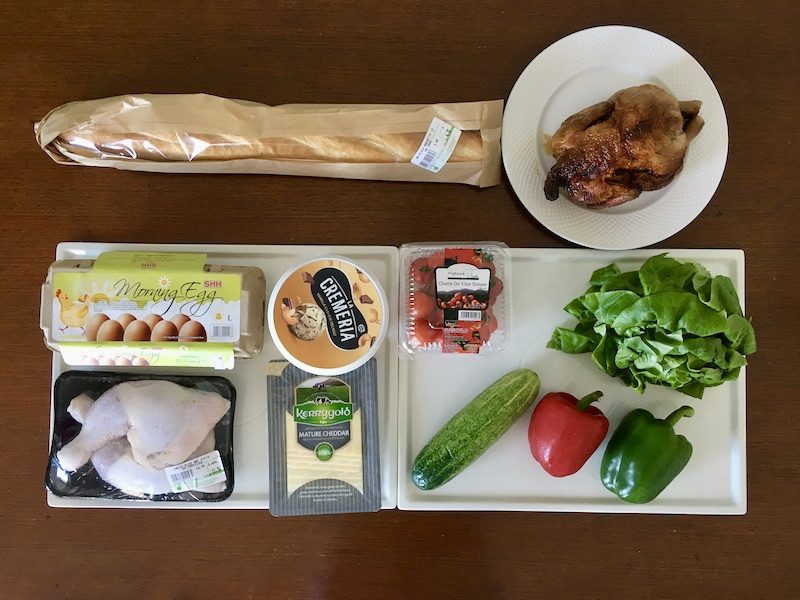 So without further ado: here is what I got at my Malaysian supermarket for a whopping $20USD.
Today's exchange rate: RM4.11 to $1 so RM82 = $20USD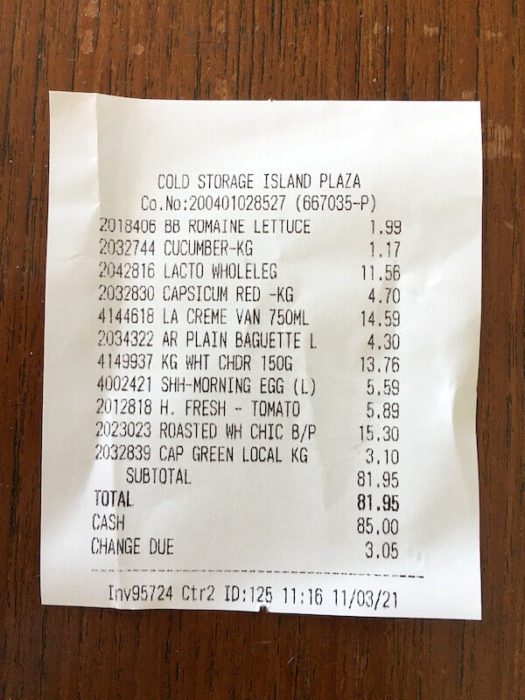 I bought 11 essential items.
1. Head of romaine lettuce
RM1.99 → $0.48
I never buy organic, but I often find live worms wriggling about in my romaine. No other lettuce. Just romaine. They must like the crunch like we do.
At first, it freaked me out because… worms… blech. I find them gross when they aren't in my food. But now I just toss them in the garbage with any nasty leaves and let them munch away until Mark takes out the trash.
So, if they are using pesticides (which I'm sure they are), they aren't that effective, or those are bionic worms. Either way, it makes me feel one step closer to organic lettuce.
In the US, I'd probably return it.
2. 1 x cucumber
RM1.17 → $0.28
3. 1 x Red pepper
RM4.70 → $1.14
For some reason, red and green peppers are really expensive compared to other produce in Malaysia.
4. 1 x green pepper
RM3.10 → $0.75
5. 1 x package vine-ripened cherry tomatoes
RM5.89 → $1.43
Tomatoes are a sad situation here. They have no flavor. None.
But I keep buying them in hopes that will change. It doesn't matter which kind you buy. One out of every 10 packs will be delicious, and then Mark and I make a tomato salad and eat them all at once.
6. 1 x pack of 2 chicken quarters
RM11.56 → $2.81
At Cold Storage, I can buy local chicken that is antibiotic and hormone-free. I've heard it's organic, but I doubt it unless I see that on the packaging. Organic food isn't a big thing here, and it's ridiculously pricey. I rarely buy it. I just try to buy local and hope for the best.
7. White cheddar slices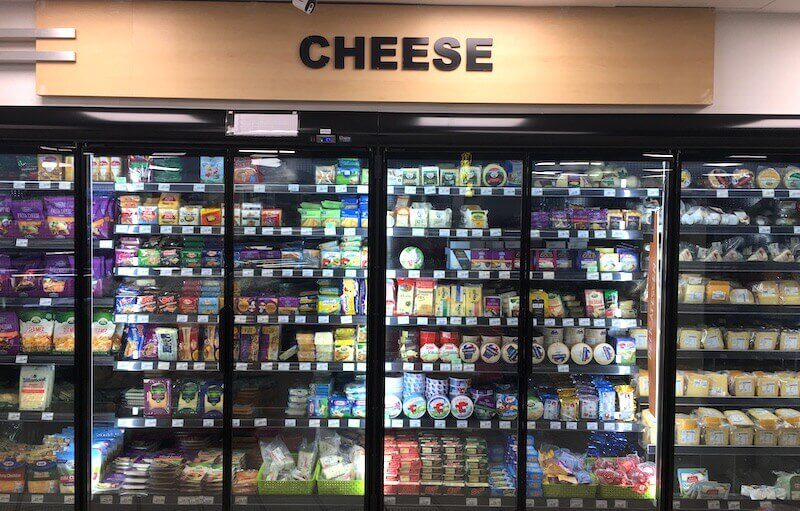 RM13.76 → $3.35
Cheese is expensive. It cost me more for this cheese than for half a chicken.
Even though dairy is big here, cheese is not. It's all imported, which pumps up the price.
When we first got here, the cheese choices were pitiful. As the years have passed, more expats are making their way here from cheese-eating countries, and the Malaysian supermarkets have really stepped up their game.
8.  10 eggs
RM5.59 → $1.36
They don't sell eggs by the dozen here. At the Malaysian supermarket, you can buy either 6 or 10, but not 12.
At the morning market, you can buy 1 egg if you want. Or you can have a delivery egg man come via scooter and sell you an entire tray of 30.
9. 1 x black pepper whole rotisserie chicken
RM15.30 → $3.72
We ate them all the time in Chicago and still love them here.
They make them 2-3 times a day, and we always get them fresh out of the oven. They really are divine.
10. 1 x large baguette homemade from the bakery section
RM4.30 → $1.05
We try to time it to have a fresh warm baguette with our juicy chicken, and voila lunch is served.
11. La Cremeria ice cream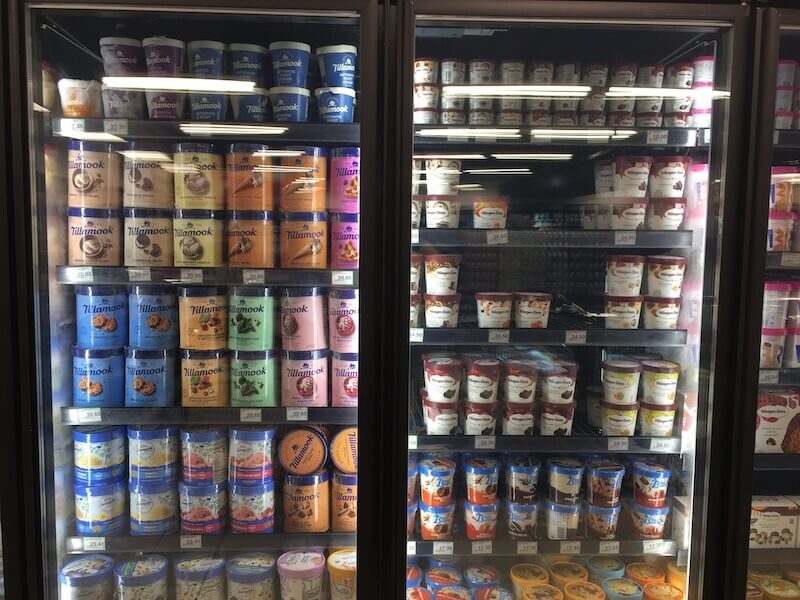 RM14.59 → $3.55.
A girl needs her dessert. Or, in our case, it's Mark. But that doesn't have the same ring to it. He has a bigger sweet tooth than I do.
Anyway, they don't sell ice cream by the pint here. It's 750 ml which is about 1.5 pints. And more importantly, it's Vanilla Cashew Delight with Chocolate Chunks. Don't be jelly.
So, $20 bucks can certainly keep us going for a bit. If I was budgeting and could only spend $20 a week, I would shop differently. But it's def possible to keep to that budget. This was just to show you what shopping at a Malaysian supermarket is like.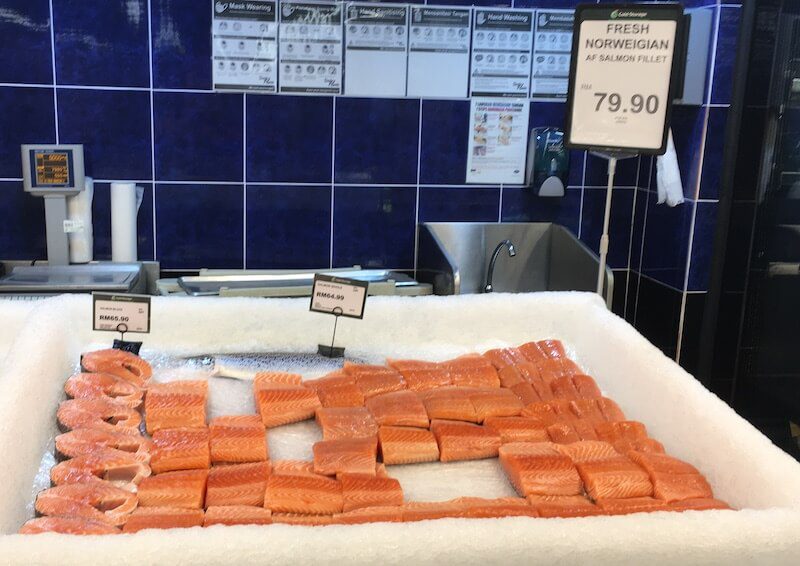 Malaysian online grocery shopping
Since the lockdown, we started ordering online a bit. Stores like Happy Fresh Malaysia, Tesco, and Giant all offer quick and easy grocery delivery in Malaysia. However, I'm a fan of choosing my own bananas. Don't you give me any freckly ones, that's just rude.
So, I prefer to go shopping in person when possible.
If you live in Malaysia, online food shopping is super easy as long as you're not as picky as me.
Where to Buy Malaysian products online
For all of you who want to try Malaysian food but can't get here, you can buy Malaysian products online.
Since you prob won't be able to travel here for a while, I can't take you on a local food tour. However, if you want to try some tasty Malaysian snacks, believe it or not, they sell Malaysian food on Amazon. Crazy right? I was shocked. Check these out…
The Easy Route
These spice paste blends will make cooking super easy. All you have to do is add a few basic ingredients like chicken and coconut milk, and presto, you have a Malaysian dinner.
Try Malaysian rendang. It's my absolute fave. This is a spice paste made from lemongrass, coconut, cinnamon, cardamom, and a bunch of other fragrant spices. It's not spicy, just super flavorful. It takes a long time to make, so this spice paste makes your life easy. Just add your meat and coconut milk.
Another very traditional dish here is chicken curry It's very different from Indian curry. Usually, curry takes hours, but with this, you'll have your curry in no time.
Curry laksa is a really unique noodle soup famous here and a must-try whenever you get to Malaysia.
You can even get Malaysian spices online at Amazon. Babas is the brand we buy here. If you don't want to buy a spice packet, you can try one of their curry powders.
Ready to try cooking Malaysian food from scratch?
Try these Malaysian cookbooks.
Malaysia: Recipes from a family kitchen is from the winner of MasterChef in 2014. She grew up in Ipoh, a cute town with a tin mining history. It's just two hours from here. The book has a lot of very traditional recipes.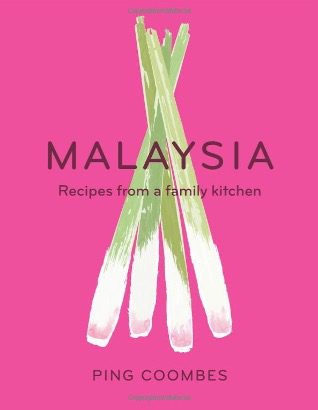 The Malaysian Kitchen by Christina Arokiasamy was raised in Kuala Lumpur and had a TV show on the Cooking Channel called The Malaysian Kitchen. Her book has beautiful images as well as 150 recipes.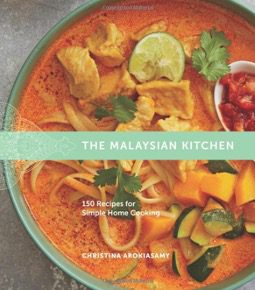 The Final Receipt
So there you have it: a Malaysian supermarket tour and a 20 buck shop. Plus a few extras because I'm nice like that. A giver.
Want me to write about what it is like to shop at the local morning markets? It's a whole different experience and not for the squeamish. Let me know.
In fact, if there is anything you want me to write about, shoot me an email or comment below. I'd love to know what you are most interested in learning from me.
PS – Shout out to my friend and blog coach extraordinaire, Diane, from Oui in France. She gave me the inspo for this blog. Read her post to find out what $20 buys you in a French supermarket. Her haul includes wine and I'm officially jealous!  
Hungry for more? Check out these posts:
How to Eat like a Boss in Greece makes me drool just thinking about it.
What to eat at a hawker stall in Malaysia explains which specialties to try so you don't get food overwhelm.
Malaysian food delivery options. I chose my fave restaurants that will deliver yum food to your doorstep.
Want to save this post for later? PIN IT!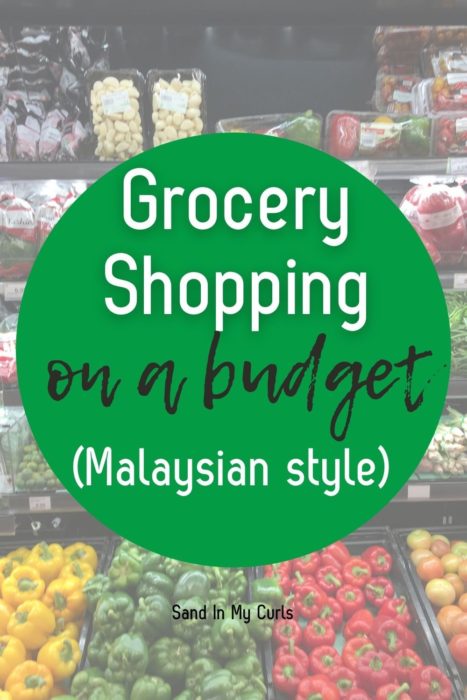 Yay for transparency!  This page contains affiliate links. This means that if you click a link and buy something from this page, I may receive a commission (at no extra cost to you!) This doesn't effect my opinions or my reviews. Everything I do is to benefit you as the reader, so all of my reviews are as honest and unbiased as possible.