Last Updated on April 1, 2021 by Kirsten Raccuia
How to Eat Like a Boss in the Greek Islands
We travel for food. Some people go for history, or art, or a beautiful pool but we travel for our stomachs. Don't get me wrong, we like history, art, and sweet pools, but food leads the way.
No exploration of a new place would be complete without tasting the food. You can read about the history and see pictures of the crystal-clear, teal waters, but you can't get a decent picture of a culture unless you try their cuisine.
The first thing Mark and I do when visiting a new country is to go to the food market. It's where you'll witness the daily habits of the locals. We want to eat what they eat. And we want to eat it, where they eat it. That's why we never eat in a place unless it is packed with locals. It doesn't matter what Lonely Planet says, if it's full of tourists, we steer clear.
With so much good food in Greece and so many islands to choose from, I wanted to help you narrow down your hunt for the best dishes.
Without further ado…
Gyros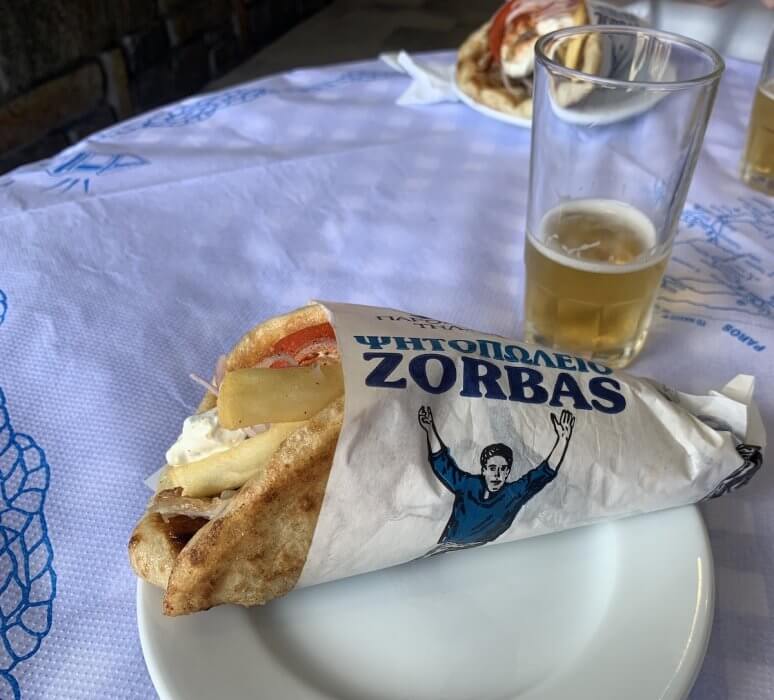 You might have already heard of or eaten a gyro. It's a staple in Greece, their fast food; it's cheap, it's filling, and above all, it's damn delicious. It can be made from pork, chicken, or lamb that has been sliced off a vertical rotisserie and stuffed into a grilled pita with onions, tomatoes, and French fries, and then smothered a tangy tzatziki sauce.
There are stands all over the islands. Sometimes they only open up at night and remain open into the wee morning hours. We ate them on every island we went to, and they were all pretty similar. Just find a stand packed with locals, and you'll be in the right spot.
Greek Salad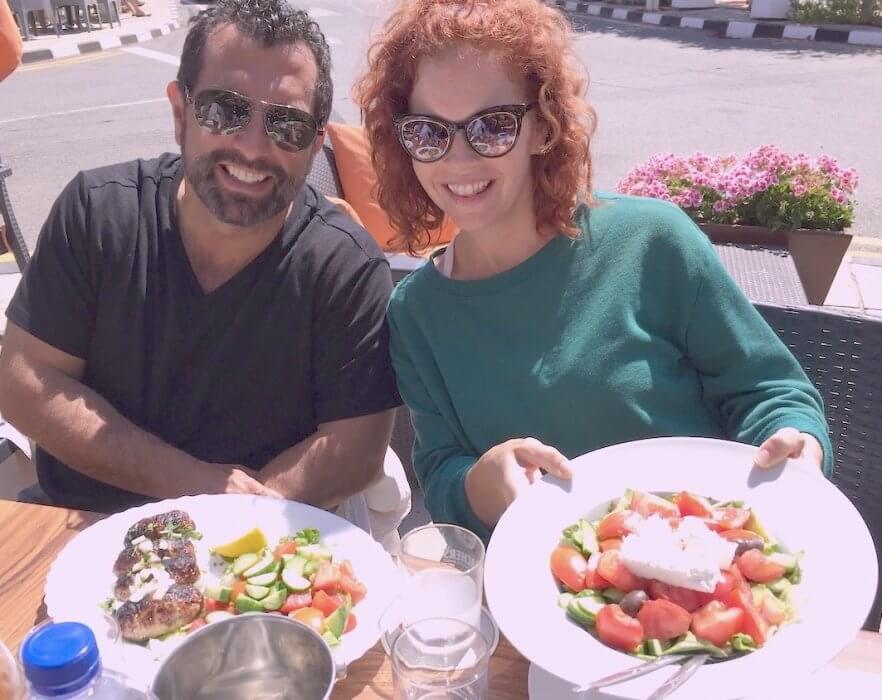 I was a little surprised to see "Greek salad" on the menu. We're in Greece; wouldn't it just be called a salad? But it was on EVERY menu; the locals eat it with EVERY meal. So, we did too.
It's so simple but try to replicate it outside of Greece, and it's impossible, I can't figure out why. I'm chalking it up to the freshness of the local ingredients, and the flavor of that grassy olive oil, oh, and the feta.
That one big slab of briny, homemade feta is the cherry on the cake, or the cheese on the salad if you will. It is layered on top of bright red tomatoes, pungent red onions, and crispy cucumbers. The Kalamata olives–directly from nearby Kalamata–add another level of saltiness.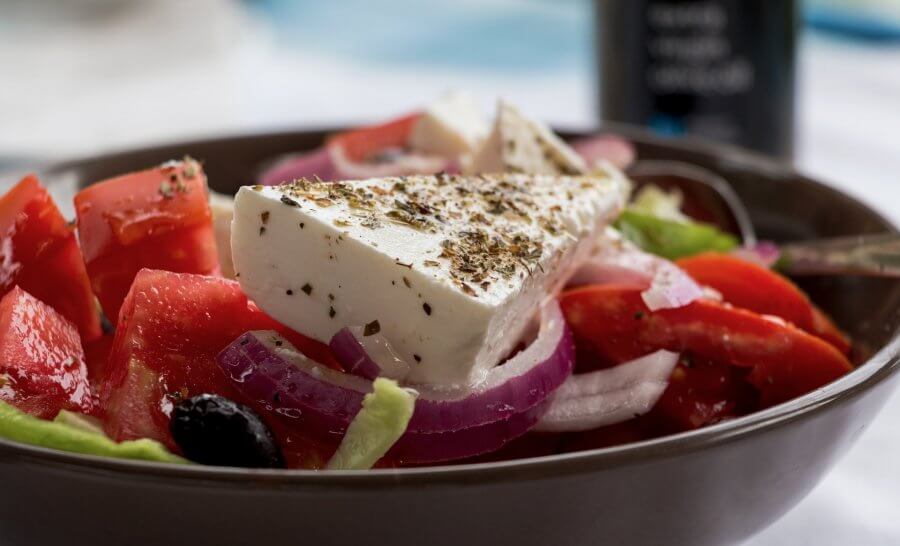 It just doesn't get fresher. And even though we were eating an olive oil soaked wedge of cheese and calling it a salad, somehow it felt light. It's heavenly.
Moussaka
We ate this in a lot of tavernas. The three main ingredients are ground beef, eggplant, and bechamel, but somehow, each plate was drastically different. It is layered like lasagna but tastes nothing like it. Some had layers of potatoes added in; others had cinnamon in the meat, some bechamel was thick and tasted like a savory custard.
My favorite, hands down, was a little place called Kastri in Syros. It is owned by the Women's Agritourism Cooperative of Syros and is cooked offsite by a bunch of Greek mamas. It is driven in daily at 11:00. By 1:00, it's slim pickings.
Their version was packed with so much caramelized eggplant, the right amount of cinnamon, and the lightest, fluffiest bechamel. It was the moussaka I searched for the rest of the time I was in Greece. It was the benchmark of moussakas, and no other version came close.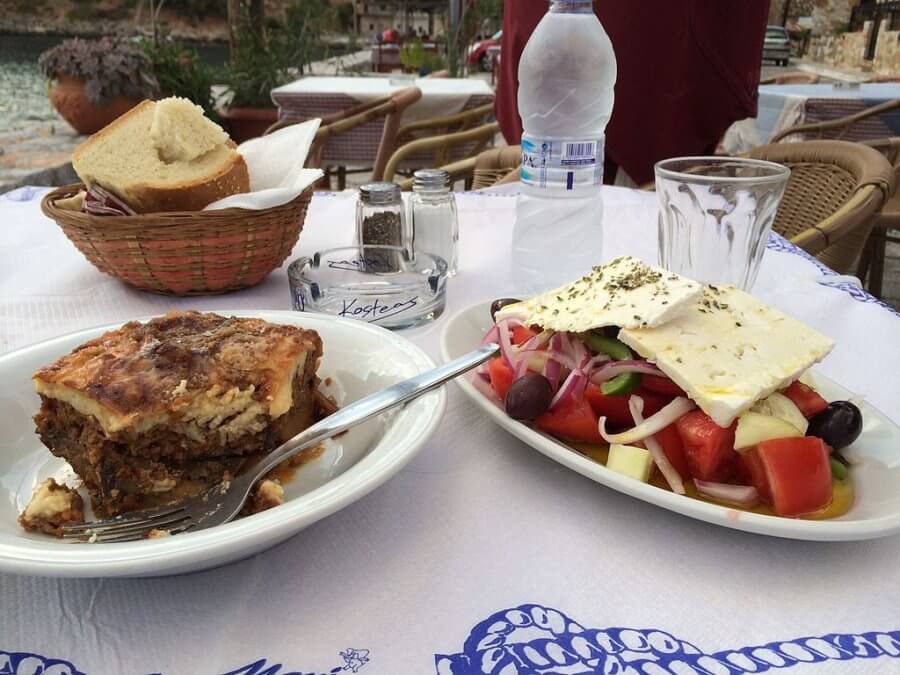 Dolmades
These handmade little packets of yumminess are stuffed vine or grape leaves. They are always full of herbs and rice; some might have minced meat or veggies. It doesn't matter what's inside. It is one tasty morsel.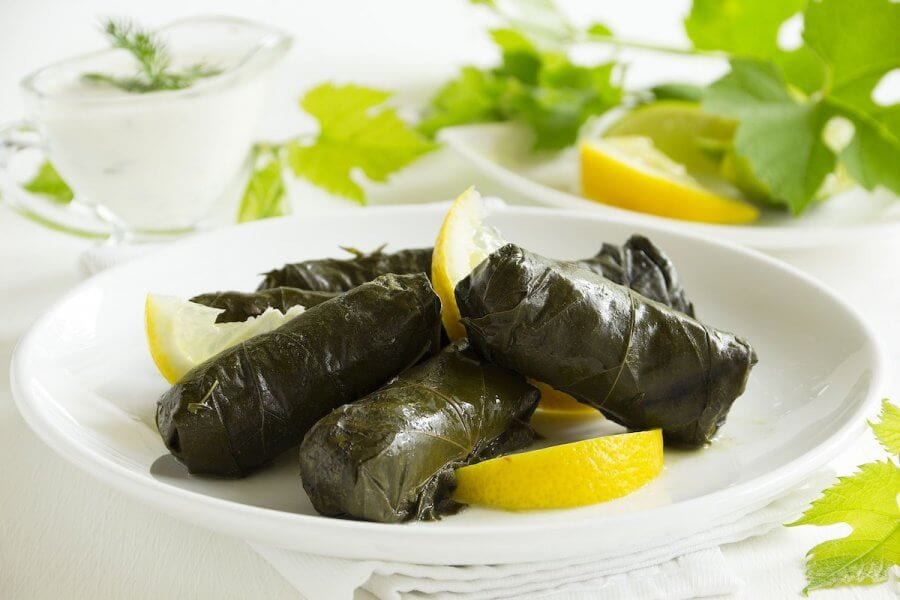 Like a Greek salad, you can find them everywhere. They are often on a meze platter with loads of Greek dips, cheeses, olives, and pita.
Fava
Although this dip is called fava, no real fava beans are harmed in the making of this dish:). It's a dip made of puréed yellow split peas and has a texture like hummus. It is always served with pita or crusty bread. The version we had that blew our minds was called Cycladic Fava. It had a sauce of local capers, sun-dried tomatoes, and olive oil poured over the top. The best place to try it while basking in the sunset views is Plakostroto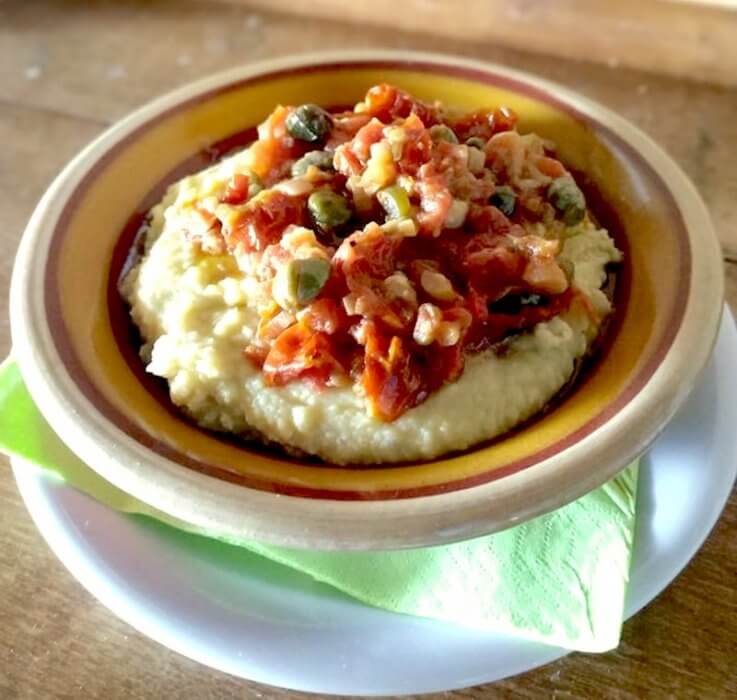 Grilled Octopus
This was another dish that we couldn't get enough of … when we could find it. Sadly, we weren't there during octopus high season, yes that is a thing. During the summer, on most of the islands, you'll see the fresh eight-legged suckers hanging everywhere out to dry. We were too early, so we only got to feast on it a few times, but when we did, we felt like the stars had aligned in our mouths.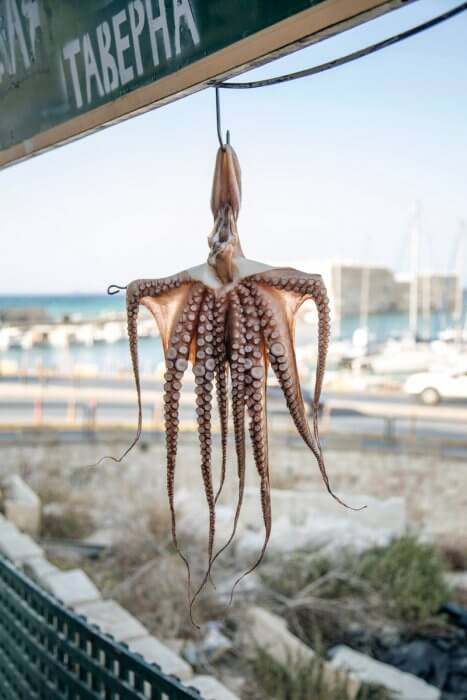 We ordered it grilled, plain and simple; it is served with lemon and a little drizzle of olive oil. It had perfectly-blackened, crispy bits yet somehow remained tender as whitefish and could be cut with a fork. No rubbery chew toys here.
Rumor has it that the Greek mamas would take the fresh octopuses (had to google that one) off the boat and beat the hell out of it on the rocks to tenderize it. Not sure how it's done today, but who cares, that stuff is golden!
When we did finally get it in Paros, at Achinos, it was everything we had been wanting and more. It melted in our mouths.
Cheese, all of it
Feta cheese is everywhere; you can order it drenched in olive oil, fried, wrapped in phyllo. It can be made from cows milk or sheep's milk. At the grocery stores, there are feta bars where you'll find ten kinds of feta to choose from and taste. The choices were overwhelming.
But there is more to Greek cheese than feta. Almost every region, if not island, has its own cheese so no matter which island you are on, ask for the local cheese and you won't be sorry.
My all-time favorite cheese dish and we ate A LOT of cheese (I'm looking at you, Karl Kann) was at the beach in Galissas, Syros. Savvas Taverna not only serves organic veggies from the family farm, but Georgios also serves everything with such love that I wanted to stay and eat again after we finished our first 3-course meal. You seriously can't go wrong there.
My favorite cheese dish in all of Greece was his tiropita – feta, wrapped in flakey phyllo dough, drizzled in local honey (also from Dad's farm) and sprinkled with lavender and thyme. My mouth just watered while writing that sentence, no joke. I realized halfway through, with my mouth full of cheesy goodness that I never took a picture. The one below is a sad imposter. Apparently, it's quite easy to make, check out this recipe for tiropita with honey.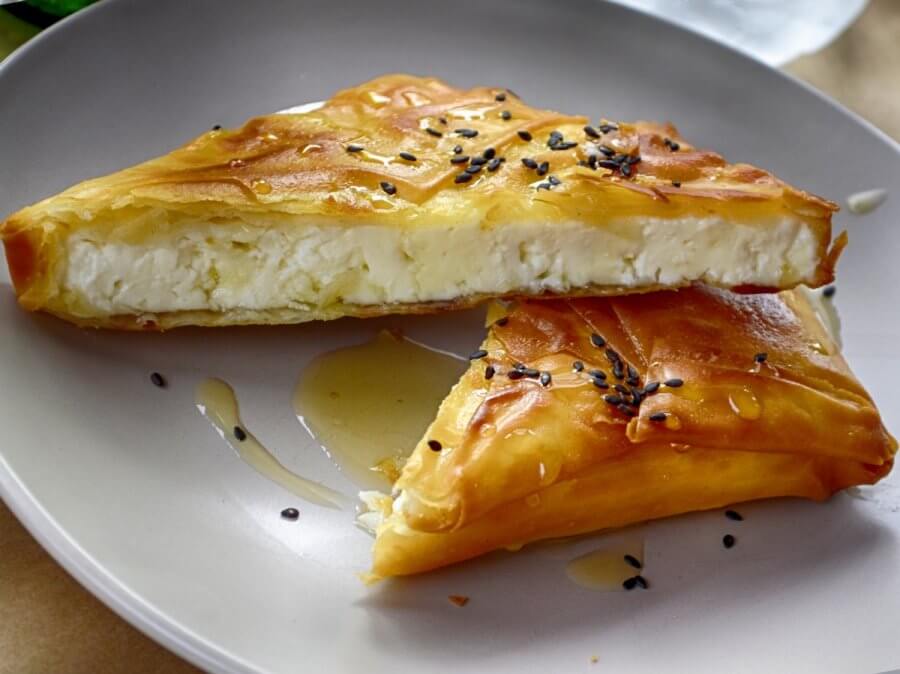 Greek coffee
No, it's not a food, but it's a primary food group in Greece. People drink it all day, every day, and so should you; it's that good. But it is strong, so if you're easily affected by caffeine, have ouzo instead.
Yep, in Greece, it is still called Greek coffee. If you ask for a coffee, you get a regular cup of jo, black and rich. But if you ask for a Greek coffee, it's a whole different experience. It's short, like a double espresso and has a thick muddy layer of coffee grounds at the bottom of the cup.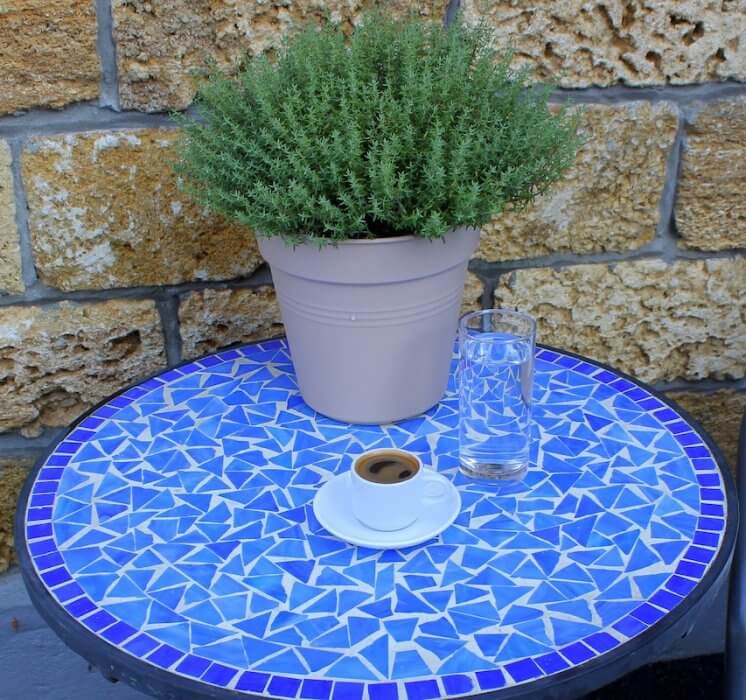 You can get a single or a double, and they'll ask how sweet you want it. I always go for medium sweet. If you like your coffee to taste like candy, then ask for it extra sweet. You can't add sugar or milk because you can't stir it. If you try, you'll be drinking that coffee sludge at the bottom and have black teeth, which is always fun for your friends but not so much for you.
Honorable mention-Greek wine and Ouzo
We found delicious, local, cheap, wine in all the villages. White and rosé are the way to go, red–not so much. The tavernas, restaurants, and cafes all serve the local wine by the ½ liter and liter as well as by the glass, but c'mon…live a little, right? A liter was generally around €5-8, less at a store, and was served in a quatruzzo, an ice-cold metal (copper, bronze or aluminum) decanter. Super cute, right?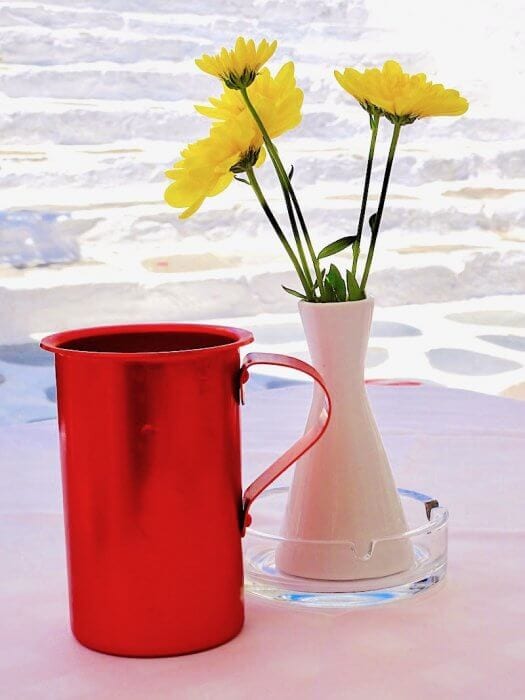 And you can't forget the ouzo, to me, it all tastes like black licorice, which I happen to like. We couldn't taste the difference between brands, so we always ordered the house pour.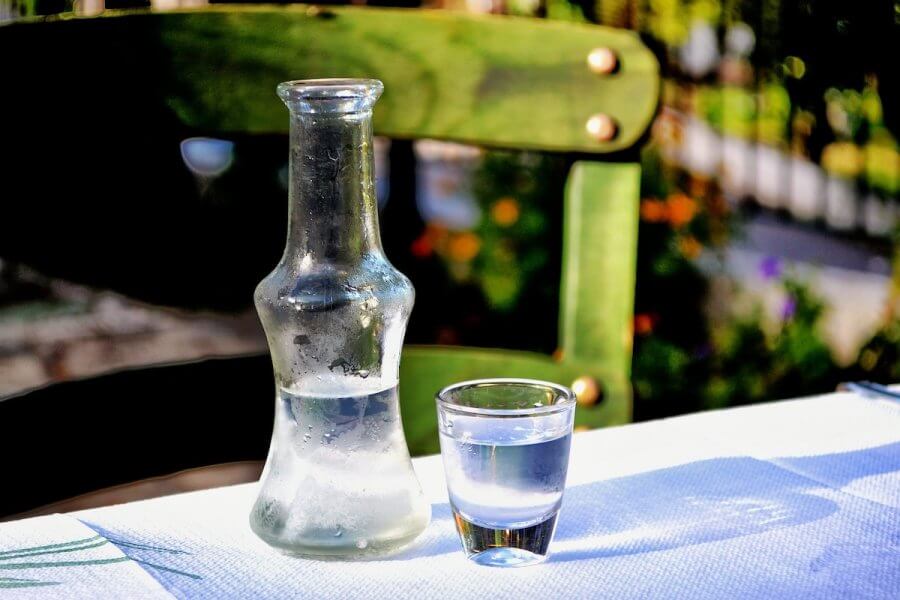 If you get tired of all the traditional foods, don't fret. There is a flourishing modern food scene in the Greek Islands with plenty of other choices
Try these trendy restaurants:
Syros
Allou Yialou, right on the water in Kini. It's elegant, a perfect place to watch the sunset and eat fabulous food.  Try the roasted eggplant. You're welcome.
Laoutari is one of the quirkiest little cafés in Ermoupolis. There is a menu of daily specials that are creative and blend Greek and other Mediterranean flavors. We had the sea pastrami, a cured white fish marinated in pastrami flavors. It sounded so strange we had to try it, and we loved it and wanted more.
When you're looking for something sweet, try Corner Cafe. It's right off of Miaouli Square. We had a Greek coffee and shared the lemon bar with olive oil that was outstanding. Just the right amount of tart and sweet combined with the nuttiness from the olive oil made it delectable.
If you have a severe sweet tooth, go for the New York cheesecake brownie. Not sure how they did it, but it was a thick, moist, fudgy browny topped with a layer of chocolate chip cheesecake. It was so good it was nearly scandalous!
Paros
Safran is a little more expensive than some of the other restaurants but worth it. The orzo with cuttlefish was so delicately flavored and tender, and the feta croquettes with orange marmalade and cumin were little balls of ridiculousness.
Now go and eat!
Kalí órexi, bon appetite, mangia!
Is there a Greek dish that you love and is missing from this list? Let me know in the comments!
Want to read more about my food experiences? Read this post.
Photo credit: Vouliagmeni, Lesya Dolyk, Plakostroto