Last Updated on March 15, 2020 by Kirsten Raccuia
I had a secret love affair with Paros before I ever stepped foot on the island. I'd read that it's what Mykonos was like 20 years ago. And since I had a fabulous time in Mykonos back in the day, I knew I would like it. Guess what? I loved it, way more than Mykonos. It's one of the bigger islands in the Cyclades, so I've picked the top things to do in Paros, Greece to make it easier for your travel planning.
It is a quintessential Cycladic island. Picture fertile rolling hills peppered with blue domed churches. Cerulean seas around every turn. And narrow whitewashed streets winding their way through a rabbit's den.
It is cosmopolitan yet laid back. Swanky restaurants aside €2 gyros stands. Buzzy beaches and quiet bays. This island has a little for everyone's taste — a perfect island paradise.
It is what Mykonos used to be like. Just the right about of glitter, but it's still unassuming. It's charming. The people are warm and hospitable. Not at all jaded by the heaving tourist trade of its glammed-up neighbors.
Do yourself a favor. Don't use this island as a quick stopover on your way to Mykonos, Santorini, or Naxos. Make it a bullet point, a headliner, stay for five days. You'll thank me later.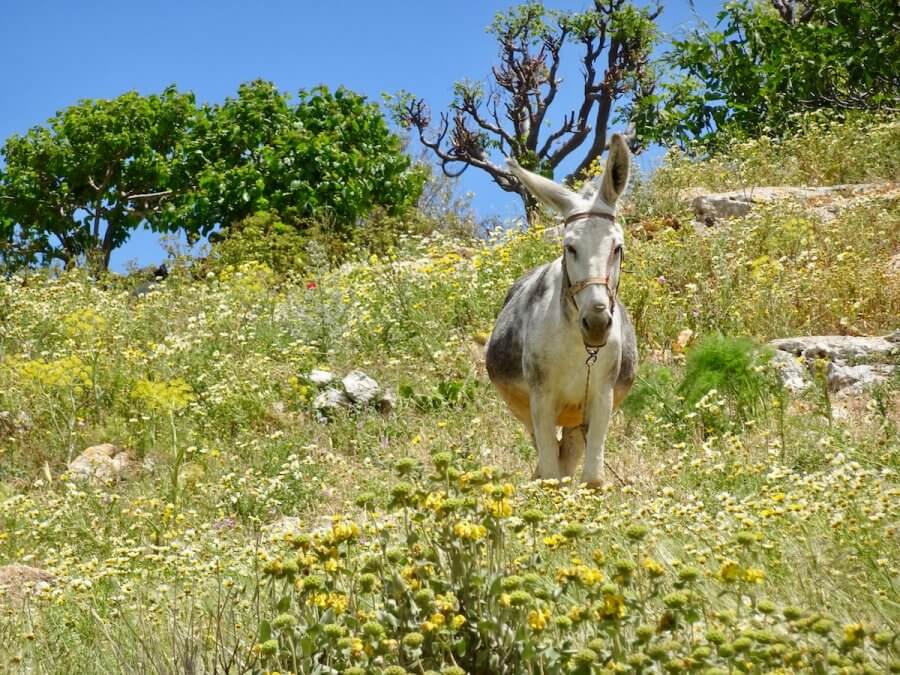 Parikia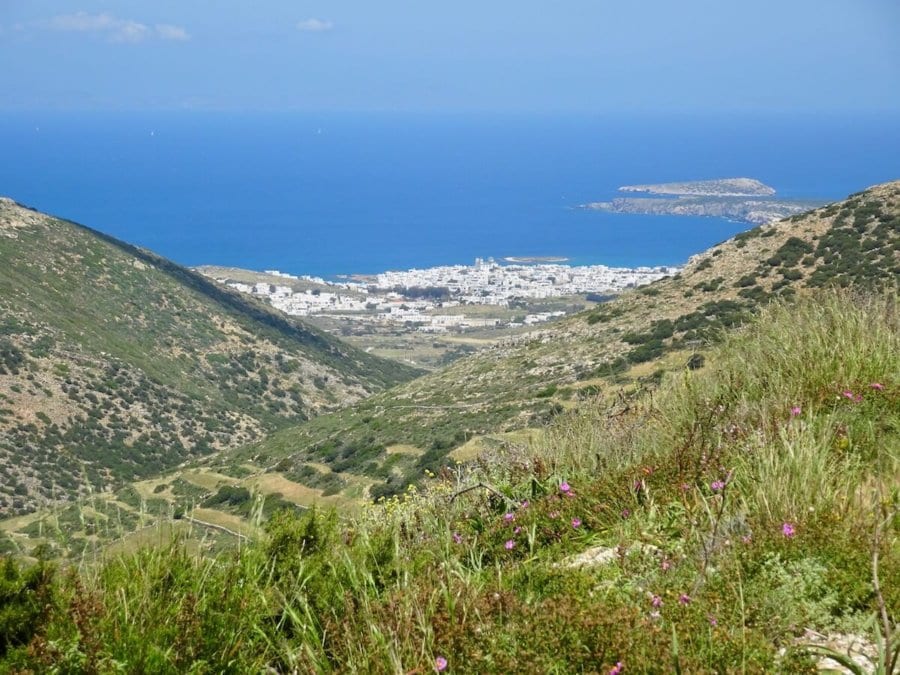 The main port and capital of the island has a lot going for it. Although it's the central commercial hub, it's not a typical dirty port city. With only 4500 people, it's not a bustling town. But there are still plenty of things to do in Paros, Greece.
There is a unique Venetian castle from the 13th century. It was built using reclaimed construction materials from ancient sites. Stroll along the boardwalk or get lost inland in the typical Cycladean architecture. It is worth a visit for its web of whitewashed streets and great restaurants.
Parikia is a good place to stay if you plan to take any day trips because the ferry port is right there.
Panagia Ekatontapiliani
This Byzantine church was built in the 4th century. It is one of the oldest and most significant in Paros. Although it only has 99 doors, it is known as the Church of 100 Doors.
The icon of Panagia, or Our Lady, supposedly has miraculous powers. Legend has it that the secret 100th door will only be discovered when Constantinople (Istanbul) is returned to Greece. The church was built by Saint Constantine, first Emperor of Constantinople, in honor of his mother, Saint Helene. There is a small museum on site that houses rare church artwork, amphorae, and silver and metal heirlooms dating back to the Byzantine era.
Entrance is free.
Naoussa

Only 20 minutes north from Parikia, Naoussa is where it's at. It's a little fishing village and a bit slower than Parikia during the day. But at night, the streets come alive with revelers. Still, it has nothing on the party scene in Mykonos.
The remains of a Venetian castle dominate the harbor. It's a small but cosmopolitan town with restaurants, bars, tavernas and boutiques lining the labyrinth of white streets.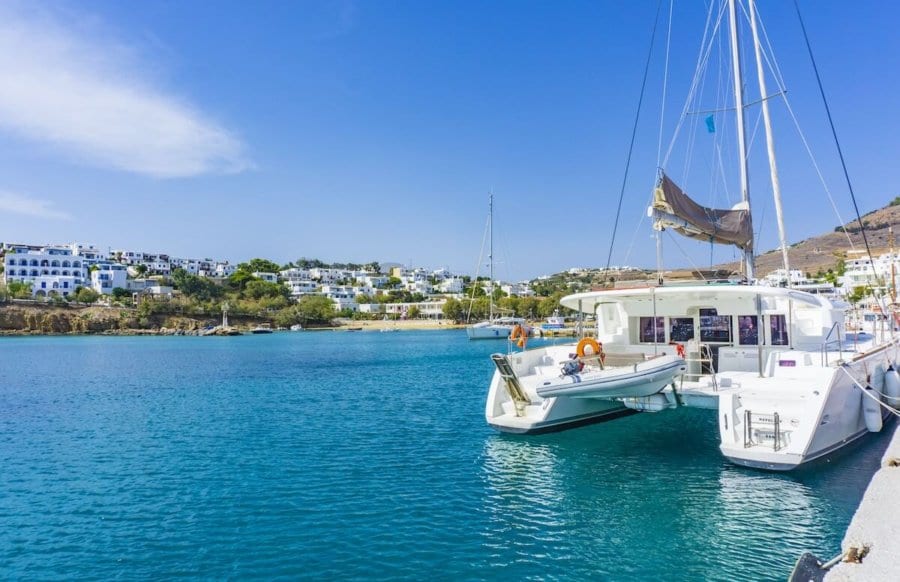 Lefkes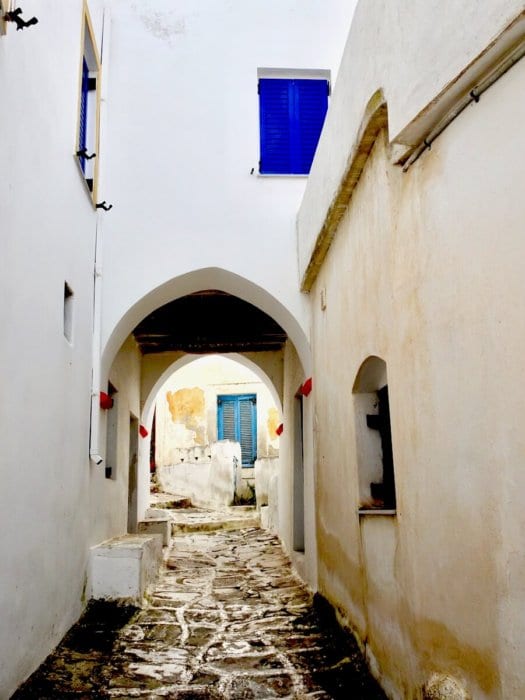 Burrowed into the mountains is this cute little medieval village. It was the former capital of Paros and was built in the hills to keep safe from pirates attacks. The town was built like an amphitheater and is bathed in the heady scent of pine and olive trees.
Visit the beautiful white marble Church of Agia Triada (Holy Trinity), a Byzantine Church dating back to the 15th century. Behind the church is a cemetery. It's so unusually pretty that I recommend a walk through.
I'm not one to frequent cemeteries, but this one was so ornate and beautiful. There was nothing creepy or morbid about it, and I felt like I was learning about the history of the people laid to rest there. And the views were to die for…ok that was terrible, shame on me.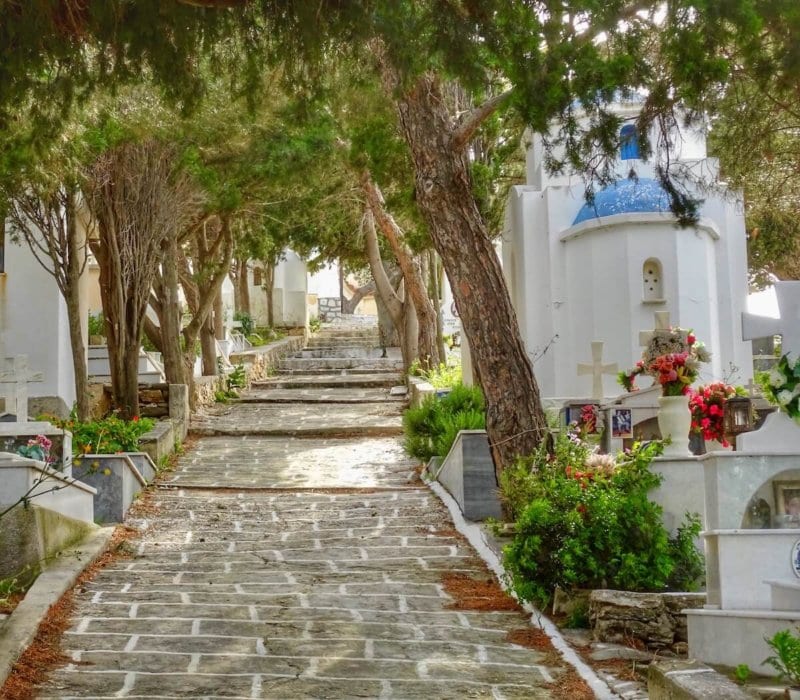 Follow the Byzantine Road, a cobblestone walkway with eroding walls and ancient houses. It will take you through the village of Prodromos and ends up at the sea.
Beaches (for sure one of the best things to do in Paros, Greece)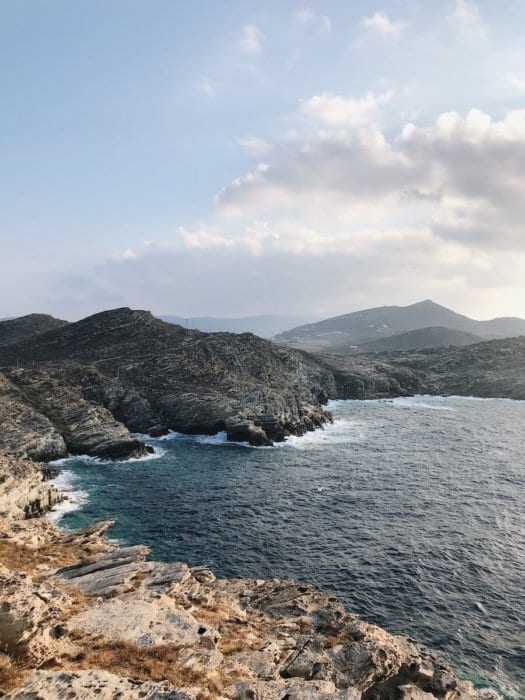 Beach hopping is a must when in Paros. With 75 miles of coastline, there is something for everyone.
1. Christi Akti (Golden) Beach

This beach is the best for water sports and activities. The Professional Windsurfing Association's World Cup is often held there in August, so it's a windy spot. There are plenty of bars and restaurants to choose from. Take lessons from various windsurfing schools, or rent their gear. Check here for more info.
2. Punda, Parasporos, and Santa Maria Beaches

If you want music and bars, these beaches are for you. They are cosmopolitan and ideal for chilling out and meeting new people.
3. Ai Yiannis/Monastiri Beach

This beach is low key and sophisticated. Less busy than the beaches I mentioned above.
4. Molos Beach

The most laidback of the beaches here. It is a sandy beach with crystal clear water and a view of Naxos.
5. Ambelas Beach

It has a small sea wall which keeps the waters pretty calm. It's not a touristy spot, but the locals love it. Plus, when you're hungry, there are two tasty restaurants with views of the azure sea and Naxos. They are practically next to each other. Thalami and Christiana.
6. Kolymbithres Beach

The most famous beach in Paros. And for good reason. Over the centuries, the wind has smoothed the granite boulders that jut out of the sea into strange formations. The waters are shallow, and the beach is sandy.
7. Piperi Beach

It's right in the heart of Naoussa, which makes it a daily thing to do while in Naoussa.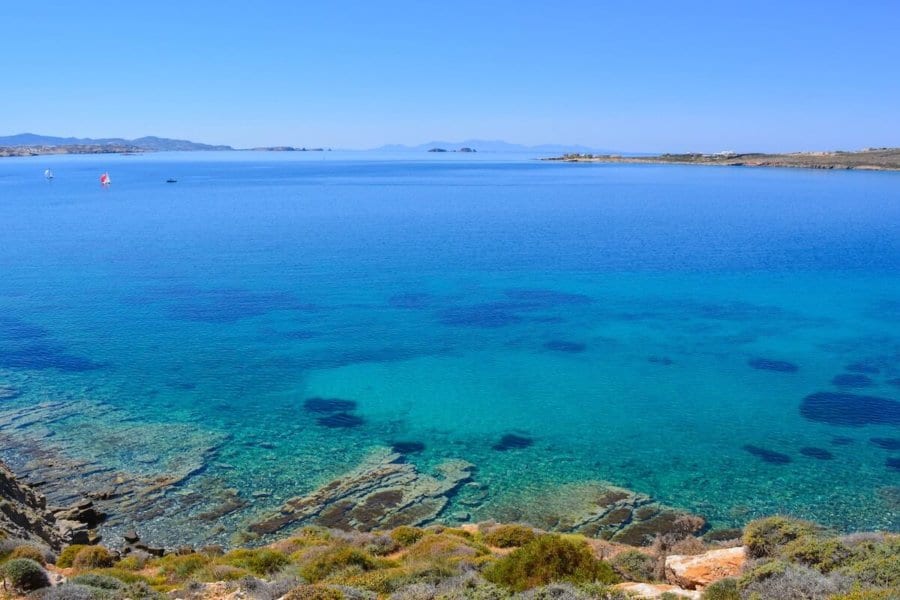 ---
Thinking about going to Greece? Don't miss these awesome posts →
How to Eat Like a Boss in the Greek Islands
Best Things to do in Mykonos
Top 7 Things to do in Syros
30 Photos that will Make You Book Your Ticket to Greece
---
Valley of the Butterflies
Six km south of Parikia is a small valley with lush vegetation and bubbling streams. Every spring and summer thousands of Jersey Tiger Moths fly there to mate. Their black and white wings open up to flashes of red as they fly. The park is open from June to September 9am-8pm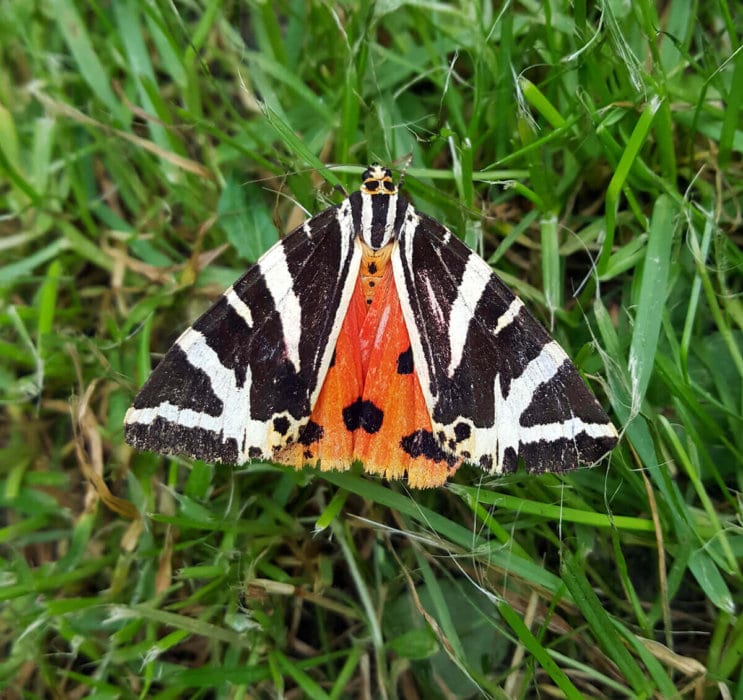 @BenSale Flickr
We were there in May and missing this seriously bummed me out. I'm sure it would have been one of the coolest things to do in Paros, Greece. I've seen pictures, and it looks magical. Just imagine hordes of butterflies flitting about as you walk through a picturesque valley. Please go and report back!
There are many wineries in Paros, but Moraitis is the oldest one. It is right in Naoussa so it's super easy to visit. It was founded in 1910 and now combines traditional and modern technology to create rare and unique wines.
Because Paros is such a windy island, the grapes aren't grown on trellises. They are left to ripen on the ground to prevent the wind from knocking the delicate grapes off the vines. There is also a Moraitis Wine Museum worth a look.
Horseback Riding
If riding a horse at sunrise through sapphire seas sounds like an excellent way to start the day, then check out Kokou. If you'd rather not wake up when it's dark, take an evening tour and watch the sunset into the sea from the coastline.
Watch a movie under the stars
Head to Cine Rex in Parikia or Cine' Enastron in Paros Park to watch the latest blockbuster under the starry skies. Movies are in English with Greek subtitles.
Day trips:
1. Antiparos
Take the 10-minute ferry ride from the port of Parikia to Paros' easterly next-door neighbor. The ship runs every 30 minutes in high-season. Alternatively, if you have a car and want to take it to the island, drive to Pounta and take the car ferry from there.
Antiparos is similar in feel to Paros, just a little sleepier. The latest claim to fame is that Tom Hanks and Rita Wilson have a home there.
It has serene beaches and little tourism compared to Paros, but there are still plenty to do there. Visit the Cave of Antiparos. It descends over 100 meters and has colossal stalactites and stalagmites.
2. Naxos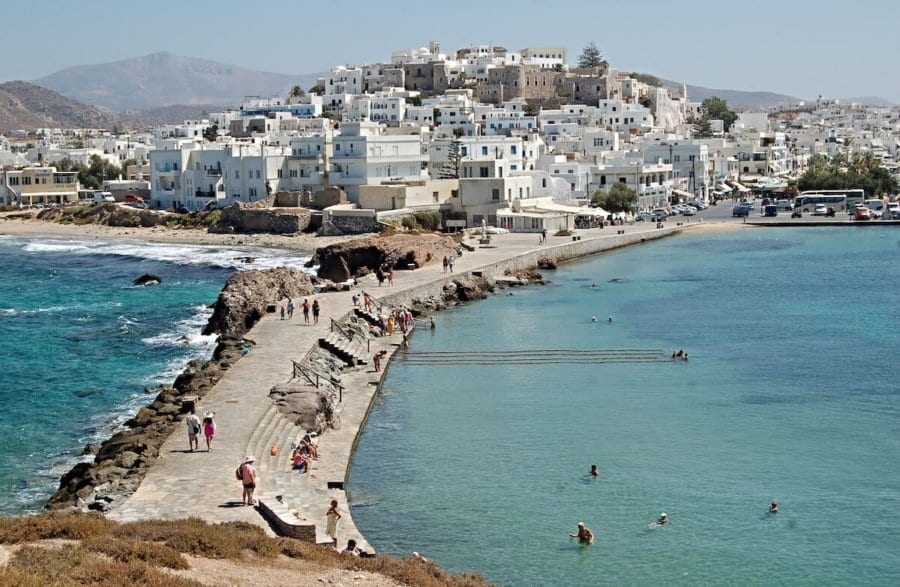 Take a day trip to Naxos. Off the east coast of Paros is Naxos. It's only a 35-minute ferry ride, so going for the day is easy. Naxos is bigger than Paros, but there are buses or scooter rentals to get you around. If you have a car, you can take it on the ferry as well. There are fantastic beaches to choose from as well as villages, churches, and museums to visit.
Shopping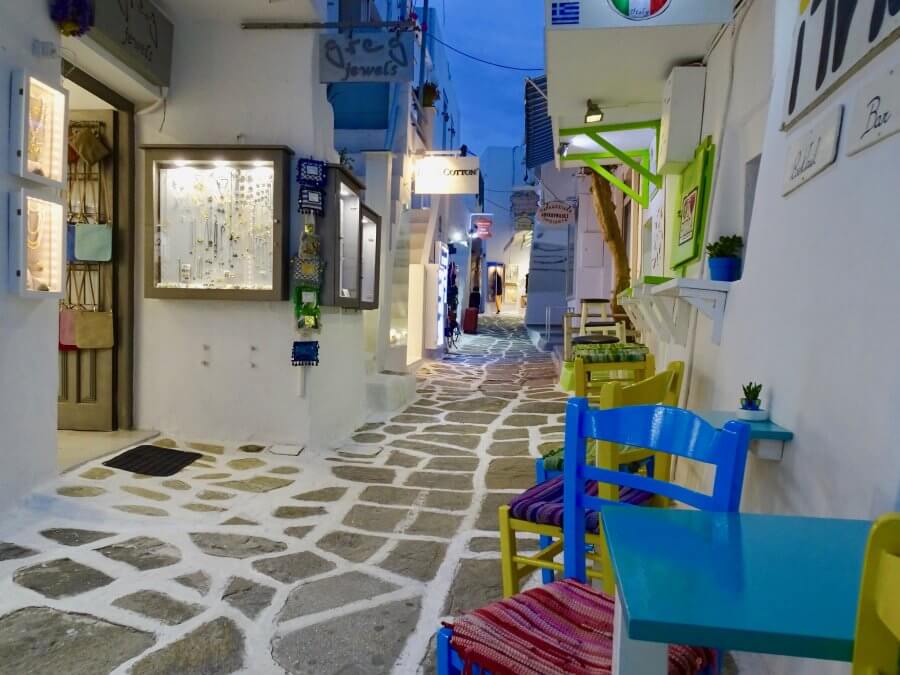 Both Parikia and Naoussa have some great boutiques. Wander around the tangle of back streets, and you'll find everything from little high-end jewelry stores to Greek designer clothing brands.
Sunsets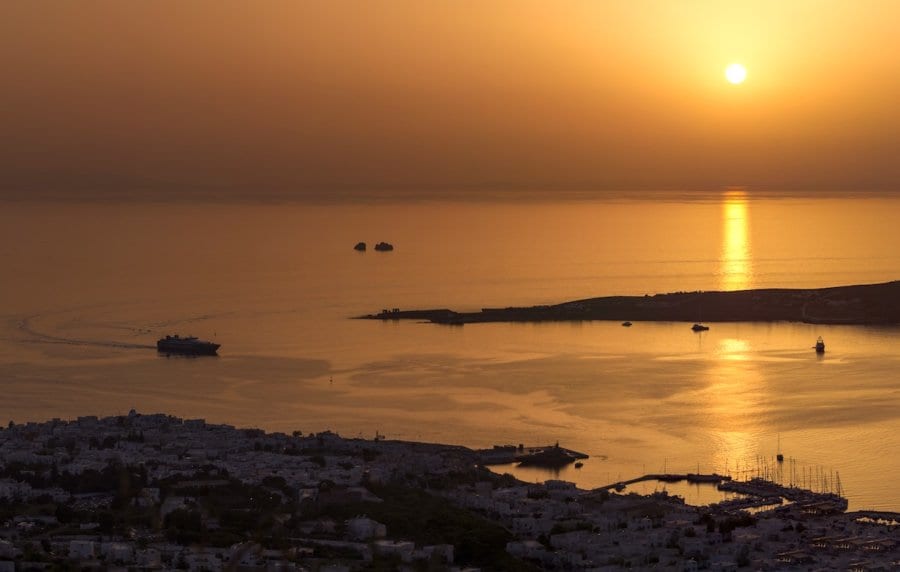 Head over to the west side of the island for the best sunsets. Find a cute spot on the beach, grab a bottle of wine, and wait for the moment when the golden globe disappears into the sea. Watching a sunset on the beach is one of the most romantic things to do in Paros, Greece.
Museums
Ok, let's be real. Museums may not be one of the best things to do in Paros, Greece.
But what happens if it rains, or is so windy you are eating sand, and you already ate? There has to be some alternative, right?
 The Archaeological Museum of Paros houses artifacts from nearby archeological excavations.
 In the church of Agios Athanasios is the Byzantine Museum, which has many icons, crosses, and religious relics.
The Folklore Art Museum displays textiles and tools exhibiting traditional life in Paros.
When to visit Paros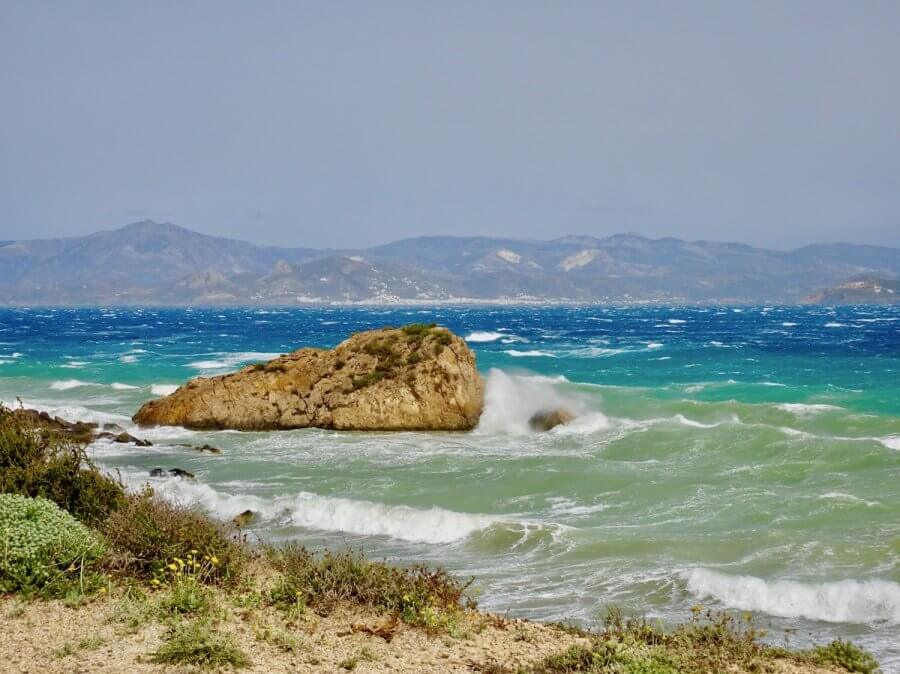 The best time to visit Paros is between May and October. Outside of those months, many businesses close. Peak season is July and August, and they are also the hottest months. I would try to avoid those months in Paros, and in Greece as a whole, if possible.
There are so many tourists, cruise ships and tour buses that it won't feel like you are on a Greek Island anymore. The Meltemi winds often blow from July to September which is why windsurfing is so popular here. But keep in mind there are always little protected bays and beaches to get out of the wind. Don't let it dissuade you from going there. It is magic!
How to get to Paros
Getting to Paros is straightforward. It is right smack in the middle of the Cyclades. There are speed ferries from both ports in Athens (Rafina and Piraeus) that take anywhere from 3-4 hours and start around €40. If you're on a tight budget, I've seen slower boats that take 7 hours and cost €22.
Paros also has an airport so flying from Athens in a quick 35 minutes.
Getting around Paros
Buses
There is a pretty good bus system that you can take all around the island. It's super cheap; prices start at €1.80. Check here for more info
Scooter, Quad, or Car
I'm a firm lover of renting a scooter in any new place. But if you aren't familiar with how to ride one, don't start in Greece. Take a few lessons before you get there so you can handle the bike quickly and react appropriately.
Inevitably there will be one tourist jackass who has never driven a scooter and comes flying at you, head on.
You can also rent quads and cars if that is more convenient. There are plenty of hire companies in Parikia and Naoussa but book ahead in high-season just to be safe.
You might need an international drivers license to rent any vehicle. If you are American, you can get that at AAA. Show them your current state license, and they will give you a one-year international permit. But only for the vehicles you currently have a license to drive. For more info read here.
You won't need a vehicle to explore the towns Naoussa, Lefkes, or Parikia, that is best done by foot.
Where to stay in Paros
I would definitely stay in Naoussa. It's the cutest.
But no matter where you stay, cars aren't allowed in the central area of each town, so it's best to book your accommodations within walking distance.
We stayed in the Adonis Hotel, a charming little place, run by the loveliest family. It's in the perfect location; walking distance to the harbor, beach, and the nightlife.
Rula and Dimitri were so friendly, full of great advice, and warm. We felt like we knew them for years the minute we arrived. When we left, we told them to visit us in Penang. And we meant it.
Since we were there in the slower season, they weren't fully booked, and there was no one having breakfast. Rula told us, "Let be me a Greek mama and make you a little breakfast."
We were expecting a little fruit and some toast. But Rula had another idea altogether. A small breakfast turned into a gorgeous spread of homemade jams and bread, omelets, local capers, fruit, yogurt, and honey. And of course rich Greek coffee. We made her a proud mama and ate every last bite.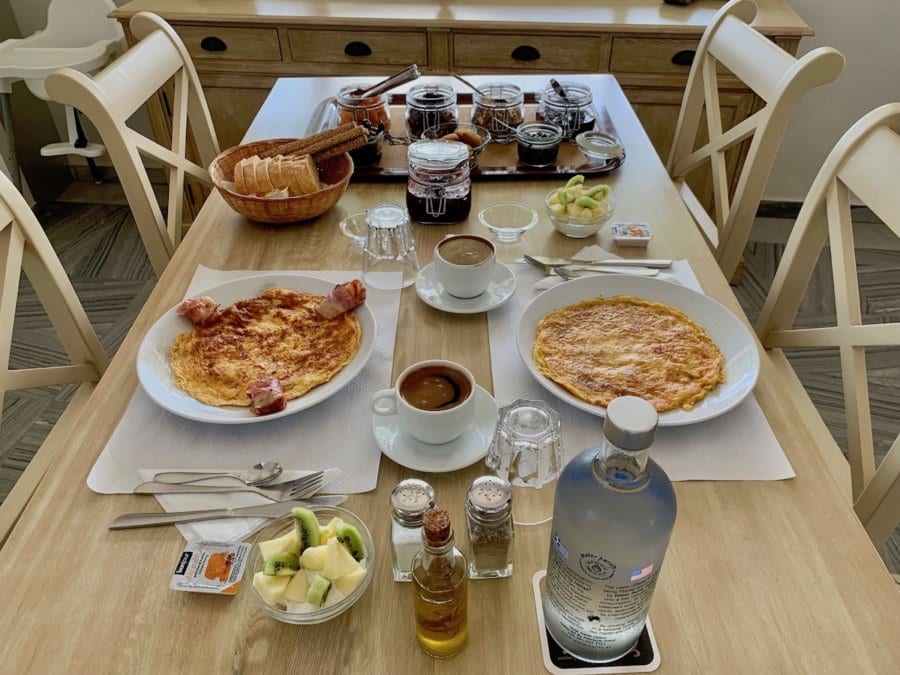 I totally recommend staying there, but they do book up; it's not a big hotel. Check out Marks TripAdvisor review of them.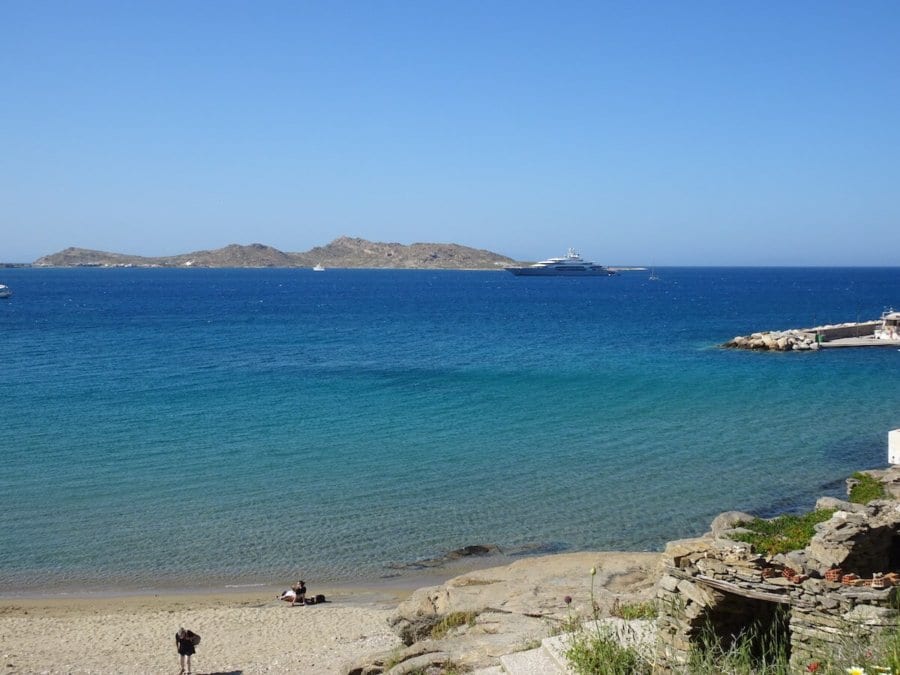 Ok, have I convinced you? Are you packing your bags yet? There are so many must do's on the island; I could go on incessantly. But these are the top things to do in Paros, Greece.