Last Updated on February 24, 2023 by Kirsten Raccuia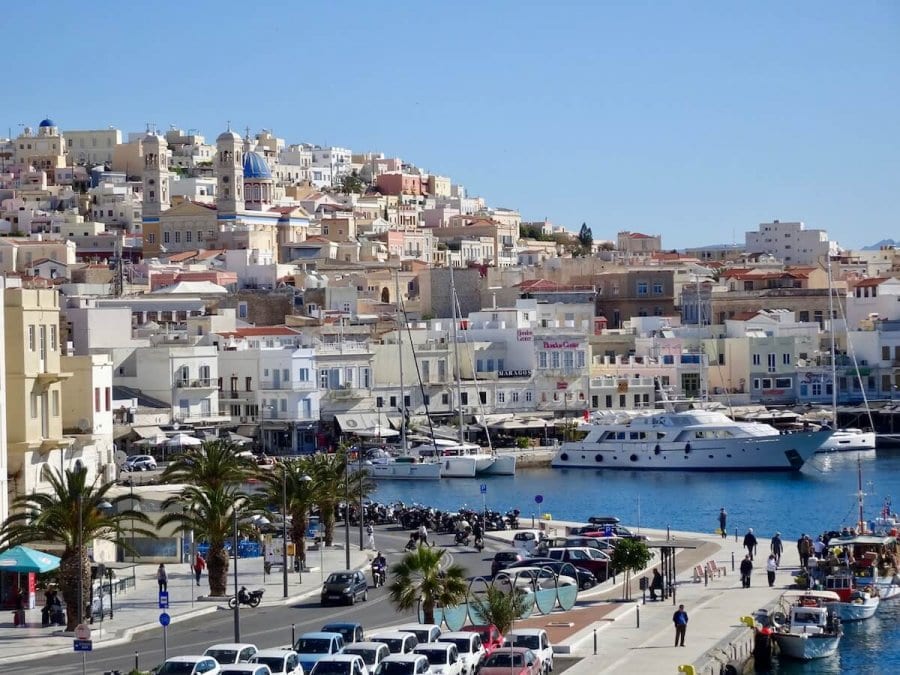 When I was 21, I went to Mykonos and volunteered for a month on an archeological dig. Let me tell ya, there was no Indiana Jones kind of excitement. It was so boring. So hot. Sitting in my little square of dirt, brushing away the dust with a tiny paintbrush hoping to find something. Which I didn't. I detested it. But I loved Mykonos.
It has been more than 24 years since I stepped foot in Greece, but I had such beautiful memories of it that I was super excited to go back and see new places. This time we were planning to go to our home exchange in Syros, and then see where the mood took us.
We fell in love with Syros. It's like no other island in the Cyclades and sees little outside tourism. Greeks love it, Americans have never heard of it. With such little non-Greek tourism, it has retained its traditional Greek Island feel, you're not going to find that on Mykonos or Santorini.
There aren't souvenir shops lining the streets, just little boutiques and markets selling the daily needs of the locals. Syros is where you go if you want to see life on a Greek island without the crowds of tourists.
We spent almost three weeks there, driving, exploring, eating, drinking, chatting with the locals, and eating some more. I could have easily stayed longer.
So here is my list of the top things to do in Syros.
1. Ermoupolis
The ancient town of Ermoupolis was named after Hermes; the Greek God of trade, heraldry, merchants, commerce, roads, thieves, trickery, sports, and travel, to name a few.
It was built in the shape of an amphitheater in one of the largest and safest ports of the Aegean Sea. The city is more neo-classical than traditional Greek. There are no whitewashed, stucco homes in Ermoupolis. Instead, you'll find streets lined with pastel buildings, ancient plazas, and villas from a bygone era. The main roads are wide with marble and stone tiles. The sides streets are cobblestoned and narrow.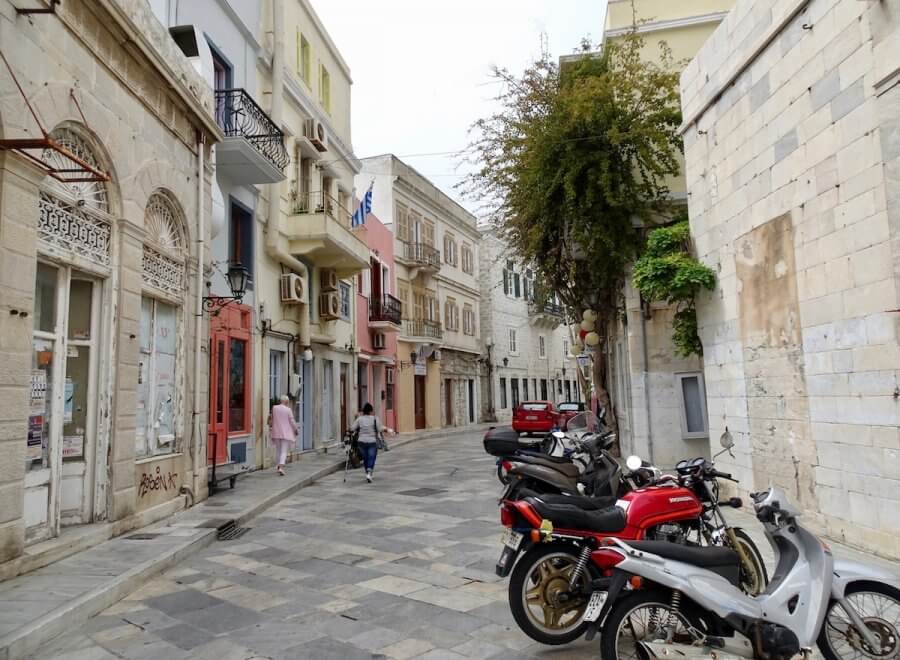 All the delicately colored buildings cascade down to the water, forging a breathtaking panorama when coming in by ferry.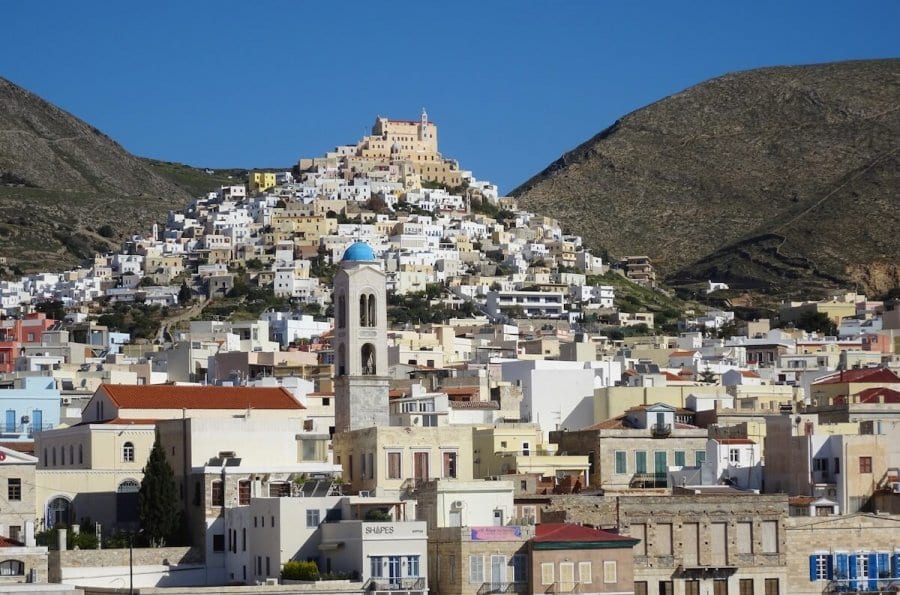 Wander the streets, check out the boutiques, and be sure to go the market street in the morning for fresh coffee and pastries with the locals.
The city is an open air museum in a cosmopolitan setting. Ancient Ermoupolis was inhabited by the Phoenicians, Ionians, Persians, Romans, Franks, and Turks who left their imprint on the island and its architecture.
2. Plaza Miaouli
A five-minute walk from the port, in the heart of the city, lies Miaouli Square. Named after Andreas Miaouli, a hero of the Greek War of Independence. The statue of him stands guard in the main entrance to the square.
Today it is the hub of city life. The locals stroll through it at night, stopping at the charming cafes, bars, and restaurants.
Besides being a great place to grab a cup of Greek coffee, (ask for medium-sweet unless you like a little coffee with your sugar) the square is dominated by the City Hall, one of the largest in Greece.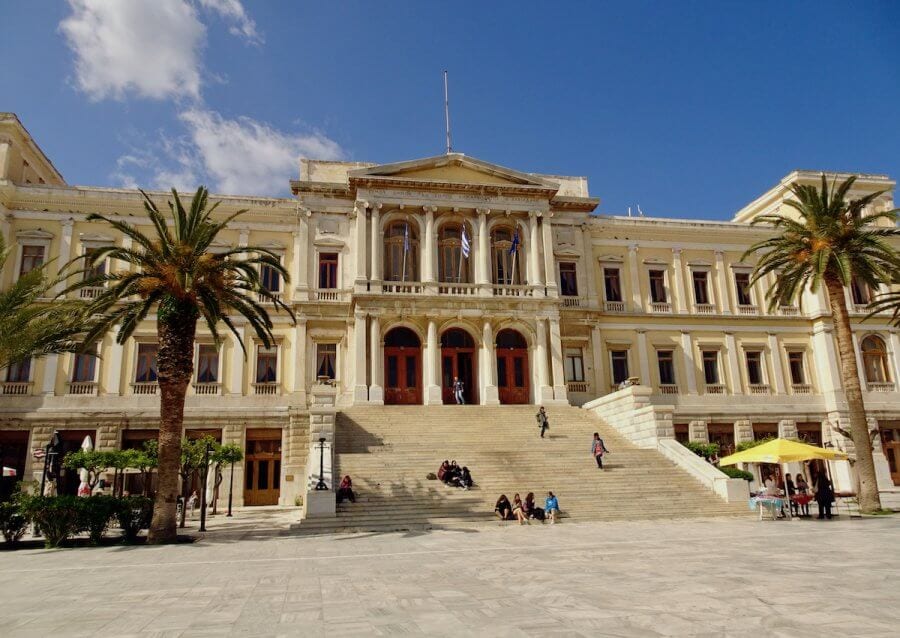 Next to it is the Archaeological Museum; one of the oldest in Greece dating back to 1835.
Also in the square is the Cultural Center.
Tip-the Cosmote store is there if you need a local SIM card for your phone.
3. Ano Syros
Ano Syros, or Upper Syros, is where the locals took up residency when the hostile pirates started invading the lower part of the island. It was built in the 13th century by the Venetians and remains the Roman Catholic quarter of the island. The neighborhood is built like a fortress and only has a few points of entry.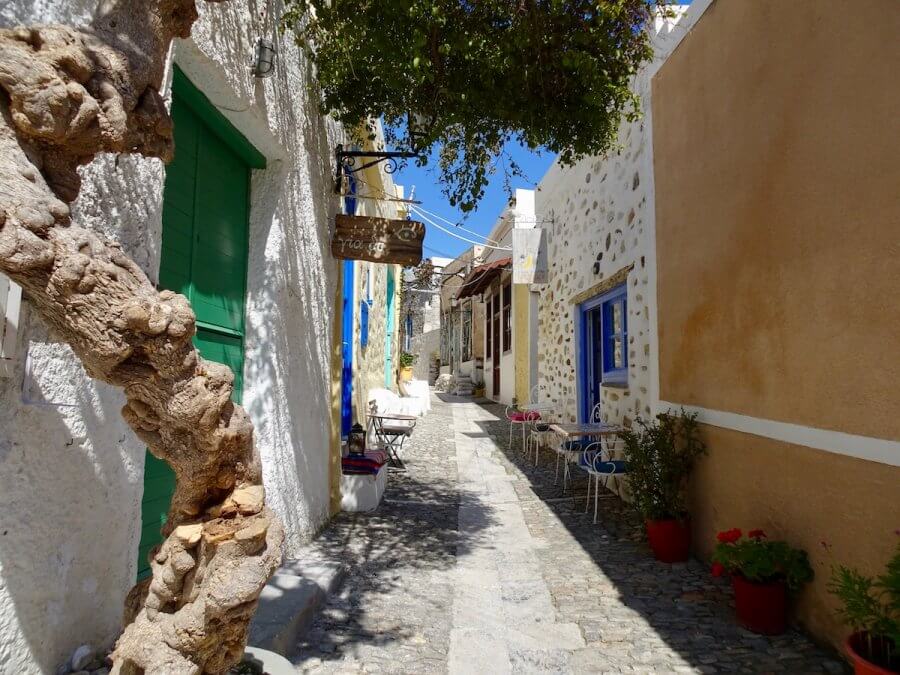 Grab an Ano Syros map from one of the shops in town. There are a few paths to follow on it which are marked with a pale blue line. To follow it, stay on the white marble pathways. But if you don't, you'll discover the loveliest little nooks for a perfect view, a colorful doorway, a hidden balcony.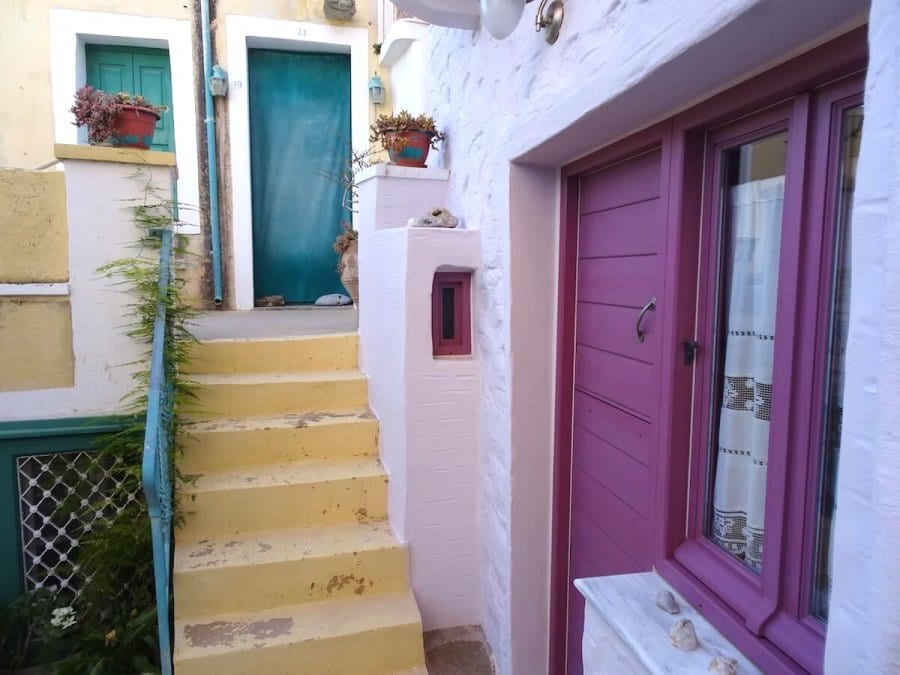 The darling streets feel like a rabbit warren, and getting lost is the best way to discover it all. If you're lucky, you'll find a yia-yia, dressed in black, sipping her coffee under a bougainvillea tree.
While you are there, go into the Agios Giorgios, a Catholic church that was built at the top of the hill in 1200.
TIP-There are no vehicles allowed beyond the gates. If you rent a car, there are a few lots. There are also free mini-busses and taxis. Take the free minibus up and walk down, it's the best way to explore the area. Some stairs will lead you from Ano Syros to Ermoupolis.
4. Visit the Unique Churches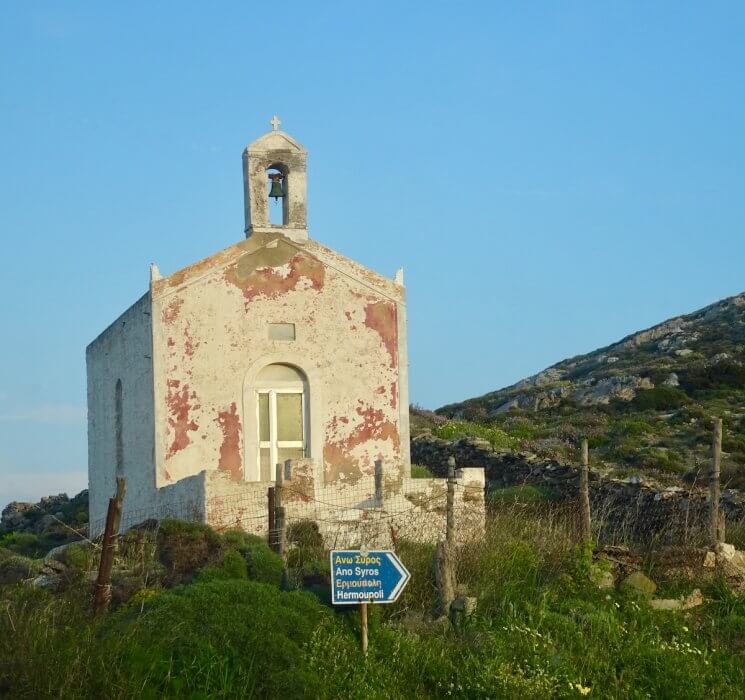 One of the reasons Syros is so unique is the coexistence of the Orthodox and Catholic religions. Syros has one of the largest populations of Roman Catholics in Greece. Unlike the rest of the world where there are different dates for each Easter, in Syros, both religions celebrate it on the same day.
From the vast and ancient Orthodox churches to the ornate and massive Catholic cathedrals, each one has its own individual flair. Every neighborhood has at least one church as well as a few picturesque chapels, and they are all open to the public.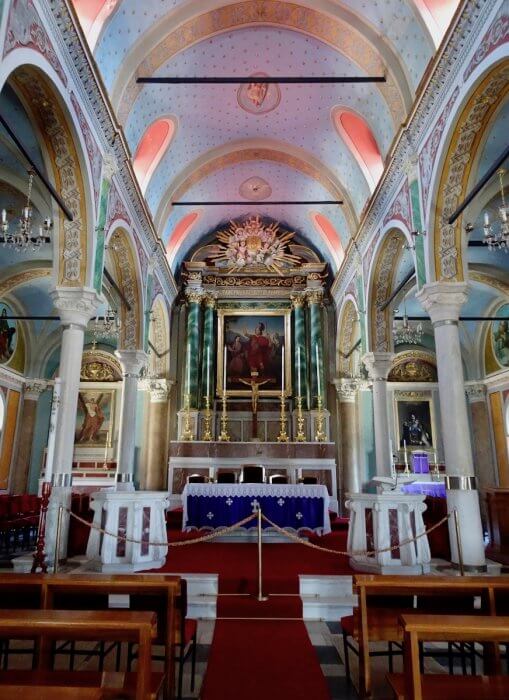 5. Explore the unknown northern part of the island
The view from Ano Syros is pretty spectacular. But there is another area in the north of the island that is absolutely worth renting a car or motorcycle for.
The area is called Ano Meria, and the settlement is Ai Michalis, only a few people still live in the area. 11 to be exact.
The drive alone is picture worthy. It winds up and around Ano Syros. Views for days. Seriously, we could see Mykonos! It is only about a 20-minute ride, but we took it slow, stopping along the side of the road to watch the sheepherders.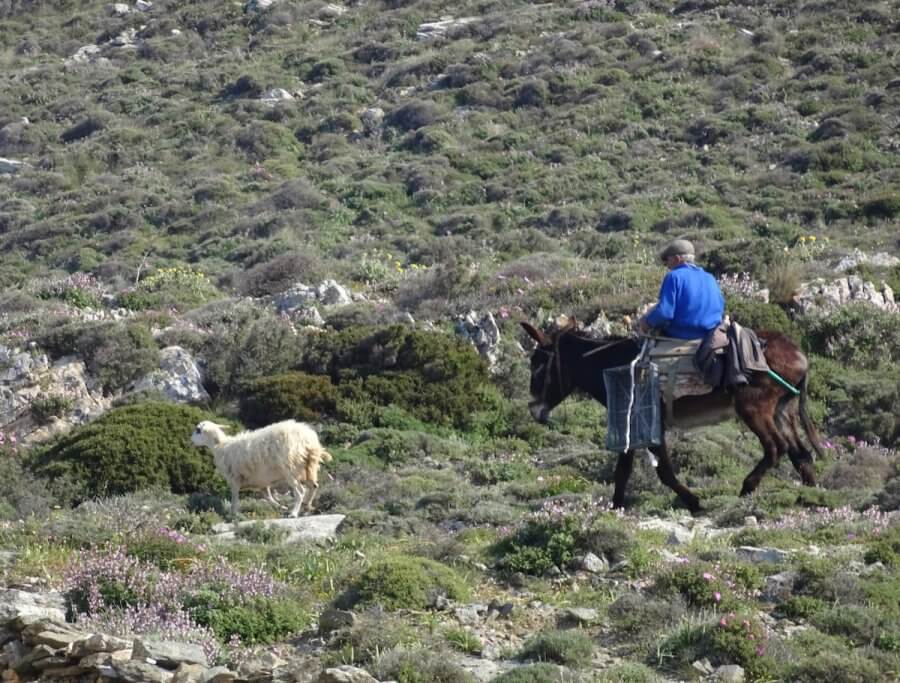 We wound through villages with stone walls displaying their borders. Every time we got out to snap a shot, we could hear donkeys braying and goats bleating.
Once you make the drive, there are two choices of restaurants; San Mihalis and Plakostroto. Both have delightful patios so you can sit and watch the sunset.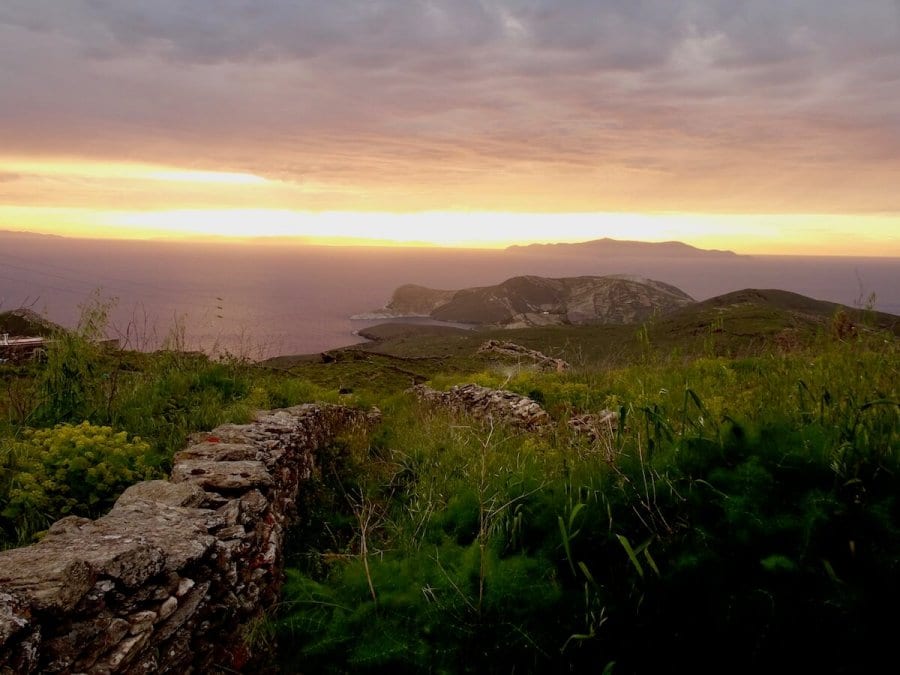 6. See the wildflowers or beach hop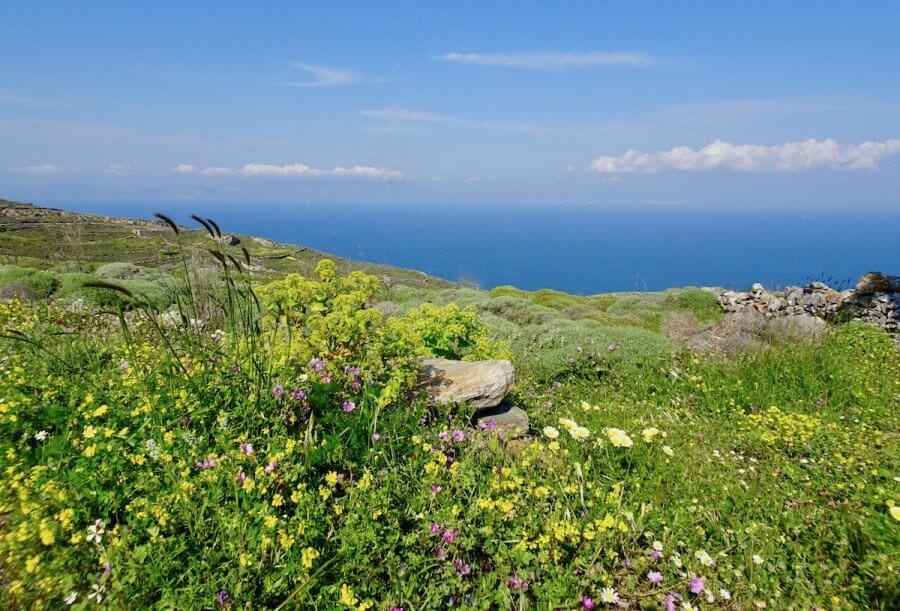 Unfortunately, we weren't there during the beach season. Not even close. We were pretty damn cold when we first arrived in mid-April. But the biggest benefit of being there before summer was the wildflowers. They were blanketing the hills. Popping up on the side of the street. Breaking through the walls of the dilapidated houses. They. Were. Amazing.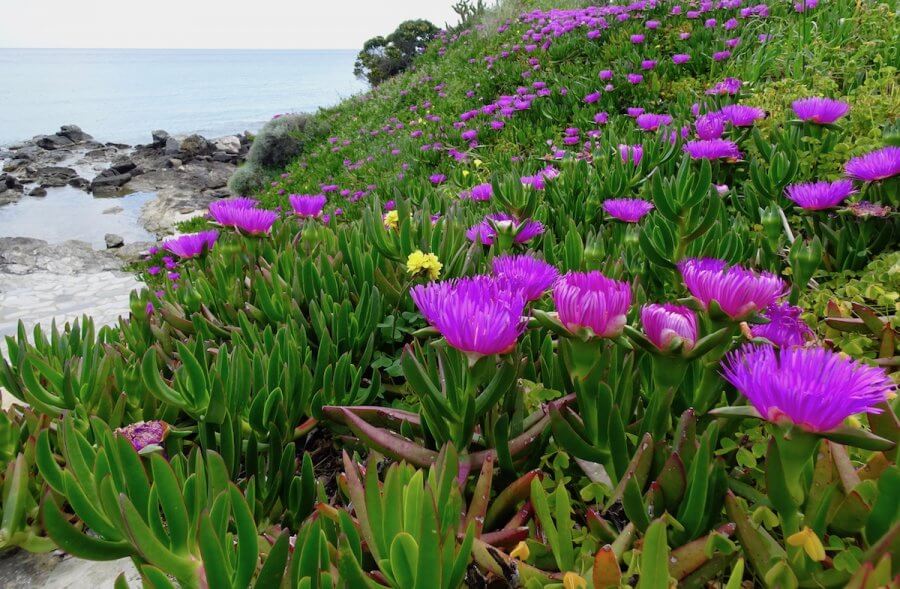 Had we been there in June, the entire island would've been parched, brown, and dusty. But the beaches…ohhh the beaches. We couldn't get into the water, but that didn't stop us from searching for the best beach sunsets. I don't know what any of the beaches would be like in high season, but I like the areas of Kini and Galissas the best.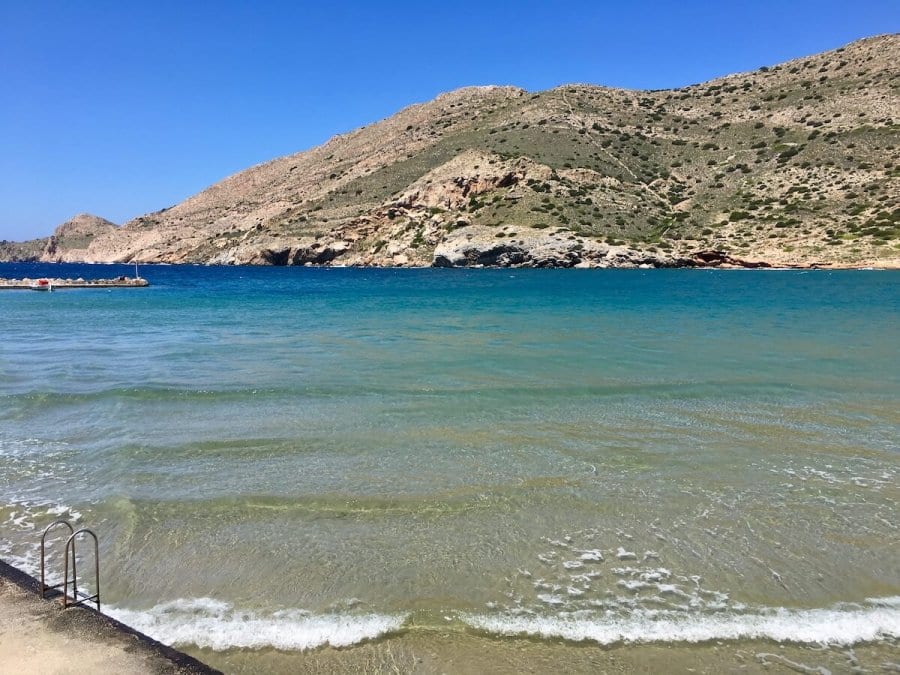 7. Eat
There is no shortage of cafes, tavernas, gyros stands, and restaurants in Syros. I wish we had more time to try it all because I could eat Greek food all day every day! It's one of the cuisines we miss most in Penang (the other is Mexican, in case you're wondering).
I ate my body weight in feta cheese, dips, Greek salads, octopus, and gyros and never felt better. Maybe it was the local wine?
A gyro is made from meat that has been sliced off a vertical rotisserie. It is stuffed into a warm pita with onions, tomatoes, and French fries, and then smothered tzatziki sauce. We tried pork, chicken, and lamb.
Gyros stands are all over, it's the fast food staple of Greece, and its only a couple of euros for each filling sandwich. Don't bother going to a fancy restaurant and ordering it; it won't be any better, and you'll be mad you spent the money. There are two defining factors when looking for good gyros–a shop filled with locals and a great big rotisserie. Without those two things, don't do it.
We didn't have one bad meal our entire time in Greece. Some were better than others, but not a bad one in the bunch.
Don't even get me started on the local wine!
Just the facts…
Where to stay
I suggest staying in Ermoupolis, where you can walk to everything and catch a bus to the beaches.
If you have your own transportation and want to stay by the beach, try Kini, Galissas, or Vari. But most likely, you will come into town for dinner and sightseeing.
If you stay outside of Ermoupolis and are using public transportation, the buses don't run late so you will have to get a taxi back home.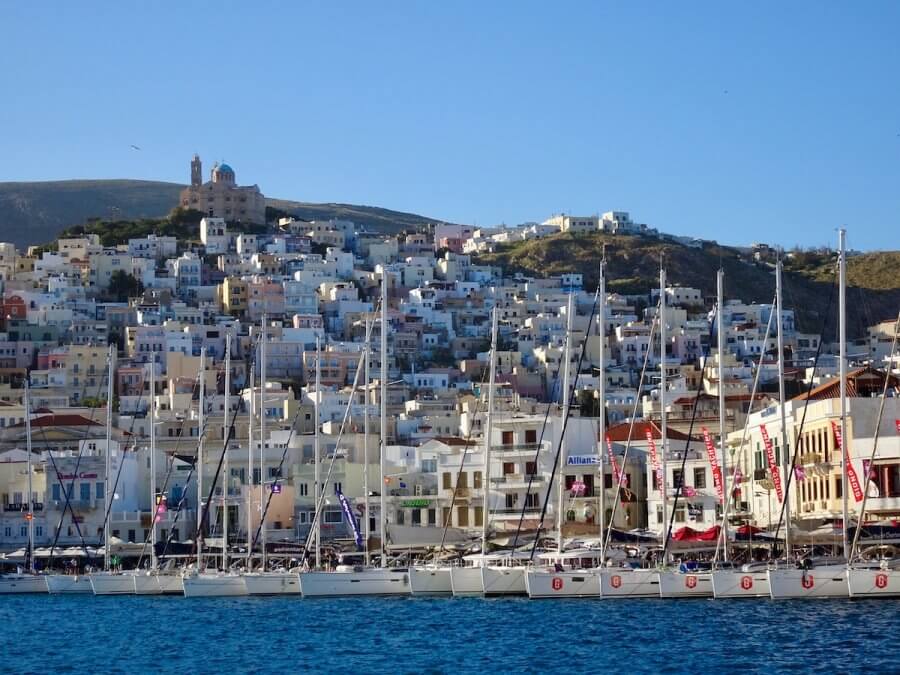 How to get around
We rented a car from Lefteris at Malena. It's a family run operation, and they were kind and super helpful. Our vehicle was €25 per day, which was less than any of the other shops we found. He didn't increase the price over the Easter holidays, while all the other rental agents doubled theirs. Scooters are €20 per day.
These rates might change during high season.
There are plenty of taxis, and unlike other places in Greece, they are trustworthy and won't rip you off because you are a tourist.
There are bus routes all around the island, you can check the schedule on the Syros Today website. It has a lot of useful info on ferries, bus times, history, you name it. The locals use it for everything.
Getting to and from Syros
Syros has its own airport. Flights from Athens start at €158 in the off-season and take about 35 minutes.
There are daily ferries from Piraeus, the main port in Athens, to Ermoupolis. It costs €31.50 and takes 3-4 hours depending on which boat you choose. We took Blue Star Ferries which was a very reliable company throughout our travels.
It is also possible to sail to Syros on a Greek island tour, which is def a dream of mine.
If you are going from Syros to another island, book the ferry ticket first at one of the agents on the harbor. We learned that tip the hard way. We booked an Airbnb in Mykonos and then went to get our ferry tickets. Apparently, there is a ferry strike every year on May 1st. Who knew? Luckily, our Airbnb host was able to move our reservation to the following day when the ferries were up running. But thankfully, getting to Mykonos is really easy.
Tip-Many places on the island have at least 2 different spellings. Ermoupolis vs. Hermoupolis, San Mihalis vs. San Michalis–if it looks the same, it probably is.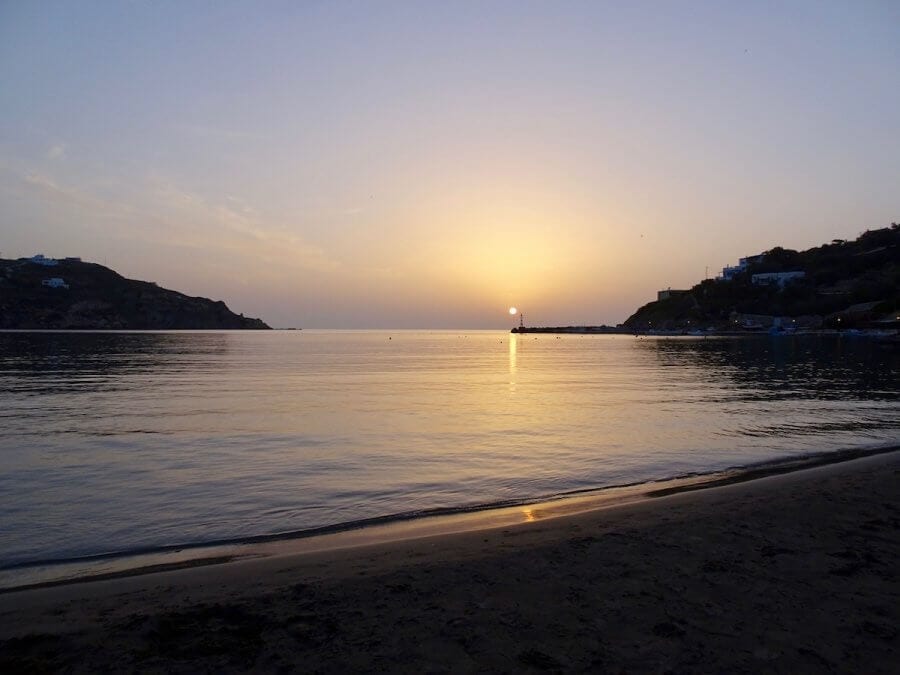 Have you been to Greece? What is your favorite place? Let me know in the comments!