Last Updated on August 6, 2020 by Kirsten Raccuia
Ever wonder how working nomads make money? Well, I do.
I'm a working expat and feel like I don't travel as much as I would like to. Being a working nomad seems like the ultimate dream for me. So, I asked some of my nomadic blogger friends precisely what they do to fund their lifestyles. Below is the full monty on how they make traveling part of their lives while they work on the road.
1. Cruising Around the World as a Working Nomad
Who? Wendy Addinsall from The Forty Something Traveller
Where in the world? Cruise Ships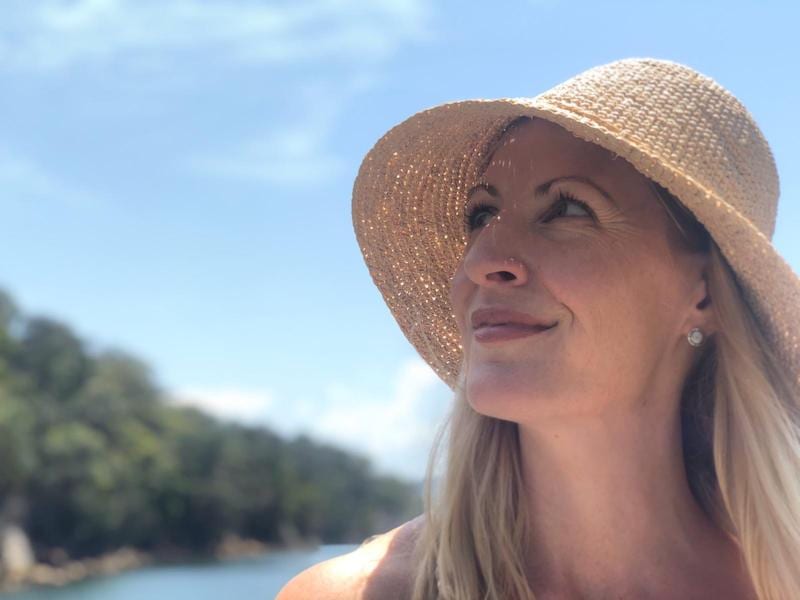 Being a full time traveller/blogger sounds like the ultimate dream job right? Well, it can be, but it ain't all unicorns and rainbows, let me tell you.
I travel the world on a luxury small cruise ship with my husband. He is a Cruise Director, which means I'm allowed to travel with him most of the time, pretty cool huh? So far we've done two seasons in the Baltics and one in Australia/NZ, next up is half a world cruise, I'll join in NZ and we cruise through Australia, Asia, UAE, Europe and end up in my home town, London, England.
Although I'm from England, I've lived in Australia for ten years and now my husband and I 'base' ourselves in Malaysia…I say that loosely as we basically only stay there for about 4 months a year, when we're not on a ship or visiting family in Australia or UK.
This life isn't for everyone. We live out of suitcases, 30-40kg weight allowance. We don't have space for knick-knacks, photo frames, non-essential toiletries, or anything that isn't completely necessary. We have to work out medications to last us until we're back at a registered GP, and we miss cooking (although the food on the ship is amazing!).
In terms of blogging, I have a different port outside my window almost daily, I'm rarely short on material. However, finding good wifi to actually upload my blogs and photos can certainly be challenging…it's radio silence from me when we have several sea days!
That said, seeing the world, learning new cultures (both from visiting countries and the crew) and new languages, discovering new foods and having new adventures every day is priceless. I know it won't last forever, so I'm grabbing hold of it and making the most of every moment!
2. Au Pair-ing Around the World as a Working Nomad
Who? Lily Dunn from Many Miles and More
Where in the world? Vienna, Austria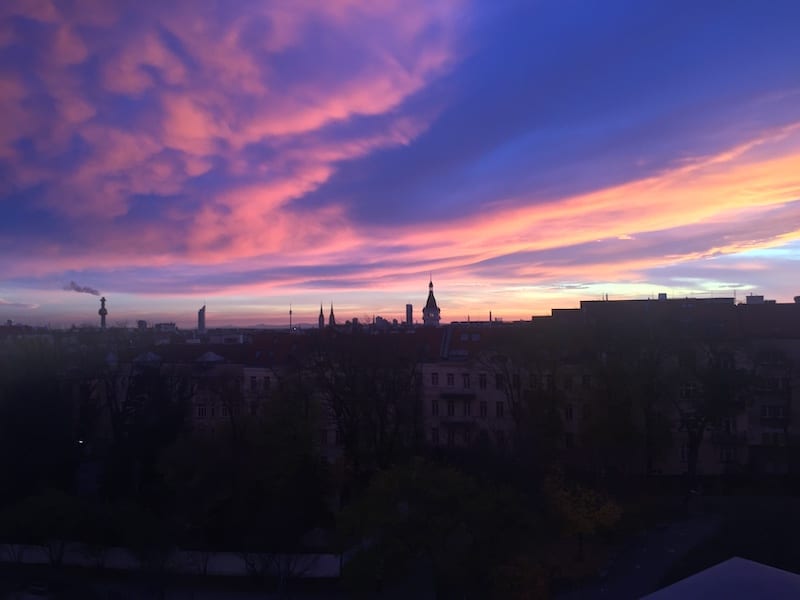 There are many wonderful aspects about starting a new life abroad and delving into the expat lifestyle, though that doesn't mean it's all sunshine and rainbows.
There are so many barriers in the way of making the move, one of the biggest ones being money. Costs quickly add up, with big bills for travel, rent, food, activities, and bureaucracy hitting the bank account. But what if I told you all these expenses could be lifted, and that you could get paid to live abroad with next-to-no costs?
No, I'm not pulling your leg, I've been doing it for a while now.
Welcome to the life of an Au Pair, where – in exchange for childcare – you are provided with complimentary accommodation and food in a foreign country.
I've been in Vienna since the start of September, living with a wonderful host family (that I now consider my own family) and caring for their 2 beautiful daughters. It's a wonderful way to fully immerse yourself in a new country and culture, and it's a job I recommend for everyone who wants to move abroad on a tight budget.
While the work is hard, it isn't overbearing.
My main workload consists of getting the kids to school in the morning, providing care in the afternoons, helping with schoolwork, bettering the kid's English skills, and the occasional evening or weekend babysitting if the parents have an event.
Bar the occasional tantrum, it's a pretty sweet gig.
I get heaps of free time, taken out to fancy restaurants with the family, have a fridge full of good food I didn't pay for, a bigger bedroom than I could ever afford on my own, and get to spend time with some of the most incredible children I've ever met.
3. Fee-free Multiple Currency Bank Account for Working Nomads
Who? David Angel from Delve into Europe.
Where in the world? Everywhere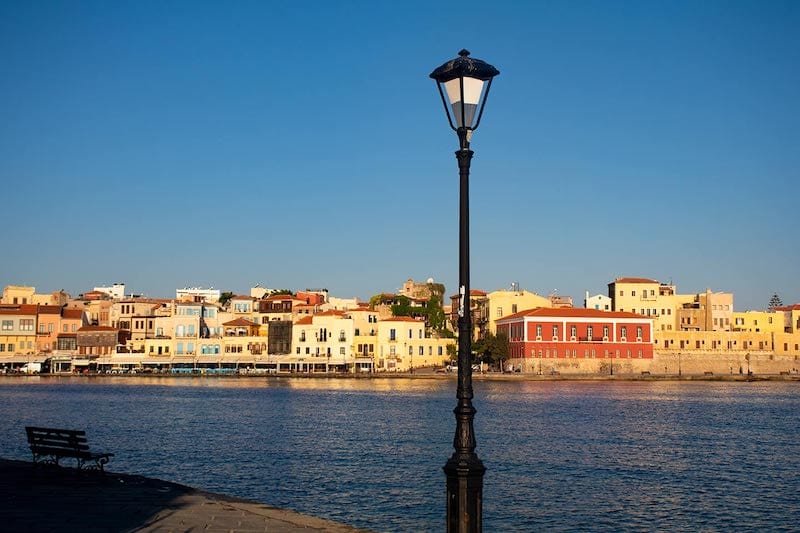 We've been living as digital nomads for most of the last year, and one way we've found to save money is with a multi-currency account – also known as a borderless account.
As we have been travelling in several different countries – with more in the pipeline – transaction fees can seriously stack up, particularly in the Greek islands, where ATM exchange rates are diabolical.
The multi-currency account differs from a normal bank account in that there is no overdraft facility, and you cannot earn interest on it. Your funds are also protected and safeguarded by the Financial Services Compensation Scheme.
We have made huge savings through the multi-currency account, as we have avoided the often exorbitant fees you get with a traditional bank account.
Another option is finding a credit card that doesn't charge transaction fees abroad. We have been using a Halifax account for the last two years or so, and this has helped us make additional savings along the way.
4. Teach English in the Maldives: The Best Way to Fund Life as a Working Nomad
Who? Steffi Smith from Beach Bum Adventure.
Where in the world? Maldives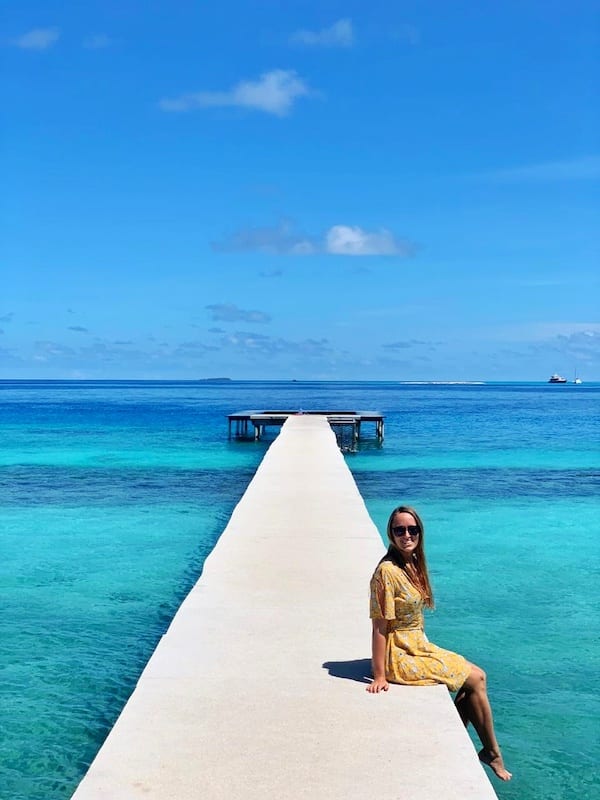 It was during my teacher training course when I was speaking to our trainers that I realised how perfectly English teaching and travel went together. The trainers on my course had lived in so many different countries in their teaching careers and I felt so inspired.
Whether you enjoy teaching kids, teenagers or adults, teaching English as a foreign language is an ideal way to travel and live abroad.
I think it is really important to have passion for teaching first, but if you do then it means you can have the most amazing experiences around the world! I started teaching by completing the one month CELTA course in England and I have now worked in the UK. France, Italy, Thailand and the Maldives through teaching.
Another bonus of teaching is that there are great holidays to explore surroundings and I have travelled to about 20 different countries over the last 5 years of teaching in Asia.
Teaching also gives you a fantastic opportunity to work with locals as well as students of so many different nationalities. This is the best part of my job and I feel that I learn so much while teaching others!
5. House Sitting for Working Nomads!
Who? Tayler Gill from Traveling Tayler
Where in the world? Everywhere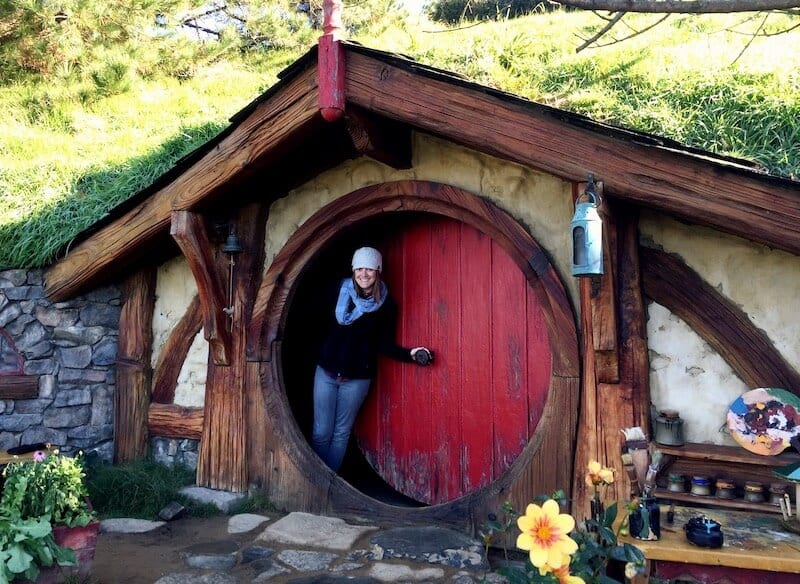 When I started traveling full-time 2 years ago I had no idea how I was going to afford accommodation as I moved around. Then about 2 months before I took off for New Zealand, I learned about house sitting!
It's this wonderful world built on a complete trust economy where in exchange for looking after someone's home, and typically pets, I'm given free accommodation. It's a complete win-win for both me and homeowners.
Not only has it saved me hundreds of dollars in rent, but I've been able to live like locals in each destination.
Of course, my integration is usually only for 3-5 weeks at a time, but I love living in neighborhoods, being able to cook my own meals, having the companionship of lovely pets while I work from home.
The community of other international house sitters has also been a complete joy! I'm a part of some great online groups and the people in them are some of the most kind and generous I've ever met. And I have met many of them! One particular couple I met up with in 3 different countries last year as we kept ending up in the same cities sitting.
I feel so fortunate to have found out about this great option and explore the world in a completely unique way. Anyone who is interested in traveling long term and on a budget should absolutely consider house sitting around the world.
6. How to be a Working Nomad One Country at a Time
Who? Kim Yuhl from Kim and Way
Where in the world? Everywhere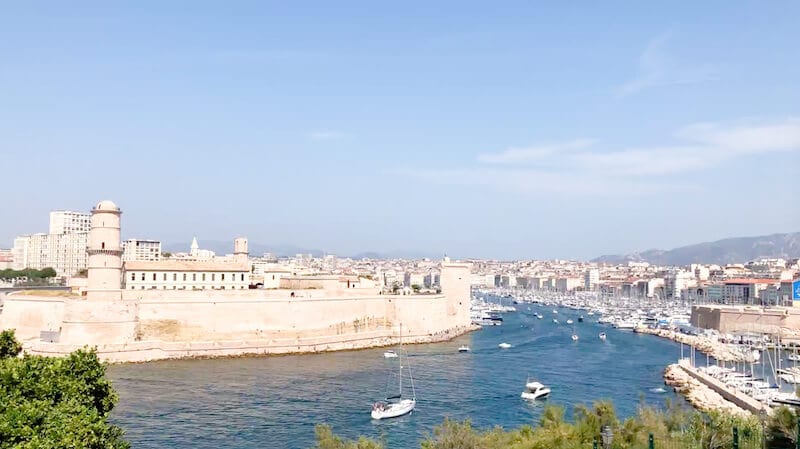 For over a year, my husband and I have "lived" in 13 countries for one month.
The biggest piece of advice I have is to make the journey your own. There is no right or wrong way to relocate or nomad your way around the world.
Some of the things that have made our travels more meaningful is creating our version of home on the road. On the very first day when we arrive at a new location we join a local gym, we find a local coffee house, we seek out nearby markets, reserve our co-working space, and arrange our Airbnb to accommodate our needs.
Feeling comfortable in our surroundings and finding local hangouts allows us to meet locals and feel like part of the community. It also opens up the door to some of the most amazing experiences, like a private tour of a closed fortress in Marseille or walking on top of the Old Wall of Constantinople in Istanbul, which was also closed to the public.
While we love finding expat communities and spending time there, we try to focus most of our attention on meeting and learning from the locals. It is why we embarked on this crazy lifestyle in the first place.
7. Keeping Your Info Safe as a Working Nomad
Who? Sarah Carter from A Social Nomad
Where in the world? Everywhere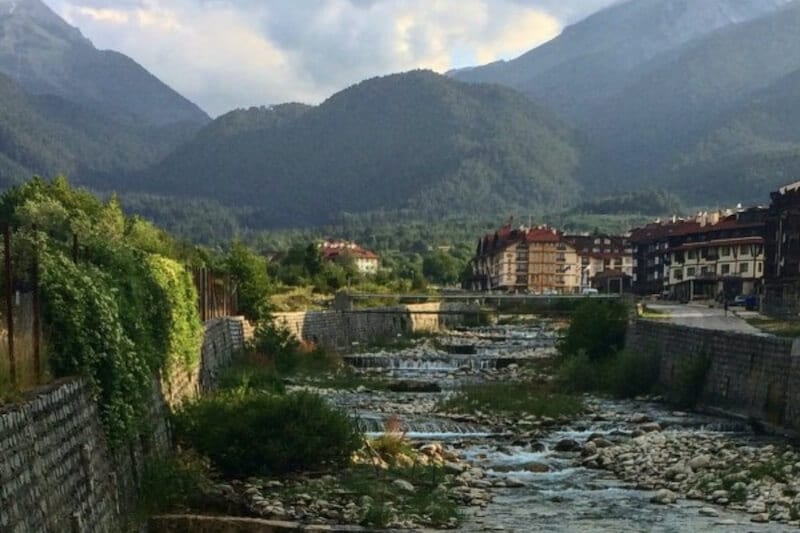 Although I'm a Brit I left the UK in 2010 to spend 4 years working in the US, then we've been travelling since.
At the moment we are in the gorgeous mountain town of Bansko, Bulgaria where we've spent the summer.  I've also worked in IT Security for many years and realize the importance of protecting personal data when connecting to many different Wi-Fi networks around the world.
A Virtual Private Network – VPN – is something that I would never travel anywhere without.
I use one on my laptop, my phone, my tablet.  A VPN essentially routes your internet traffic via a secure connection to the endpoint.  Importantly for ex-pats and nomads, it allows you spoof the location of your device that you're connecting to the internet with.
So want to watch the BBC or Downton Abbey, for instance, outside of the UK – a VPN can do that for you.  Want to connect to the, say German version of Expedia in order to get a better flight price because you're on the "local site"
We love to embrace the local culture and the local vibe wherever we are, but I also like to know that my data and internet banking is secure and that I can catch up on favourite TV shows wherever I am.
8. How Work as an International Examiner Can Fund Your Working Nomad Lifestyle
Who? Fiona Berry from Passport and Piano
Where in the world? Everywhere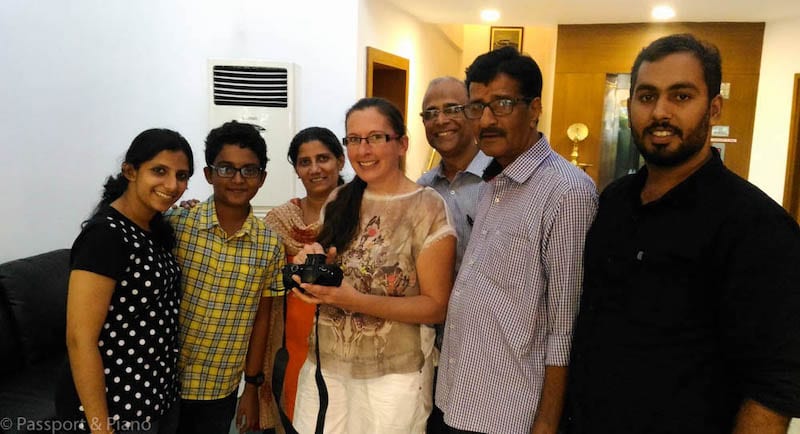 My job as a music examiner for Trinity College, London gives me the opportunity to both travel and work abroad. I examine graded and diploma exams across a wide range of musical instruments. This is a fantastic way to include both my passion for music and my love for travel.
In addition to music, the college offers international qualifications in English Language and Speech and Drama.
Trinity College exams can be taken in 70 countries, so I've still got many years to go before I've visited all the centres. To date, I've worked in Thailand, India, Malaysia, South Africa, Europe and Australia.
The company is flexible in the amount of work you undertake for them. You can do as little as three weeks, six weeks, or more. Unfortunately, you can't request which countries that you are sent to, but I'm hoping for New Zealand and Canada.
Working abroad has been a fantastic way to finance my travels.
The company pays for my flights, and I can travel before and after my placement at no extra cost to myself. We only examine for five days of the week, so there's always time at the weekend to explore and go sightseeing. The exam board pays for my accommodation during the examining period, and I get a generous daily allowance to live off.
Our tours are usually 4-6 weeks in length, and I typically tag an extra couple weeks on either side of that to travel independently.
It's also possible to take a holiday in-between examining tours which is something I did recently. I was working in Johannesburg for seven weeks and then Mumbai for four weeks. I opted to take a holiday in Mauritius instead of returning to the UK as the two tours were only one week apart.
9. Vietnam: The Perfect Home for Working Nomads
Who? Dayna Brockbank from Happily Ever Travels
Where in the world?  Everywhere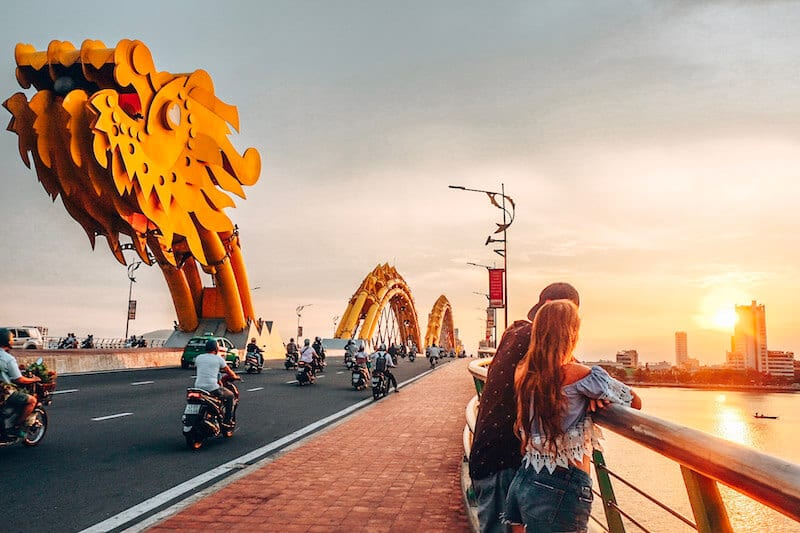 Vietnam is the PERFECT country to live in as a nomad, especially if you're a beginner. It has everything you could need while living abroad on a digital nomad budget: cheap rent, fast internet, easy online visa, a ton of beautiful places nearby to explore, and plenty of other expats to meet up with.
Plus, it is CRAZY cheap. My husband and I, on average, spend about $800 a month on everything we need including a few trips around the country.
The biggest fear for most people moving abroad is whether they can afford it.
One way you can prepare yourself for that is to check the cost of a country using Numbeo.com. You can compare the price of the city that you currently live in with the city you'd like to move to. Then you'll know what to expect.
How Much and Where?
The average rent for a one-bedroom apartment in the center of Hanoi is $345 per month. With that in mind, you can make sure you get a good deal, whether you book in advance on Airbnb or start looking locally once you get there.
Another great thing about Vietnam (there are so many of them, I even wrote a whole post dedicated to why you should move to Vietnam) is that there are so many different cities to choose from.
As a digital nomad, there aren't too many cities with good internet and cheap prices within the same country. But in Vietnam, you can choose from Ho Chi Minh City, Da Nang, Hoi An, Hanoi, etc.!
If you love living near a beach, Da Nang and Hoi An, are for you, but if you love big cities the other two are great. Why not try all of them until you find the one you like the most?
10. Become an Indie Author to Fund Your Working Nomad Lifestyle
Who: Frankie Thompson from As The Bird Flies Blog
Where in the world? Everywhere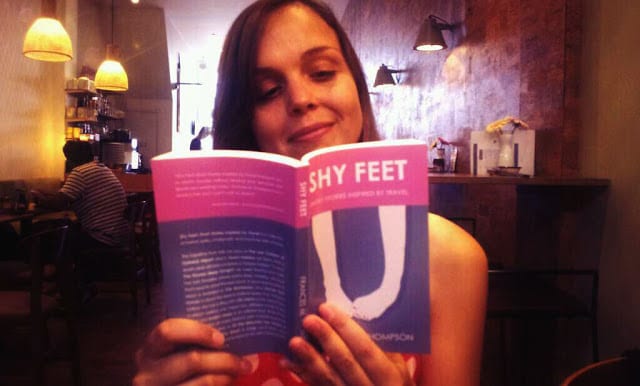 I have always wanted to write fiction and have other people (who weren't related to me!) read my stories, but I never actually saw it as a potential reality. I always filed it under "Never Gonna Happen" along with looking like Beyonce or marrying Dwayne Johnson.
But not long after I left my corporate job in London and began travelling the world, I built up a freelance writing business and travel blog.
It dawned on me that if I could take one big leap of faith, I could make others. And work on achieving other lifetime goals I'd previously thought unattainable.
Fast forward two years of wonderful nomadic travel and a lot of hard work, I was the proud indie author of two published books, Shy Feet: Short Stories Inspired by Travel and London Eyes.
What it Takes to be an Indie Author
Being an indie author essentially means you are a self-published author. But I think it's much more of an entrepreneurial undertaking than what that sounds like.
You don't just write a book then push a button to upload it on Amazon.
It's a whole operation:
from writing (and re-writing again and again)
working with an editor/proofreader/beta reading team
formatting for multiple platforms
hiring a cover designer
creating a marketing campaign
organising a launch
managing social media and newsletters
consistently learning about the industry (and updating your books and marketing approaches accordingly)
It's not hard to see how much work it is.
But even with all these tasks, being an indie author is still often quicker than being published traditionally. You will always have MUCH more creative control when you publish your own books.
I've been an indie author now for six years, with four published books to my name, and I have no regrets. I love this work and am excited about all the books I am writing and am going to write!
It's not a high paying job until you have multiple titles. I couldn't do it right now without my freelance writing and blog to top up my income, but it's the perfect job for location independence, and ultimate creative freedom!
11. How Tutoring Chemistry & Niche Websites Fund a Working Nomad Lifestyle
Who: Mark Coster from Organic Chemistry Explained
Where in the world: Everywhere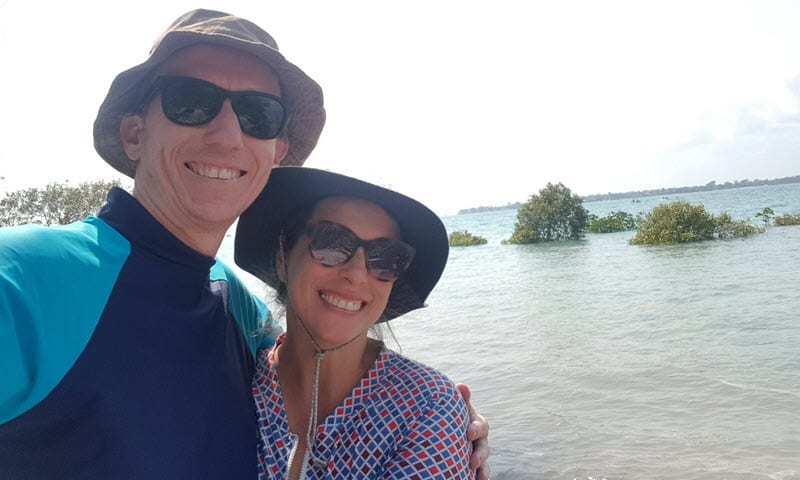 After 20 years of teaching and research in Australia, the UK, and the United States, I yearned to be completely free to work from anywhere. I started an online educational site in my area of expertise, called Organic Chemistry Explained.
I developed a way to tutor students online in organic chemistry, which is a very visual subject. My set-up consists of a Microsoft Surface laptop with stylus and videoconferencing software – I use Zoom. I can interact with students this way, and they often comment that it is as good as sitting next to a tutor in the same room.
I can also make myself available outside normal working hours in the student's time zone.
One of my favorite memories is staying in cramped shared accommodation in Kyoto, Japan. The shared tatami mat room made it impossible to tutor. But, my student desperately needed help before her exam, so I was able to hide away in a quiet part of the hotel restaurant between mealtimes. It all worked out ok!
Getting expertise in online business allowed me to start building niche websites that earn steady income streams from a variety of sources.
My favorite type is affiliate sites for products I am personally interested in. I'm particularly passionate about STEM Toy Expert, where I review educational toys such as coding robots, build-your-own computer kits and, yes, chemistry sets!
Running an online tutoring business allows me to help students all over the world with my expertise. I choose my hours and I can do it from anywhere with a good internet connection. Building and investing in niche websites allows me to earn during quiet times of the year.
One of my favorite places to work is from quiet beachside towns – although not on the beach itself! Sand + laptop is not good!
12. How Blogging and Copywriting can Fund Your Life as a Working Nomad
Who: Mitch Glass from Project Untethered
Where in the World? Everywhere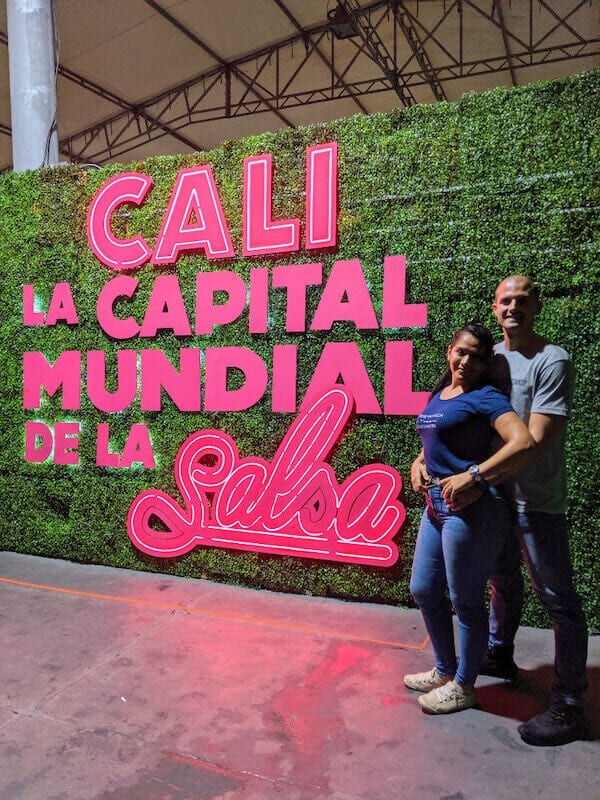 I've tested out a laundry list of travel jobs over the past 5 years…
Some were good ideas executed poorly. Some I got bored with. And some just straight up bombed.
The two I've stuck with are blogging and copywriting.
My blog doesn't earn tons of money (yet!), but I love working on it. There's something special about building your OWN project and not having to answer to anyone else. Obviously you have to work hard…but if you want to take a couple weeks off for a last-minute hiking trip in Patagonia, there's nobody to stop you.
That said, I earn the majority of my income from freelance copywriting projects—mostly writing sales emails and blog posts. I also get paid to spend a couple hours per week moderating a copywriting forum where I help small businesses optimize their marketing.
Between the two, I'm able to work part-time and support my wife and I (in cheap countries).
If things go according to plan, I hope to slowly transition into less client work and more blog work so I can have complete control of my schedule (and no more 4am client calls!).
13. Resume Writer Turned Working Nomad
Who: Wes Pearce from Wes Meets World
Where in the world? Everywhere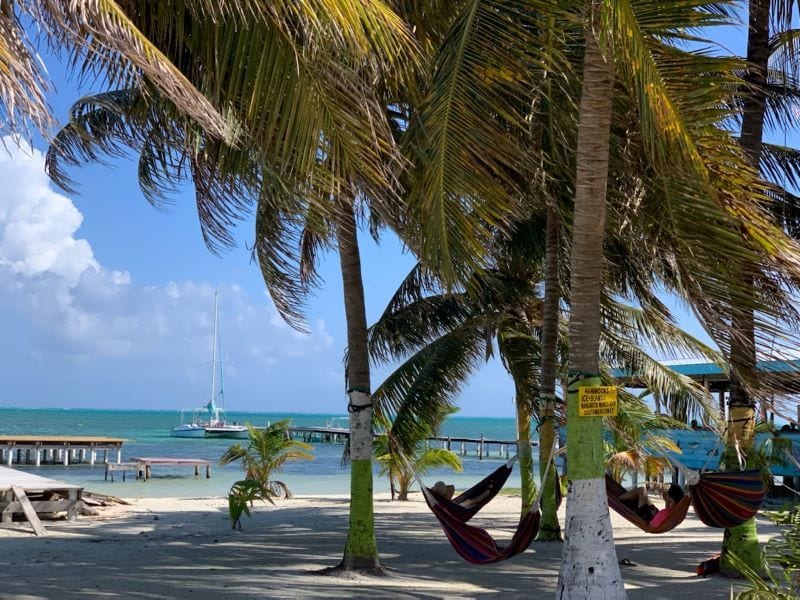 As a virtual career coach and resume writer, I'm able to take my business on the road while I travel to fun new travel destinations.
Every day, I get to work with new clients and help them navigate their careers, whether it's writing a resume for their career transition, looking for a new opportunity, or coaching them on job search tips.
Starting out years ago as a resume writer and coach, I would take on any client that would hire me. Now, I've been able to grow my business into a healthy salary that allows me to travel to new cities as an "on the road" digital nomad. I've been able to work remotely while traveling to Puerto Rico, Guatemala, Colombia, Costa Rica, and most recently, Belize.
How do I find my clients?
I have a business website where many of my clients search for "resume writer" or "career coach" on Google and find me locally. I also leverage social media sites like LinkedIn to connect with new prospects. In the past, I got started by using websites like Upwork.
Since I've been in business for several years, many of my new clients come to me as referrals from past customers.
14. From Farming to Carnivals: How to Fund Your Life as a Working Nomad
Who? Emma & Daryl Kelly from Our Wayfaring Life
Where in the world? Australia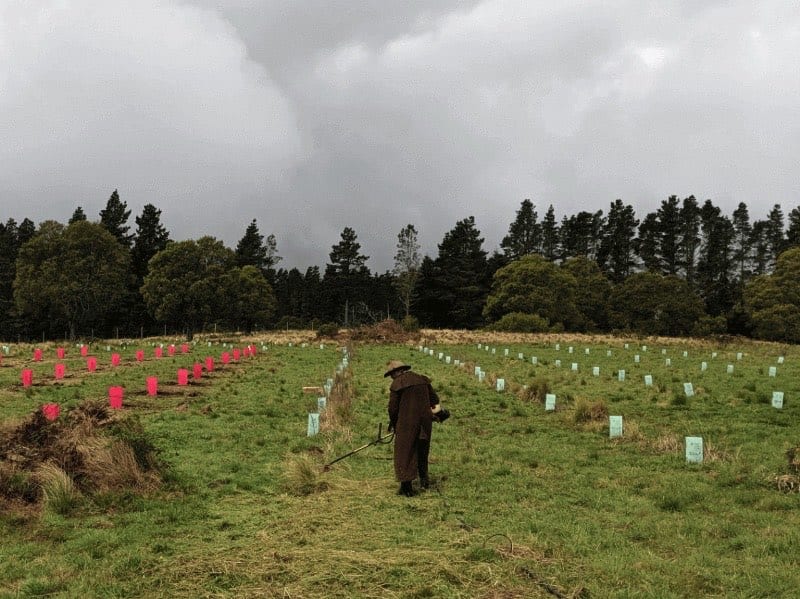 Travelling and working around Australia full time since 2017 has been an incredible opportunity for my husband and I.
We have fallen completely in love with our nomadic lifestyle, living in our caravan, going where we want and stopping to work for brief periods. In the two years we have been living this life we have had no difficulty finding temporary work.
For us, temporary work is anything from 2-3 days to 3 months. There is work available for longer periods however, keeping the balance between travel and work is essential for us so we have set ourselves this limit.
Regional and outback Australia is where as travellers we have been able to readily find temporary work. We have been able to do so by using employment and classified websites, as well as word of mouth and local notice boards. Jobs are often advertised with an immediate start so being a traveller with no other commitments has been an advantage.
The great thing for us is that the work we have done has been varied which fits with our lifestyle of wanting to make each day new and interesting.
Kinds of Opportunities
We have or hope to do in the future:
events (festivals, carnivals, and regional shows)
harvest or fruit picking
work on cattle/sheep stations or farms
campground or caravan (RV) Park Hosts
in hospitality
in remote roadhouses
pubs
hostels
clearing deceased estates on behalf of families
property maintenance
yardwork
completing simple tasks for people who are time-poor
There are many opportunities to work while travelling around Australia.
It is about putting yourself out there and having the confidence to have a go at something you may never have done before. It sure has been different to my old job behind a desk and I wouldn't have it any other way.
15. Marketer turned Road Trip Blogger to Working Nomad 
Who? Mike Shubic from Mike's Road Trip
Where in the world? Everywhere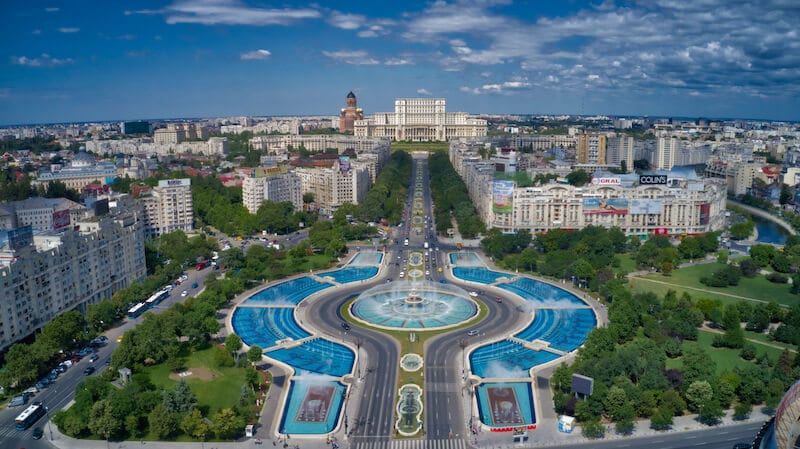 I have been a full-time road trip travel blogger for nearly a decade.
I launched MikesRoadTrip.com in early 2010 and began by chronicling my journey of losing my house, selling everything I owned, and packing up my truck to embark on a nomadic adventure of a lifetime—to seek new opportunities, to boldly follow a road of uncertainty. Six months later, a leading travel website named Mike's Road Trip the best "Travel Tips" blog for 2010…many accolades have since followed.
I am a former marketer who turned the lemons of life, and my passion for travel, into a profession.
After years of perseverance, I have become one of the leading travel bloggers on the planet and am affectionately known as the "Most road tripped man in the world."
I have a passion for video content and often speak on the topic at travel conferences around the world. I have also authored the book Lines, Signs & Forks – Diary of a Nomadic Road Tripper, which chronicles the crazy things that happened to me during my first five years as a travel blogger.
I support my nomadic lifestyle in the following ways:
Work with destinations to produce and promote promotional packages.
Sell B-Roll and photos.
Video views on YouTube, ROKU and a couple of other outlets.
Brand ambassadorships like Allianz Travel and Travelocity, both of whom I produce content for.
Sponsorships, for me… auto manufacturers is a good source.
I also write articles and produce videos for other media outlets such as Lonely Planet.
If I were just starting out today, I would focus on a tight niche and become really well known in that segment. Examples might include wineries, boutique breweries, cultural dancing, a specific sport, specific traditions, history, specific food, etc.
While it looks glamorous being a travel blogger, I've never worked so hard in my life. That said, they say if you enjoy what you do, you'll never work a day in your life. One of my favorite places to live while being nomadic is Bucharest. It's an up-and-coming city with really fast internet, widely spoken English and affordable living expenses.
16. Is the Grass Always Greener for Working Nomads?
Who? Annie Symonds from Londoner In Sydney
Where in the world? Sydney, Australia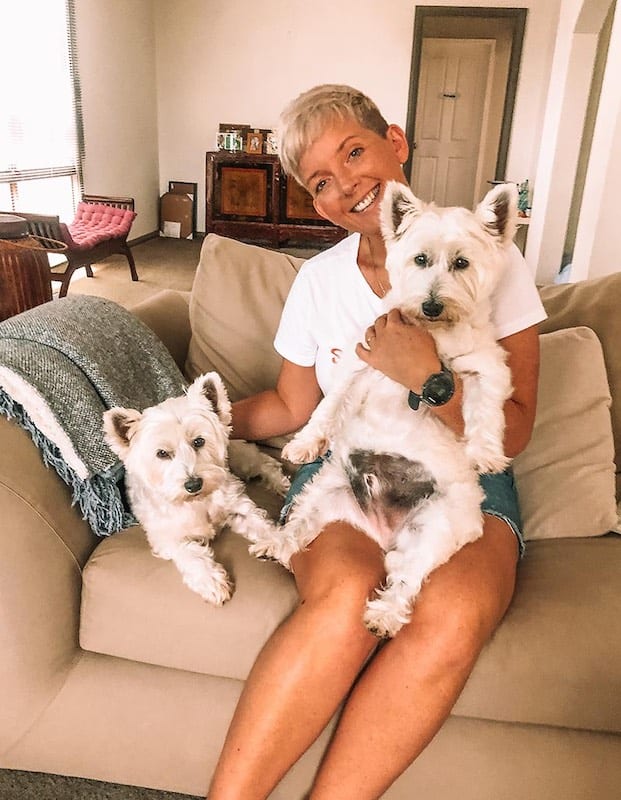 After spending years bouncing back and forth between corporate jobs and escaping to travel the world for long periods of time, my fiancé Steve and I decided we couldn't live in two extremes anymore. We spent four miserable years saving as much as we could, just so we could travel for a year. As we put this pressure on ourselves, we knew we had pretty much set ourselves up to fail in knowing that any trip was never going to be worth that time we spent saving for it.
So when we returned back to Australia from the trip in early 2019, we knew we needed to change our reality of escaping to travel.  Steve somehow hit the jackpot and got a remote job working for a web hosting company and was able to support the both of us for a while whilst I frantically put in as much time as possible into my blog I had been running as a hobby for the last four years.
I had many ups and downs in 2019 between trying to make the blog a success and trying to look for jobs because I just didn't think I could make much from blogging. It was in the second half of the year when everything started to click and as time went on, my blog traffic doubled within three months and I was making more money.
It's funny to think all we wanted to do a few years ago was to earn money whilst we travelled continuously. Now we can technically become Digital Nomads and all we want is to buy our own home and go on smaller trips. Over the last six months, we've been pet sitting around Australia to make this dream a reality.
If there's one word of advice I can give to you, it's to never give up. Keep pushing for the life you want and it will happen.
17. Work Remotely to Fund a Working Nomad Life
Who? Vicky Sosa from Buddy The Traveling Monkey
Where in the world? Everywhere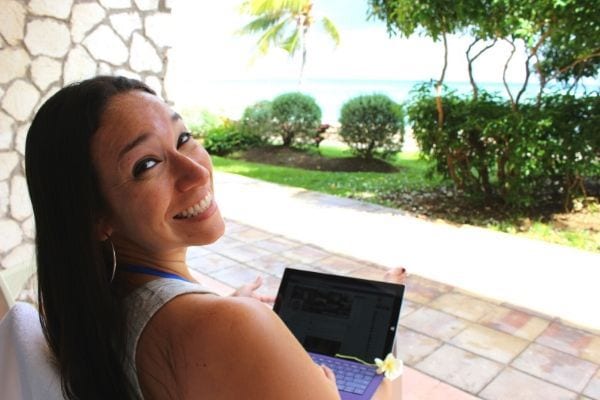 A few years ago, I decided that I wanted to focus more on my blog and I wanted to travel more.
I was working at an insurance company that let me work remotely a few days of the week, but I no longer thought that was enough. I planned on ending my apartment lease, selling most of my stuff, and traveling from place to place through house sitting. I'd try and make a living through my blog.
I went into my boss' office with a plan to quit, but my boss had a different idea. He saw me as a valuable asset to the team and already knew I was a reliable worker based on the remote work I was already doing. So we talked things out and decided I would continue to work for the company, but on a part-time basis. And most importantly, I could work 100% remotely.
So although it is part-time work, the amount I make supports my lifestyle since I no longer have rent to pay. Also, since I've been able to dedicate more time to my blog, it's continued to grow and I now make a little bit more money from it as well.
I'm glad I was able to have that kind of discussion with my boss and that he was open to allowing me to work remotely. It's allowed me to live as a digital nomad for almost three years now.
18. Working with Words Turned Working Nomad
Who? Becky Wood from Bonjour Becky
Where in the world? The US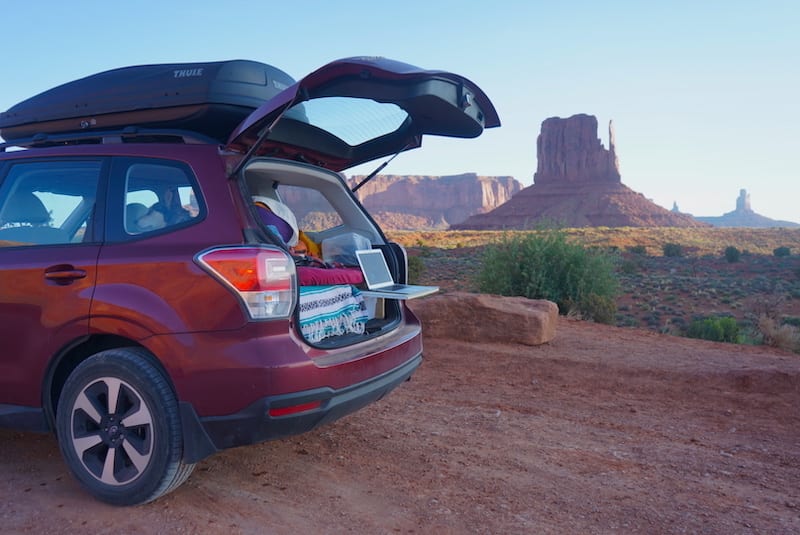 Hi, I'm Becky Wood! I'm a freelance copywriter roaming the wild, wild west with my dog, Juno.
I primarily do marketing for tech companies, from software giants like Oracle to popular apps like Uber and lots of smaller startups.
I joke that my job is translating English to English: putting engineering speak from technical product developers into marketing language that's enticing for buyers. I work on anything with words, from blog posts to brochures and billboards to website copy. I do a lot of ghostwriting, which means you might have read something I've written on Instagram or in an app like Uber without even knowing it!
Since I work on a freelance basis for clients all over the country, I can set my own schedule and work from wherever I choose as long as there's cell service.
Before I went full-time freelance I worked as an in-house copywriter for various companies, which helped me build a strong portfolio and gain a network of clients I still work with today. I built a "Subaru standing desk" in the back of the car, which lets me work from the road as Juno and I explore the country.
The picture is one of my favorite recent workstations in Monument Valley, Utah!
Read more about my freelancing journey and our adventures from the road on my blog, Bonjour Becky.
19. Remote Software Engineer/Blogger Pet Sits to Fund His Working Nomad Lifestyle
Who? Nick Winder from Impact Winder
Where in the world? Everywhere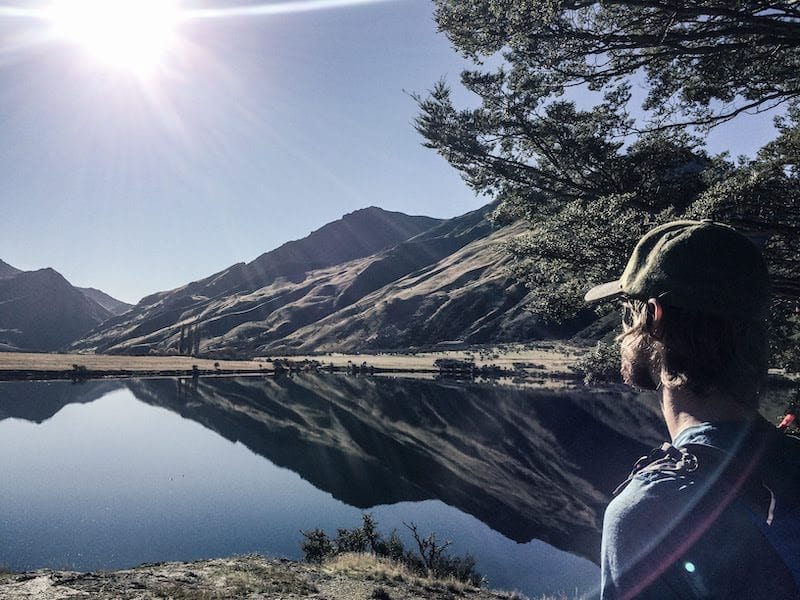 My name's Nick, and I'm a Software Engineer by day and a blogger by night, and when there's time left, I travel!
I've been traveling with my wife for 3-4 years now, and we've found our niche travel lifestyle throughout the years, graduating from, Vanlife, to hostel living and now I like to think we're at Ph.D. level now, pet/house sitting around our way around the world.
I hold down a full-time software job with a forward-thinking remote company, which means that I have to ensure I have a reasonably reliable connection. The romantic thoughts of programming at the beach drift into the distance when the anxiety of a slow connection creeps in. Now we're much more conscious of our working environment than we used to be, and we do not try and push the limits too much. Play it safe, keep your job, and take vacations for the extreme stuff!
Finding a remote job in the tech scene is not super complicated, but finding the right company is. A lot of remote positions are actually "work from home positions," where the office is still nearby. Although it is becoming more and more popular around the globe to offer remote positions to attract the best talent.  Remoteok and WWR are good places to find the right companies.
Because of our frugal living and pet sitting hacks, we have the opportunity to travel to most places in the world. Our only limiting factor is the timezone. When working with others, it's always essential to have a functional overlap to ensure efficient collaboration, and when this is isn't possible concise communication is critical.
The Results are in…
There are soooo many ways to become a working nomad. Some I never even thought about. What about you? Would you ever consider being a working nomad?
Tell me in the comments below.