Last Updated on June 15, 2020 by Kirsten Raccuia
When Mark and I moved here, the hunt for an apartment for rent in Penang began on day one. We knew we wanted to live in Tanjung Bungah, but that's about it. We looked at 38, I repeat 38, homes. It took us 10 long, torturous days, one meltdown, and a lot of vodka to find our happy home. 
You don't have to go through that, no matter how picky you are. We've learned a lot since 2013, and I want to share that knowledge with you. 
I wrote this blog to give you all the details about apartments for rent in Penang. And, so you can learn from our mistakes. Grab your favorite swill and a notepad and start reading…
The Big Differences
A lot of units have never been lived in or even visited by the owners. Some are in sh!t shape. Some have never been cleaned. Try to look past all of that. A lot of times the owners will wait until they have a tenant (or the money), to do any repairs, buy any furniture, finish the kitchen, whatever. We didn't know that, and it turned us off of a few apartments. 
Had we known that, our first year might have been different. 
Security deposit
In Penang, the deposit is two month's rent, and there is an agent fee. 
The agency fee is a ½ month's rent for a lease that is one year or less. For anything over a year, it is a full month.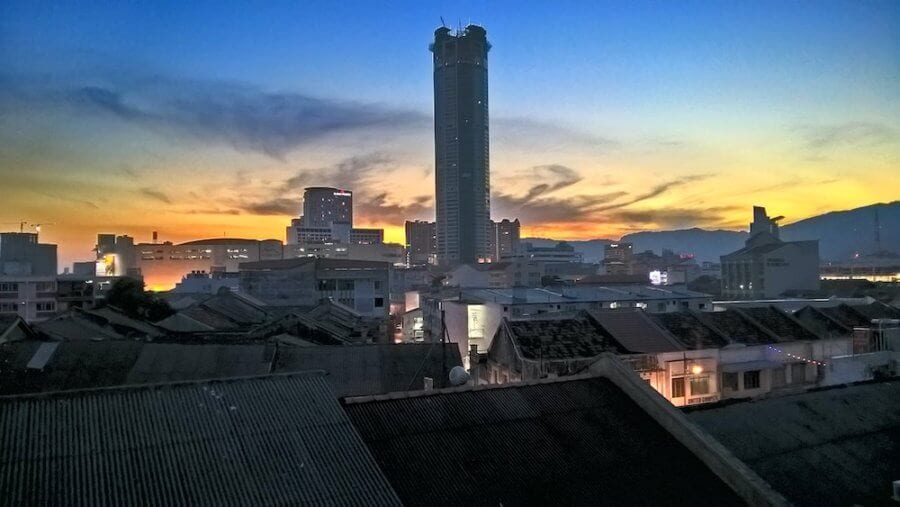 Utilities
In our experience, the landlord keeps the water and electricity in their name, but you pay the bill. Gas is bought by the canister and is cash on delivery. This could vary by the lease.
Repairs
This will be different in each lease. Our landlord pays for any repairs over RM100 ($23.44), but some of our friend's contracts state anything above RM300 ($70.31). It's def negotiable (as is everything), make sure you read that in the fine print before you sign.
We live in an older building and have had some major appliances break… like the oven, two days before our Thanksgiving dinner with 15 people coming over. But since our landlady is awesome, she let us go and pick out a reasonable oven, and she replaced it at her cost. Thanksgiving dinner was saved!
Exclusivity
This is the most significant difference and one that caught us off guard.
There is no exclusivity on listings for apartments for rent in Penang. No one really has the listing, everyone does. If you are a landlord, you can give the listing to as many agents as you wish. This is why, on all the rental property websites, you'll find the same apartment listed with seven different agents. 
The management office or the landlord keeps the keys – when you want to see an apartment, the agent gets the keys from them and shows it to you. 
Tip: You might find the same unit listed at different prices. Sometimes agents will lower the rent a little to get more renters to look at it and one-up the competition. If you find a building you like, check all the units online to see if you could save a few bucks by calling the right agent. 
Photos
This also threw me for a loop at first. 
I was so used to seeing fantastic interior pictures of every nook and cranny on online rental portals back home. I just assumed that would be the same everywhere. 
Well, my friends, it is not. 
There are loads of pictures of the outside of the building, the common areas, and the amenities. But because there is no exclusivity, there are rarely pics of the inside of the unit. And if there are, sometimes they are awful; laundry on the bed, dishes in the sink, not professional at all. Or even better – they are not of the actual unit.  
Our Experience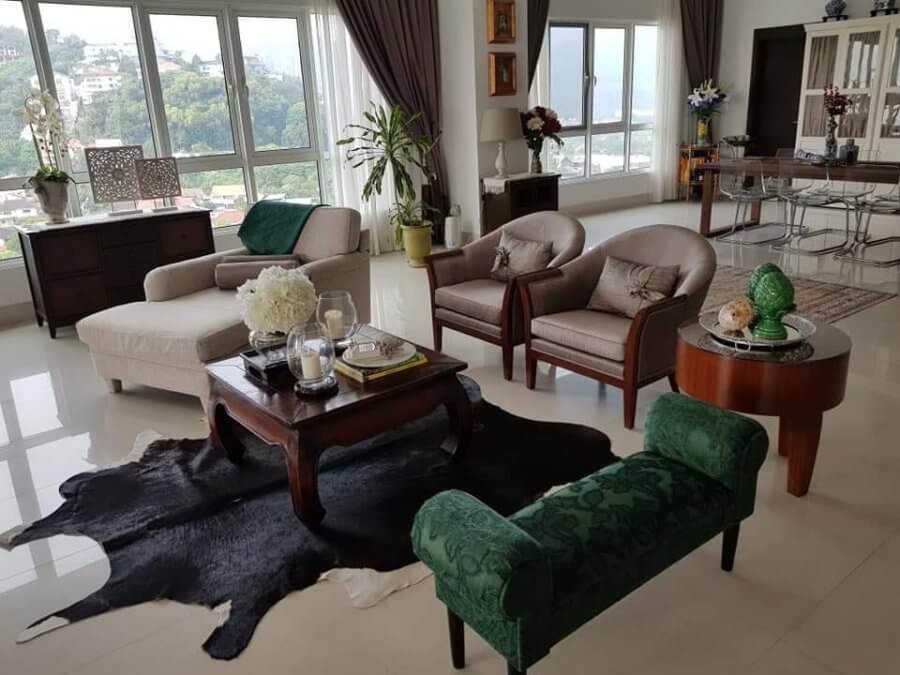 In 2013, our first year here, we were staying in a crappy hotel, while searching daily for a Penang apartment rental. It had been 10 days; I might have totally cried a couple of times, horrified by what we had seen. Overwhelmed and wondering if we'd ever find a beautiful home, I got back online.
I found a new listing, the pictures of the outside of the building looked lovely, there was an infinity pool and a small but modern gym. It all seemed very modern and well maintained.   
I saw a picture of these turquoise planters with these gorgeous trees in them. The floors were a pale grey to match the walls, it looked like a bright and airy living area. I couldn't believe our luck – a unit with "normal" colors. It was nothing like what we'd seen; pale pink walls with gold accents, stuff straight out of Liberace's living room. It was so promising that we called right away. 
As soon as we walked into the elevator lobby, I saw them… the friggin turquoise planters. Those pics weren't of the unit, they were of the hall to the elevator! I was crest-fallen but had to laugh. Or it would have cried. 
The good news was that we loved the unit as well. So, I had my planters and my apartment too.
So those are the major differences. Let's get into the nitty-gritty…
Neighborhoods in Penang Island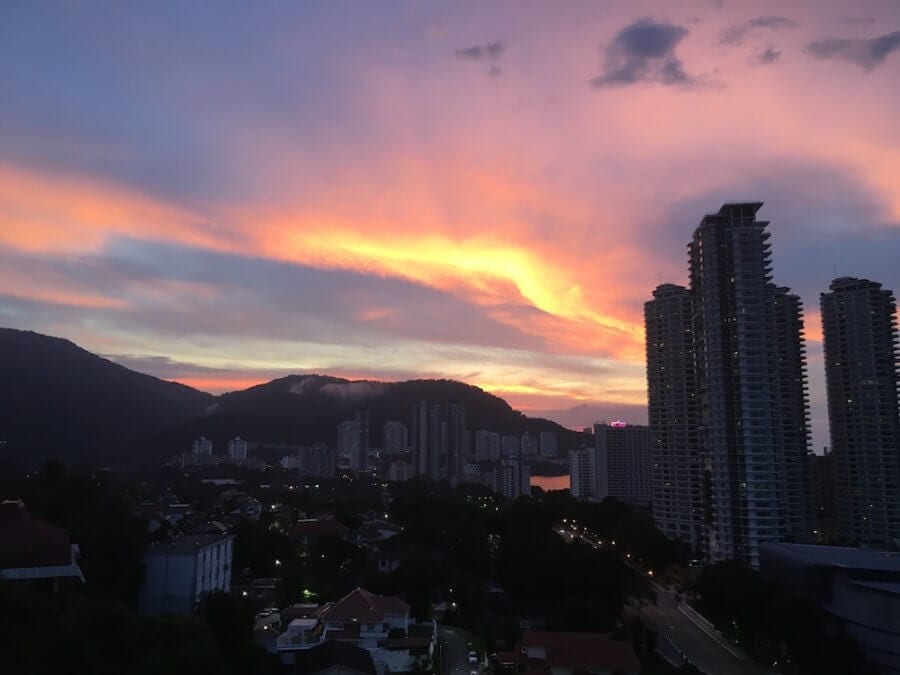 Obvi, choosing your new neighborhood is one of the most important decisions you'll make when you move to Penang. 
There are a lot of options. Here is a brief rundown of the most popular areas or expats. Starting from Batu Ferringhi in the north to Bayan Lepas in the south.
Batu Ferringhi
It's the beachiest on this list (but please don't move here for the beaches, you'll be disappointed). Def the second most touristy area outside of George Town. There is a daily night market and some big resorts along the beach.
The next two coastal neighborhoods share the same grocery stores, markets, and malls.
Tanjung Bungah
This is where we live. It's got the beaches, and it's midway between Batu Ferringhi and George Town. Unlike Batu Ferringhi, it's close to everything (markets, grocery, malls, food).
Tanjung Tokong
It's right next to Tanjung Bungah, closer to George Town and Gurney. It also has great beach views.
Pulau Tikus
It's the closest neighborhood to George Town, has a great market, and is close to everything. However, it's not coastal, so the beach views aren't as lovely and unobstructed as in Tanjung Bungah/Tanjung Tokong.
Gurney Drive
It's a shopper's paradise. Everything you need is within walking distance, it's very convenient but has no heritage feel. It's not an authentic area of town but a very nice one if you are looking for upscale living. And you can hop a Grab (Uber) into Georgetown if you're looking for some culture.
George Town
It's the heart of the island and the capital of Penang. I would live there in a heartbeat if I could find a great pad with a killer ocean view. 
Balik Pulau
This area is what I imagine Penang used to be like decades ago. Loads of rice paddies and fishing villages. It's very local with little tourism and def the most authentic place on this list. 
Bayan Lepas
This area is close to all the manufacturing, the Penang international airport, and the mainland. A lot of families who come here for work live there. There is a large mall called Queesnbay and some great food in the area.
For more info and things to do in each area read Penang Where to Stay. 
Rental Options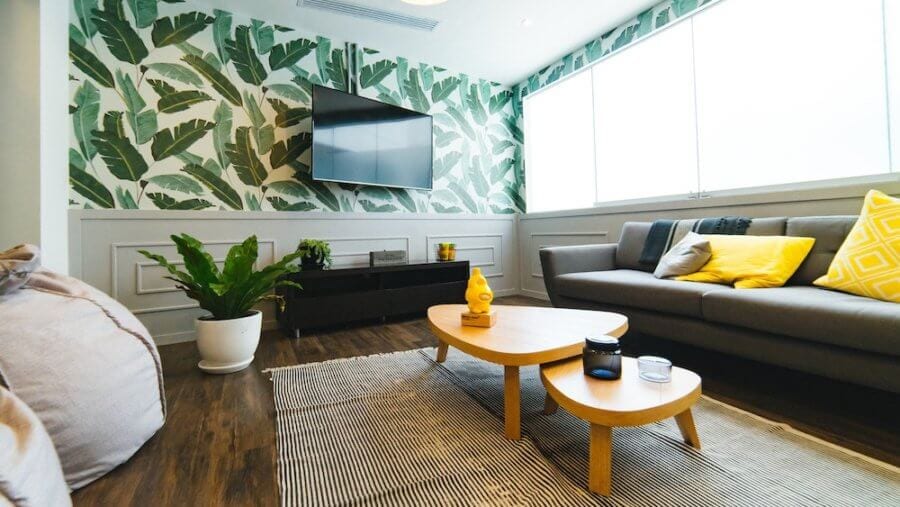 No matter where you choose to live in Penang, you have loads of accommodation choices. You don't have to pick an apartment to rent in Penang, you could rent a landed home (duplexes, townhomes, and bungalows). Some are in gated communities, but not all.
Condos, apartments, or flats, are the same everywhere, in secure high-rises. Your rental decision will guide you to specific areas and neighborhoods. 
Security
Penang is one of the safest places in Malaysia. That doesn't mean you should wear all your diamonds and wander the streets at night, but would you do that anywhere? 
Apartments and condos tend to be safer than landed houses. Almost all high-rises have guardhouses where visitors sign to get passed the front gate. Some buildings have keycards that only work for your floor, but you might have to run down to let your visitors in. 
Landed properties in gated communities have those same guards and security measures. However, a stand-alone home will only have as much security as you install. They will have high walls and probably an electric gate to your driveway or garage. Not all homes come with alarms or cameras, it might be up to you to have one installed. 
Amenities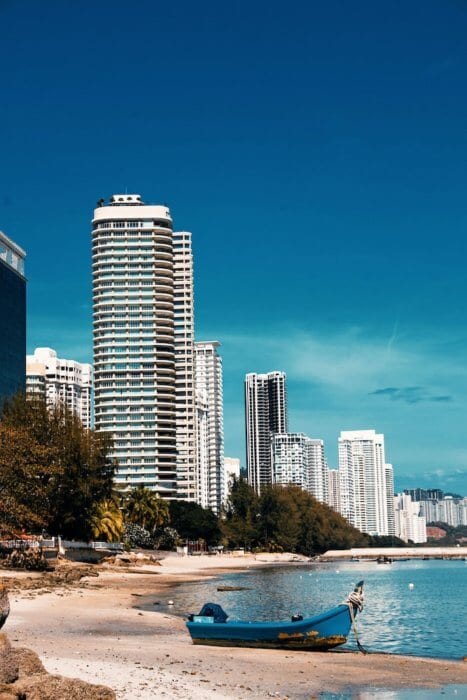 If you are looking for a gym and a pool, you'll have to rent a condo. Some homes have private pools, but it's not the norm.
Parking
Whether you go for a landed house or an apartment, you'll have at least one parking space, if not two.
Pets
Landed homes are your best bet if you decide to come with Homer or Daisy. Or if you plan to adopt while you are here. Not all apartment or condo buildings allow pets. 
Appliances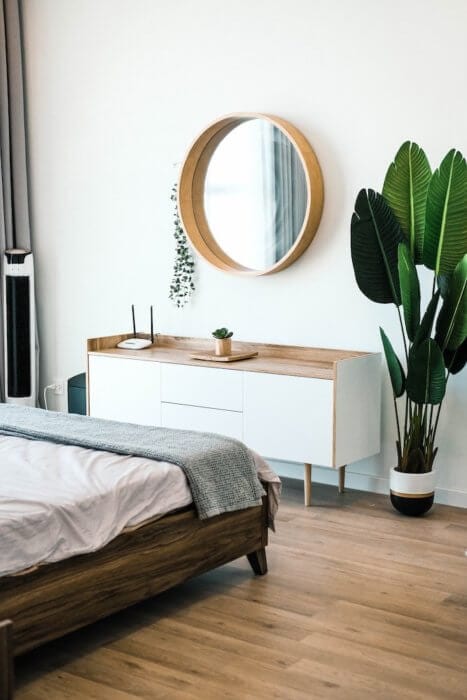 If you ever saw our House Hunters International episode, you'd see that (annoyingly) a built-in oven was a deal-breaker for me. No oven = no lease. If you think about most Asian food, it is generally cooked in a wok, which means ovens aren't found in a lot of kitchens. 
If you are looking at a newer building, they will most likely have one, but not all. If there is something that you must have, just ask. There are a ton of apartments for rent in Penang, a considerable surplus actually, so a lot of landlords will add additional items to get it leased.  
Also, not every place comes with a clothes dryer. Our first place had the room for it, but we didn't ask for one. So, we spent the year, air drying our clothes. And let me tell you, it is soooo much better for your clothes. 
Internet
Penang has great internet, but it depends on your neighborhood. Two buildings next to each other could have different internet infrastructure. We have fiber optics, and its incredibly fast. But even without it, we had fast internet. 
Furnishings
It's not hard to find a fully furnished house for rent in Penang.
They use the term fully furnished loosely. It might say fully furnished, but when you arrive, there is no couch, just two chairs pushed together with an ottoman. To some people that may be fully furnished, I, however, am not one of those people.
If you hate the furniture, ask the landlord to change it out. Tell them what you need and be specific. Don't just say you need a couch because you could end up with a gorgeous traditional wooden bench and a few cushions. Not everyone's taste level is the same (hello gold columns in the bedroom), and there are some culturally different ideas of furniture as well. 
Do not sign a lease that you can't get out of until you see the furniture or, at the very least, pics of it. If you only see pics, have them attached to the lease, so when you go to move in, and that new couch is nowhere to be found, you'll have a leg to stand on. Just like in America, not all landlords are scrupulous.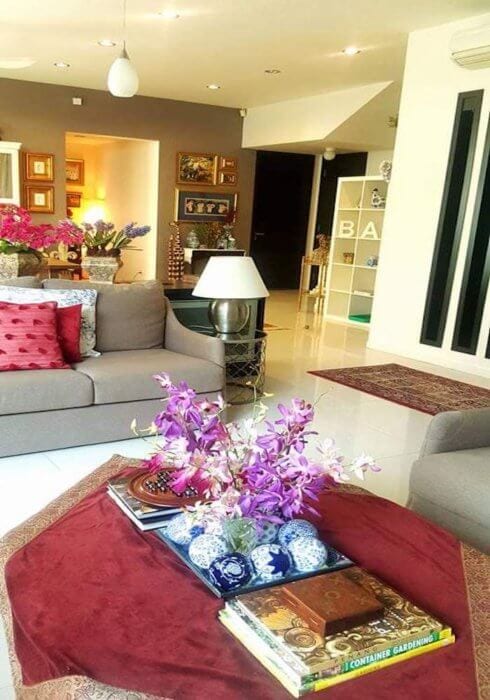 Our Experiences
1. We saw one place that had no kitchen unless you call a pedestal bathroom sink and one cabinet on the floor a kitchen. The agent told us not to worry, they would put in a kitchen, but we didn't believe him and left. Now we know that all we had to do was discuss the terms and our needs and we could have had a great kitchen, maybe. 
2. In our current condo, we did not like the master bed or the couch. 
The master bed was a white metal, four-poster bed with a traditional coconut husk mattress. Coconut husk mattress? Never heard of that…neither had we. Unless you were raised on a farm and spent countless nights sleeping on a bale of hay, I'd suggest you opt for a regular mattress. 
We asked the landlady to remove the bed and replace the couch, and she had no problem doing that. We went and looked for couches and sent her pics of what we liked, but she didn't love our selection. The next day, we all went together and found a sofa that we could agree on. I don't think our landlady is the norm here. But it just goes to show you, ask, and see what comes your way.  
Things to Know About Apartments for Rent in Penang:
Wet and Dry Kitchens
Almost all Penang accommodations have two kitchens. Not two full eat-in kitchens. But two adjacent places to cook. 
Traditionally, the wet kitchen will be where all the primary cooking is done, and all the major appliances are kept. The wet kitchen is less fancy, more utilitarian, and sometimes outside in another room altogether. It is where all the oily, smelly, dirty, cooking is done, and it may not have air conditioning.  
The dry kitchen is for light cooking and prepping and never gets as messy as the wet kitchen. 
Nowadays, there are still both kitchens, but they are configured differently, and according to modern cooking needs. Most places will have a full dry kitchen cooking area with sink, stove, oven, and fridge. The adjacent wet kitchen will have another stove and sink, maybe even a second fridge. Or some variation of that. 
The main reasons are two-fold, if you are cooking in a wok, it can get messy, so an outside kitchen or wet kitchen is easier to clean. 
A dry kitchen is used more for chopping and washing and also eating.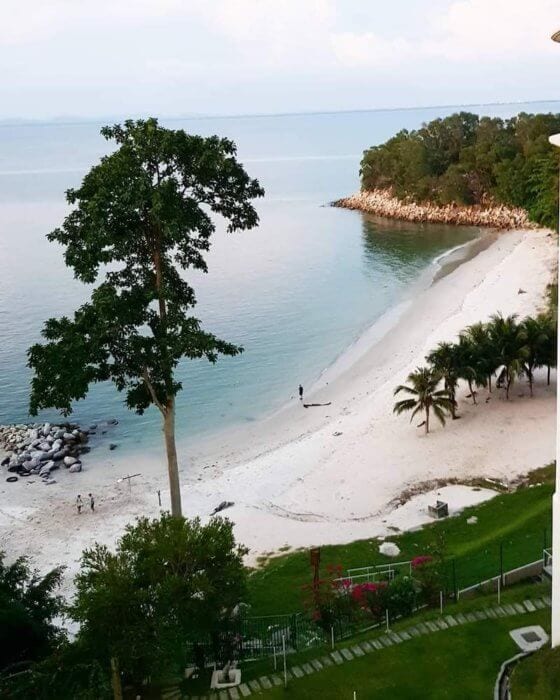 Plugs
There prob won't be electric sockets in the bathroom. Or there may be one if you are lucky.
Hot Water
Showers don't come with ready hot water. You have to flip a switch somewhere near the bathroom lights to turn it on. Within a few minutes, viola, you have hot water in your shower. But don't forget to turn it off after, or it will run up your electric bill. 
Your kitchen might not be equipped with a hot water tank. It takes some getting used to, especially if you don't have a dishwasher. Our first place didn't have it, so we used boiled water from the electric kettle.
Now we have hot water and rarely use it because we have a dishwasher. We also realized that soap does the trick. You've never washed your hands in boiling water, and they're still are clean after a good scrub. 
If soap is good enough to kill Covid-19, it's good enough for my dishes. 
Pick an Agent or DIY-it?
Just like in the US, you can choose an agent to work with or do it yourself. The other option is to search online until your heart is content, and then give your list of faves to your agent who can organize the appointments. 
Our Experience
Mark and I are the kinds of people who like to get in there, take charge, get things moving.
When we first arrived, we were anxious to find a home and start our new adventure. When it came to finding a flat for rent in Penang, we only knew what town we wanted to live in. We didn't know any agents, so we started all our research online with Property Guru and iProperty.
We called every agent that had a property that looked hopeful. The problem is that we ended up seeing the same places twice with different agents. Or the agent would do the bait and switch… we'd plan to see one place, but they'd take us to another. We'd tell them we want Tanjung Bungah, but they'd take us to Batu Ferringhi.
Honestly, we had really crap luck with real estate agents here. Mark and I are/were realtors, so maybe we have a higher standard of expectations than the norm. But just like in America, there is a low barrier to entry for rental agents, so many of them have no clue.  
The good news is that the standards are rising because people are demanding better service. The strong few agents are doing a good job and getting all the referrals. 
The even better news is that after living here for so long, we know peeps. Professionals. Which means you do too. So, if you need a rec, let me know, I am here to help.  
Extra Tidbits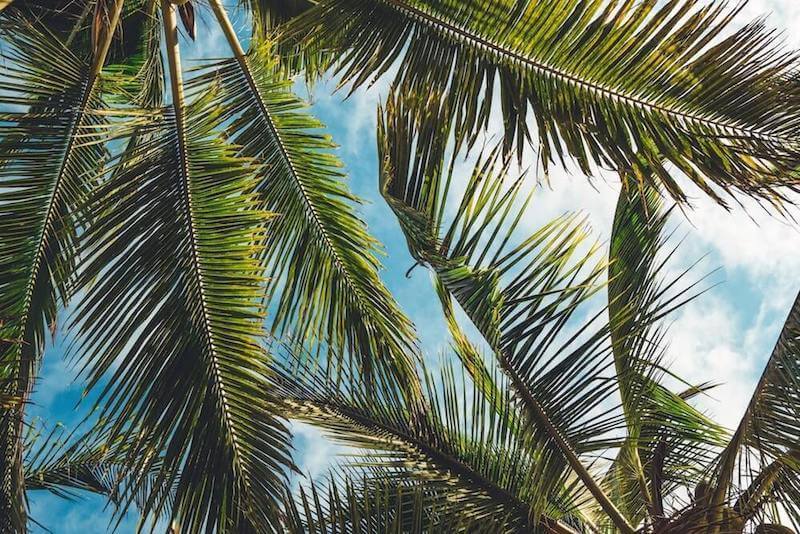 Tip: Not all agents are created equal. Not all landlords are created equal either.
Tip: Don't rent an apartment without ceiling fans in every room, unless you are prepared to buy standing fans and use the A/C a lot. Penang is hotter than a hooker's doorknob on payday, and ceiling fans are a saving grace. 
Tip: Negotiate everything, and I mean everything from the rental price to the coconut mattress. It's ok to ask for things you want. But also remain realistic and recognize that you are in another country, things aren't the same. If it's really far over your cost of living in Penang budget, don't try to negotiate it down, just move on.
We never thought you could ask for a different bed, or for a real kitchen, in our minds, it was take it as you see it. Many landlords aren't going to do major construction for you, but you'd be surprised at what they will agree to have a good tenant.
Tip: Property Guru and iProperty are good resources for all houses and apartments in Malaysia for rent or for sale. However, they are not a substitute for seeing units in person. There are some shady people that put the wrong pics up of a unit and so it's imperative to see things with your own eyes. Use the sites for research, to get a feel for what's out there, not to seal the deal.
Tip: Check out the Penang Facebook groups. Sometimes the people on those know about units for rent or are looking to sublet.
Tip: The longer the lease time, the lower your rent will be. Conversely, short term rentals are pretty price and harder to find. 
There are more and more serviced apartments for rent in Penang that are scattered around the island. These are good for short term leases but usually come with a high-pricer tag.
The Wrap-Up about Apartments for Rent in Penang
Whether you are looking for an apartment or a house for rent in Penang, patience will do you wonders. There are tons of places to see, which means you will find your happy home. 
If I can spare you from the nightmare and prepare you in any way, your apartment hunt will be a lot shorter and less stressful than ours.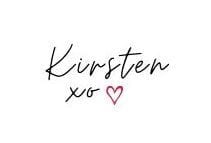 Tell me your worst rental story in the comments below.
PS: Thanks to Marisa Bahr for the pics of her beautiful home! And to Dawn for letting me pick her brain.
LIKE THIS POST? SAVE IT FOR LATER