Last Updated on February 21, 2023 by Kirsten Raccuia
So many people ask us why we moved to Malaysia. 
The cost of living in Penang is only one of the reasons. But it's a big one. There are probably other, cheaper places to live in the world, but Penang has a standard of living that is very high. 
I often joke that the Penang lifestyle is the quintessential champagne taste on a beer budget. 
Penang is a state, not just an island. I'll only be addressing the costs on the island. I've heard that living on the mainland is even more affordable, but for us, the island is where it's at. Mainland was never an option. 
A majority of expats and retirees live on the island as well.
If you've been following this blog, you've probably read about the food, the people, the festivals. All those attributes make up the lifestyle that is above and beyond most people's expectations. Truth is, in the nearly seven years of living in Penang, I've only met one person who wasn't happy.  
I get loads of emails asking about the cost of living in Penang for expats, which is partly why I'm writing this. But my answer is generally the same. It depends on your lifestyle. 
Is RM10,000 ($2292) good enough to live a decent life in Penang? For my lifestyle, abso-fricken-lutely. But not for everyone. Most months, we spend between RM7000-8000 ($1600-1833) depending on our social life and travel. 
Let's dive into the cost of living in Penang per month for a couple.
Housing:
We pay RM2800 ($641).
You get a lot of bang for your buck in Penang, especially when it comes to rentals.
Rent will be the largest portion of your budget. Getting that right from the get-go will set the stage for your time in Penang. Don't rush into renting a place. And for the love of all things holy, don't buy a home as soon as you get here. There is a lot to see in the Penang real estate market, so take your time to find your sweet spot. 
There are online platforms for checking out real estate in Penang, but be forewarned, those pictures are deceiving. Sometimes they aren't even of the actual unit you will be seeing. It is great to do your research, but even better to see it in person.
No matter what neighborhood you decide to live in, there will be a considerable variance in costs. Like anywhere in the world, the older buildings will be more affordable because they aren't as swanky. However, there is no shortage of swank in Penang, and they keep building more. 
Our Home (The biggest hunk of our cost of living in Penang):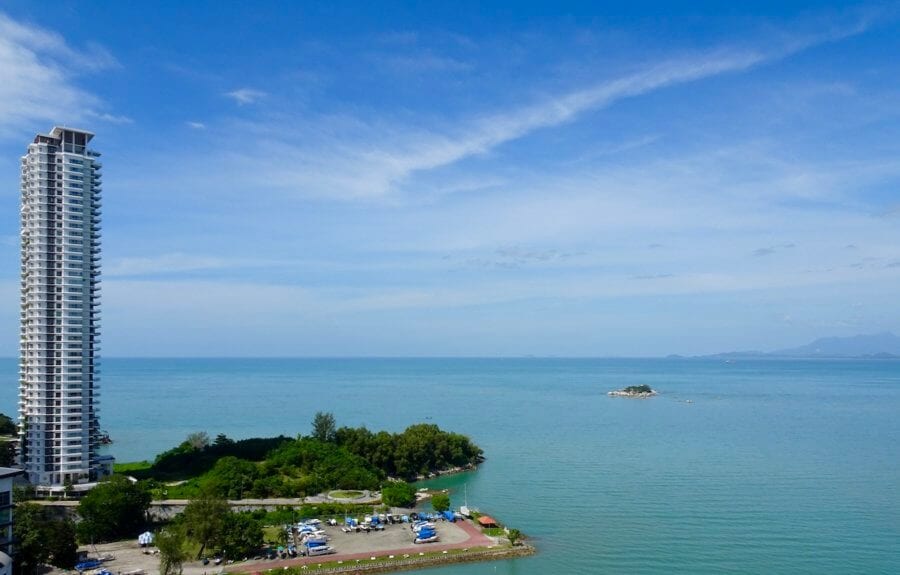 We love the Tanjung Bungah area, but it's not the cheapest place to live on the island. That being said, it has all the amenities we want in a neighborhood. 
We live in an older building with a small pool and no gym to speak of, but we are right across the street from the ocean, close to George Town and the grocery stores, and it costs RM2800 ($641). 
Admittedly, our amenities kinda suck, but our living space is killer, it was a trade-off. For us to have the space and the views we wanted, with all the amenities, we'd have to almost double our budget. 
Our place is a low-density high-rise with security guards – not that they are needed here. It's is fully furnished with 3 bedrooms and 4 bathrooms and is 2300 square feet. We eat every meal on our ocean view balcony while watching the sea eagles circle overhead. 
We have views to die for from every room – beachfront and all the high-rises along the coast and jungle views.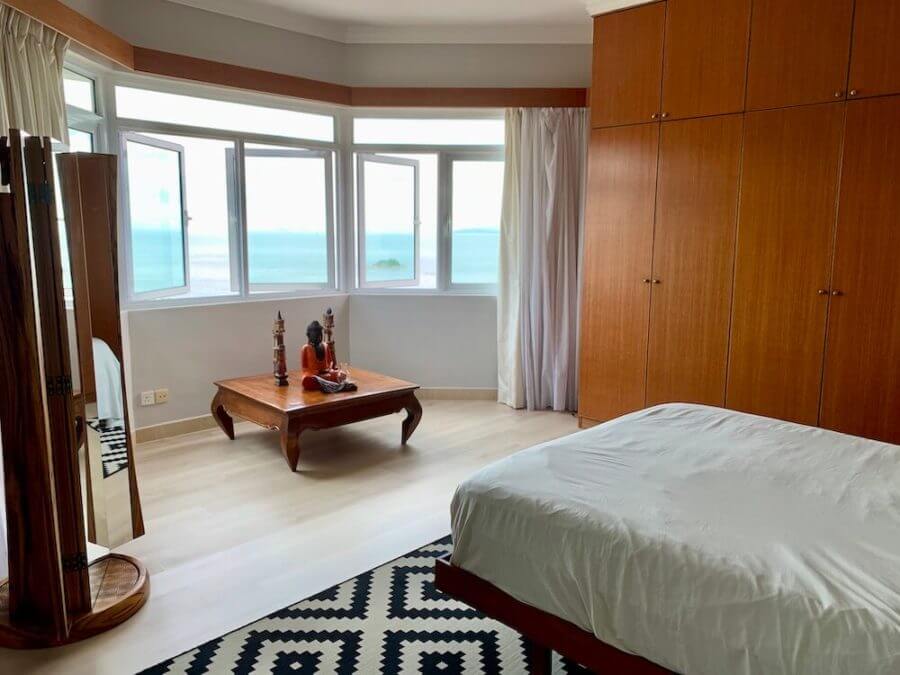 I get my daily fix of monkey viewing while sitting at my desk. They come out to play between 4-5 and go crazy in the nearby trees. It's their happy hour, or monkey hour if you will.
In case you're wondering, monkey TV never gets old, and there are never any reruns. It's a daily break to get me off the keyboard for a few minutes and truly brings me joy and giggles.
But anyway, back to the housing. 
Other Options
We have friends that live in newer, more updated buildings for RM5000 ($1146) and up. The units in those buildings are massive 4000+ square feet, with Olympic-sized swimming pools and state of the art gyms. It's more like resort living. 
Those are a dime a dozen. I actually think it is easier to find higher-end rentals than the middle of the road apartments for rent in Penang.
We also have friends that live in Batu Ferringhi, which is about 20 minutes passed Tanjung Bungah and further away from George Town. There are some very affordable condos there. If you aren't too picky (unlike us), you can find a small apartment for RM1000 ($229). It all depends on your needs and comfort level. 
Penang rentals run the gamut from very basic to 5-star living. I suggest you start with a year lease and see how it goes. Yes, you'll get a better deal if you sign for more years. But money doesn't matter when you're unhappy in your home. Trust me. We know.
Food:
All in, we pay about RM2000 ($458) a month on food and booze. 
There are a lot of living in Penang – pros and cons. Food is def one of the advantages. 
It's cheap, plentiful, and delish. Actually, it's legendary, and I could go on about the food for days, but this is about the cost of living in Malaysia, not the food in Penang. 
If you go local and embrace Penang's food scene, it's one place you can really save money. 
If you only want to eat western food, not only are you crazy, but you'll spend twice as much. Even a nice local restaurant is half the price of any western meal. We tend to go out for local fare and cook western at home.
Local food is super-cheap:
It's much cheaper to eat out every meal vs. cooking. I have a lot of friends who live here and cook 2-3 times a week… maybe, and eat out the rest. 
We do both. For sure, we eat out here more than in Chicago. For the same money as a martini in our fave steakhouse in Chicago, we can have 2 dinners out in Penang, 3 if we don't have beer, 4 if we just eat street food.
Street food or hawker stall prices:
Char kway teow – a traditional local noodle dish is RM5 ($1.15)
Satay – marinated chicken meat on sticks over a charcoal grill, served with peanut sauce …mmmm. 10 skewers for RM12 ($2.75)
Assam laksa – tamarind and fish-based noodle soup RM5 ($1.15)
Chicken Rice – a big hearty dish of white rice, topped with roasted chicken, all covered with garlic chili sauce. Our fave comes with spicy soup. RM7 ($1.60)
Large bottle (660ml) of beer at a hawker is RM18 ($4.12)
Grocery and wet market prices: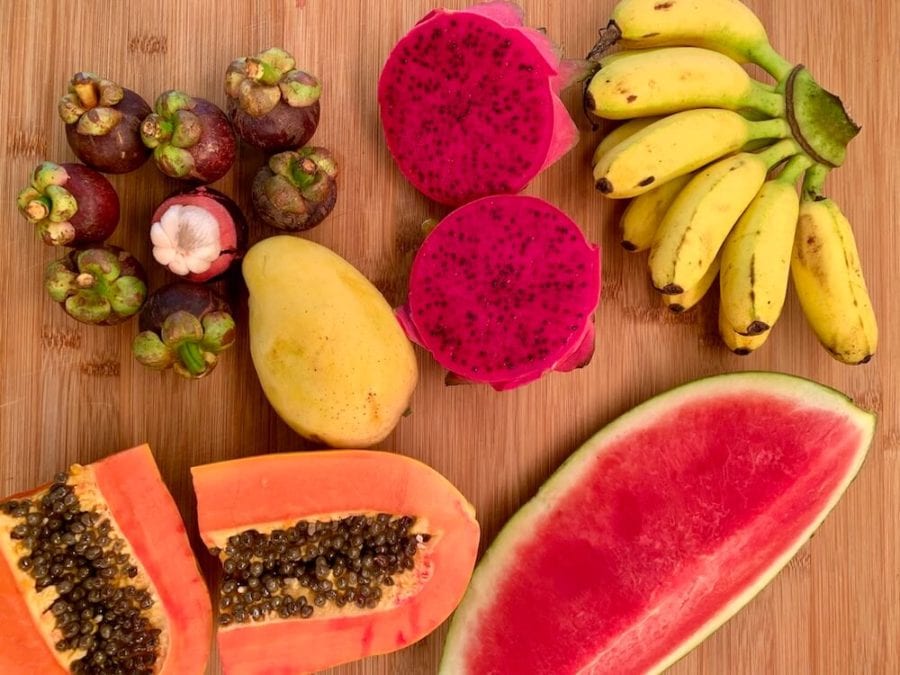 Large bag of fresh local veg from the market, enough for the week – RM25-40 ($ 5.75=9.15)
Fruit: 1 large mango, ¼ of a watermelon, a section of jackfruit, 10 rambutans, RM25-30 (5.75-6.87). We don't eat a lot of imported fruit like apples or oranges, because we get a fantastic variety of what I used to call "exotic fruits."
Chicken – RM17 ($3.90) per kilo
Aussie grass-fed filet – RM98 ($22.46) if frozen, RM130 ($29.80) for fresh, per kilo
Pork – RM17 ($3.90) per kilo
Soda RM2 ($.45) per can
Alcohol prices:
When we are off the sauce, going out to eat is even cheaper. The booze tax (or sin tax) is high, making even the crappiest bottle of wine $10. Think Trader Joe's $2-Buck Chuck for $10. 
But being sinners and paying taxes never stopped us from drinking, it's just part of our Penang living costs. 
*All spirits come in liter bottles. 
Beer: A case of local Tigers is RM96 ($22). 
Wine: Aussie or Chilean wines are the most common and the most affordable, starting around RM45 ($10).  
Gin: Gordons RM85 ($19.48), Hendricks RM175 ($40)
Whiskey/Bourbon: Jack Daniels RM115 ($26), Jameson RM105($24) 
Vodka: Absolut and Smirnoff RM70-80 ($16-18.33). We were vodka snobs until we moved here, but not only is Grey Goose impossible to come by, even at the duty-free, the price is stupid. Tito's or Kettle One? Keep dreaming. 
Rum: Captain Morgan RM80 ($18.33), Bacardi is RM90 ($20.62) 
Transportation:
If you don't want to buy a scooter or a car, I get it, and the buses will take you all around the island. They are super clean, very cheap, and usually freezing. Depending on the length of your ride, it will cost you RM1.40-4.00 (¢.32-.92)
We also have Grab, which is our version of Uber. They are super cheap as well and def better than the taxis. I would avoid taking cabs at all costs because they are over-priced and not always the best. We take Grab to the airport, which is about 45-minutes to an hour depending on traffic. 
It is never more than RM40 ($9.16). If you are just popping around town or heading to the market, it's only a few bucks a ride. 
Scooter:
The freedom of having our own transportation is essential to us. 
We bought a used scooter (aka Scoots) for RM2600 ($596) when we first moved here. Used local scooters are normally between RM1500-5000 ($343-1146). New scooters RM7000-15,000 ($1604-3438). 
Car: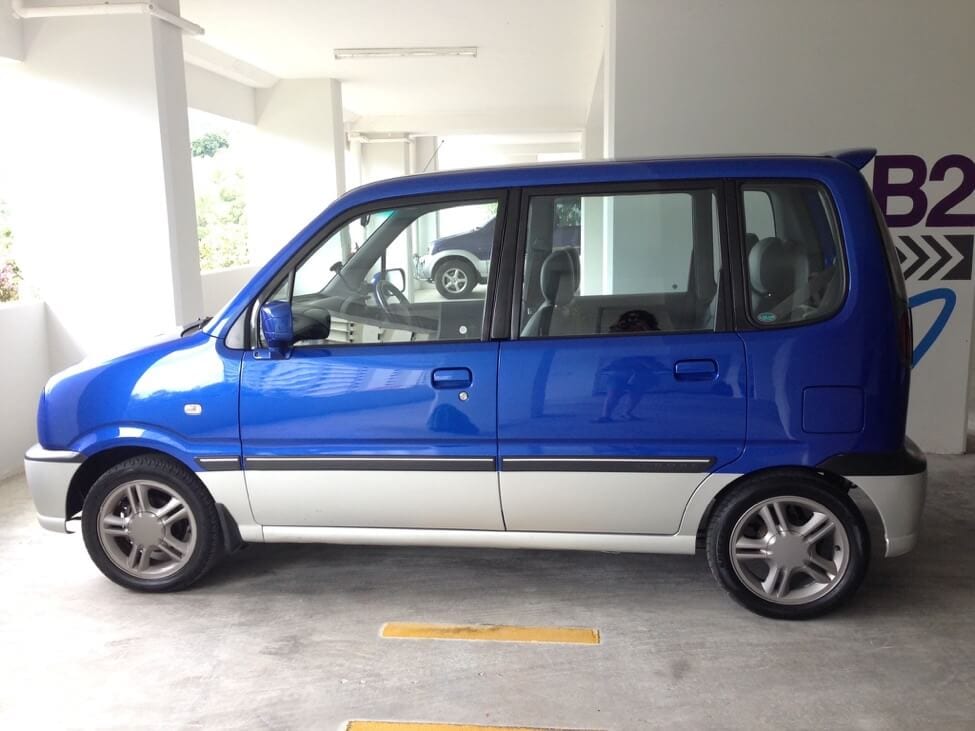 When we moved here, I really didn't want a car. Mostly because people drive like morons here, and I thought a scooter would be enough. But after a few months, I decided to join the army of morons, and now I'm a proud card-carrying member of the team. No signal, no lanes, no looking, no problem. 
We bought a little local number called a Kanari. I dubbed her the Panty Dropper because she's a badass, sexy beast – all 89 horsepower. She's a cobalt-blue, clown car that's boxy like a toaster, and she's perfect. She was RM18,000 ($4125) out the door and has served us well. 
Insurance and road taxes:
We pay RM450 ($103) a year for the Panty Dropper and Scoots.
Gas:
At the moment, gas is around RM5.23 ($1.20) a gallon. But for the last few years, it's been around RM7.85 ($1.80). The Malaysian government subsidizes the industry, so the prices are very stable year after year. 
Health Insurance:
Unlike in America, health care is very affordable. Some Penang expats don't have insurance and prefer to pay out of pocket. 
Before we had insurance, I had nasal surgery. I was in a private room in the hospital for 3 days and received excellent care. The whole bill cost me under RM7850 ($1800). I couldn't even get a series of lab tests done for that in Chicago. 
We have two different health insurance policies. One for Malaysia and another for the rest of the world, including the US. 
Our Malaysian health insurance is through Great Eastern and costs me RM1800 ($412) and Mark RM2300 ($527) a year. There is no deductible, and it only covers hospitalizations.
Our travel policy with AIG is RM789 ($180) for each of us.  
In 2012, our health insurance in Chicago was RM4799 ($1100) per MONTH. Now we pay RM5678 ($1301) per YEAR, and we have much better coverage. Healthcare is just another reason why so many people consider a Malaysia retirement.
Cell Phones:
We pay RM153 ($35) a month for a ton of data, which now that I'm thinking about it, we need to change. We rarely use any cellular data (everything is WIFI), I could probably shave RM20-40 ($4.50-9.16) off our bill. 
This table breaks down our monthly expenses along with some extras so you can get an idea of all the prices.
We average about RM7000-7500 a month, more if we travel.
| | | |
| --- | --- | --- |
| Rent | RM2800/$656 | Fully furnished 2300 sf., 3-bedroom/4-bathroom condo overlooking the ocean. |
| Food/Booze | RM2000/$469 | That is for groceries, eating out, and alcohol. |
| Internet | RM145/$34 | We have fiber optic internet which means it is super-duper fast in laymen's terms. |
| Electric | RM250/$57 | We use the AC at night only and keep the ceiling fans on at all times. |
| Car/scooter insurance | RM37.50/$8.79 | That includes taxes and registration. |
| Health Insurance | RM473/$111 | That is for two of us, with both insurances. |
| Netflix | RM35/$8 | Queen of the South, Money Heist, Unorthodox, Ozark. Need I say more? |
| Cleaning lady | RM320/$75 | She is RM20/$4.50 an hour with a minimum of 4 hours. Best $4.50 I've ever spent. |
| My hair cut | RM45.$10.50 | It's around RM60 at a salon but I go to my guy's house. |
| Mark's barber | RM15/$3.51 | Mark splurges for a shave and a cut. It's only RM8 for a cut. |
| Hair color | RM180-350/$42-82 | It depends on the length of your hair. |
| Manicure | RM42/$9.85 | French, fancy designs, and gel colors are more. |
| Pedicure | RM58/$13.60 | Back home I didn't get a lot of pedis, here they are a necessity. Hello! Open-toe shoes all year long. |
| Foot massage | RM212/$49.70 | That's for 2 massages each per month. We are doing our part to support the locals 😉. |
| Gym memberships | RM238/$55.82 | For two monthly memberships at a fancy gym with all the stuff I rarely use. |
| Cooking gas | RM29/$6.80 | A large canister lasts for about 6-months and is also delivered by scooter. |
| Doctor's appt | RM70/$16.42 | This is with any regular doctor. A specialist could cost you a little more, around RM100. |
| Dental cleaning | RM130/$30 | At a very high-end dentist office. |
The Bottom Line
When you are thinking about moving to Malaysia, the low cost will be a factor.
If you are a big-city person, Penang might be too sleepy for you. The cost of living in Kuala Lumpur is similar to here, but with more living options. I def suggest you check out KL – the champagne lifestyle is affordable there also.
The prices in Penang are very affordable, even on a fixed income. A couple can live very well on RM8700 ($2000).
Working for International Living magazine means I've interviewed my fair share of expats who have moved to Thailand, Philipines, and Bali. Out of all the places, nothing beats a Penang retirement for the lifestyle and cost of living. Even though we didn't come here to retire, the Penang lifestyle draws you in and keeps you here. We are happily caught in Penang's embrace!
What's the cost of living where you live? Tell me in the comments below.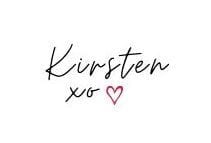 ---
PIN THIS & SAVE THIS ARTICLE FOR LATER.