WELCOME TO MY EXPAT INTERVIEW SERIES! 
I'm about to give you an insider's sneak peek to the truths and realities of expat life. Not just from my point of view. From expats around the world. I'll be sharing their stories with the dreamers, the movers, the curious. You!
The idea behind this series is to share other expat stories because: 
You are probably bored to tears with me. 
There is a world of opportunities out there. Maybe reading these interviews will inspire you to follow a dream that is more attainable than you ever thought.
I'm selfish. And totally nosy. I want to learn about how other expats live around the world. As much as I love Malaysia, I'm still a Sagittarius (read feisty, independent, traveler) who's always ready for the next adventure. 
So, without further ado… Let's Dive into my Expat Interviews Series!
Thailand is a fan favorite for expats, digital nomads, retirees, and travelers. It's one of those countries that people fall in love with as soon as they step foot inside its borders. But traveling there and living there are two very different things. That's why I asked my friend Rachel, who has been an expat in Chiang Mai since 2016, to give me the inside scoop on what life is like.
I've been to the Rose of the North, and it's a culturally rich city, the people are warm, the food is divine – it's hard not to love Chiang Mai. But I wanted to know more about it from an expat's point of view.
Plus, I'm eternally curious about how other expats live. There is a massive group of foreigners who call Thailand home, there must be a good reason, right? Hopefully, this blog will give you a little insight, as it did for me.
Why do so many expats live in Chiang Mai? Keep reading…
1. Tell me about yourself.
My name is Rachel Devlin, and I recently turned 50. I've been married for over 20 years, and we have a 20-year-old son. 
I used to live in Warrimoo, a small suburb in the Blue Mountains, Sydney, Australia.
Nowadays, I enjoy living in Chiang Mai, Thailand. I live in a delightful three bedroom townhouse with a view of a sacred mountain called Doi Suthep. A golden temple glows from the top of the mountain. 
I have been lucky enough to have lived in Chiang Mai for close to 4 years. And I wouldn't have it any other way.
2. Why did you decide to move to Chiang Mai?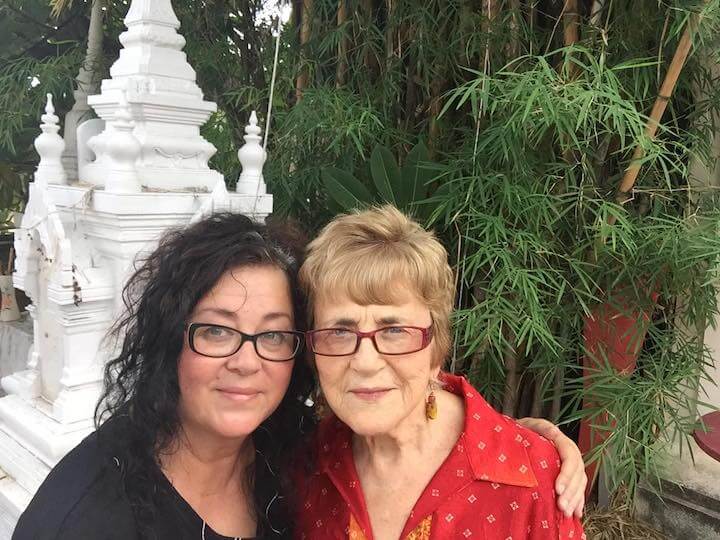 I decided to move to Chiang Mai because I had spent a lot of time there as a holiday destination. My mother and I used to go for holidays every year. One of the condos we stayed in had such a beautiful view of the mountains, it sparked my interest in real estate. I ended up buying a condo very cheaply in the same building. It cost me about $25,000 Australian dollars.
During my visits, I began to see people just like me, who had found a way to support themselves whilst living in this beautiful city. I loved the idea of what Chiang Mai living offered. There are so many things to do, I knew I would never be bored. There is a simple laid back feel to this city, but I particularly love the crumbling remains of temples and range of historic buildings scattered throughout the city. I have this romantic notion that I walk amongst history, and it is a fascinating history at that.
So, I workshopped the idea of moving with my husband and son, and we found a way to make it work for all of us. No regrets. It has been a positive move for my whole family.
3. What is the cost of living like for a Chiang Mai expat? 
The cost of living is quite cheap. If you are not too fussy about matching décor, you can rent a studio condo for as little as $180 USD per month. Monthly water bills are around $6, and my electricity bill is usually around $80, but my family is quite fond of air conditioning. I know some expats that don't use air con, and their bill is around $20 per month.
Food can be very cheap, especially if you like eating the local cuisine. A delicious bowl of noodles or a curry can be as little as $2. If you are after a pizza, it might set you back $6. If I shop at the local markets, I can get 5 kilos of fresh tomatoes for under $1. 
With that in mind, there are also restaurants that are sophisticated, and a meal for two could cost $100. So it is really possible to eat well here on any budget.
4. What do you do for a living?
At 46, I found a way to retire in Chiang Mai. We needed to think about how we were going to fund our new lifestyle. Luckily the housing market in Australia was strong and our 20 year investment paid off. We had considerable equity in our house. After selling it we simply invested the money and now we live off the interest. 
When we discussed the worst-case scenarios around finances we decided that we could, as qualified and experienced teachers, find work overseas or online. Happily, we have not had to do that, and we are all the more appreciative of our time and freedom to do as we please with our sunny days.
Life here is so affordable that my monthly income would place me in a low socio-economic bracket if I was living back in Australia. We are also expecting to tap into a small amount of superannuation in a few years.
5. What is your favorite part of expat life in Chiang Mai?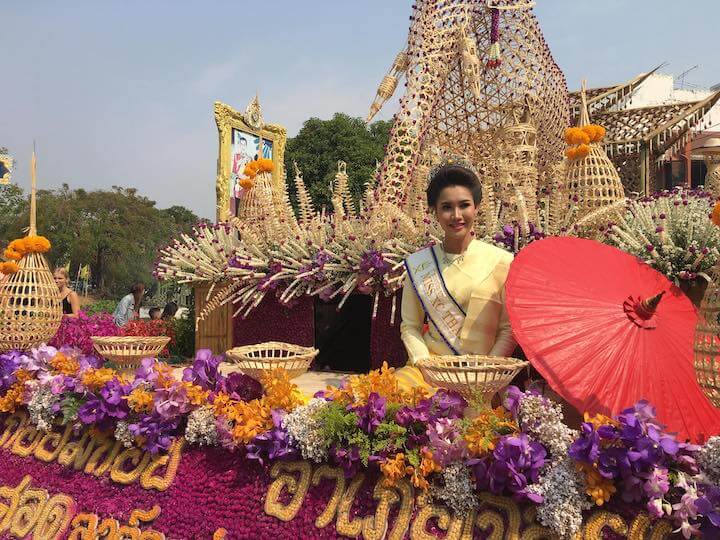 Being immersed in another culture has been an adventure and a learning curve. I have enjoyed seeing life and the world through another's eyes. I have been learning the language and am now at a stage that I can talk to locals, well, enough to get the basics across.
Chiang Mai also has a lot of infrastructure for expats. There are so many things to do. My favourite is my sketch group. We go out once a week to a local temple to sketch and then enjoy a lunch together. 
But ultimately, waking up without an alarm clock screaming at 5am is the best indulgence. I wake up to natural light. So I begin the day with an incredible sense of freedom.
6. Do you need a visa to live in Chiang Mai?
Most expats here are on a visa that is known as a retirement visa. You need to be over 50. There is a bit of paperwork, but well worth it. 
7. What is easy to make friends? 
There are a significant number of expats in Chiang Mai. It is possible to get social every day. There are always functions and groups to catch up with. 
I am more of a quiet person. I have a few groups I meet up with, and I have also made quite a few Thai friends.
But if you want a large expat community, Chiang Mai will provide. If you look on FaceBook, you will discover lots of expat groups.
8. What's the best part of being a Chiang Mai expat?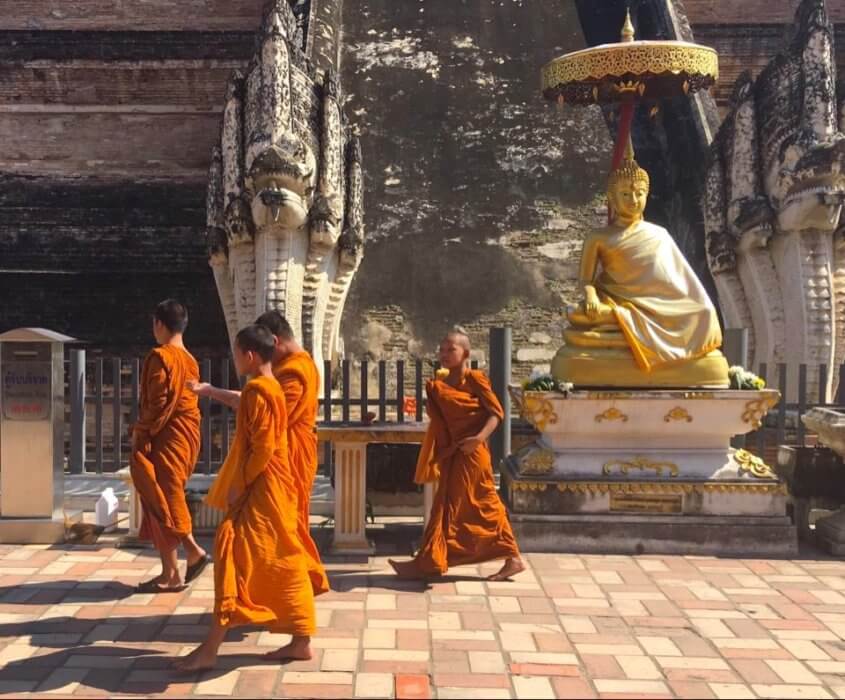 The best part about living in Chiang Mai is that you feel a sense of history. The Old City is filled with ancient temples with crumbling chedis. They are beautiful structures, and some are filled with beautiful artworks that are hundreds of years old.
But, in saying that, I also have to admit that the food here is wonderful. Rich curries are a personal favourite. The balance of sweet, spicy, sour, and salt play with your taste buds.
9. Are there any negatives about living in Chiang Mai? 
Northern Thailand does have one significant drawback, and that is the burning season. It lasts for a few months, so the air quality is diminished. I certainly could not recommend anyone with lung/breathing issues to live here at this time.
We get around it by using air purifiers at home and wearing masks outside. I don't love it, but the joy I have living here overrides the smoke. Many take this time to go on holiday or visit back home.
10. When people come to visit you, what is the one thing you always take them to see?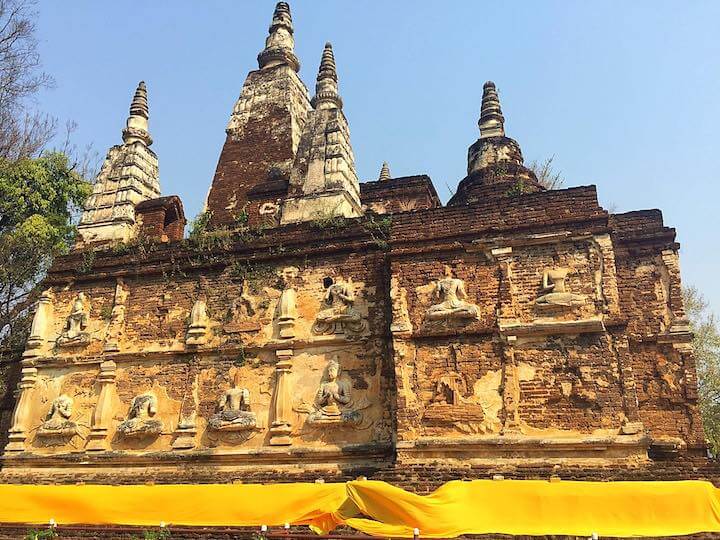 I have done courses in the local history here as I have a love of history, and I wanted to develop a deep understanding of the area. So, I like to take people to my favourite temples. Wat (temple) Pra Singh is a touristy temple, but there is a building there that many tourists don't get to see on guided tours.
It used to house the Emerald Buddha before it was taken to Bangkok to sit in the Royal Palace. The architecture and wall murals are beautiful. So, I love to share this hidden gem with my friends.
11. What is your best insider tip about where you live?
My best tip is simple. No matter where you live in Chiang Mai, it will be wonderful. There are a lot of cool neighborhoods in Chiang Mai. You will be close to a local market, a glistening golden temple, and a 7-11 to get bread and milk.
So just choose a place where you like the kitchen and bathroom. The rest will be fine. But of course, check out the place at night time just in case the building is near a nightclub. Noise can ruin your paradise.
12. What advice would you give to someone who is moving to Chiang Mai, Thailand?
Thailand has different laws around medications, and pricing will differ. Somethings that are cheap and over the counter in my country are quite expensive here. So it is good to do some research on that.
My only other advice is don't delay! Don't put it off. I wish I began my expat journey sooner than I actually did.
13. What does home mean to you?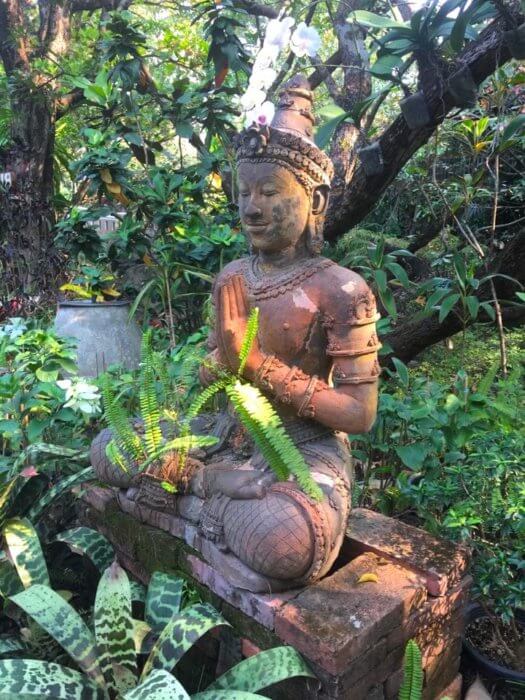 I used to think home was some permanent place of residence. I don't anymore. Don't get me wrong, I like to have a place that is designated for me. I couldn't live out of a suitcase. But these days, my focus isn't about my home. 
I mean, once upon a time, I was working furiously to pay a mortgage. Everything was about having a home. Nowadays, my focus is on getting out and having experiences. If I have a roof over my head and a comfy bed, I am happy. But there has been a shift away from the traditional idea of a 'home.' 
It is my new normal, and I am so grateful that I discovered there was another way to live.
14. What has been the most helpful thing in adapting to your home abroad?
Thailand is a country that is so different culturally. Things look different, people behave differently, and it could be easy to feel out of place. 
The most useful thing for me was to have the internet connected. I keep in touch with people who are important to me, and when I feel like I need some more of my own culture. I also listen to Australian podcasts.
But I think my attitude has really helped me adapt too. I try to be curious and not critical, and I remind myself that I am lucky enough to be on this rejuvenating adventure. It has been a life reboot. 
With this attitude, I don't have to 'adapt,' I just have to enjoy!
15. What advice would you give to expats that want to follow in your footsteps?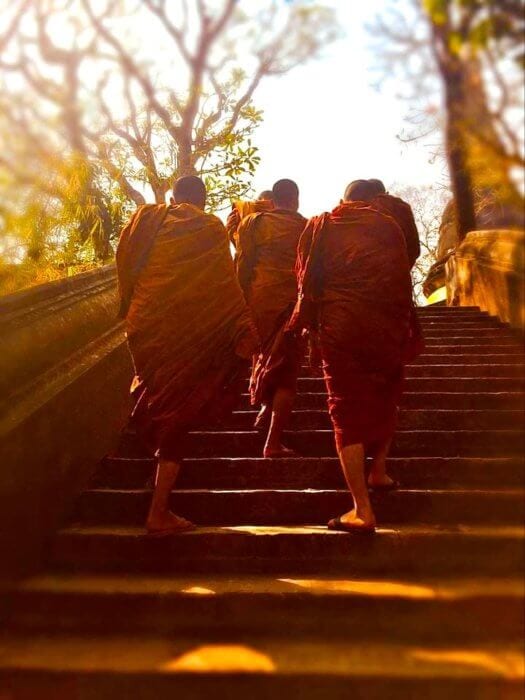 The one thing that isn't discussed enough is the fact that governments change laws and systems. It is really important to keep up to date on things from home. Investments, taxes, voting, and general banking are all variable over time, so keeping up to date is essential. And it doesn't take up too much time to be on top of all of these things.
The Wrap Up
I love Thailand and would like to spend more time there. Rachel has def given me a case of the wanderlusts and I could easily spend a few months checking out Chiang Mai. However, for anything longer, I'd need the ocean.
It sounds like Chiang Mai is one of the best places to live in Thailand. Could it be for you? Tell me in the comments below.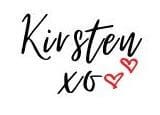 PS. Want more expat inspiration? Read my expat interviews with Diane in France and Miriam in Canada.
---
SAVE THIS ARTICLE FOR LATER. PIN IT!