Yay for transparency! This post might contain affiliate links. If you click a link and buy something from this page, I may receive a commission – at no extra cost to you. For more info, read this disclaimer.
Last Updated on December 7, 2023 by Kirsten Raccuia
Want to know what it's like living in Puerto Vallarta? You've come to the right place.
While I don't know Mexico as well as Malaysia, this is not my first rodeo in the country. I've spent quite a bit of time here and have always loved it. We've been living in Puerto Vallarta since January and have gotten to know it pretty well in such a short time. I feel like it's second nature to us already.  
Unfortunately, we aren't here on vacation. Instead, we are living as (temporary) expats in Puerto Vallarta, which is totally different from vacation life.
We are lucky enough to travel and do our thing from wherever we are. But vacation it is not.
So, what it's like living in Puerto Vallarta?
Let me begin at the beginning.
Puerto Vallarta, Mexico at a Glance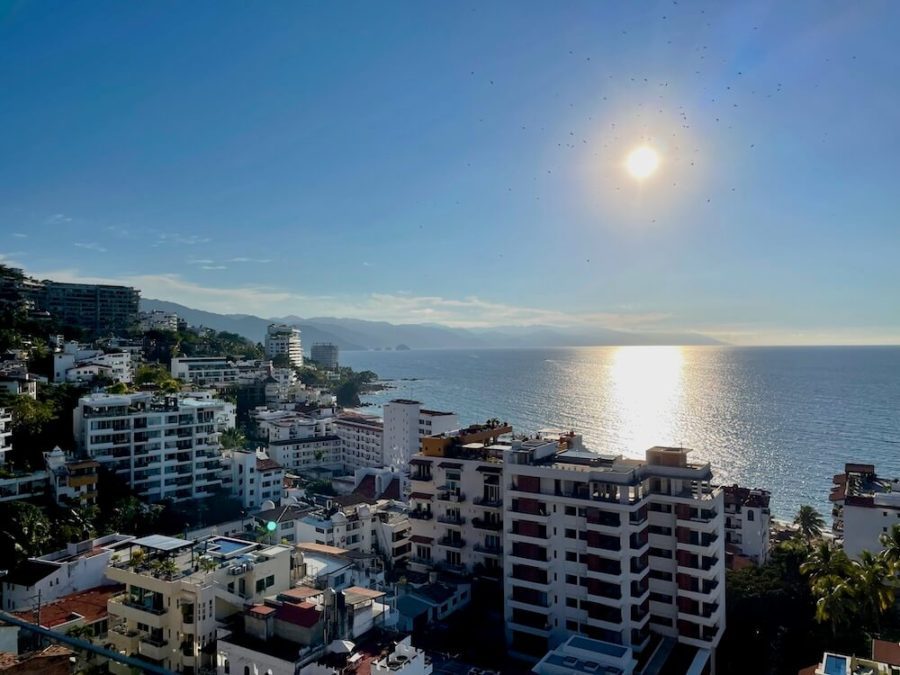 Where is Puerto Vallarta?
On the West coast of Mexico, on the Bay of Banderas, which opens to the Pacific Ocean. It' on the opposite coast of Playa del Carmen.
Landscape Type
The city of Puerto Vallarta is sandwiched between the Sierra Madre mountains and the Bay of Banderas. So, there are villas and condos high up in the hills and homes leading up to the waterfront.
Population
200,000 in the city
550000 in the Puerto Vallarta area
Time Zone
Central Time
Expat community
Yes, there is quite a large expat community, but the biggest influx is the snowbirds from Canada and the US.
When's the Rainy Season?
June to October is the rainy season, and the streets and rivers often flood. However, the days are not wet and gray all day long. It rains in short heavy bursts, then the sun comes out.  
Hurricanes?
Unlike the east coast of Mexico (Cancun, I'm looking at you), Puerto Vallarta rarely gets hit by hurricanes because the Banderas Bay protects it. It's not directly open to the ocean.
Monthly Temperatures
Since we've been here, the weather has been glorious. Low 80s and just enough humidity to make my curls bouncy.
Monthly highs and lows
Monthly Rainfall
Monthly humidity
People talk about how the summers here are brutally hot and humid. But after living in the tropics for the last 8 years, the stats look pretty tolerable.
How Touristy is Puerto Vallarta?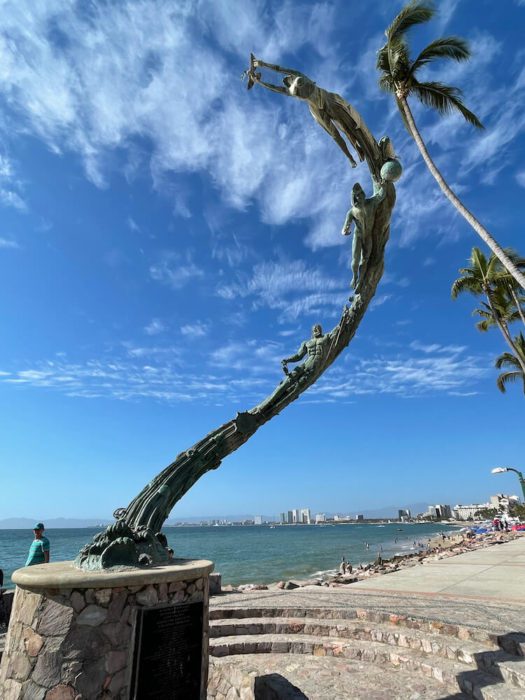 Mark and I aren't the kinds of people who go somewhere and follow the tourist trail. Yes, we do some touristy things because it's part and parcel of checking out a new place.
There are a lot of pros and cons of living in Puerto Vallarta. For some people, touristy places are a con, but for me, not so much.
So, is PV touristy?
The short answer is yes, very.
But so are all the main coastal towns in Mexico. And there is a reason for it. Because they are full of flavor, history, and life.
Our condo is in one of the most touristy areas. But it's also one of the best areas to live in Puerto Vallarta. It's also where locals live, work, and make mean tacos and churros. So, everyone comes here for the food… and the nightlife… and the beaches.
You wouldn't go to Paris without going to the Eiffel Tower because it's too touristy, would you? Well, I did, but that was because I met a bunch of Parisians who took me around to all the local places, their fave non-touristy places. At the time, I thought I was being so brilliant and getting in with the locals to see the underbelly of Paris. But, of course, now I know how stupid that was of me, and damnit, I wish I went to the Eiffel Tower.
Don't even talk to me about the Louvre.
Anyway, I digress.
The whole point of that rant is to say that we dig deeper than the average schmo. So, living in a touristy place doesn't mean too much. In fact, there is something brilliant about people's energy when they are blissfully on vacation. That happiness wears off on the people around them.
First things that come to mind when I think about PV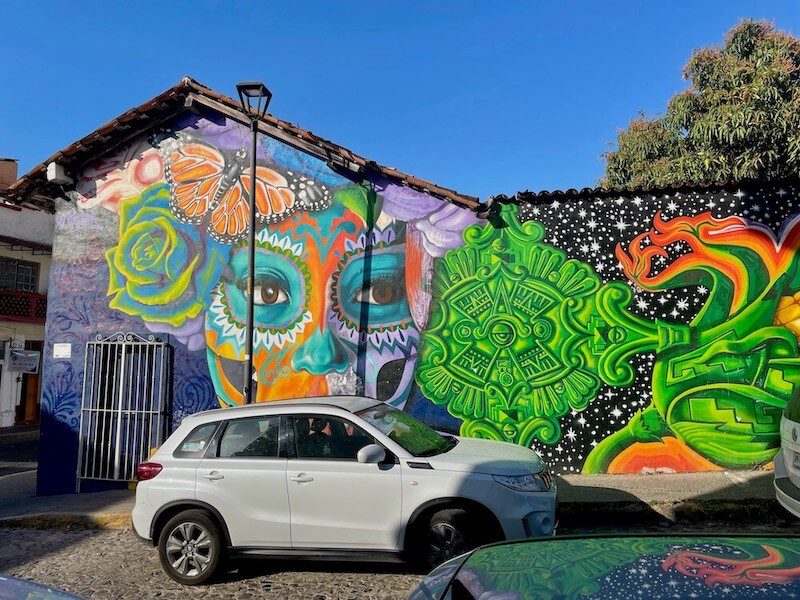 Vibrant
Loud
Happy
Bold colorful
Always busy
Bustling
Music all day, every day
Construction all day, every day
Pharmacies every 50 feet selling everything from Viagra to Valium
Whales
Bioluminescence
Street art
Street food
All the tacos
Tequila
The people
Live music
Gay/drag shows/impersonators
Sunsets
Statues
Mariachis
The beaches
Why Live in Puerto Vallarta?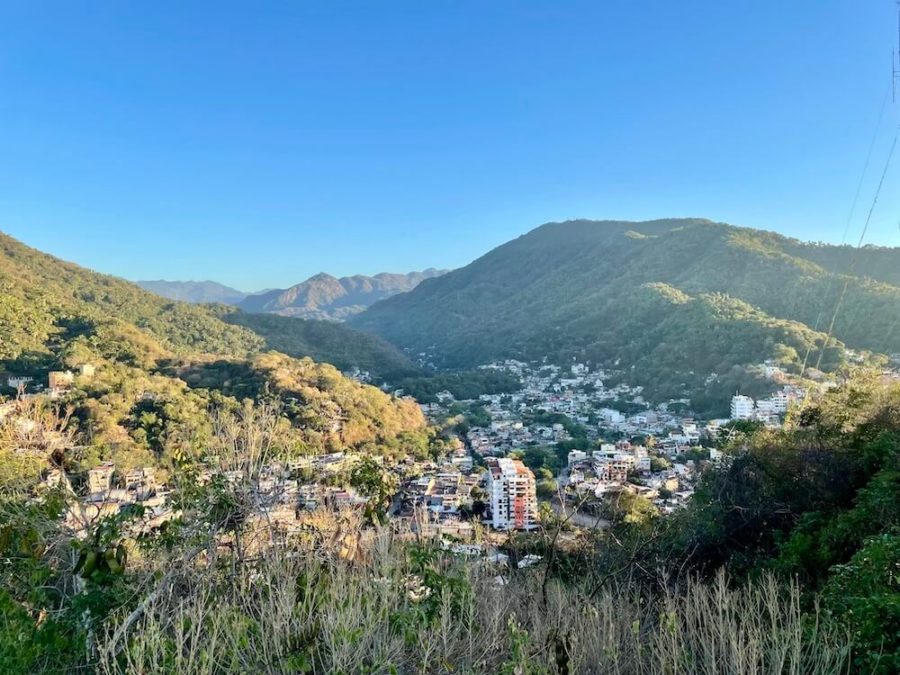 Vallarta, as the locals call it, is one of those places where day-to-day life is easy for expats and tourists.
Getting to and Around Puerto Vallarta
There is an international airport with direct flights to dozens of American and Canadian cities. So, getting here is easy. For us. For friends. For family. We've already had three sets of visitors, and more are on the way.
Something we struggled with in Penang was being on the other side of the world. It was difficult for people to visit, let alone for us to get home.
Once you're here, there are buses, Uber, and taxis to get from point A to B. All are extremely affordable.
If you want to travel within Mexico, it's easy. Bookaway.com, a travel company I work with, has routes to all the major places via bus, ferry and sometimes flights.
The vibe in Puerto Vallarta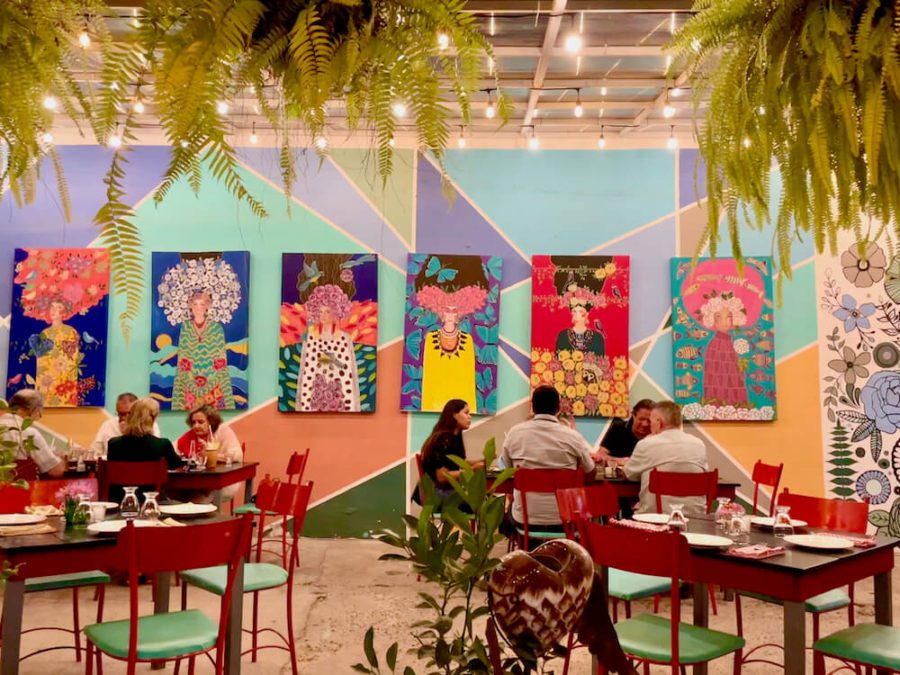 There are a lot of things we love about Mexico…
The people
The food
One of the first terms I always use to describe Mexico is vibrant. Somehow, life here feels more colorful. It makes living in Chicago feel black and white. This feels technicolor.
Also, it literally IS colorful here. There are painted staircases. Incredible street art and galleries galore. Houses are painted every color of the rainbow. The brighter, the better.
This is not a place for pastels. Living in Puerto Vallarta is living life out loud. Even the birds seem louder.
The people are always singing, talking loudly, and blaring music from their cars. There are mariachis walking down the street, on the beaches, in the restaurants, playing songs for crowds. It just feels electric.
And I love it.
Puerto Vallarta has character. There are hidden gems behind every wall, gate, or locked wooden door. We take daily walks and every time I see something new, even on the same street.
The Romantic Zone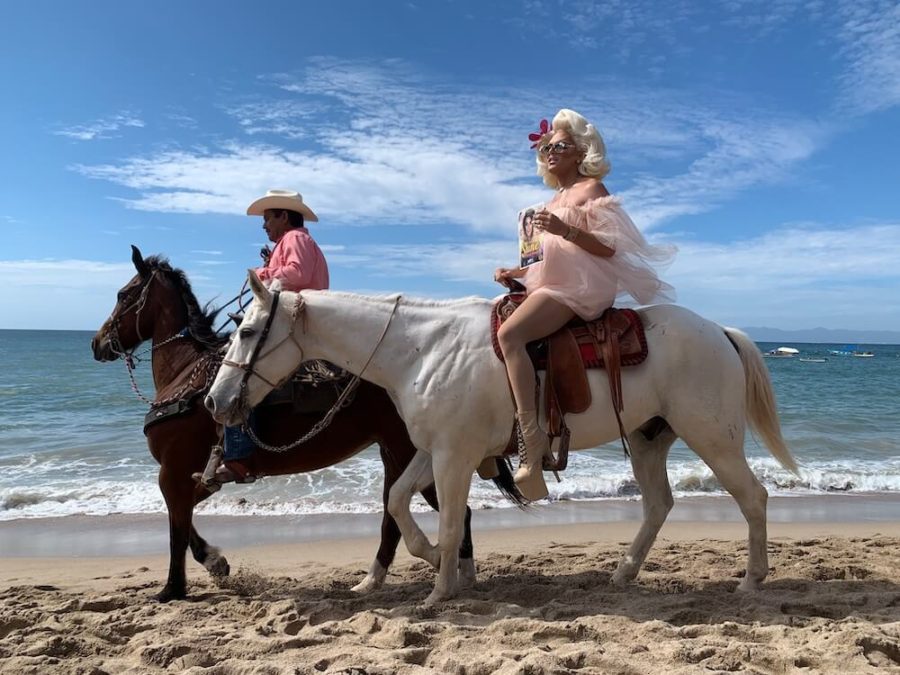 We live in the Old Town or Romantic Zone. It's the largest LGBTQ area in all of Mexico. It's been dubbed the San Francisco of Mexico, but it's more like the Castro of San Fran. I've learned all about bears, beards, hags and otters, and I'm here for it.
I've seen a lot of men in banana hammocks and kaftans, and at times, there is a Pricilla Queen of the Dessert vibe.
So yes, there is a lot of gay activity, from drag shows and impersonators to gay strip clubs and bars. On a separate note, I rarely feel like a walking lollipop being ogled by strangers, which is kinda nice.
But there is also a family vibe here.
Locals sit on their front steps, having a beer and chatting with their neighbors. Kids ride their bikes up and down the streets. Their high-pitched giggles cut through the breeze.
Mexicans are a crazy accepting mix of people who could show the world a thing or two about tolerance.
The Beach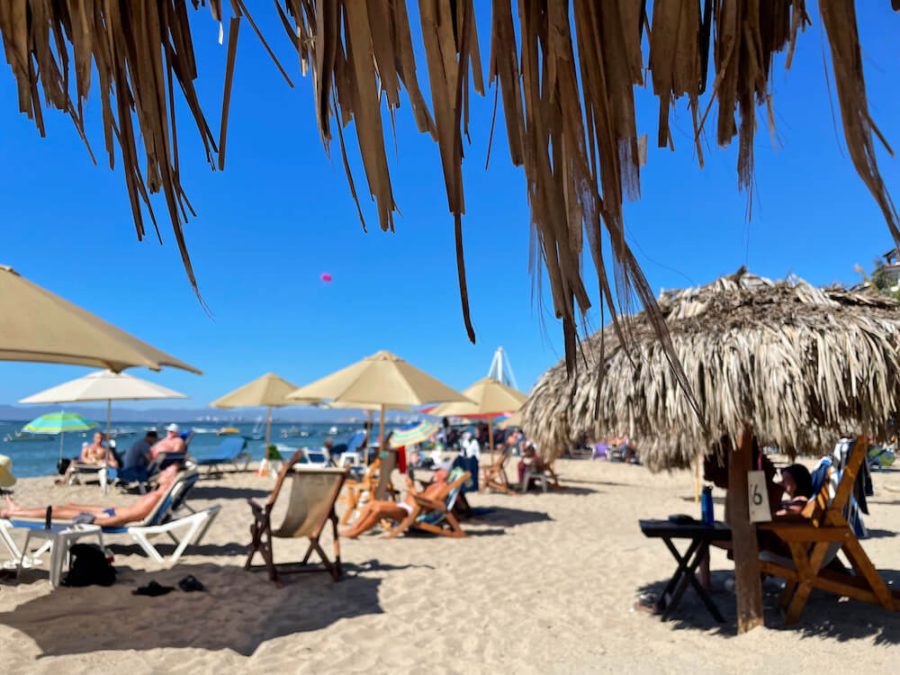 Living in Puerto Vallarta means beach days are all the days. Old Town is right on the beach. And unlike Penang, the beach is the center of everything.
Every day, restaurants and bars along the beach put out chairs, loungers, and umbrellas.
Unfortunately, finding a chair in this area can be difficult during high season weekends. For the most comfortable lounge chairs, you have to pay $15. But that goes toward your food and drink bill, so if you plan to sit on the beach all day, you won't have a problem hitting that dollar amount. At these nicer beach restaurants, a large margarita is around $7-10, and a beer is $1.50. Food can range from $5 to $25, depending on how fancy your location is.
The less fancy places let you sit for free but hope you'll buy something from them.
Our condo is a 10-minute walk from the beach, so we walk along it almost daily and usually spend one weekend day lounging on it.
A Malecon, or boardwalk, goes on for miles along the waterfront. It's lined with bars and restaurants and statues from famous Mexican artists. It turns into a market of sorts at night with performers, food stalls, and people selling art.
Our Condo in Puerto Vallarta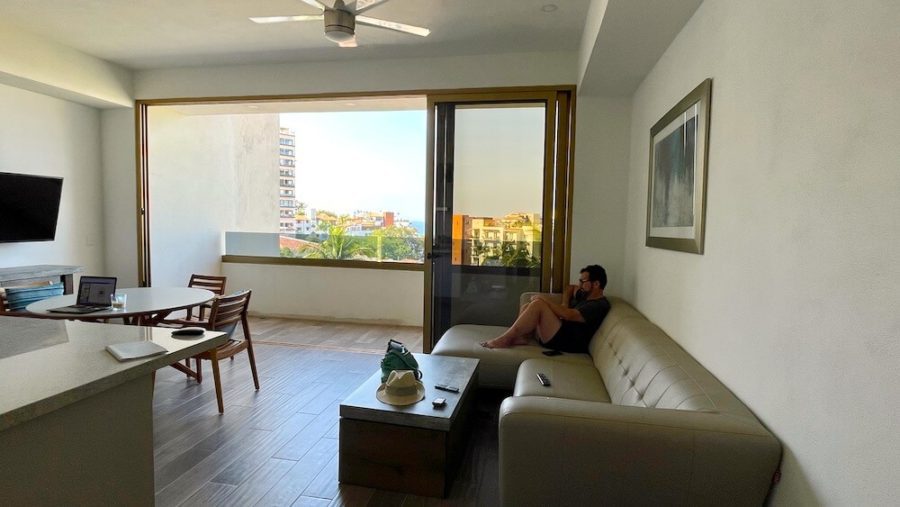 Our first 1-bedroom apartment has 1.5 baths and a balcony. It's really 2 bedrooms but the second room isn't finished. It's about 900-1000 square feet.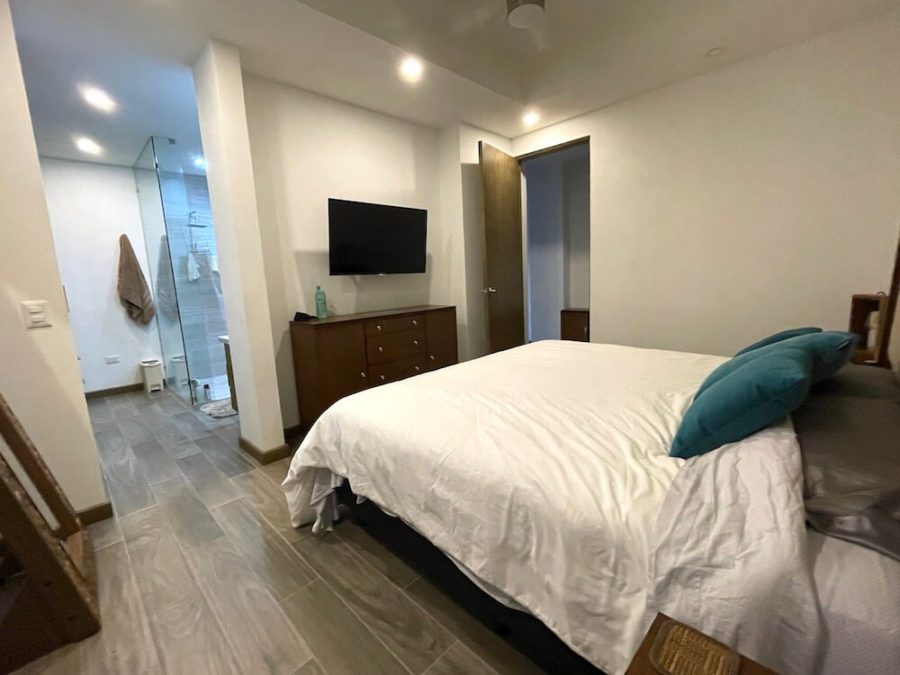 We can see the ocean from our balcony, but we are not waterfront by any means. Our view is more like a wide sliver of the Bay of Banderas.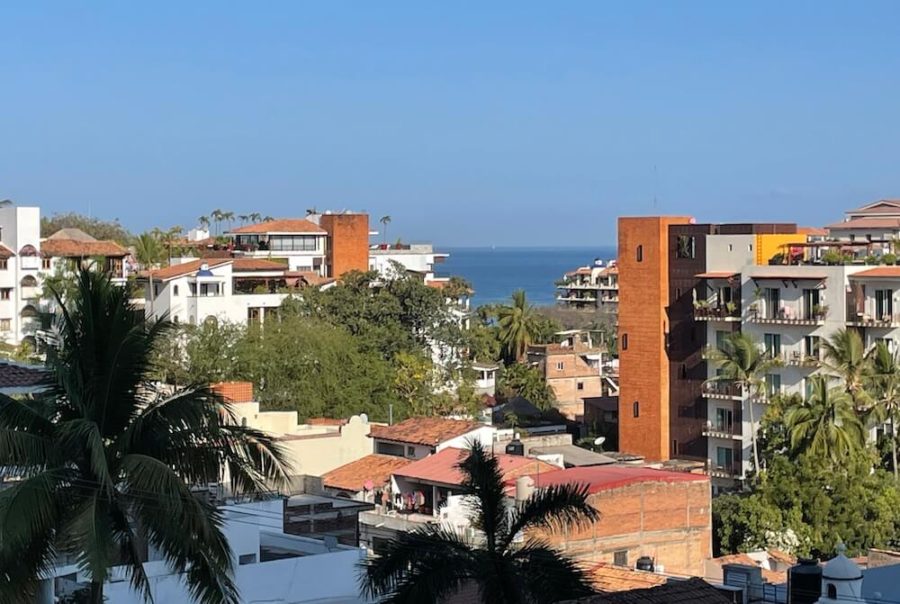 The Food in Puerto Vallarta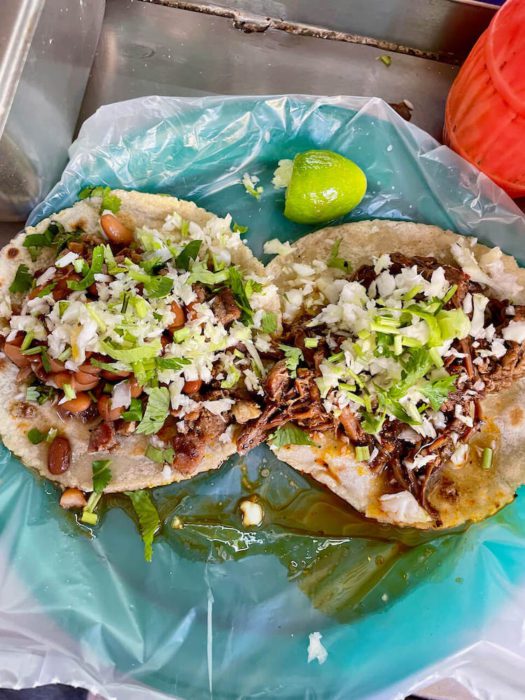 I've eaten my weight in tacos numerous times over, and I'm not even sick of them yet. Or guacamole. Or margaritas.
But if I were, I could find pretty much everything here. Don't get me wrong. I have not and don't plan to try anything they call Asian here because I suspect it won't be good. Scratch that. It will be good. But it won't taste like Asian food.
Just like in Penang, the Mexican food is far from really Mexican. Does it taste good? Yes. It is Mexican, no. It's some form of Malexican food.
But there is sushi, Italian, Argentinian, Peruvian, Greek, and Middle Eastern, all within 15 minutes of our condo.
Still, we haven't eaten any of it. I can't rip myself away from tacos.
And, of course, our favorites are street tacos. Because no matter how you slice it, standing on a street corner, elbows deep in salsa, eating off a melamine plate covered in plastic makes the tacos taste better. The fact that they are less than $1 each doesn't hurt.
(Don't get me started on the plastic situation here. I can't.) 
But if you want to have your feet in the sand while eating lobster off a white tablecloth, that's here too. You won't starve living in Puerto Vallarta.
Do You Need to Speak Spanish to Live in Puerto Vallarta?
No. You don't need to, but it helps. Let's be real. The translation apps are amazing these days, so they are a good fallback.
I've been doing my best to speak only Spanish when I'm here. And humblebrag, I'm doing all right. I get my point across. Even if I sound like a 5-year-old moron, the locals always smile patiently and wait before answering in perfect English.
Living in Puerto Vallarta: The Vibe, the details and the Safety
The real trouble is when they respond, and I have no clue what they are saying. Apparently, I can speak and read but not comprehend conversations.
Thankfully, that's where Mark excels. He understands more than he speaks, so we are a perfect combo. I'm pretty sure he could speak more, but he gets nervous and trips over his tongue when he starts to speak. For once, the tables are turned. I'm the one doing all the talking.
So, at the end of the day, do you need to speak Spanish if you are living in Puerto Vallarta? No. Would it help? Yes, with a capital Y. I can't imagine how difficult it might be if we had to do business here or open a bank account. I am certain we would need a translator for that.
Is Puerto Vallarta Safe?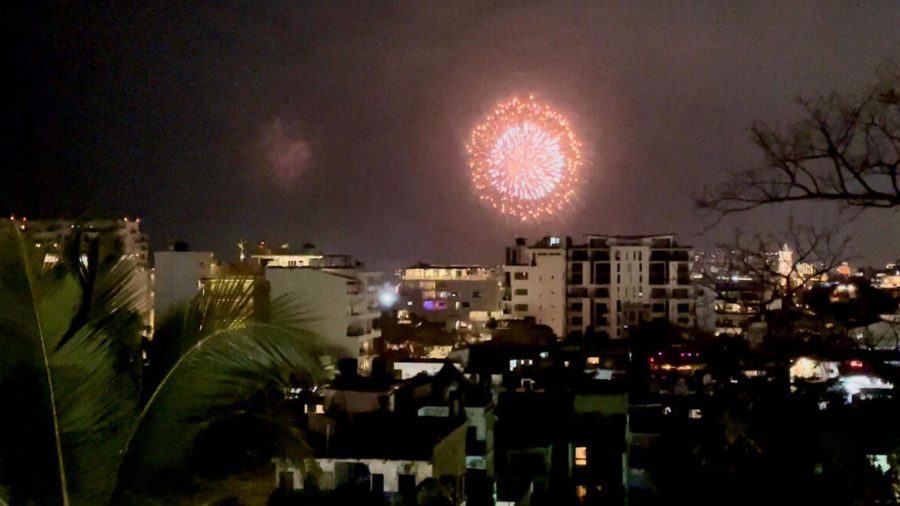 Yes.
And no.
It's a city. And every city has crime. I'm from Chicago. Need I say more?
More than 1.5 million Americans and Canadians are living in Mexico. Hundreds of thousands of them are retiring in Puerto Vallarta.
There is a pretty sizable police and military presence with truckloads of police, SWAT teams, or military guys with massive guns riding around town. The government needs to keep tourism flowing, and there is nothing worse for tourism than bad press.
I don't flaunt my jewelry, in fact. I don't wear my engagement ring here. We are out a lot at night and walk some dark streets on the way home. No need to tempt fate or low-level thieves looking for an easy mark.
Am I worried about cartel crime? No. There is a lot of bad press out there about the cartel violence in Mexico. And things do happen. No one is denying that. But not coming to Mexico because of the cartels is like not going to America because of the shootings. Places like Chicago and New Orleans have some of the highest murder rates in the US. Yet millions of people travel there every year. 
Mexico, like the US, is massive, and for the most part, the cartels are in certain areas. Stay away from those areas, and don't buy drugs. You'll be fine.  
Related reading: Is It Safe to Retire in Mexico? What Retirees Need to Know
Do You Need a Visa to live in Mexico?
Americans and Canadians don't need a visa to come to Mexico.
We used to automatically get 180 days on arrival, but things they are-a-changin.' Now, how many days you get is up to the immigration officer du jour. We came prepared with letters of where we were staying and a plane ticket out of Mexico. We weren't asked a thing and got 180 days.
But of course, there are horror stories of people planning to come for 3 months and are granted 2 weeks.
If you want more time here, you can also apply for temporary or permanent residency.
What is the Cost of Living in Puerto Vallarta

?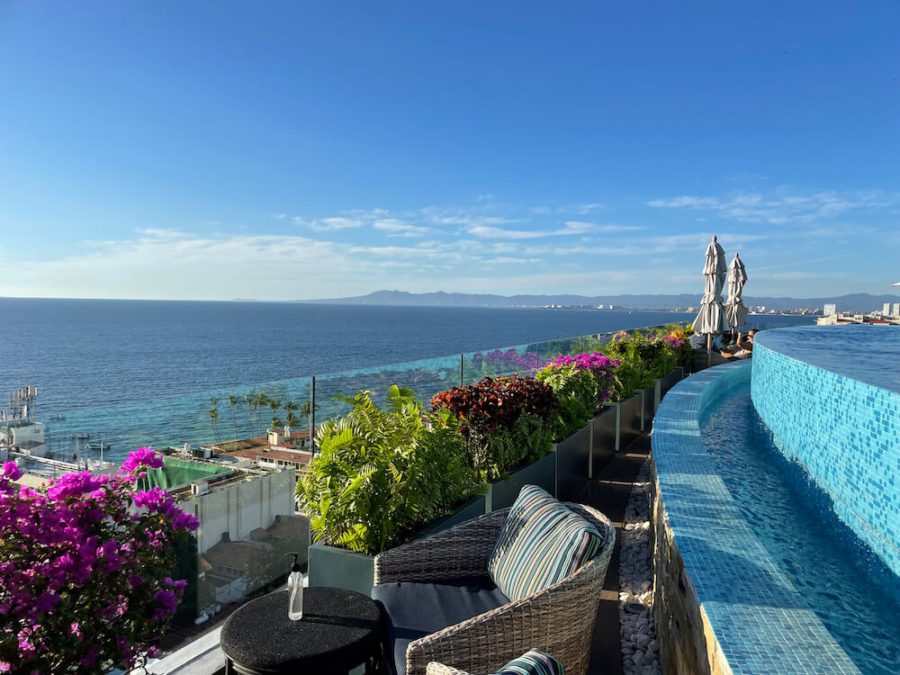 I'm going to write a whole post about this at some point, but for now, I'll just give you an overview. But living cheaply in Puerto Vallarta is totally possible.
We got a super-duper deal on rent, and it's about the same as it was in Penang, $600.
We've been religiously tracking our expenses since we've been here, and we def spend the most on eating out.
However, we still only spend about $2300 a month. And the first couple of months in a new place are always the most expensive because we are trying everything and haven't learned all the insider secrets just yet.
We've seen a lot of videos and have done a lot of research that shows long(ish) term rentals for $300-800 are not unheard of. That would be for a 1 bedroom, probably about 15 minutes walking from the beach.
I've also seen for $1000-1500 in fancier places and places going for $4000.
However, since we aren't looking, we've yet to see any with our own eyes.
So, for rentals, you can find the gamut. Places here aren't nearly as large as they are in Penang. But there are some remarkable properties to be had.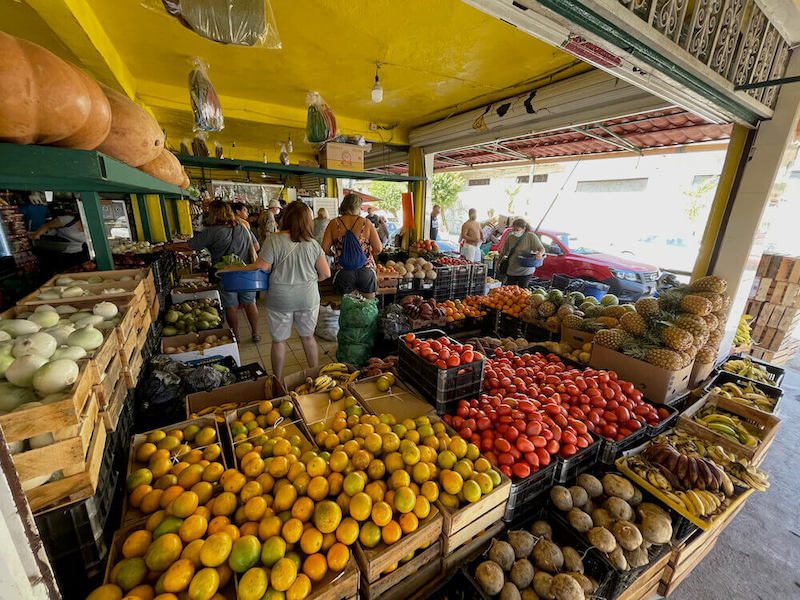 We regularly eat a rotisserie chicken dinner with potatoes soaked in the chicken drippings, rice, tortillas, salsa and roasted jalapenos. It cost us $11, and we have two other meals from it.
We regularly eat street tacos for ¢.75 apiece.
But we've also spent $60 for a fine dining meal.
There is a Costco and 2 Walmarts for large shops, which means cheap food and booze. But the local market is where we get most of our weekly needs, and it costs about the same as in Penang.
So far, our cost of living here is about the same as the cost of living in Penang. We are all in at $2300-ish. But if we lived here and scouted out a fantastic rental, we could def get that down by not going out as often to restaurants.
My Living in Puerto Vallarta Wrap-Up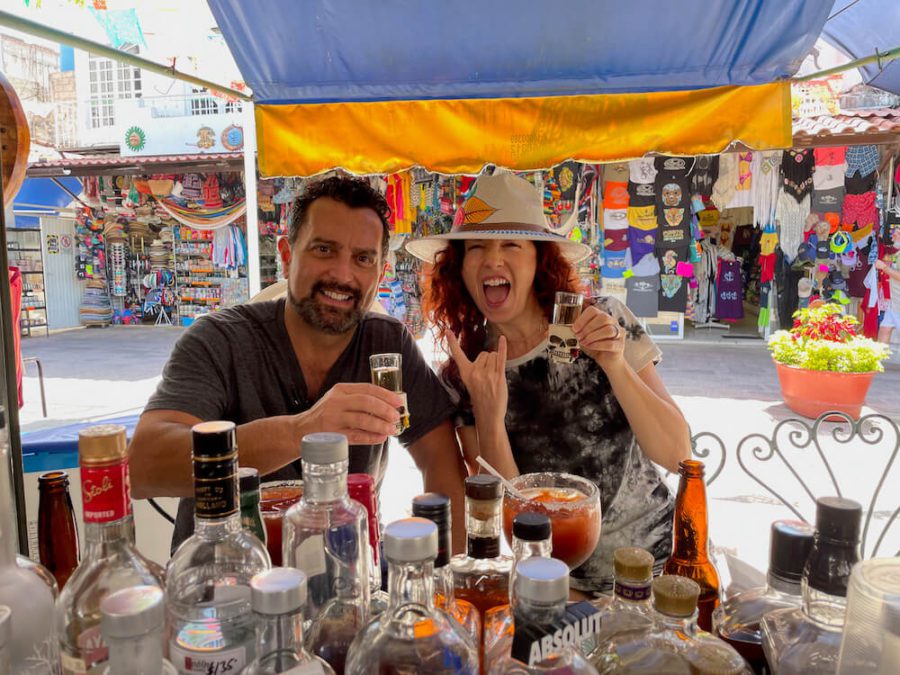 Do I love it?
Yep!
What's not to love?
And I didn't even get to the sunsets, the nightly fireworks, the whale watching and the bioluminescent plankton in the Banderas Bay.
If this place only had monkeys, it would be perfect.