Last Updated on January 19, 2023 by Kirsten Raccuia
I recognize this blog is a bit of a departure from my usual posts, but sometimes it's good to branch out a bit. Plus, it's almost Mother's Day, and if you haven't bought her something yet, you better hop to it. These gifts for beach lovers will transport your mom to the vacation she wishes she could go on right about now.  
Some of these are Amazon beach gifts, but others are from an online store called Etsy. If you aren't familiar with it, Etsy is THE place for one-of-a-kind, handmade, unique, creative gifts. Unlike Amazon, these presents are all from small boutique-y artists selling their creations. And if you have questions, you actually talk to the creator. It's really nice knowing that you are supporting artists with every purchase.
That being said…
Real talk: This page contains affiliate links and all prices are in USD. That means if you click a link and buy something from this page, I may receive a commission (at no extra cost to you!) This doesn't affect my opinions or my reviews. Everything I do is to benefit you as the reader, so all my reviews are honest and unbiased. Would you expect anything less from me? Ya know, I like to keep it real.
Without further ado, here are the best beach gifts for mom.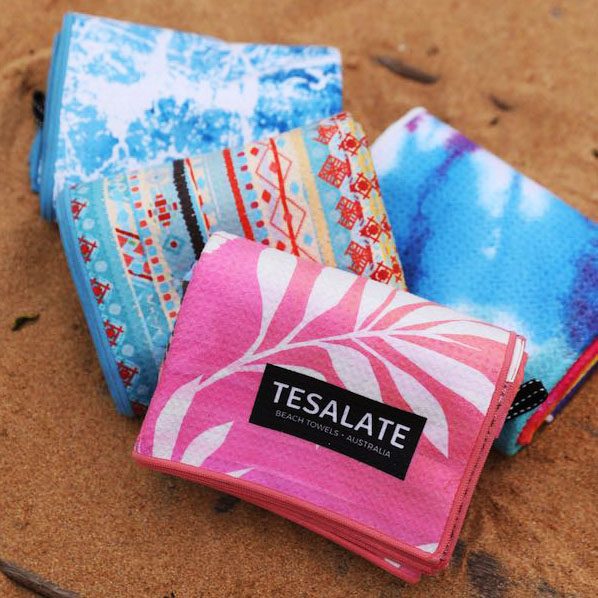 It's a towel, it's a blankey, it's mom's wonder woman cape.
But seriously, this towel does it all. Its biggest benefit is that it repels sand. Yes, no more sand stuck to your towel. It shakes right off no matter how much sand you kick on it. It can hold up to a liter of water without dripping, yet it dries quickly – like a shammy. It's perfect for a traveling beach lover because it folds up into a tiny little package that can fit in your purse. And it comes in the prettiest designs.
Like I said, this towel is the best, and they make the best gifts for beach bums.
It may not be the cheapest towel on the block, but it's worth every penny.
---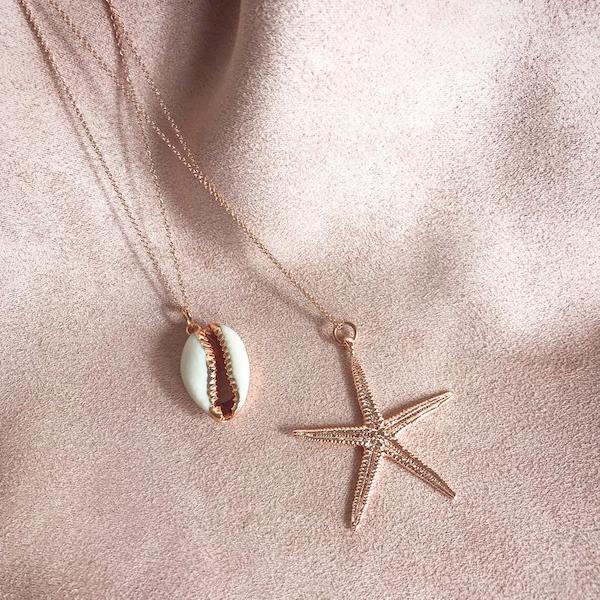 I LOVE pretty much everything this shop sells. Especially all the beach-inspired jewelry. It's all handmade, and most pieces come in silver, gold, and rose gold, so you can choose one or mix metals. Her pieces are so delicate and beautiful when layered. I'm also a huge fan of the large Starfish earrings.
Almost everything sells for under $50USD so they are affordable gift ideas for beach lovers – and your ocean loving mom.
---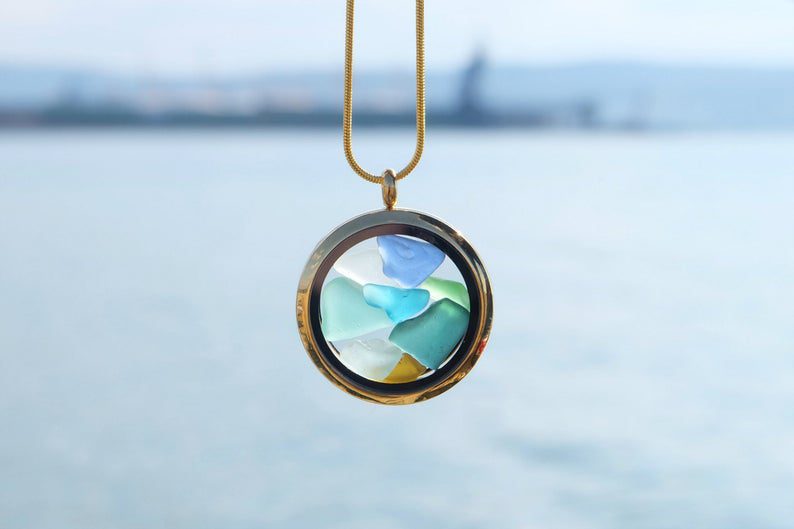 If mom loves sea glass, then she'll love this elegant locket. The woman who makes these lives in Slovenia, so all these pieces are found on beaches there. No two pieces are the same. She has a zillion different styles, everything from these lockets to watches and bookmarks, all using things she finds on the beach. She clearly is also a beach lover and must have the patience of a saint to find all these tiny little pieces.
These make perfect gifts for sea glass lovers.
---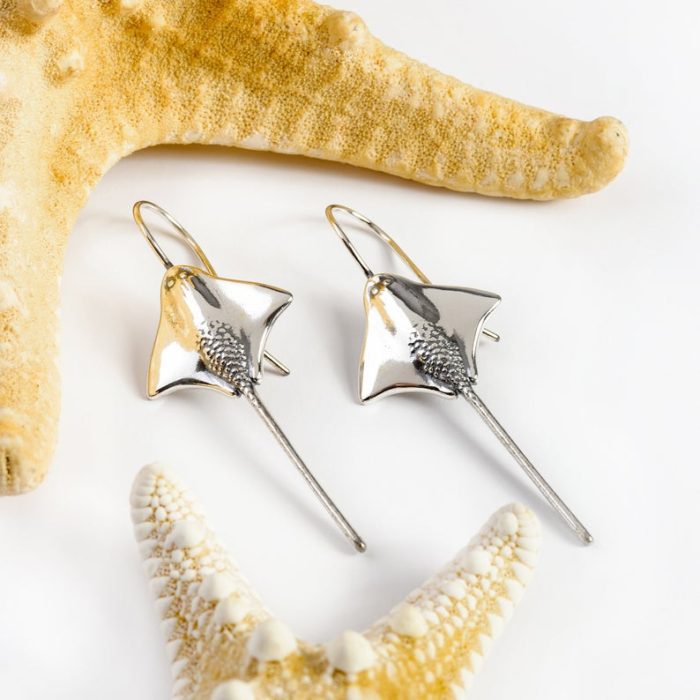 How beautiful and unique are these manta ray earrings? They are one of my fave wearable gifts for beach lovers.
They are delicate yet bold enough to make a little statement. And perfect for your beach loving, salt water frolicking mom.
---
(ideal gifts for a beach lovers home)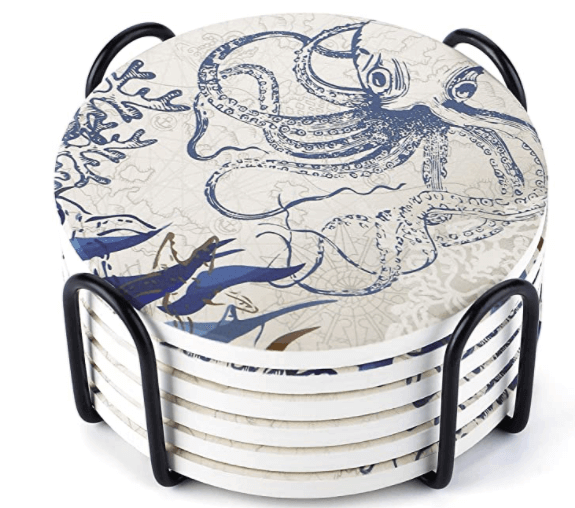 Good coasters are my happy place in Penang because even our glasses sweat in the heat and humidity. There is nothing worse than lifting your glass and taking a soggy coaster with it. Well, other than when said soggy coaster splats on your lap.
Well, have no fear! These coasters are very absorbent. Think of them as a diaper for your glass.
No, don't think of them like that or you'll never use a coaster again. Sorry.
But buy these, they make great gifts for a beach house.
---
(picnic baskets – very utilitarian gifts for beach lovers)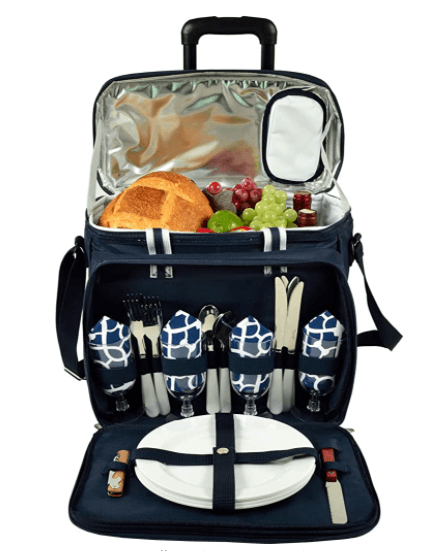 If you want to bring your cheese to the beach, I don't blame you. This picnic basket extraordinaire makes it easy. THIS is the Cadillac of picnic baskets for the price of a Chevy.
Check it out – it comes with:
Service for four people + a corkscrew, cheese knife, acrylic wine glasses, coordinating melamine plates and napkins, and stainless steel flatware.
A removable wheeled cart that has a retractable handle and is simple to remove.
Carrying straps.
A divided cooler compartment with separate sections for wine and food (or ice and booze).
It's leakproof.
The only thing it doesn't have is a serving board, but I just solved that problem for you (see below).
It comes in a few different colors and patterns and is one of my fave luxury beach gifts.
---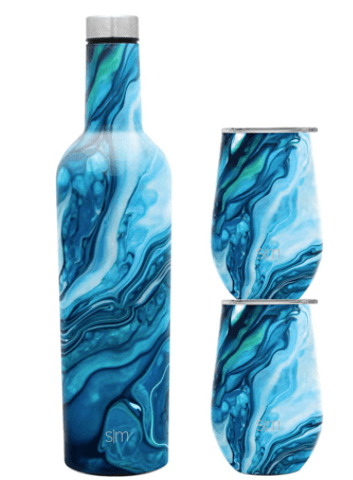 This gorgeous wine bottle and cup set will make mom feel fancy just by drinking out of it. Plus, it looks like she's drinking out of the ocean. Perfect beach lover gifts.
They are made from high-quality, food-grade stainless steel and have an added layer of copper to keep her wine at the right temp for hours.
---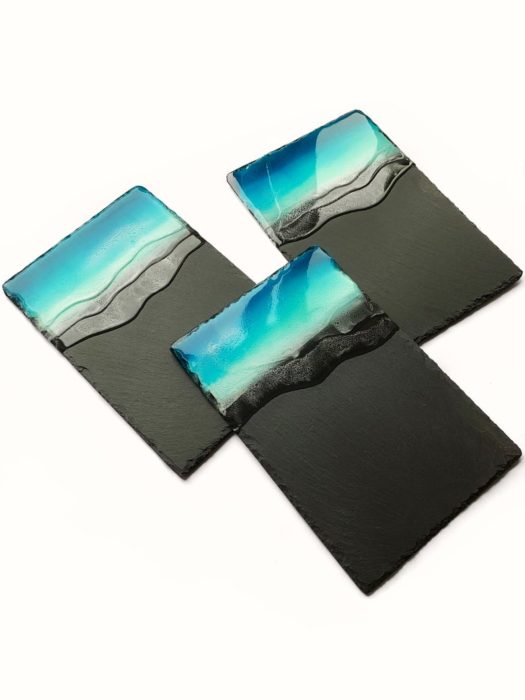 You may not want to bring cheese to the ocean, but this slate serving board helps you bring the ocean to your cheese (use your imagination, people😆 ). It's slate dipped in epoxy made to look like real ocean waves. A very cool beach themed gift.
It's a stunning serving board that'll make your cheese plate even more elegant.
Don't use this as a cutting board.
If you want, you can get it personalized with your mom's name or something like Praise Cheesus, Cheese the Day, Life is Gouda, In Queso Emergency…
---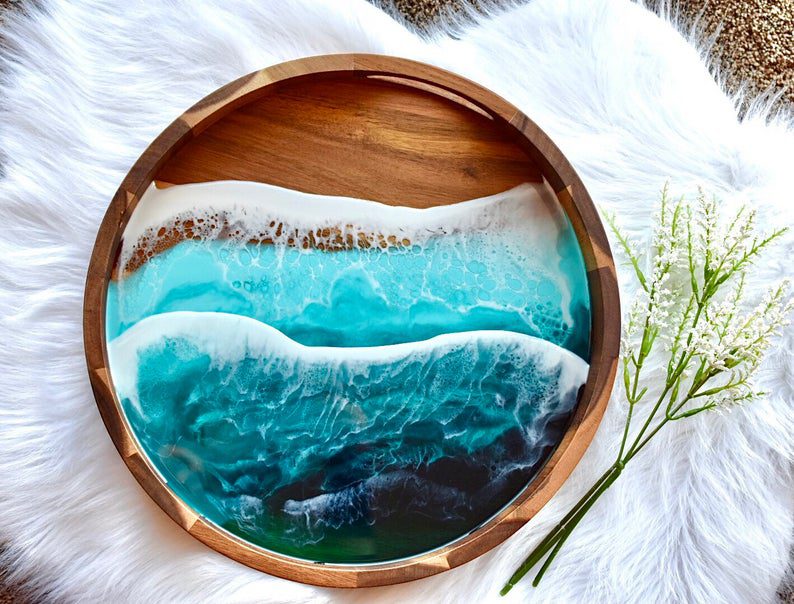 This is a piece of art custom-made for your mom and such a pretty beach gift for her. However, I wouldn't judge if you bought it for yourself. I won't even tell your mom. Because this tray is a stunner.
Actually, everything Kendra makes is pretty impressive. She's got serious skills.
This tray is made to order. Better hurry up, so you're not late for Mother's Day, because that would be really lame.
And if Kendra's skills weren't enough, 10% of all her proceeds go to Venture, a non-profit organization working in Southeast Asia to rescue girls from trafficking and provide safety and stable care.
Basically, buying this tray is for 2 good causes (one for mom because she took care of your ass and another for Venture.)
Well done you.
---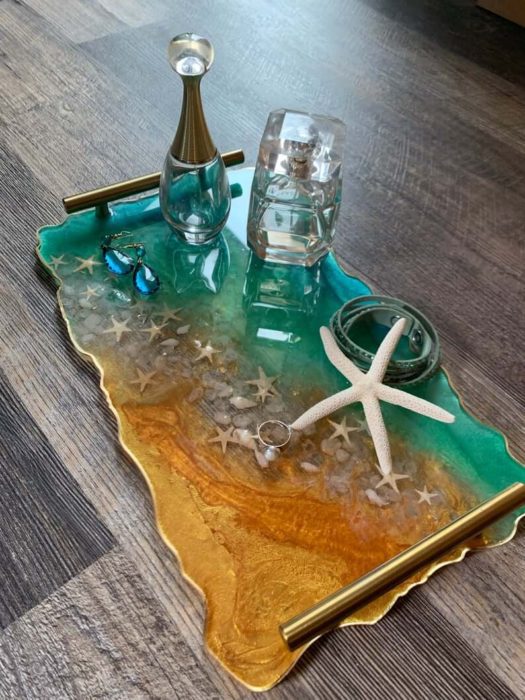 Ok, so maybe I have a thing for serving trays, but come on… these are so gorgeous. And they make the best gifts for beach lovers.
You can use it for tea or as a gorgeous display for your perfumes, wine glasses, or even makeup. It's almost too pretty to use. Almost
Anything you place on this tray is going to look incredible. Even a dirty sock. Too far? Probably. But you get the point.
---
(a sexy gift for beach lovers)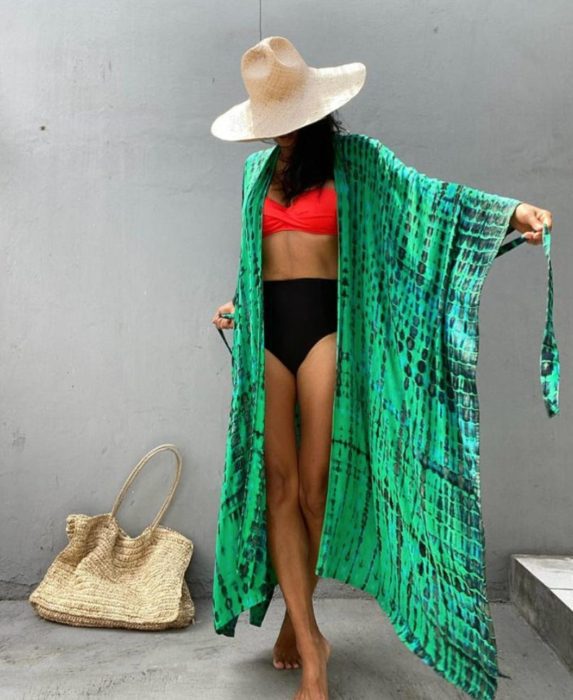 I'm in love with this beach coverup. It's perfect for a day by the pool or beach. It's even super cute over shorts and a tank, or a little black dress and wedges. And just like that, it goes from day to night.
It's ideal for travelers because it can be worn so many ways. It's a total multi-tasker and space saver in mom's suitcase. These really make the best beach vacation gifts.
---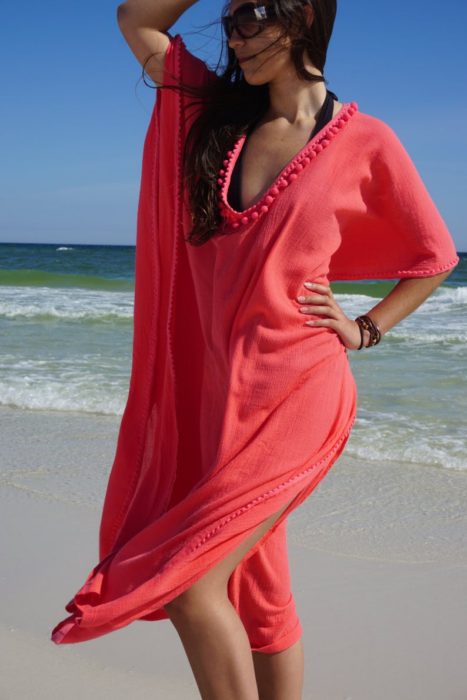 This cute little number comes in a bunch of different colors, sizes, and lengths. It's also available in plus sizes. It's feminine, breathable and gauzy. Ideal for a sweltering beach day.
Every woman needs this kind of stuff for the beach.
---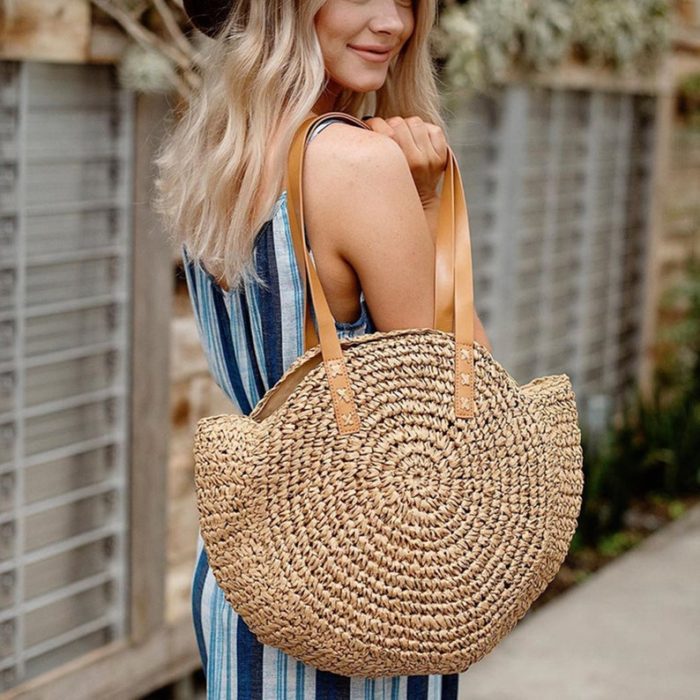 Although it's a beautiful beach gift, it's cute enough that she may use it every day in summer – no need to wait for the beach. It's that cute.
I bought a similar one in Langkawi and LOVE it.
It has a zip closure and a small internal pocket for her phone. It's big enough for her Tesalate towel, her Kindle, and her beach tumbler.
---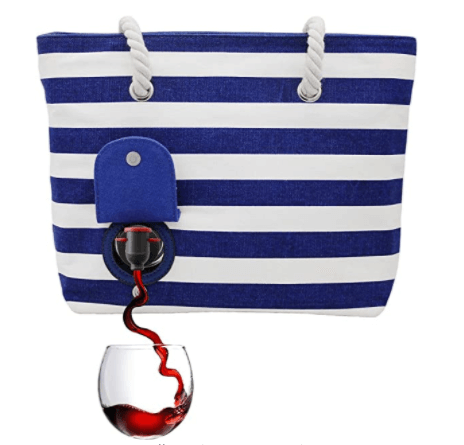 This bag is the best way to keep mom's booze on the down-low.
The beach bag holds two bottles of wine (or vodka soda-no judgments) in a removable, insulated BPA-free pouch. Open up the hidden spout, and mom can pour all her friends a drink.
Don't worry. The bag is roomy enough to carry all her other beach lover essentials.
These secret wine bags make fab gifts for beach lovers and wine lovers. A two-fer.
---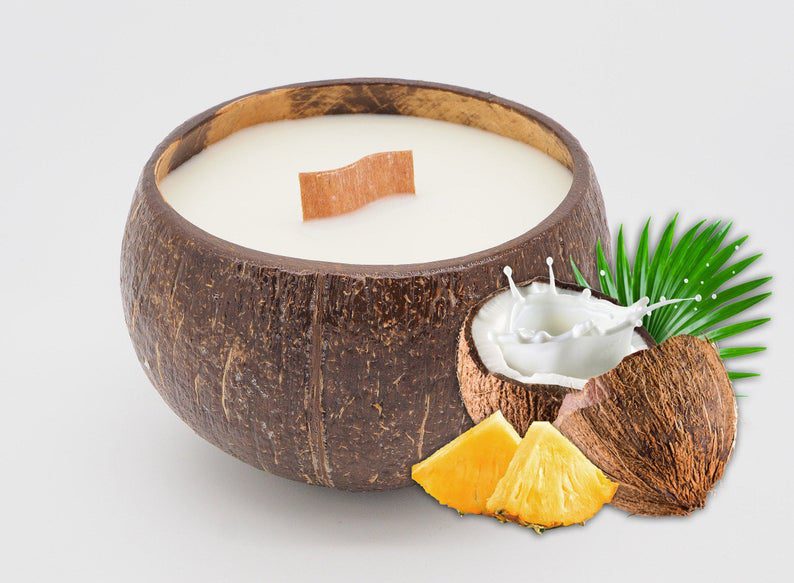 Coconuts are gifts from the gods. The smell is intoxicating on its own, but the Hawaiian Candle company adds a little pineapple and a splash of island vanilla. It doesn't get more tropical.
It's a pure soy candle with a wooden wick that burns for 50 hours.
It's one of those beach themed gifts that keeps on giving. When mom's finished burning it, she can use it as a bowl, a cup, or a trinket holder.
Keep mom in the tropics even if she can't travel there right now.
---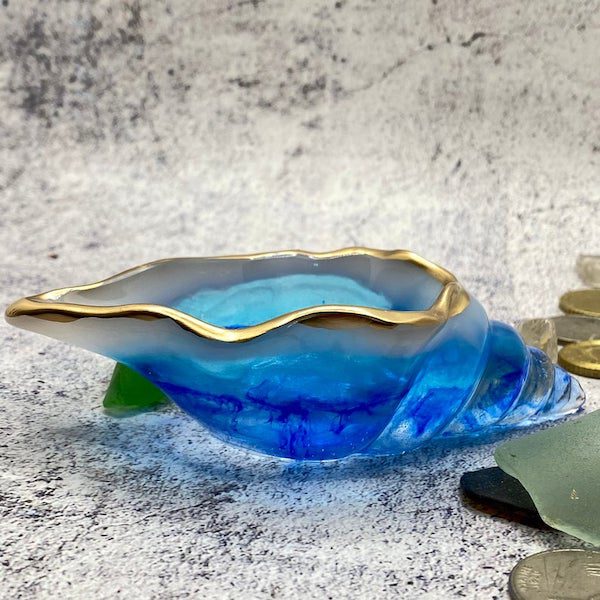 This handmade resin conch shell is a gorgeous ring holder or trinket dish. It's pretty enough to be used as home décor on a coffee table.  
It comes in gold with cobalt blue and silver with light blue – both will transport mom to the ocean.
---
(an adorable gift for beach lovers)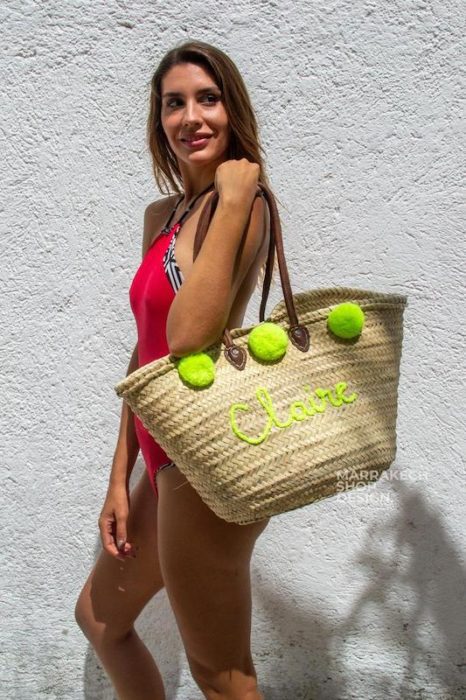 It's such a fun beach bag and a perfect gift for beach lovers. It's made in Marrakech using handwoven palm leaves in the Moroccan tradition.
It's got leather handles, so it's sturdy enough for everyday use.  There are quite a few styles, colors, and sizes to choose from. I'm not a huge fan of personalized beach gifts – no one needs to know my name, but you don't have to go the traditional route. Instead, it can be a phrase, like Hello Sunshine, Ciao Bella, or Sandy Bottoms.
This one has no tricks like hiding wine, but it's just so damn adorable. Mom will love it.
---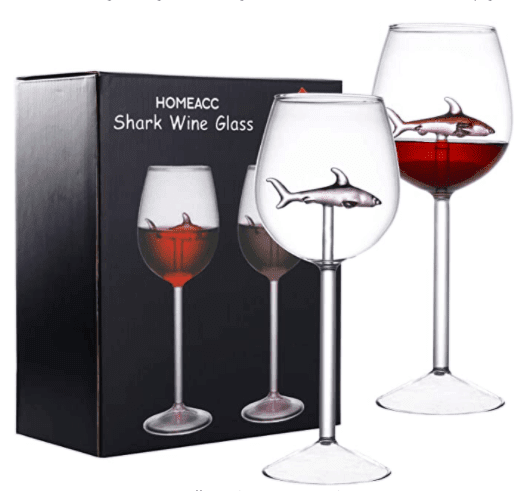 These glasses are the only time you'll want mom to get her face so close to a shark. Very unique beach gifts – I love them!
There are quite a few options to choose from:
clear seahorse
clear starfish
clear, blue, black, or pink shark
I suppose these could be beach gifts for men, but that's a later post. Let's focus on mom, shall we?
---
(the chicest gift for beach lovers)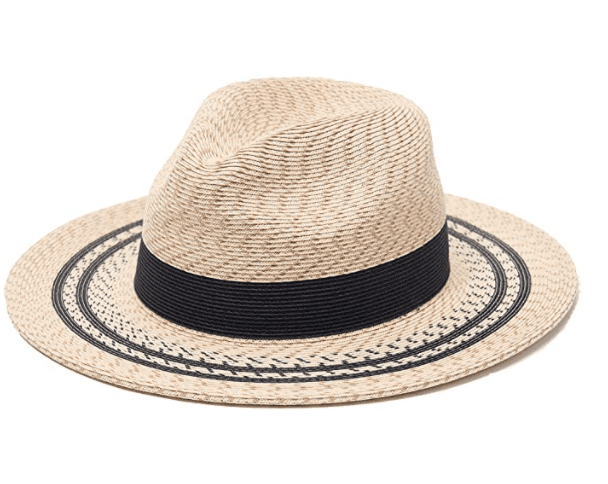 Mom def needs a packable, adjustable, breathable straw hat. Ok. We all need this hat.
Oh, and it's UPF 50+ to boot. It's is a total godsend for anyone who wants to look chic while being fully sun protected. Hats make the best beach gifts – they are practical and stylish. This one comes in quite a few variations. Check them out.  
#Dreamhat
---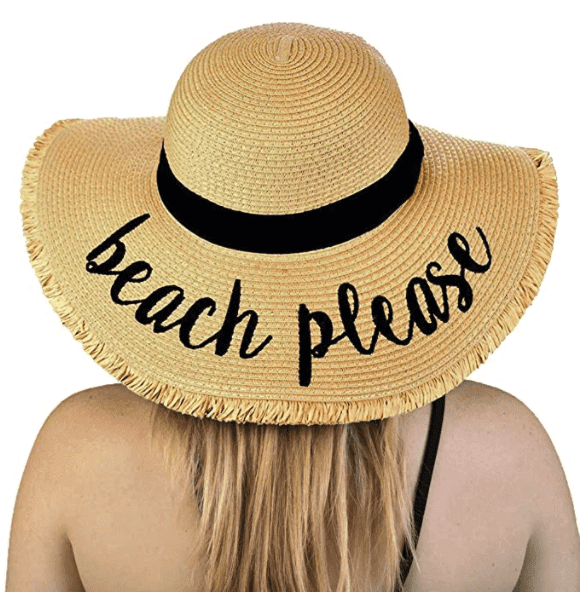 If your mom is less fedora and more floppy, this hat is for her. It has a really wide 4-inch brim, so it'll keep her face out of the sun. It's also fully adjustable and is UPF 50+.
If Beach Please isn't for your mom, choose from:
Always on Vacay
Do Not Disturb
Bon Voyage
Hello Sunshine
No Shady Beaches
Rosé All Day
+ about 20 more
---

For all my pasty friends out there, I hear you. And I got you…covered (see what I did there?)
I know this is kinda ridiculous, but if you get burned wearing 30 SPF, through a beach umbrella while it's raining, you'd understand. This sunshade is the bomb. And it's one of the most practical beach gifts on this list.
In the past, Mark and I had to find a beach with some sort of shade or umbrellas so I could hide. But now that we have this baby, we can go to any beach any time without worrying.
It's big enough for four people to lay under it, yet it's only 4 pounds. It takes about 2 minutes to set up and breaks down into an easy-to-carry bag, about the size of a yoga mat. Unlike any beach umbrella, it has UPF 50+ protection
It may be a little goofy, but so is ruining your vacation by being so badly burned you can't wear any unders, or so I've heard
🦞🥵🔻.
It comes in 2 different sizes and about 20 colors.
---
Soooo, whatcha think? Did I help you find the most amazing gifts for beach lovers? Which one is your fave?
Tell me in the comments below.
---
Want to save this post so you can buy more gifts later?
PIN IT