I wish I had a Malaysia for expats guide when I first moved here. So, I decided to make one. It only took me seven years but still, here it is…
I know some Malaysia expat forums, but I didn't find them very useful. They mostly seem to be used as a dumping ground for pissed off people. No one takes to a forum to do anything but bitch, they never tell the good stuff, and rarely do you get more than an opinion. Let alone balance.
Living in Malaysia isn't for everyone. But it is for many of us who find it charming, exotic, unique, and refreshing, warts and all. Clearly, I'm in that group.   
So, let's dive into your ultimate Malaysia for expats guide.
Where do Expats Live in Malaysia?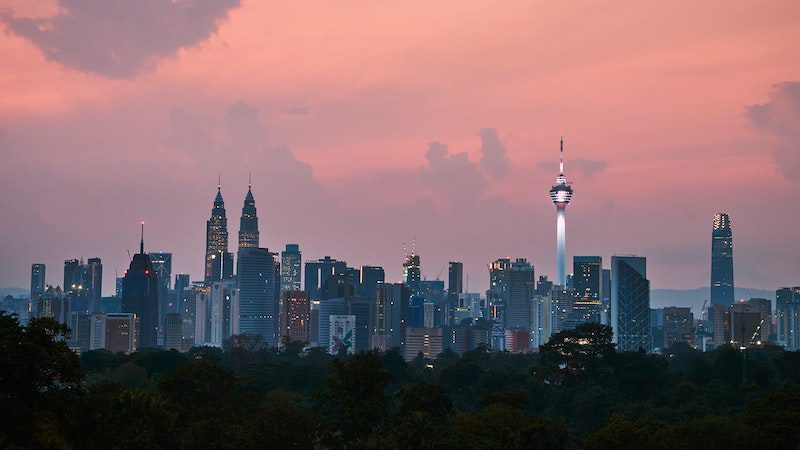 There are quite a few expat havens in Malaysia, so it depends on what you are looking for.
You can get off the grid on some fantastic island or live on the 31st floor of an ultra-modern skyscraper. And everything in between. You do you in Malaysia.
Living in Kuala Lumpur for a taste of big-city life
For big-city dwellers, Kuala Lumpur is really your only hope.
It's the capital city, and although it's not my fave big city in Asia, it's def an incredible place to live.
Just because it's a big city with all the amenities you need doesn't mean the living costs in Kuala Lumpur are high. Quite the contrary, which is why a lot of digital nomads use it as a base. It's got all the things you'd find in any major city but at a fraction of the cost. It's cool, it's trendy, it's buzzing. And it was just ranked 8th in Internations Best and Worst Cities for Expats report.
Malacca for small-town living
If KL is too big for you, check out Malacca. It's a super-cute town with a river running through it. It's got small-town vibes but isn't boring.
Malacca is packed with history and culture, and because it was occupied but the Portuguese, Dutch, and British, it has a very Eurasian feel.
Penang Island for a small-city vibe combined with coastal living
Clearly, I have a fave on this list. Penang won our hearts on our first visit, and nearly 8 years later, we are still here.
The island is small but full of energy. There are loads of expats from around the world, and it's famous for street food. The cosmopolitan and historical mashup keeps it interesting.
Langkawi for your island lifestyle
Langkawi is another island but has more of a beachy vibe than Penang. Unlike Penang, the water is clear and good for water sports. There is also a lot of nature to explore on the island.
It's a popular spot for yachties, but the expat community is much smaller than Penang.
It's def an island for beach lovers and has a laidback, almost sleepy, kind of vibe.
I go into much more detail about each place in my Best Places to Live in Malaysia post.
Cost of Living in Malaysia (for Expats)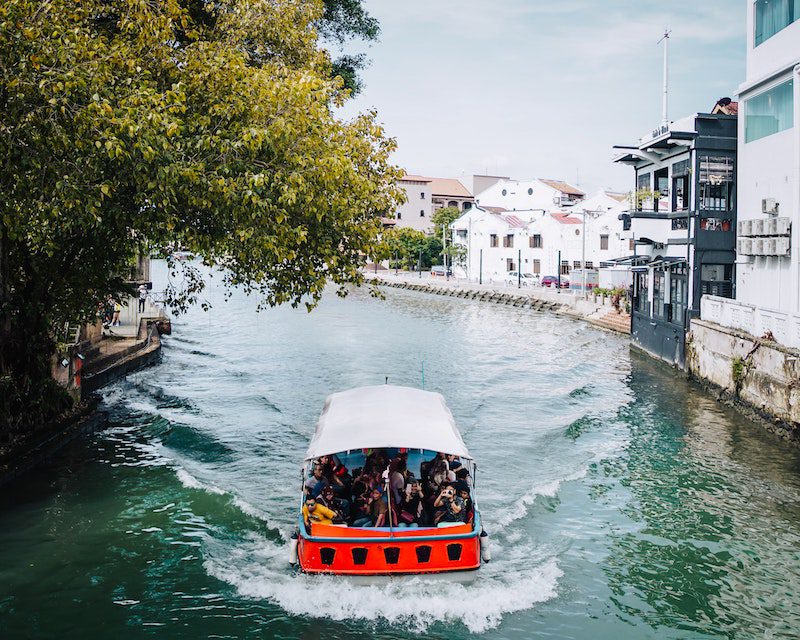 The Malaysian cost of living is very affordable. It's not hard for a couple to live on $2500USD a month, all in. Depending on their lifestyle, they could live on less just as easily as they could spend more.
Rent
Rent is the biggest ticket item in your cost of living in Malaysia, and it's super affordable. Our rent in Penang is $676USD, and that's for a 2100 sq foot 3-bedroom 4-bath condo overlooking the water.
You can easily find condos and homes in all the places above around that same price point.
The rent and overall living cost in Kuala Lumpur isn't much different than in Penang. You can find cheaper rents as well as much higher ones. It all depends on you.
Food and Booze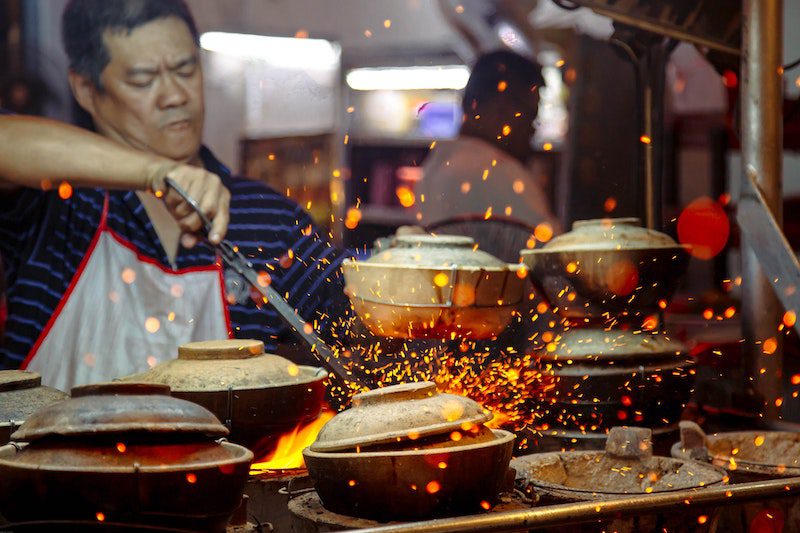 Food is very affordable, especially if you go the local route.
You'll save money if you shop like the Malaysians. Get all your pork, fish, chicken, and produce at the local markets where it's freshest and cheapest. Head to the supermarkets for the other stuff, and your grocery bill will be about ¼ of what it was in the US.
However, it's cheaper to eat out than to cook at home. Eating out isn't a guilty pleasure. It's just a pleasure.
Unlike food, alcohol is costly. It's a sin to drink, and therefore it is highly taxed.
So, if you are prone to getting your drink on like we are, it'll cost ya. In Penang, we have a secret source for duty-free liquor, but that's not the case in most cities. However, if you live in Langkawi, it's a duty-free island, so booze is delightfully cheap.
If you only want to eat western food and drink Californian wines, it'll get expensive.
Healthcare
Healthcare costs are so low that many expatriates in Malaysia only have catastrophic insurance and choose to pay out of pocket for most things. However, if you decide to buy health insurance, that too is inexpensive, especially compared to the US. The caveat is that you must purchase health insurance before you turn 70 years old, or they won't insure you.
I had sinus surgery and spent a couple days in a hospital in a private room and paid $1700USD for everything.  
Doctors and specialist appointments start at $17USD, and teeth cleaning is about $25USD.
I wrote a whole blog about healthcare in Malaysia for expats, so check it out if you want more details
Little Luxuries
Things like an hourly cleaning lady and massages are very affordable, dare I say, cheap.
Our maid is about $5 an hour.
My hair cut? $11.
Mark's cut and shave are $4.
An hour-long foot massage is $15.
An in-home masseuse is $25 per hour.
(All prices in USD)
The cost of living is why Malaysia is a nice place to retire for foreigners, especially those on a fixed income.
For full details about our living costs, check out my Cost of Living in Penang blog.
Malaysian Food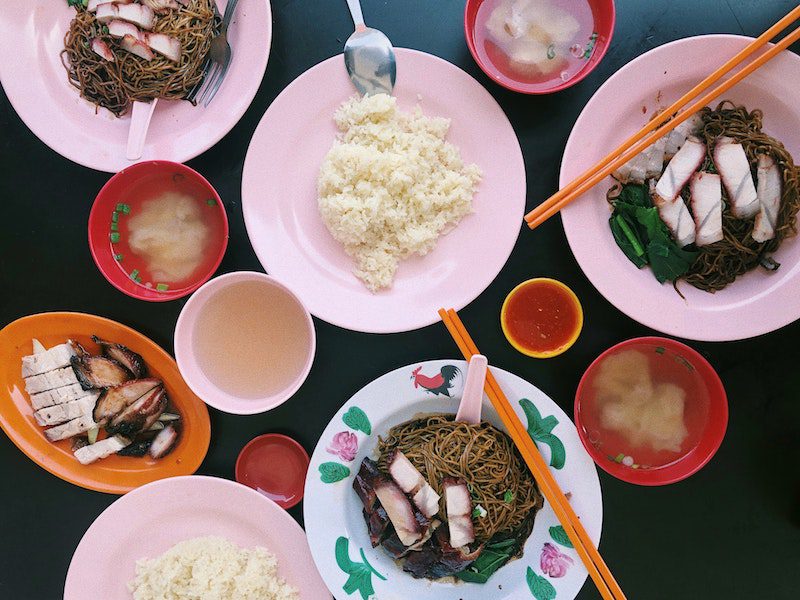 Malaysia is known as a foodie capital, especially for street food.
Food is pretty much a pastime here. People start their convos by asking if you've eaten yet, not how are you? But have you eaten? It's that important.
Because Malaysia is quite the melting pot, Malaysian food is the same. There are Chinese, Indian, and Malay cuisines – all three are totally different but equally delish.
You can eat noodles, rice, curries, wok-fried everything and sizzling plates of everything else. You'll never go hungry or be bored with the food.
Most street food dishes start at $1.50USD, so it's easy to keep your budget in check.
If street food isn't your thing, Malaysia will hopefully change that. But if you get tired of street food, don't worry, there are white tablecloth restaurants as well. They won't be street food cheap, but they'll still cost you pennies on the dollar.
Want to read more about Malaysian food: Read about the Best Hawker Food.
Language
Malaysia was run by the British until its independence in 1957. That means almost everyone speaks English. It's one of the most significant benefits of moving here.  
Although there are more than 137 languages spoken in Malaysia, you can get by with English. Especially in the most common expat havens.
You might have to play charades a bit with some people to get the finer details across. And we've def had to learn to speak slower and use fewer words when talking to some of the locals because English isn't their first language. Be direct. Speak slowly. Cut out all the superfluous words, like superfluous, and you'll be fine.
Culture and Religion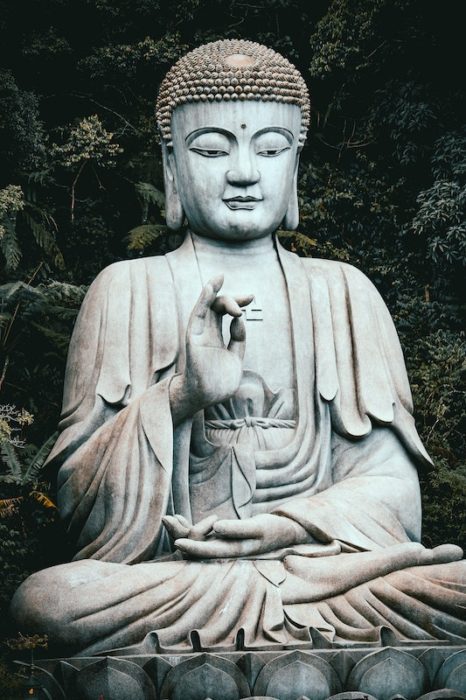 Unlike most other countries in Asia, Malaysia is not a monocultural society.  
Three primary cultures make up the Malaysian cultural landscape. The Malays are mostly Muslim. The Chinese-Malaysians are predominately Buddhist. And the Indian-Malaysians who are Hindu. And they all have their own festivals and celebrations. It's part of what makes Malaysia so fascinating and unique.
Read my guide to the Best Festivals in Malaysia. It's organized by month, so you know when to book your tickets.
Safety in Malaysia for Expat
People always ask me, "How safe is Malaysia for expats?" And I understand why. Moving to a new country is a huge decision, and safety should be a priority.  
The answer is that Malaysia is very safe for expats. And everyone else. Like every country, there is crime, but most of it is petty stuff.
Don't walk around at 3am by yourself. Don't walk anywhere dripping in diamonds. Don't be stupid, and most likely bad things won't happen to you.
Climate in Malaysia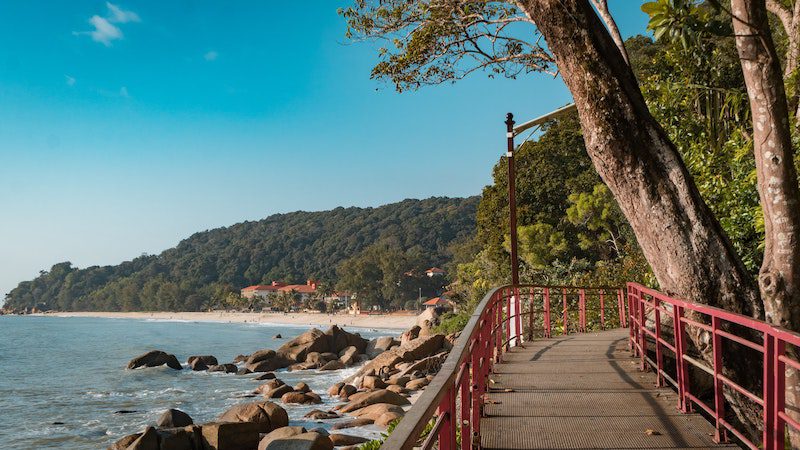 Here is the deal. Malaysia is just north of the equator.
So basically…
It's hotter than hades here.
It's hot as balls.
It's hotter than a stolen tamale.
Satan called; he wants his weather back.
It's hotter than the hinges on the gates of hell.
I think you get the picture.
It's not just hotter than hades; it's humid AF as well.
It may be only 80°, but it feels like 108° because of the humidity.
It's like Florida summers all year long.  If you're not into the heat, it might be one of the disadvantages of living in Malaysia. But if you can hack it, your body does acclimatize.
Did I ever tell you about the time I wore long pants and a scarf in Chicago in JUNE? Balmy summer day for Chicagoans – scarf weather for me.
Even though it's always hot and humid, there are different rainy seasons throughout peninsular Malaysia.
The eastern portion of the country's rainy season is from November to March. The Perhentians, Redang, and all the east coast islands close during those months.
It's the opposite for western peninsular Malaysia. The rains start in March-April, stop in July through August and continue in September-October.
However, the rainy seasons are not like you imagine them to be. Yes, there might be rain every day, but it's not for hours and hours on end. Usually, it's fast and furious. It doesn't ruin your day or any activities that you have planned.
Transportation in Malaysia
The only place in Malaysia that has a train system is Kuala Lumpur.
Malacca, KL and Penang have buses but not Langkawi.
Grab (Asian Uber) is everywhere, def in all the cities in this blog post. And it's super cheap.
Schools in Malaysia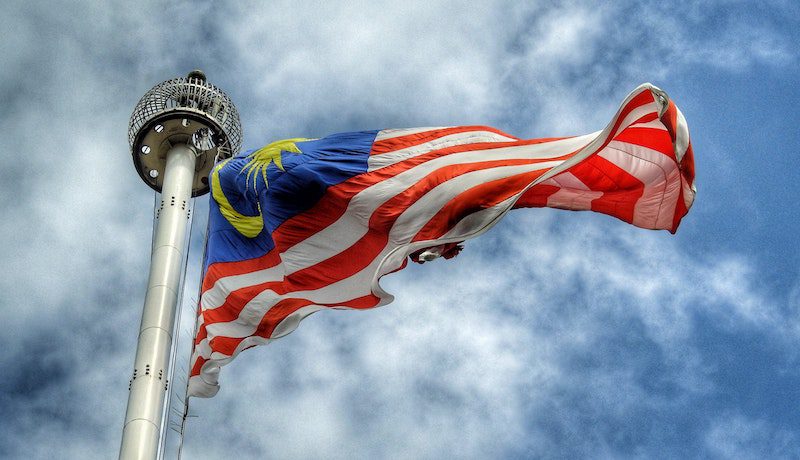 Expat kids usually go to international schools because they are all taught in English. They also have curriculums similar, if not the same, as other western countries.
Banking in Malaysia
We opened our bank account here before we had our MM2H visa (Malaysia My Second Home).
It wasn't difficult. We needed a reference letter from an existing customer at that bank. Everything else was pretty standard. Paperwork, a passport, and a deposit (each bank sets that amount) – that was about it.
We have bank accounts in Malaysia as well as the US. We go to an ATM, withdraw money from our US account and deposit it into our local account. The ATMs here accept cash deposits, so we never enter a bank. Like never.
Depending on what type of visa you are on, you may need to open a local account for a fixed deposit.
Working in Malaysia for Expats
I def advise finding a job BEFORE you come to Malaysia. That way, the company that hires you will help you get the proper working visa. And you'll get a Malaysia expat salary package rather than a local one. Expat salary package = more money and benefits.
Showing up in Malaysia in hopes of finding something solid will be a nightmare. Most legit companies won't hire you unless they can't find a Malaysian to fill the job requirements.  If you've already moved here, any company that employs you will do so as if you are already living here. The salary will be lower than if you move here with a job.
Working on a three-month tourist visa is illegal.  
Making Friends in Malaysia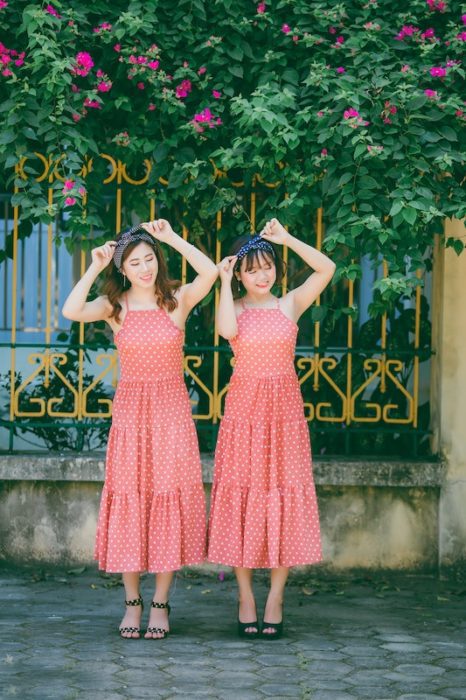 There are a lot of expats in Malaysia, which makes it pretty easy to find your tribe. I'd def join all the Facebook groups you can find. There are general groups for expats in Malaysia, as well as those for different cities.
Below are a few groups, but they are just the tip of the iceberg…
Expats in Malaysia
Expats – Malaysia
Expats in Kuala Lumpur Malaysia
KL Expats
Penang Island Community
Expats in Penang
There are tons of Aussies and British expats in Malaysia – they also have Facebook groups.
If you are interested in moving to Penang, read my Penang Expats: How to meet people in a foreign country post.
Meeting locals is also pretty easy because everyone mixes together. Join the gym, go to coffee mornings, check out Meet Ups and Internations. Say yes to everything you can, and you will meet loads of people, not just Malaysia expats.
Malaysians are a friendly bunch. As long as you are warm and open-minded, you'll get along very well in Malaysia.
The Final Say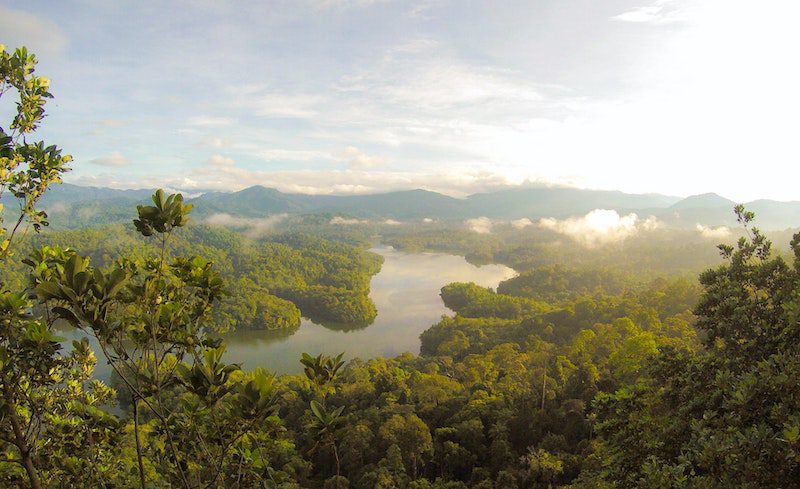 Like any place, there are living in Malaysia Pros and Cons. No place is perfect, and that certainly applies to Malaysia.
Life in Malaysia for foreigners can be super exciting and daunting. Hopefully, this Malaysia for expats guide will give you all the straight-up facts you've been looking for.
Did I miss anything? If so, let me know what you want to know in the comments below.
---
Don't lose this post. Save it in Pinterest.