Malaysia is known for its fantastic food, diverse culture, gorgeous landscapes, and incredibly warm-hearted locals. All that is great when you go on vacation, but you need that and more when deciding to move to a new country. Unless you are prepared to pioneer or want to go off the grid, you need amenities and creature comforts. The best places to live in Malaysia have everything above and more.
Is Malaysia good as a tourist destination? Absolutely. But what about as an expat destination? And where do expats live in Malaysia? I'm about to break it down for you. Grab a glass of vino and a notepad (do people still use notepads?), and let's go.
Drumroll please…… The Best Places to Live in Malaysia are….
Penang Island (My choice for the best place to live in Malaysia)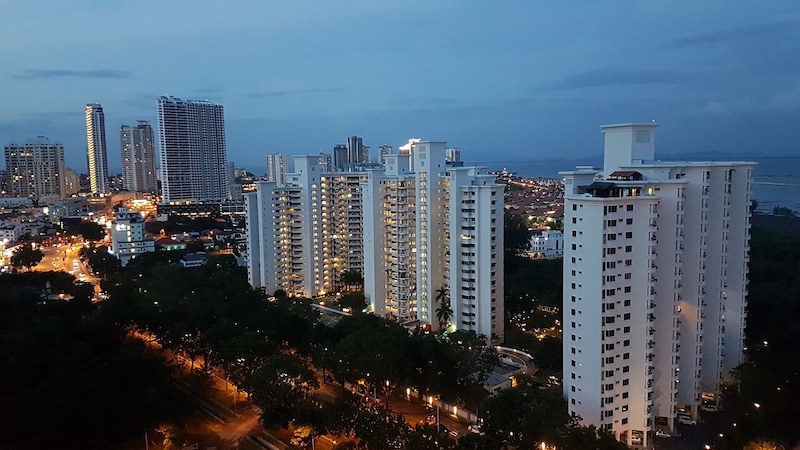 Who's it for? People who want a small-ish city vibe with a kick and who want coastal living.
Obviously, I'm a little biased, but I think Penang is one of the best places to live in Malaysia.
It is an island off Malaysia's coast and is about a 4-hour drive (or 45-minute flight) from KL – close enough for a weekend in the big city. It's connected to the mainland by two bridges, but truthfully, we rarely drive off the island unless we are going on a road trip.
Driving around the island takes about three hours, and it feels like another world. There are rice paddies and small fishing villages, an epic contrast to the high-rise condos along Tanjung Bungah and Batu Ferringhi's shores. 
Georgetown, the capital, is the second-largest city in Malaysia after Kuala Lumpur, so it still has small city vibes without the chaos. It is still one of the most famous cities in Malaysia because of its UNESCO status. There is a lot of tourism, and cruise ships bring thousands of people a day, pre-Covid of course.
But it's not all about Georgetown. There is a good deal of nature to get lost in if that's your thing.
The pace may be slower than KL, but it still has all the western amenities most expats desire, just fewer options.
Transportation
There are buses and Grab taxis that will take you all over Penang, but most expats have cars.
Food
Penang is the food capital of Malaysia, with hawker stalls and cafes by the hundreds. More and more fine dining restaurants are opening up all the time, as well as cute cafes. But street food is what people come to Penang for.
Shopping
It's nothing like Kuala Lumpur, but Penang has a bunch of malls on the island. You can splurge on a Gucci or Kate Spade handbag and then get kitted out in H&M, but if shopping is your thing, especially for name brands, head to KL.
Groceries and imported food options are not as good as in KL. But they aren't bad and are getting better all the time. Of course, all imports come at a price. But that's worldwide.
Besides the international grocery stores, there are wet markets with the freshest local fruits in every large neighborhood. It's where you'll buy most of your fresh produce, chicken, fish, and pork.
Things to do in Penang
There are tons of things to do here; check out my Ultimate Penang Itinerary to get a feel for it all.
Schools
There are quite a few international schools on the island, all with very high standards.
Housing Options
You have a plethora of choices, from high-rise condos to landed homes and everything in between. Most expats live in high-rise condos along the shores of Tanjung Tokong and Tanjung Bungah.
Neighborhoods
I think the best place to live in Penang, Malaysia is Tanjung Bungah because it's smack in the middle of the hub-bub of George Town and the beaches of Batu Ferringhi. Plus, you can't beat the views. 
There are many great neighborhoods on the island, but it all depends on your needs and budget. I wrote a detailed Apartments for Rent in Penang guide that goes over all the best areas to live. 
Where is the best place to retire in Malaysia?
I'd say Penang, hands down. Not that we are retired, but a large portion of the expat community here is, and they love their lives. You can have small city vibes, with a low cost of living, and to die for views of the Straits of Malacca. Overall, it's a stress-free lifestyle with all the luxuries of home. 
What about digital nomads?
Georgetown is becoming a digital nomad hotspot. New co-working spaces are opening up all the time and young entrepreneurs are moving here more than ever before.
Obviously, I think Penang is the best place to live in Malaysia, but there are more options.
Kuala Lumpur (Best place to live in Malaysia for city-goers)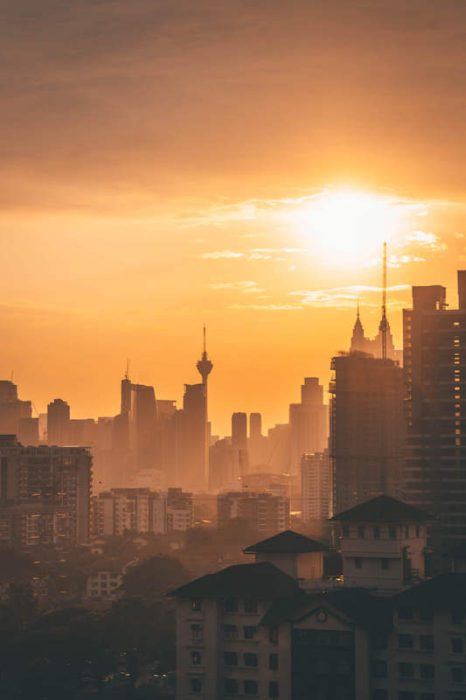 Who's it for? It's for sure the best city in Malaysia for big city lovers.
KL is the largest city and capital of Malaysia. It's a world-class city with 1.8 million people buzzing around. InterNations just announced that it ranked 8th out of 66 cities in the Best & Worst Cities for Expats in 2020. With good reason too. It's a cool city.
Life in Kuala Lumpur means you'll have all of the western world's amenities blended with Malaysian flavors, making it a truly unique city. It's def a concrete jungle, but there are quite a few green spaces within the city.
KL is a fantastic place for digital nomads. They can have everything they need at their fingertips and hop on an international flight whenever their visa is up.
Transportation
There is a good public transportation system with trains and buses covering the city, yet somehow there is crazy traffic. It can feel like madness if you are in the city center. And everything outside of the city center is highway driving.  
Every expat we know has cars unless they live in the city center or KLCC neighborhood.
Eating
There are tens of thousands of restaurants, from the little corner noodle stall to burger joints and steakhouses. You can spend anywhere from $2 to $2000 for a meal.
Shopping
Shopping is a sport in KL. There are malls everywhere. It's one of the richest cities in Malaysia, so it makes sense.
You can blow it all in high-end stores like Gucci and Jimmy Choo (a Penangite). Or more down to earth shops like Zara and H&M, not to mention all the little local boutique found nowhere else.
As for groceries and imports, you can pretty much get it all. It's probably the only place in Malaysia where you'll always be able to find your Cool Ranch Doritos (Michael B) or Hellman's mayo (Sally W.). Like any big city – it's there. You just might have to dig for it.
There are also loads of wet markets.
Things to do in KL
Expats living here will have plenty of job opportunities and heaps of things to do in their downtime.
It's not all about shopping and eating. There are tourist sites galore: the Petronas Towers (largest twin towers in the world), Sunway Lagoon theme park, a 21-acre bird park, the Batu Caves, and other religious sites. You'll never be bored. 
Schools
There are more international schools here than any other spot in Malaysia.
Housing
Housing here is as varied as it comes. You'll have your choice of landed homes in wealthy gated subdivisions, high-rise condos with all the fixings, semi-detached bungalows (townhomes) in peaceful subdivisions. If you can dream it, you can find it in KL. 
Neighborhoods
Choosing the best places to live in Kuala Lumpur depends on your budget. KLCC (Kuala Lumpur City Center) is fantastic if you can afford it. You'll have everything at your fingertips and the price tag to go with that. It's also the most touristy.
There are other great neighborhoods and suburbs, depending on your needs. Check out places like Ampang, Bangsar, Mont Kiara, and Sri Hartamas. Some are not too far from KLCC and are accessible by train.
Although KL is touted as one of the cheapest capital cities, it is more expensive than the others on this list. And def, not the cheapest place to live in Malaysia.
Malacca (best place to live in Malaysia for a small-town vibe)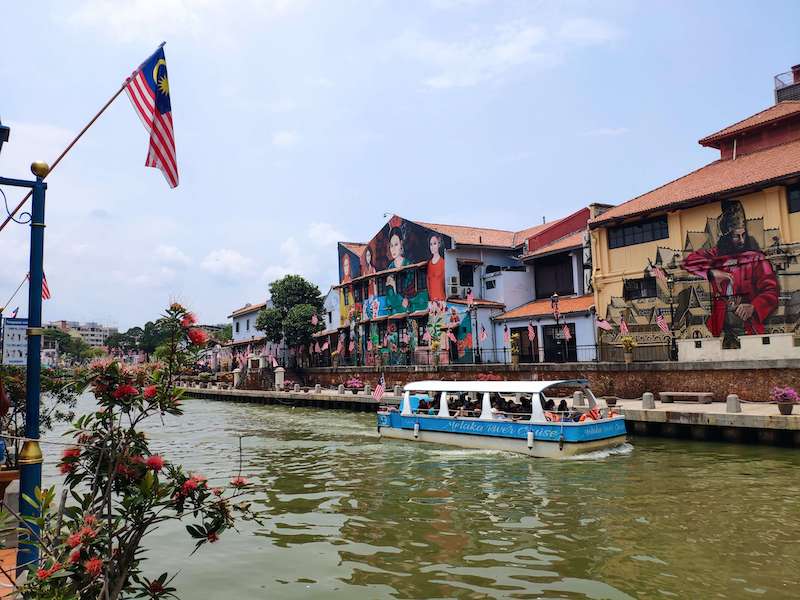 Who's it for? Malacca is one of the best places to live in Malaysia for history buffs and small-town lovers.
It's a multicultural gem on the southwest coast of peninsular Malaysia and goes back over 600 years.
In the 16th century, the first Chinese immigrants came to Malacca. They married the locals, creating a hybrid culture called Chinese Peranakan or Baba-Nyonya.  It's a fascinating culture with food to match.
Malacca was occupied by the Portuguese, Dutch, and British. They have all left their marks on the town, making it a perfect canvas for a UNESCO World Heritage Site.
The Malacca River runs through the quaint town and is lined with cute cafes and colorful murals on both sides.
Jonker Walk is a weekend night market with cool bars and restaurants to stop for a nosh while you shop.
Is Malacca a good place to live? Sure, it just depends on your speed. It's a chill place for a laidback retirement with it's small-town atmosphere and is one of the safest cities in Malaysia.
Transportation
There are some local bus routes but not very thorough. You are better off hiring a Grab taxi or owning a car.
Food
As you can imagine, with such a multicultural history, Malacca has some excellent cuisine. Not surprisingly, it is THE best place for Portuguese and Nyonya food.
Shopping
Malacca is known for its souvenir and antique shopping. There are also a few shopping malls for retail chains. But KL is only 1.5-2 hours away, so better to get your shop on there.  
There are fewer expats, which means less imported goods, but there are some larger grocers.
Things to do in Malacca
As a UNESCO site, there is a lot to do in Malacca. The best thing to do is to start at Dutch Square and walk around from there. Another fave is a river tour. If you want more in-depth info, I wrote this massive guest post about the Things to do in Malacca.
Schools
There are two international schools.
Housing
It's a mix of high rises and houses.
Neighborhoods
A couple of good neighborhoods to start your search within Malacca are Ujong Pasir and Kota Laksmana. If you want to head out to the leafier burbs, you can head inland to Ayer Keroh. Or, if you're looking for a coastal spot, try Klebang Besar.
Langkawi (best place to live in Malaysia for island life)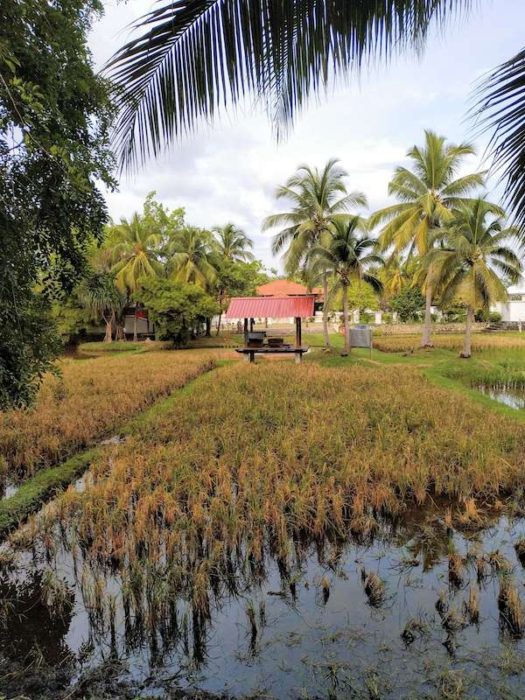 Who's it for? People who love the beach and aren't looking for a lot of excitement.  It's a pretty sleepy island.
Langkawi is the largest island in a 99-island archipelago with the same name. It's a gorgeous island with most of its activities revolving around the water, which is much clearer and nicer than in Penang. And it has a better beach culture, but not as much happening overall.
Instead of glitzy malls, there are gorgeous lush rice paddies with water buffalos munching away in them.
Langkawi is all about nature; the whole island is a UNESCO Global Geopark.
There is an active expat community, it's not as large as Penang's, but it's well established. If you are into yachting, you're in luck. There is a sizeable yachting community since it's a hotspot for sailors from around the world.
When you get island fever, there are no bridges to drive off the island, but there is an international airport. 
There is a large retiree set here, just like in Penang. It's a beachy lifestyle that is laidback and perfect for an easy retirement.
Transportation
There is no public transportation. It's your own car or a Grab taxi.
Food
This is def more of a resort island, so most restaurants cater to tourists. However, there are nightly markets with good local food.
Shopping
Yes, it's a duty-free island. It's excellent for booze, chocolate, kitchen gear, purses, and a few casual sandals. It's perfect for small things you don't need to try on, but you won't find a fabulous wardrobe. Think of an airport duty-free on steroids.
There are grocery stores but no international ones, which means fewer imported goods.
Things to do in Langkawi
Everything to do besides lazing on the beach drinking, which happens to be my fave hobby, is based around delving into nature. Here is a full itinerary of things to do in Langkawi.  
Schools
At this time, I don't believe there are international schools in Langkawi. Home-schooling is a big thing there.
Housing
There are low rises and landed properties.
Neighborhoods
Expats are spread around the island depending on how secluded of a lifestyle they want. Others are centered near the marinas. Kuah is the main city on the island, but I personally am not a fan of it. I'd prefer to live in the southwestern area of the island near Pantai Cenang and Pantai Tengah.
The Best Places to Live in Malaysian Borneo
There are 2 places on Malaysian Borneo where most of the expats live. I've been to both and think they are very liveable places.
Kuching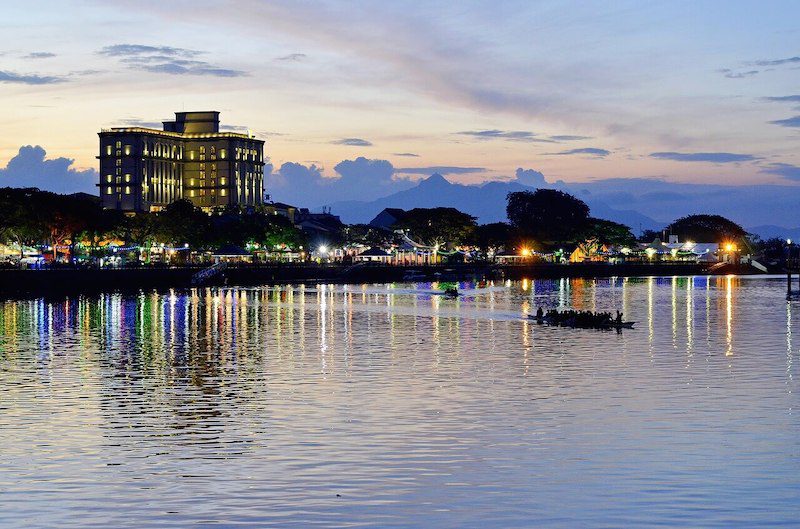 Kuching, with its little city vibe, is the capital of the Sarawak state of Borneo. It's got a river running through it like Malacca and a small but growing expat community. There are a couple of international schools.
The international airport makes it easy to hop to KL for a weekend getaway. Although there is a lot to do in Borneo.
Kota Kinabalu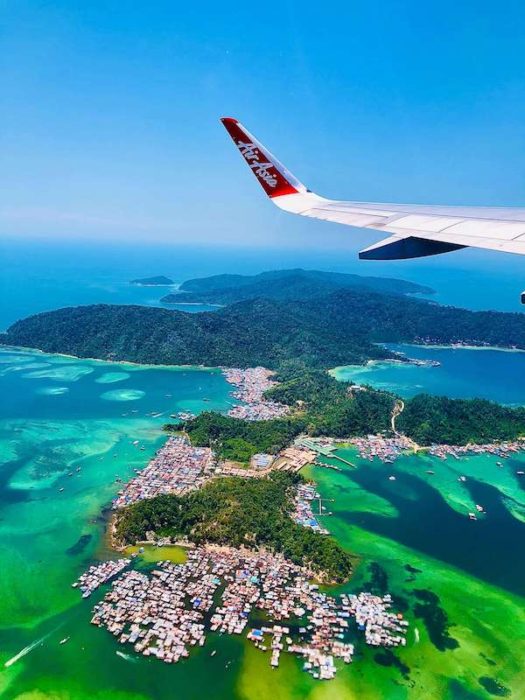 Kota Kinabalu is one of my fave places in Malaysia for a vacation. There is a lot of wildlife and outdoor adventures there. You can climb mountains, snorkel in the most transparent waters, island-hop, and see big-nosed pot-bellied monkeys. What more could you want?  For more info on what to do there, check out my 5 Day Adventure Guide to Kota Kinabalu.
There is a growing expat community and an international school.
Is it expensive to live in Malaysia?
Expensive is a relative term. But if you are coming from the US, Malaysia is super affordable and can be downright cheap. 
Malaysian towns vs. Malaysian cities
Here's the deal – unless you want to learn to speak Bahasa and live without the western amenities you are accustomed to, living in small-town Malaysia isn't for you. There is nothing wrong with living in a more rural area if that is what you want, but know that it won't be as easy to acclimate. In my opinion, the above 6 places are the best cities to live in Malaysia.
The Round-Up
So now you know, there are a lot of great places to live in Malaysia. And there are more cities that I left off this list because I don't have first-hand knowledge of them, and/or I'm not a fan.
Living in Malaysia as an expat is not the same as a vacation. No matter if it's for a week or a lifetime, come and check it out for yourself.
Expats in Malaysia, did I miss something? What are your top 3 places to live in Malaysia? Tell me in the comments below.
Hungry for more Malaysian goodness? I got you covered…
⭐️ If you want to know what is it like to live in Malaysia as an expat, read: Pros and Cons of Being an Expat in Malaysia
⭐️ If you want to know why the hell you should visit Malaysia in the first place, read 12+1 Reasons to Visit Malaysia
⭐️ If you want to know where to go in Malaysia, read The Coolest Places to Go in Malaysia.
Wanna keep this for later? Pin it📌