Last Updated on March 15, 2020 by Kirsten Raccuia
Malaysia is the red-headed stepchild of Southeast Asia*. It is such an underrated travel destination that it's just not on a lot of people's holiday radar. My guess is that many of you don't know much about the country at all. Let alone the best places to go in Malaysia.
And that's ok. Ima bout to fix all that…
This post is a general overview of what Malaysia has to offer. If you could spend a few months slow traveling around this diverse country, you could see everything on this list and really get a feel for it. But unless you are a digital nomad, or retired, you probably won't be able to take a month off of work.
However, you could easily come to Malaysia, visit 2-3 places, and fly out in a week.
It really depends on your time frame how much you can see. But Malaysia is a pretty small country, and transportation is fast and easy; there are domestic flights, trains, and buses throughout.
Malaysia is extremely diverse. Not just in its culture but in its landscape as well. From its UNESCO sites to rainforests, the islands to its 130-million-year-old jungle, there is something here for everyone.
Read on for the best places to go in Malaysia.
I started with peninsular Malaysia and went north to south and then headed over to Malaysian Borneo.
Langkawi, Kedah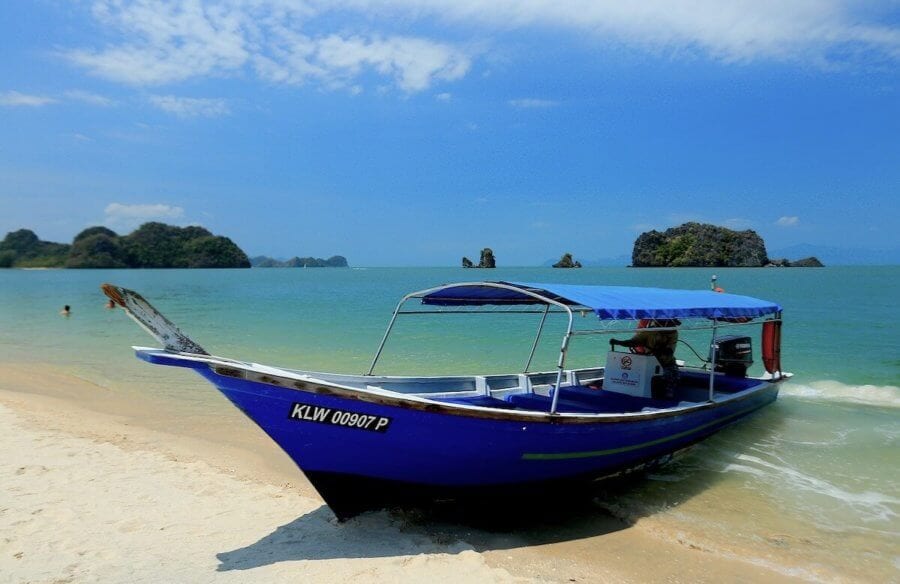 Langkawi is part of an archipelago of 99 islands. It is surrounded by clear waters, and the center of the island has rolling green jungles.
It's the island closest to Penang; only a 17-minute flight, no really. Or you can take the three-hour ferry ride. However, the ferry has been dubbed the vomit comet, so take your chances.
It is one of the more commercial islands. If you're looking for a quick weekend at the beach, then Langkawi is perfect. There are some great restaurants and bars and some nightlife if that's what you're after.
If you want more of a secluded feel, I would choose a different island.
Langkawi is a duty-free island!! Everything you'd find in a duty-free shop in the airport (and much more), you'll find in Langkawi. That means beer and booze are cheaper here than just about anywhere in Malaysia.
Read My Ultimate Langkawi Itinerary: What to do in Langkawi for 3 Days for full guide on the island.
What to do and see:
Go shopping
Go island hopping
Visit the Skybridge and SkyCab
Find the Seven Wells, Durian Perangin, and Temurun Waterfalls
When to go:
The best time to visit is from November to March, the opposite of the Perhentians high season. If you plan your trip accordingly, you'll get to go to the islands on both coasts of Malaysia.
Where to stay:
Abong Pool Vilas and Fuuka Villa
The Perhentians, Terengganu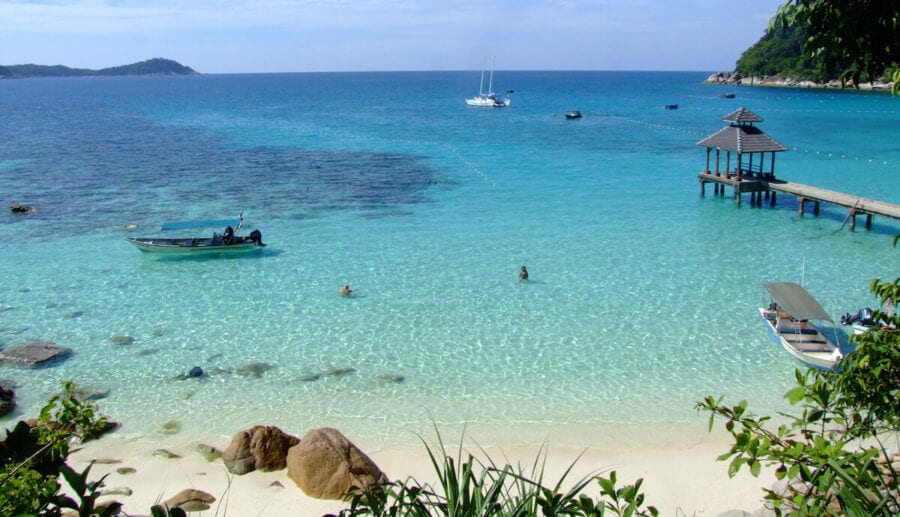 Nguyễn Thành Lam
This lovely little archipelago in the South China Sea has two main islands to choose from, Kecil and Besar, which means Small and Big. This is where you'll find powdery white sand and turquoise-blue waters.
Both islands have their own vibe. Kecil Island has more of a backpacker party feel while Besar has larger resorts and is more relaxed.
It's not as easy to get to the Perhentians as it is Langkawi. They aren't as commercial, but they are getting there.
There isn't a lot to do other than be lazy and enjoy the water.
What to see and do:
Snorkel
Get your scuba certification
Scuba the shipwrecks
Island hop
When to go:
The only time to go is from March to October. Outside of that time, most of the hotels close; it's monsoon season.
Where to stay:
Bubu Villa and The Barat
Penang Island, Penang (obvi my favorite place to go in Malaysia)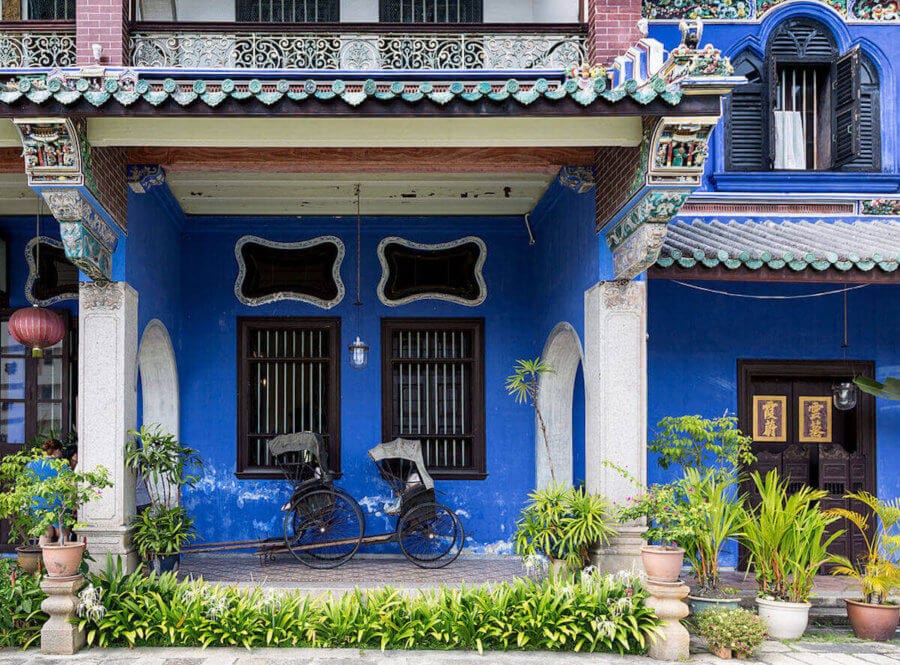 © CEphoto, Uwe Aranas / CC-BY-SA-3.0
Sometimes there is a little confusion around the word Penang. It is actually one of the 13 states in Malaysia. It consists of an island of the same name and a section on the mainland. However, whenever most travelers, writers, bloggers mention Penang, most likely they are talking about the island of Penang, where we live.
It's a rather big island, but I'm going to focus on George Town, the capital. It where most of the cultural sites and UNESCO heritage sites are located.
Actually, the whole town is an open-air museum.
George Town is trendy, steeped in history, traditional, and modern all at the same time. It feels like you are taking a step back in time when you wander the rabbit warren of streets.
I could write about it for years and not get bored, so I'm trying to keep it short and just give you an overview of it all. I promise to write a Penang guide with ALL of the stuff to see, do, and eat.
From the evolving street art scene to the street food scene, you will not be bored or hungry here. When your tummy is full, and you're over street art for a minute, the religious sites are a must.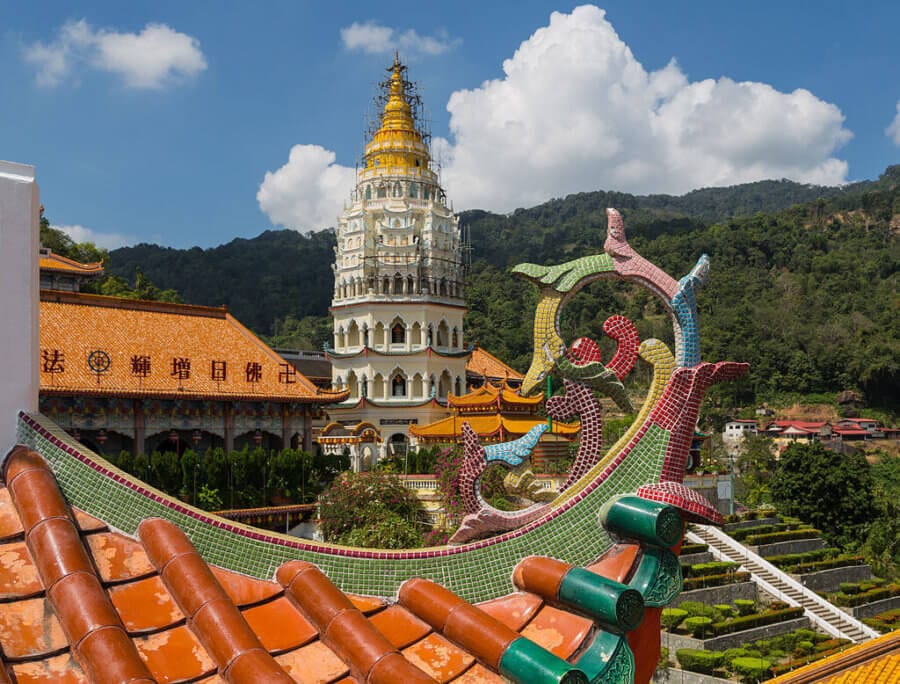 © CEphoto, Uwe Aranas / CC-BY-SA-3.0
You can take a 15-minute walk down the Street of Harmony and see the Kapitan Keling Mosque, St. George's Church, Sri Maha Mariamman Hindu Temple, and Goddess of Mercy Taoist temple. If that isn't diversity, I don't know what is! Be sure to dress appropriately, these are active houses of worship and should be respected. Don't be the asshat that walks into a temple with your side boob showing, that goes for you too guys.
What to see and do:
Grab a street art map and find all the famous, and not so famous, pieces. If you're lucky, you'll find a mural in the making.
Eat. Eat some more. And eat again.
Visit the Khoo Kongsi, Kek Lok Si, Kapitan Keling Mosque, Cheong Fatt Tze Mansion, Little India.
Stroll through the Botanical Gardens
Check out the treetop walk at the Habitat
When to go:
Anytime but August and September. That is when the haze from burning plantations in Indonesia gets bad.
Where to stay:
East Indies Mansion or Seven Terraces
Ipoh, Perak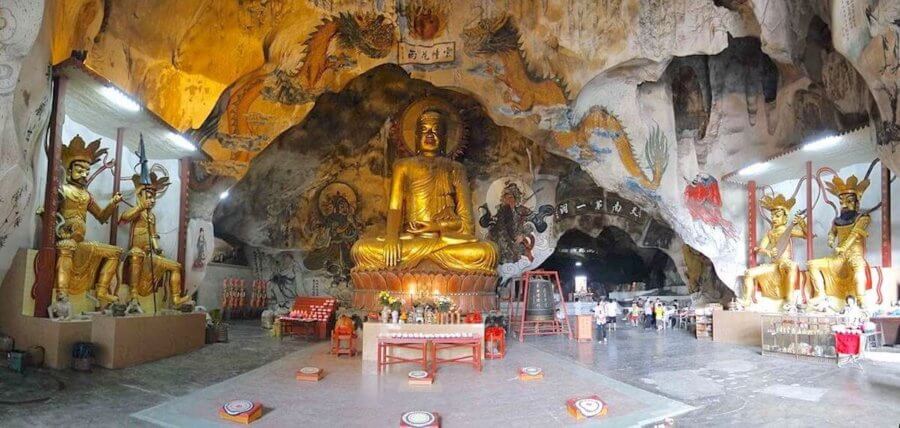 Steven Tung 
Ipoh is the capital city of Perak and has a very distinct landscape. Picture beautifully craggy limestone hills that give way to rolling green hills. The scenery driving into town is very dramatic.
It's the third-largest town after Kuala Lumpur and George Town and made its name as a tin mining area. There are temple caves, colonial buildings, and large parks to discover. Take a stroll along Concubine Lane, a notorious opium den and where the wealthy Chinese and British officers would keep their mistresses.
Like George Town, food is everything. Be sure to try Ipoh chicken rice with bean sprouts. Doesn't sound that exciting but believe me–it is. There is some debate about Ipoh having the best dim sum, but since I haven't personally eaten any there, I can't be objective.
What to do and see:
Go spelunking through a cave and underground river in Gua Tempurung. There are four different tours, but only two go through the river, which was my favorite part. We took the Grand Tour, which was supposed to be 3.5-4 hours but ended up being 5. There are massive caverns with stalactites and stalagmites as well as tiny tunnels you have to shimmy through. If you are claustrophobic, this isn't for you.
Go to the Lost World of Tambun water park
Trek the Ulu Geroh Rafflesia Trail. The rafflesia is one of the largest flowers in the world. It can grow up to 1 meter (3 feet across). It also happens to smell like rotting dead bodies, so that's fun.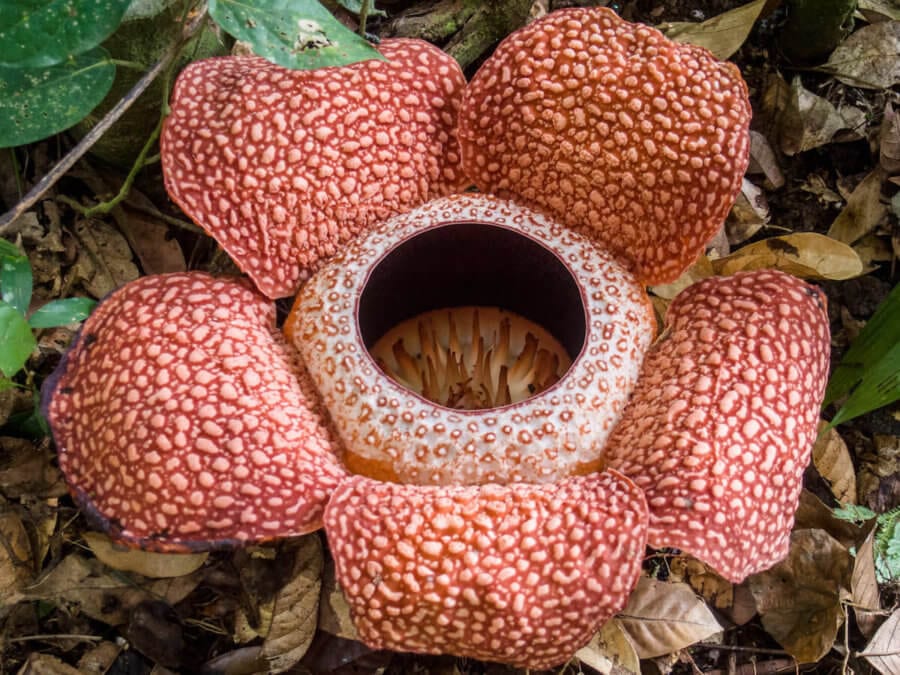 Mike Prince 
Walk the Ipoh Heritage trail which takes you passed all the famous colonial buildings and shophouses.
Visit ancient cave temples (Kok Lok Tong Cave Temple, Ling Sen Tong Temple, Sam Poh Tong Cave Temple, Perak Tong Cave, Kwan Yin Tong Temple)
Check out the 3000-year-old cave paintings in the Gua Tambun Cave
When to go:
Any time of year.
Where to stay:
Banjaran Hot Springs and M Boutique Hotel Station 18
Cameron Highlands, Pahang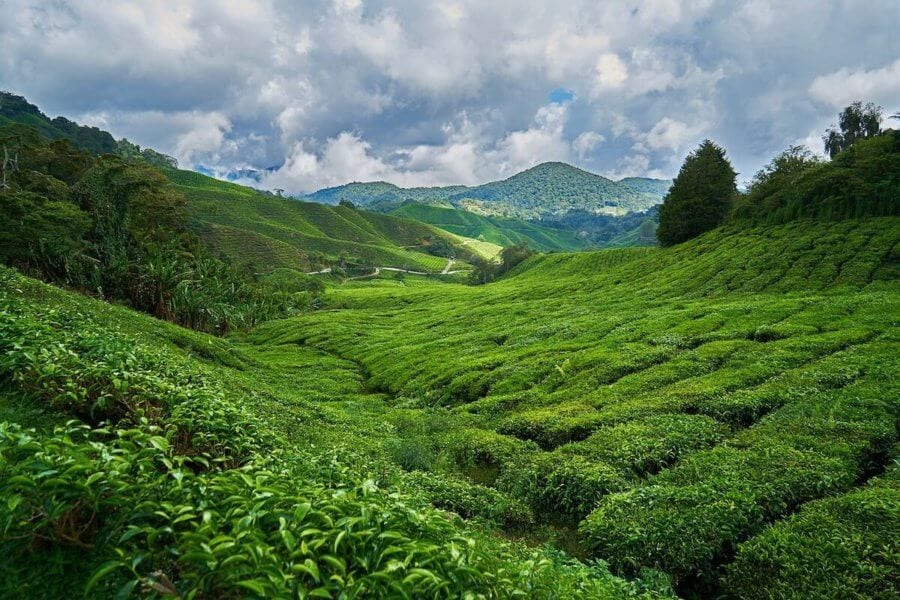 This is where you go when you want to cool off. Or if you love tea. The highlands range in altitude from 1100 meters (3609 feet) to 1800 meters (5906 feet); it's one of the only places in the country where you'll want a light sweater.
Back during the British rule, they planted tea as far as the eye can see. Now it's the largest exporter of tea in Malaysia. The fertile soil makes it perfect for all things fruit and vegetable as well.
What to see and do:
Visit the tea plantations for tastings
Find a strawberry farm to pick and eat your own berries
Go hiking
When to go:
Any time of year
Where to stay:
Cameron Highlands Resort and Wan Alyasa Hotel
Kuala Lumpur, Selangor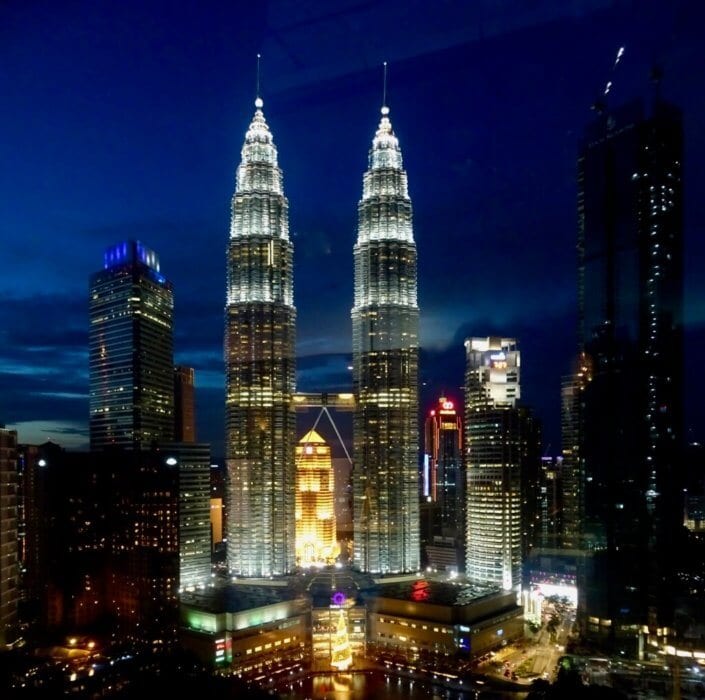 The capital of Malaysia is a huge bustling city with all the modernity of any American city. It's cosmopolitan, multi-cultural, modern, and historical.
You can eat street food for a couple of bucks and then head to a trendy rooftop bar for fancy cocktails.
You can stay in a hostel for cheap money or at a 5-star hotel with a rooftop pool and a view of the iconic Petronas Towers.
Like any big city, there is a lot to do. It all depends on what you are looking for. You'll likely experience sensory overload just wandering the streets, so be prepared.
What to see and do:
Eat… a lot. Jalon Alor and Petaling street are touristy, but they are well known and have some great food.
Visit the Islamic Arts Museum, National Visual Arts Museum, National Museum of Malaysia
Wander Little India and China Town
Visit the holy sites
Get a pic of the Petronas Towers
Visit the Batu Caves, a Hindu temple
Visit some of the prettiest mosques in Malaysia–Masjid Jamek and Federal Territory Mosque. You can visit any mosque in the country. They will give you proper clothing so that you can enter, most likely with a guide. Friday is the busiest day with more extended prayer services, so check your timing before you go. In fact, an excellent general rule is to call the mosque first to make sure you can visit.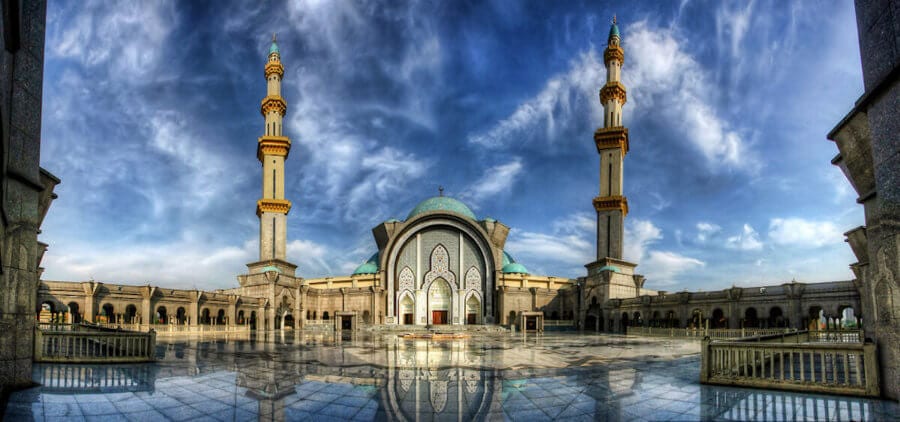 Ahmad Rithauddin
When to go:
Any time of year
Where to stay:
The Journal Hotel and Mandarin Oriental
---
I know you are dying for more so read 12+1 Reasons to Vist Malaysia, Pros (and Cons) of Being an Expatriate in Malaysia, 9 Things to Think About Before Moving to a Foreign Country, and How to Spend 6 Days in Sri Lanka,
---
Rawa Island, Johor or Tioman Island, Pahang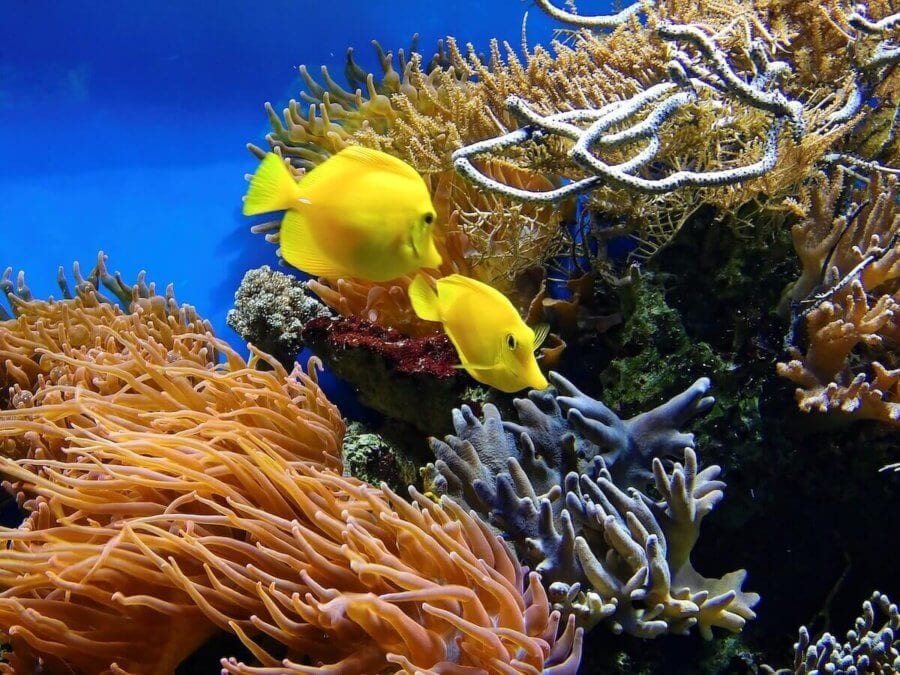 These islands are what dreams are made of. Both have white sand, crystal clear azure water, and palm trees fringing the beaches. They have been compared to the Maldives but at a fraction of the cost.
They are part of the Sultan Iskandar Marine Park, which means they are protected. No fishing or motorized sports are allowed, so the coral and marine life are outstanding.
Rawa is your secluded Robinson Crusoe getaway. There are only a couple of resorts on the island. It is tiny, and there isn't much to do other than watch the colorful fish dart around your legs.
If you don't want to be THAT secluded, go to the big sister island, Tioman. They are only a ferry ride away from each other, but there is a lot more to do in Tioman.
What to see and do:
Snorkel
Scuba
Surf (Tioman only and during the monsoon season)
Hiking
Water slides into the sea (Rawa)
Turtle sanctuary (Tioman)
When to go:
March to September
Where to stay:
Tioman–Japamala and Sri Sentosa Chalet
Rawa–Alangs and Rawa Island Resort
Malacca City (Melaka), Malacca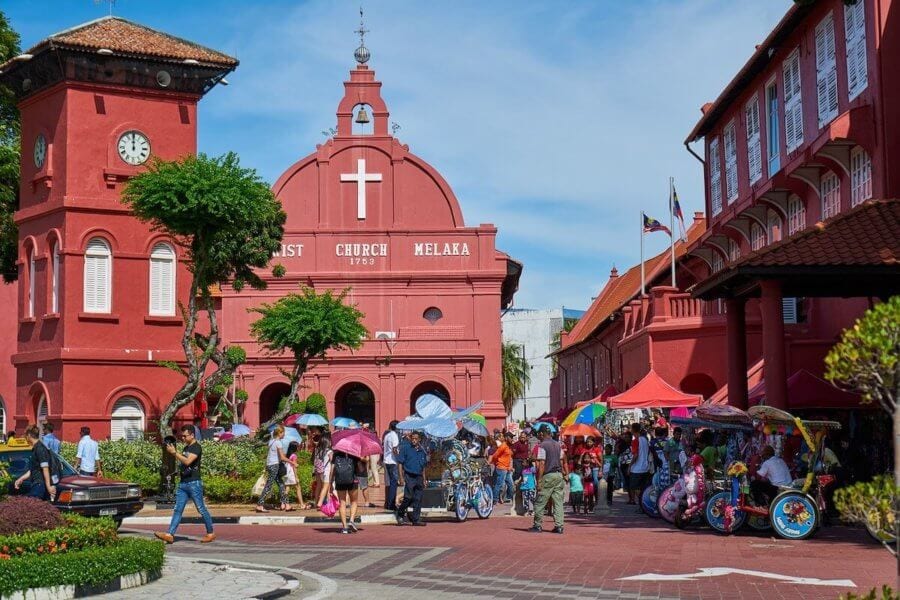 Malacca is a cute little town that is also a UNESCO heritage site. It's a colonial city with a river running through it that has Portuguese and Dutch influences. It has a small-town vibe and less going on than George Town. Go during the weekend when it gets a little livelier.
Try the Portuguese egg tarts.
What to see and do:
Go on a boat tour up the river to see all the cool street art and architecture
Check out the A Famosa Fort, Stadthuys, St. Paul's Church, and Christ Church,
Jonker Street Night Market
When to go:
Any time of year
Where to stay:
Rosa Malacca and Modern Cave Boutique Stay
Kota Kinabalu, Sabah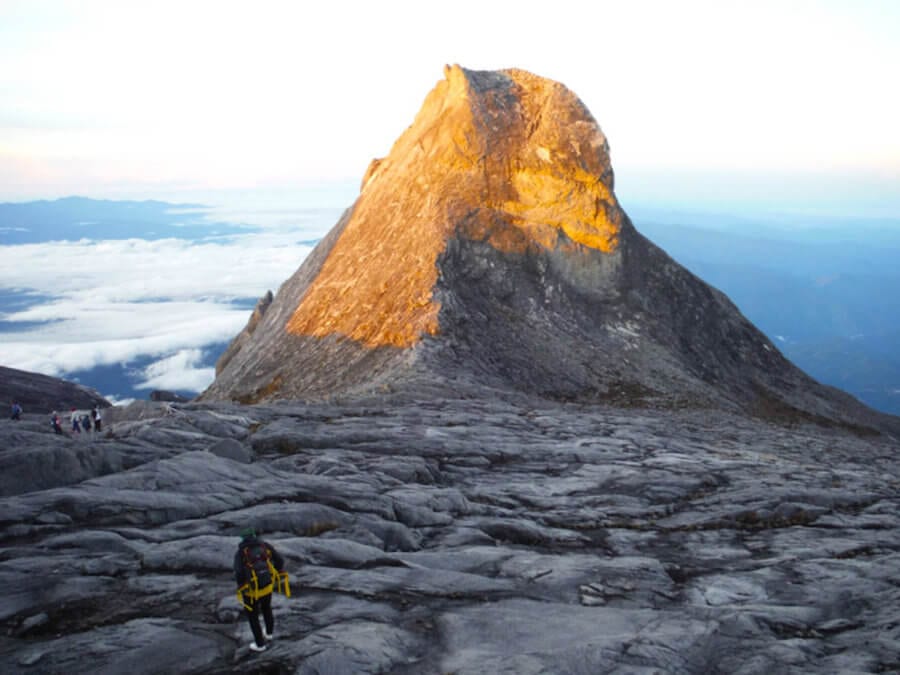 KK, as the locals call it, is the capital of the state of Sabah, in the Malaysian portion of Borneo. It's not the prettiest city, but it's the gateway to some of the most outstanding adventures in the country. It's is def a must-see place to go in Malaysia.
KK is the jumping-off point if you want to climb Mount Kinabalu. It is a protected UNESCO heritage site and Malaysia's highest peak at 4095 meters (13,435 feet). It is a 2-day climb as it takes some time to get acclimated to the elevation.
The mountain is considered sacred and has a spiritual bond with the locals.
After you trek to the highest peak, get submerged in the magical waters of the Tunku Abdul Rahman Marine Park. There are five islands within the park to choose from. It is a perfect way to spend a few days island hopping and snorkeling.
What to see and do:
Take a wildlife river tour. You'll see thousands of fireflies light up the sky as well as Proboscis monkeys which are endemic the area. Plus, they are the funniest monkeys on the planet with their long hanging noses and big pot bellies. I am pretty sure one of my uncles had a very similar look (not you, Uncle Jeff)!
Have a cocktail and watch the sunset from the Waterfront.
Island hop to all 5 islands
Snorkel
Hike–If you're not up to trekking for two days, there are short hikes around the base of Mount Kinabalu.
When to go:
March through September are the driest months and the best time to climb the mountain.
Where to stay:
Kuching, Sarawak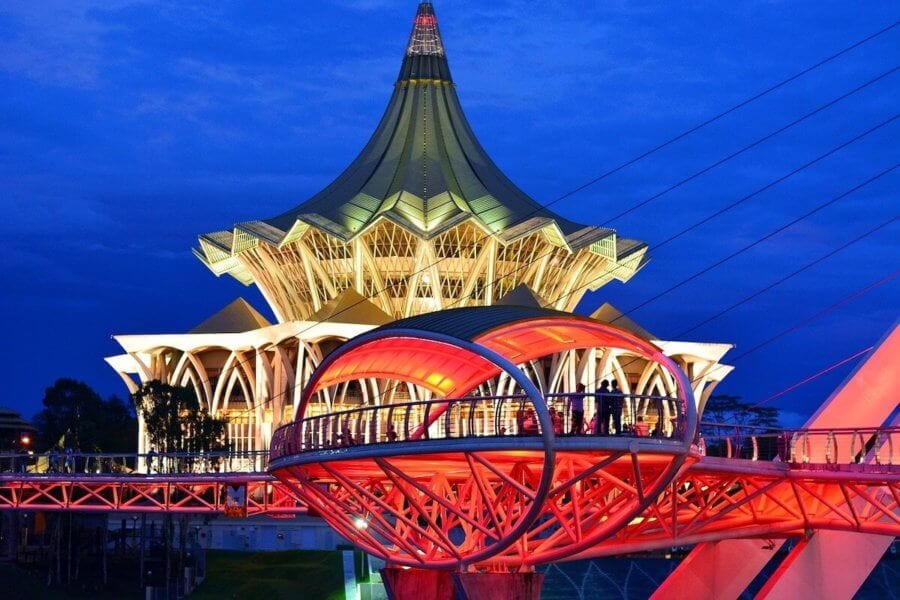 This 200-year-old city in Malaysian Borneo is the capital of Sarawak. There is a lovely river running through the town, perfect for a leisurely stroll.
Kuching is one of the most diverse towns in Malaysia. There are more than seven indigenous tribes that still make the area home. Walk down the street, and you'll hear a bunch of different languages, it's pretty fascinating.
The Rainforest World Music Festival occurs here every July. It happens over three days and brings performers from as far as Jamaica, Ireland, and Bhutan.
What to see and do:
Visit the Semenggoh Nature Reserve to see orangutans. Many have been rehabilitated and released back into the wild but still come back for a free lunch. Best to go during feeding times from 9-10 and 3-4pm. It's about an hour drive outside of Kuching.
Visit the beautiful Kuching City Mosque
Go to the cat museum, yep you read that right. Kuching means cat in Malay, and there are statues of cats all around town just to prove it.
When to go:
The driest months are from April to October.
Where to stay:
The Waterfront Hotel and Meritin Hotel
The wrap-up
Well, there you have it. I wasn't kidding when I said wrote that there are a lot of places to go in Malaysia.
I hope I'm enticing you to come to visit this unexpected sleeper of a country. Not just because I live here, but because I want to share its beauty.
The real question is, how long can you stay?
*No red-headed stepchildren were offended in this post (writes the red-headed stepchild).
Now it's your turn…tell me in the comments below which places are the most intriguing to you!
Disclaimer: Some of the links in this post are affiliate links. This means that if you book your accommodation through this site, Sand In My Curls will earn a small commission at no extra cost to you. Your support helps keep the site going and gives me a little extra vodka money–thank you!