There are a million places to go in Malaysia, so how do you narrow it all down? Well, if you are a culture and history buff, a good way to plan is by going to all the historical places of Malaysia. Or at least some of them because there are far too many to attempt in a year, let alone a 2-week trip. And because I'm super nice, I wanted to help you narrow it down so you don't get overwhelmed.
So, here is my list of 13 historical places in Malaysia, let's dive in…
Historical Places in Kuala Lumpur, Malaysia
There are a lot of historical places in Kuala Lumpur, far too many for me to list here. But these will get you started.
Sultan Abdul Samad Building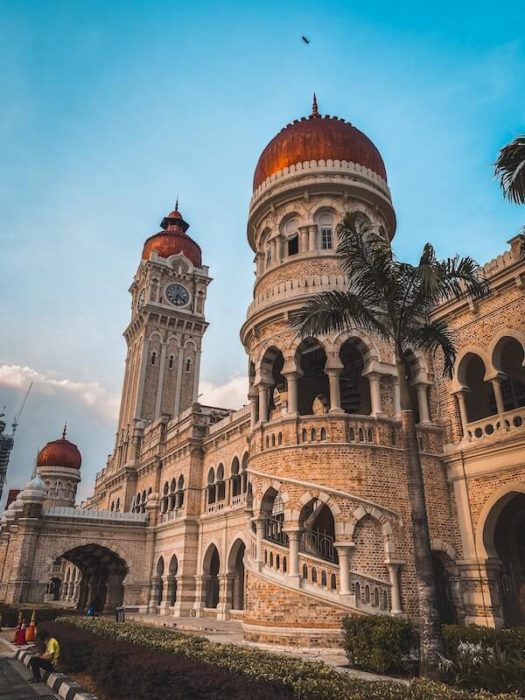 This is one of my fave historical places of Malaysia. It's an absolute stunner of a building and not to be missed.
The building is strongly influenced by Moorish architecture, making it unique when nestled amongst the glitz and glam of Kuala Lumpur's high rises.
Besides its Moorish arches, there are two towers and a clocktower with shiny copper domes. The clocktower has a 1-ton bell that strikes every 30 minutes.
The construction was completed in 1897 and was built to house the British colonial administration. It eventually served as a federal court when Malaysia became independent in 1957. The building is set along a square where the national flag was hoisted for the first time.
The square, now known as Merdeka Square, is where the yearly independence celebrations and parades occur. It's one of the most important places in Malaysia due to its symbolism and how it represents independence.  
Petronas Towers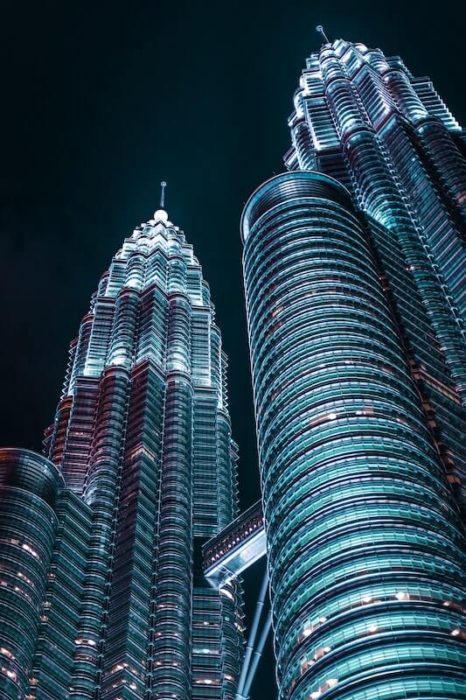 For most people coming here, the Petronas Towers are #1of the top 10 attractions in Malaysia. They are basically the symbol of Malaysia in many people's eyes.  
These iconic buildings are the crown jewel of the country. When they were being built in the 90s, they were the tallest buildings in the world. Period. But many have surpassed them now, and the Burj Khalifa in Dubai is almost twice as tall.
However, the Petronas Towers are still the world's tallest twin towers, standing at a proud 451.8 meters, or 1482 feet. So, Malaysia's still got that title.
They opened to the public in 1999 after 7 years of construction, no doubt with plenty of challenges.
Cesar Pelli designed them with Islamic principles in mind. The identical building's steel and glass facades are shaped like the Islamic symbol – an 8-pointed star.  
On the 41-42 floors, there is a 2-story sky bridge that connects the towers, but that's only halfway to the top. So instead, head to the 86 floor for the real observation deck and soaring views of the entire city and beyond.
Without a doubt, these towers are the most famous landmarks in Malaysia.
Fun fact: Each building weighs 300,000 tons or about as much as 42,857 adult elephants.
Batu Caves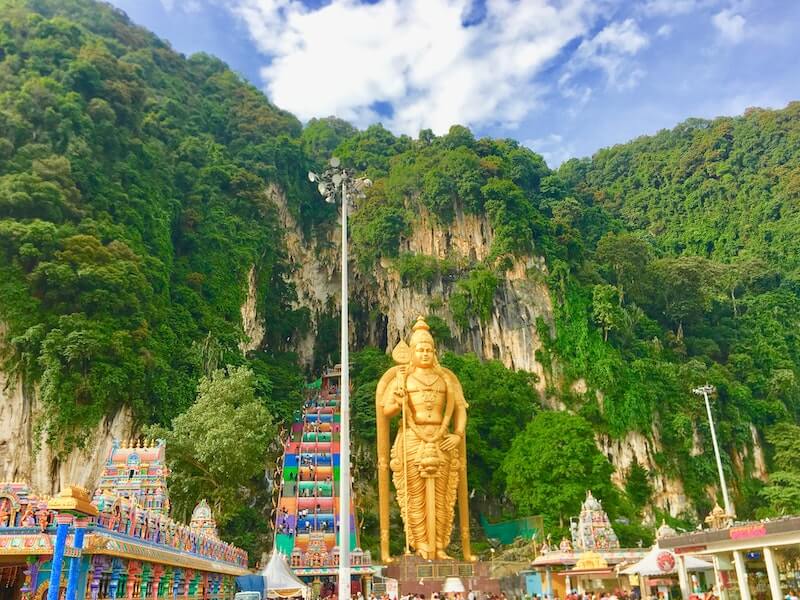 You wouldn't expect such a bustling modern city to have such incredible nature, wouldya?
KL isn't all high rises and city sprawl; it has some incredible geological elements as well. And the Batu Caves are one of them.
These 400-million-year-old limestone caves are home to one of the most important Hindu Temples in the country. It's a massive pilgrimage site during Thaipusam and one of Malaysia's top attractions.
At the base of the cave stands the golden Lord Murugan statue. It's the largest in the world and keeps a watchful eye over the temple and caves. Climb the rainbow staircase leading into the temple, and you'll find a brightly decorated and ornately carved Hindu temple.   
Once inside, you can explore the labyrinth of the caves as well.
Beware of the resident monkeys who assume they own the joint. They are naughty little mf'ers and have no problem stealing your things.
If you want to take a full day tour of the Petronas Towers combined with the Batu Caves, and a bunch more sightseeing places, this one is perfect.
Sri Maha Mariamman Temple
The Sri Maha Mariamman Hindu temple is one of the historical places in Malaysia you should def check out on your next visit.
This Hindu temple is in the middle of Kuala Lumpur's Chinatown.
It's the oldest temple Hindu temple in KL and is dedicated to the Goddess Mariamman. It was founded in 1873 and designed as a private shrine for the Pillai family who built it. It only opened to the public in the 1920s.
The whole structure was built to look like the body of a person lying down. Head pointing west, feet towards the east. The feet which make up the massive entrance, or gopuram, are 75 feet high and have 5 tiers. Each tier has 228 Hindu deities sculpted in the southern Indian style.
The temple is def a landmark of Malaysia. It is especially packed during the Festivals of Deepavali and Thaipusam.
There are loads of tours you can take, but if you want to kinda do your own thing, take a hop-on hop-off bus ride. It'll get you to all the highlights without paying for Grabs everywhere. I love this ride because it's a night tour so you'll see all the cool buildings lit up.
Best Historical Places in Penang
Obviously, there are a lot of Penang historical places, especially because it's a UNESCO world heritage site. There are loads of tour options in Penang to check out here.
These three places are vastly different and tell a different kind of story for the island. It starts with a Brit, a wealthy Chinese and Buddhist healer (sounds like it could make a good joke)…
Fort Cornwallis
Fort Cornwallis is a must on any list of historical places of Malaysia.
It's the largest intact fort in the country, which doesn't say much because there isn't much left. That being said, it's well worth the hour spent to learn about the history of Penang and see one of Malaysia's famous landmarks.
It's in the heart of George Town, Penang and was built by the British East India Company in the late 18th century. The fort is where Captain Francis Light first landed in 1786 with the plan to take over the island. He cleared the land and built a star-shaped stockade using local nibong palms. But in 1793, it was rebuilt using bricks which cost 67,000 Spanish Dollars.
It was built to defend Penang from foreign powers, pirate attacks, and the Sultan of Kedah, who relinquished the land to Light in the first place.
Light names it after in honor of Charles Marquis Cornwallis, the Governor-General of Bengal, and built it in the style of other British forts throughout India.
There are a couple of statues, canons, a prison, a gunpowder magazine, and a chapel on the grounds.
Cheong Fatt Tze Mansion
Cheong Fatt Tze Mansion also knowns as the blue mansion for the indigo color it was painted, is one of my fave historical buildings in Malaysia.
Cheong Fatt Tze was a Chinese merchant who built this home for himself, his family, and even a few of his concubines. The ones who couldn't fit in the mansion had homes across the street. And when I say family, I mean all 8 of his wives and their children.
He was clearly a very busy man. And did I mention that he also had a wife in China? So, like I said, very busy.
Anyway, he was a very successful politician and businessman who helped put Penang on the map. He was dubbed the "Rockefeller of the East" and built his mansion keeping his heritage and culture in mind. He hired a Feng Shui master to help design a sophisticated home with traditional concepts.
His home is now a museum that houses a lovely boutique hotel and drool-worthy restaurant. We stayed there for our 17th anniversary, and it was glorious. It paints an incredible picture of the lavish life of the wealthy in Penang, and staying there overnight made me feel like I was living a very opulent lifestyle.
Even if you don't stay overnight, it's easy to see why this is one of the most famous places of Malaysia. Take a tour of the mansion. It's fascinating.
If you decide you want to stay here, (and you should), this package is a great option. It's for 2 days and 1 night, including a guided tour, breakfast, and dinner at Indigo, one of the best fine dining restaurants on the island.
Snake Temple
The Snake temple of Penang was constructed in 1805. It's prob the only temple in the world where you can get up close and personal with the resident Wrangler Pit Vipers. Supposedly, they've been de-venomed and defanged, which, for the record, I don't agree with. But still, this is a historical temple. No matter how hard some people try, we can't change history, even if you disagree with it.
Anyway, back to the temple. It was originally known as the Temple of the Azure Cloud and built in remembrance of Chor Soo King. He was a Buddhist healer and priest who was able to heal the wounded and sick. He was a snake lover and created a refuge for them and all sorts of scaly creatures in his home.
After the temple was completed and consecrated, dozens of Wrangler's Pit Vipers mysteriously moved in. They are believed to be the priest's disciples.
Hence the renaming of the temple.
Supposedly, the giant incense that burns renders the snakes stoned. Who knew that smelling incense is like smoking pot for snakes? #alwayslearning
Historical Places in Malacca
Malacca, another one of Malaysia's world heritage cities, is fascinating.
It has layers upon layers of conquerors and colonizers, making it seem a little like an onion. Every time you peel back a layer, boom, there is another country that conquered it.
Of the historical places of Malaysia below, we start with the Sultanate Palace of the 15th century and go through Chinese, Indian, and Dutch cultures (often building upon what was once Portuguese land.)
See what I mean? Layers of cultures and religions all wrapped up in one adorable little town with loads of things to do. You'll prob need a few days, at least there and Rosa is one of my fave hotels. It's super cute and unlike anything else in Malacca.
Melaka Sultanate Palace
The replica of the Sultanate Palace is actually a museum built in 1985 and one of Malaysia's sights to see.
The original palace was destroyed by lightning shortly after Sultan Mansur Shar took the throne. So, when they wanted to create this historical palace from the 15th century, they used traditional techniques and building materials with the help of a text from the 16th century.
The wooden replica is built without any nails but has interlocking beams and a copper and zinc roof.
Inside the museum are cool period artifacts like antique weapons and jewelry and dioramas depicting the history and culture of the region.
Don't miss the royal gardens. They are almost as spectacular as the inside of the palace.
Bukit Cina
Bukit Cina (China Hill) is the oldest and largest cemetery in Malaysia. It's one of Malacca's UNESCO sites.
It has over 12,500 Chinese graves, some dating back to the Ming dynasty. Supposedly it's the largest Chinese cemetery outside of China. There are also 20 Muslim tombs there.
In the mid 15th century, a Chinese Princess, Hang Li Po, was sent to Malacca by the Ming dynasty. She was there to marry Sultan Mansor Shah and keep the peace between China and Malaya. Apparently, that's how you kept the peace back in the day – send your women as peace offerings.
So, she was sent to keep the peace and was given this land as a gift from the Sultan. Thus, the hill became their residence and eventually the cemetery that it is today.
Cheng Hoon Teng Temple
The Cheng Hoon temple is the oldest Buddhist temple in Malaysia and is still a functioning place of worship today. It was built in 1646 and dedicated to Kuan Yin, the Goddess of Mercy, a traditional Buddhist deity. However, Confucianism and Taoism are also practiced there daily.
The temple is decorated with ornate carvings and sculptures and built to the highest feng shui standards. It has withstood the ravages of time and was honored by UNESCO for outstanding architectural restoration.
There is a 7-meter faded red flagpole that houses the remains of two of the Capitans, or chiefs of the community, who contributed to the temple's construction.
If you want to take a guided tour of this temple and a bunch of other historical sites in Malacca, this tour's the way to go.
Kampung Kling Mosque
The Kampung Kling Mosque is one of the oldest in the country, dating back to 1748. It is a good example of an Islamic place of interest in Malaysia.
It's an Indian Muslim Mosque that has a jumble of architectural influences. It's a blend of Sumatran, Chinese, Hindu, Malay, and European designs.
It has a three-tiered roof and a pagoda-shaped minaret. There are English and Portuguese glazed tiles, Corinthian columns, Chinese carvings, Moorish cast-iron lampposts and a Victorian chandelier.
It's called Kampung Kling because the mosque's neighborhood (or kampung) was populated by Southern Indians known as Kling in Malay.  
Christ Church
This historical church is the oldest functioning Protestant Church in the country. It also happens to be one of the best-preserved examples of Dutch colonial architecture. Apparently, the Dutch were very loud and proud of their church. The bright red façade has a massive white cross and reads, "Christ Church Melaka" in case anyone wasn't sure what the building was – they cleared that right up.
It's an 18th-century building with a simple interior and 200-year-old pews. The Dutch church was built on the remains of a Portuguese church after they came, saw, and conquered Malacca. As a result, it's def one of the most recognized landmarks in Malaysia.
Historical Place in Sabah
Sabah is a region of Malaysia but on the island of Borneo. It's a nature, wildlife, and adventure junkie haven and one of my fave areas in Malaysia. I wrote a blog allll about what to see and to there in my Kota Kinalabul Adventure Guide.
There is a lot to do in the area, from hanging out with orangutans, proboscis and sun bears, to taking a heritage walking tour, check out some options here.
Sandakan Memorial Park
Sandakan Memorial Park is one of the most heartbreaking and historical places in Sabah.
This powerful memorial site is dedicated to the 2500 Australian and British prisoners of war who died there during the Ranau and Sandakan Death Marches in 1945. During WWII, the Japanese marched POWs from Sandakan to Ranau through thick marshland, dense jungle, and a slope of Mount Kinabalu.
The route took nine days, but they were only given rations for four. Not to mention they were already starving and sick when they started. Those that made it were shot, starved or died of dysentery. Only 6 Australians managed to escape.
Apparently, the Japanese were also starving during this time and supposedly turned to cannibalism to survive.
In 1946, the camp commandant, Captain Hoshijima, was found guilty of war crimes and hanged.
The memorial site is divided into six sections connected by a circular route. The park is the first stop of the POW Route that was taken during the marches. It begins in Sandakan and ends at the Last POW Camp in Ranau.
When it comes to sights to see in Malaysia, this one is def the hardest to stomach. But it's an integral part of the history of this country, and lest we forget.
Wrap up of my fave historical places of Malaysia
So, whatcha think of my list of the top historical sites in Malaysia? I know there are so many more, but I just didn't have time to write about them all because that'd be a book.
Have you been to any of these? Tell me in the comments below.
---
Save this for later on Pinterest