Dear Malaysia,
You've been so good to me. You've taught me about the world. You've taught me about patience. About kindness. About privilege. About friendship. About sadness, loss, and love.
But you've also taught me about frustration. Anger. Racism. Inequality. Persistence.
You've taught me a lot. And I've loved being your champion for all these years.
But I'm breaking up with you.
This is where I'm supposed to say. "It's not you. It's me." But I can't say that.
Because honestly, it's totally you. It's not me.
And it's time to leave.
This week's blog is one that I never thought I'd write.  And I'm not even sure how to write it. So, excuse my madness. This is as much for you as it is for me. 
Let me explain…
Our love story
You know how much we love Penang and why we love Malaysia..
But what you might not know is when we came for our 2012 exploratory tour, my plan was to hate it. I didn't want to like it. I tried to hate it. It was so far away. There was no way we could move here. Costa Rica was wayyyyy easier.
And then we got here. It was love at first sight.
I loved how exotic it was. How the crumbling walls of history give way to the repurposed colonial mansions. How the old and new hold hands and forged ahead into the future. How tri-shaws pedaled by weaving between Mercedes and pickup trucks.
How the roti-man rides his bike-cart into place, rings his bell and the neighborhood comes out for sandwiches.
We fell so head over heels that we threw all our plans to move to Costa Rica out the window. Instead, we incinerated a decade's worth of research and exploration in Costa Rica for Penang.
There are a lot of reasons to love Malaysia and Penang. I mean, obviously, I tout it, ad nauseam, in this blog.
And for the last 8 years, it's been where we've made some of our best friends, where we've created a chosen family, put down roots, and created a life for ourselves.
So, it pains me that Mark and I have decided to take a HUGE step and do what we think is best for us – to leave Malaysia.
It is not a permanent move by any means. We're not giving up on Malaysia, and we have lots of hope that this country will recover from this nightmare.
However, we do not believe now is the time for us to stay.
Our why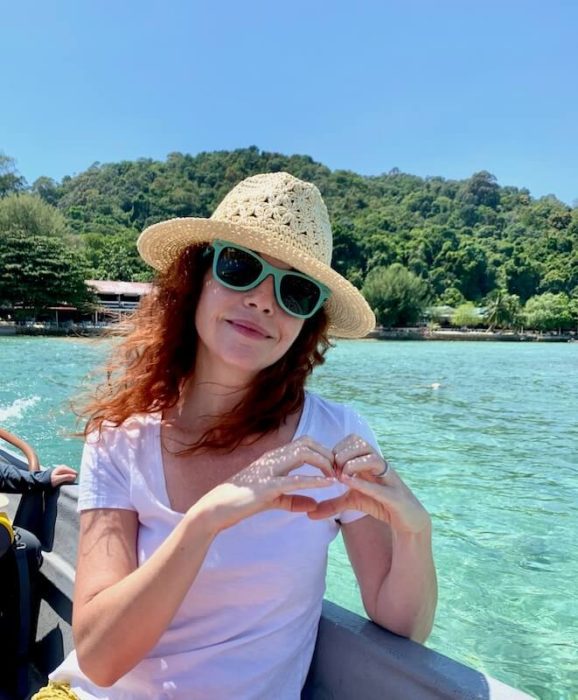 We want, no, need, to see our families. We feel like now is the time to get back to our original home and be a little closer to our loved ones. We are very worried about Mark's dad, who is 91, with an unhappy ticker. And weekly phone calls to my mom just aren't cutting it anymore.
We need to reconnect with our families, in person, before God forbid. Because if Covid has taught us anything, it's that there is a God forbid out there, you can't plan for it, and it's closer than you might think.
We don't want to leave Malaysia on these terms, but we are.
I'm really crestfallen. My heart is broken. We aren't leaving Malaysia because we are done with it. We're going because we don't know what the future holds, and we can't wait another 500 days in some sort of lockdown to find out.
No one can see the future. But being locked in our homes indefinitely while watching religious gatherings of 300 people, plus the higher-ups ignoring the rules, is slowly killing the people here. Not just figuratively but literally. And we can't watch it anymore.
My heart breaks for the people who are starving, for the people who are dying. Who's lives will never be the same because politics have gotten in the way of common sense. I'm sure no matter where I live, I won't always agree with the ruling party. That's politics. That's life. And that's ok.
Look, I'm from America, so I'm no stranger to absurd politics and corruption. In fact, I've grown to expect that in today's world. But in the last 7 months, I've had more WTF moments than I've had in all the 8 years prior put together.
So, it's time Mark and I find a new happy place for the next few months. Malaysia, we need a little space, a leave of absence, a sabbatical if you will. Not a divorce, because we will be back.
So, what's next, you ask? What's the plan?
That, my friends, is a great question.
In today's world, planning seems futile. So, we bought a one-way ticket to Chicago, and that's all we know for sure.
We have all sorts of overdue business and paperwork to deal with, like new driver's licenses and passports. And for the first time in 8 years of returning to the US, we aren't on a tight time schedule.
So, we'll probably stay in Chicago until October sometime. Then off to Connecticut to see Mark's family for a month or so. And then to Florida to visit more family – blood and chosen.
Then, we have friends in Mexico, and we'll go and stay with them for a while.
After that, we really don't know. We're not sure when we'll be allowed back into Malaysia. We're not sure how we'll feel about coming back if the borders are still shut and we remain in lockdown. Everything is up in the air, so we're just going to wing it for a while.
It's exciting and horrifying at once.
But since things change daily at the drop of a hat, who really knows. Part of the frustration in today's world is the constant daily changes that no one can keep up with. It's hard to know what's right from wrong anymore.
Because who can keep up with the rules? No masks, two masks, red mask, blue mask. Or is that Dr. Suess? It feels like one and the same. Life's a bit like a Dr. Suess book — one crossed with a Steven King horror story.
Living in the moment
Never have we lived more in the moment than we are right now.
We've got no idea what we are stepping into. Or in.
Am I having another one of my grass is always greener moments? Am I just tired AF of Covid? Of course, who isn't?
I'm confident America will not be how I remember it, thanks to Covid, new PC rules, and political hatred.
I am also certain this temporary repatriation will challenge and push us well beyond our comfort zones.
We'll be couch surfing and house crashing because Penang is our only home, not our second home. And in moving here, we sold everything. So now, our only "roof-over-our-head-home" is in Penang.
I know this is a temporary thing. I fully expect my love affair to be rekindled in the future. And maybe even before we return. Perhaps once we are gone for a few months, we'll be so desperate to get back here we will deal with the heinous quarantine conditions just for a piece of our paradise back. Who knows?
We are totally flying by the seat of our pantalones. And I'm here for it. I feel at ease about not having a plan. Because as Gramma used to say, "Life is what happens when you're busy making other plans," or did she say, "Man plans, God laughs."
I'm pretty sure she said both. So, Gramma, wherever you are, I get you.
What's next for the blog?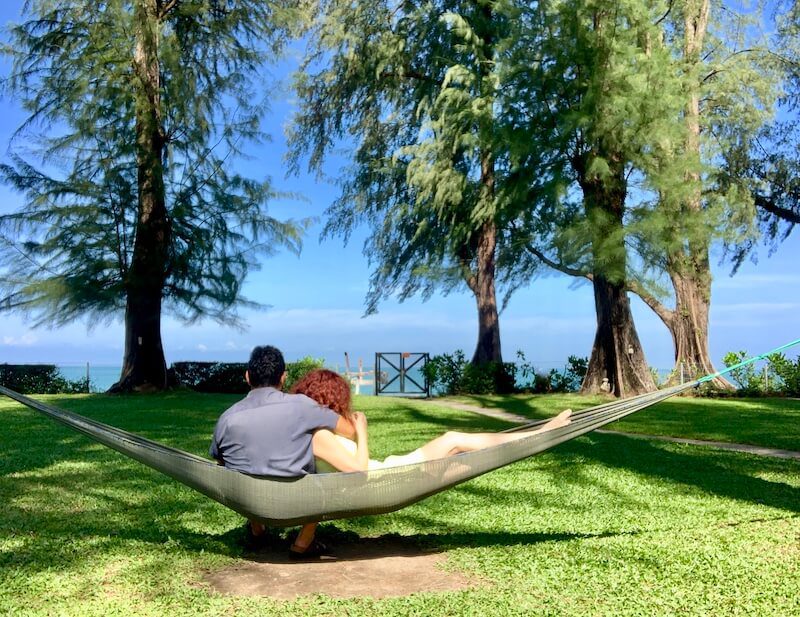 You might have noticed that some of my latest blogs have been about digital nomad things… visas, jobs, and the like. Well, now you know why. Because we've been teetering about leaving for a while now. And finally, just pulled the trigger last week.
It's been hard to be an "ambassador" to Malaysia when I was falling out of love.
So, for the next few months, my blog is going to evolve a bit. I'll be writing more about life in the US because that is where I'll be. And since Mark and I are starting a digital nomad journey, I'll be writing about that as well.
And I'll be writing every other week for a while. But, as always, if there is anything you want me to write about, let me know.
My life is changing, and the blog will reflect that.
What is home?
In my expat interviews, I always ask, what does home mean to you? Because for so many of us, that's a complicated answer.
The US has felt less and less like home every trip we take.
But you know what will feel like home? Hugging our families. See the ones we love the most. That is what home is. And I'm ready for it. I'm ready to go home.