Last Updated on February 21, 2023 by Kirsten Raccuia
Let's face it, saying goodbye really sucks. It doesn't matter if you are the one leaving or staying behind; it's heartbreaking. So, if you are looking for a funny, sentimental, or meaningful going away gift, below are some of my faves. Just because saying goodbye sucks doesn't mean your gifts have to.
I purposely chose some moving away gifts that will make you giggle – cuz you're already crying. And laughter helps keeps the anxiety and stress at bay. Laughter is the best medicine. And I concur.
These are not the most practical moving gifts because those usually suck, and these don't. Remember to buy small gifts that are easy to travel with. Things that are light and not too fragile.
Ready? Let's go shopping!
(a perfect going away gift for your fun friend)
Ok, this might not be for everyone, but if you don't find this funny, we probably can't be friends. I mean, come on!
When you need a going away gift for a girlfriend, what more could she want? I suppose this wine tumbler could be for coffee because it is vacuum insulated and keeps your bev at the right temperature. But this is a perfect gift for a friend who loves a picnic or a roadie on the way to that picnic, plus it never sweats (unlike every glass in Malaysia).
Coffee is far too civilized for this cup.
---
(an ideal last-minute goodbye gift)
This isn't the sexiest of farewell gifts, but I love the sentiment. It will count down the days until you can meet again. And if you get in a fight, you can use it as a kitchen timer. I'm kidding. Mostly.
---
(a loving goodbye gift for mom)
I love this. It's a great moving away gift for family, friends, and lovers. This is totally something I would get my mom, but not with that picture, of course – that'd be weird. Every time we say goodbye, we play who says, "I love you" last before hanging up the phone. The end. I win. And this proves it.
---
(a perfect going away gift for a boyfriend leaving)
What's cool about this moving gift is that when you are thinking of your loved one, you tap the bracelet and he/she feels it. It's like a sweet little I love you tap from afar. Cute, right?
---
(a sweet moving away gift for a friend)
I'm a fan of this message, and if you've been reading my blogs for a while, you're probably no stranger to this phrase. It's a good one for people starting over and learning to thrive wherever they are.
---
(a thoughtful gift for a friend moving away)
You and your loved one each take a lamp. Similar to the bracelet above, when one person taps it, the other one lights up. You can program the colors to mean different things. It's all about letting someone far away know you are thinking of them.
---
(a fantastic moving gift because scents elicit the best memories)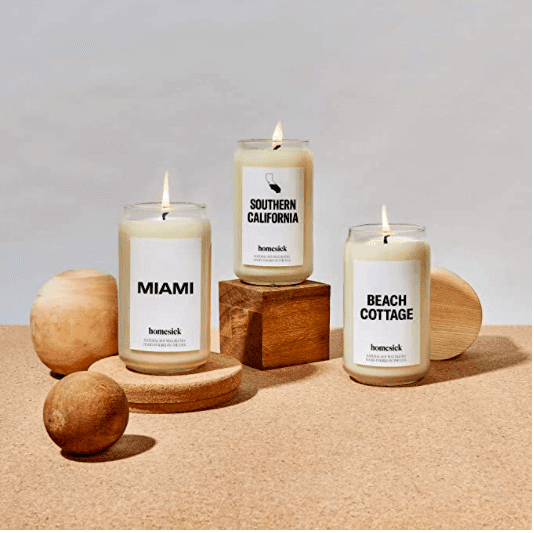 Who doesn't love candles? Even better when they smell like your friend's hometown, or the nearby beach, American summer, or gramma's kitchen (which in my case would smell like take-out).
---
(a very thoughtful goodbye gift)
This takes the stress out of writing. And who wants to write a book, anyway? Not me – and I love to write. But writing a book is hard, especially when it's about someone you love who is moving away or moving overseas. ALL those tears.
So when I saw this book, I fell in love with it. It's smart, quirky, and lighthearted. It makes saying the things you know you want to say (but don't know how) easy. The book has prompts on each page that give you a little nudge. It'll be fun to fill out and shouldn't take more than an hour.
---
(this month long farewell gift keeps on giving)
Years ago, my wonderful friend V made me a little box of daily messages. She told me to read them as I would take medicine, as needed. It's one of the most thoughtful and creative gifts I've ever been given. I still keep them in my desk drawer and read them often. This could be a great goodbye gift for friends moving away – DIY style. Otherwise, buy this Jar of Smiles.
Picture this… you're feeling kinda down, and you wander over to this Jar of Smiles and pick out a message. It reads, Friendship isn't a big thing, it's a million little things," or "I'll always be your friend, you know too much!" These daily reminders of love and friendship mean everything when you're missing your faves. LOVE.
---
(practical going away gift for a friend moving overseas)
Ok, so this is probably one of the only practical moving gifts in this gift guide. Most of the time I find practical gifts kind of lame. But not this one. This is a stellar gift option.
What's cool about this frame is that it's super easy to use. It's plug-and-play. Just put a USB or SD card directly into the back of the frame and it will play up to 10,000 photos. You can adjust the speed, order, and transition and it even plays music. Just be sure to delete all the naughty ones – unless you're a Kardashian.
---
(because who doesn't love a personalized gift?)
The coffee mug is fully customizable. It can be any two countries or cities, anywhere in the world. Plus, the back is a quote of your choice. If it is a going away gift for coworkers, you could write, "Good luck finding better coworkers than us!" If you're looking for going away gifts for guys, it could read, "You're awesome – keep that shit up!" Or whatever you choose.
---
(because what goes better with a personalized coffee mug than a spoon?)
Buy this for your bestie so she'll be thinking about your every time she stirs her cuppa. The words are engraved into a stainless steel spoon, so she'll have it for a lifetime of coffees. Buy it with the coffee cup above for a set full o' love.
Not a fan of this engraving? How about, "Good morning, handsome," or "But first, coffee," or "Wake up, have coffee, be amazing." There are loads to choose from.
---
(adorable farewell gift for your favorite couple)
Yeah, it's classy and cheesy all in one gift. Sweep the sequins in one direction, and it's all sparkle. The other way reveals a customized photo of you, your friend, your lover, a pet. Throw a pic of you with the happy couple on there and surprise!
---
(because pillow cases are super-packable ideas for going away gifts)
You might know by now that I'm a big believer in dreaming big and dreaming out loud. Reality is shit sometimes, and without dreams, what do we have? In my opinion (and in my blog), there can never be too many reminders to follow your dreams.
---
(a goodby gift with a secret empowering message)
"Be fearless in the pursuit of what sets your soul on fire." I love this quote. And I love that it's on the inside of the bracelet – it's like a little secret.
This bracelet is the ideal going away gift for a girlfriend. Moving away is scary, and following your dreams can be even scarier. Combine them, and it could be a concoction for insanity. So wearing this bracelet is a great reminder not to give up when it gets hard.
If you're not in love with the quote, there are like a zillion other options to choose from. These look super cute stacked together if you're like me and want a few. The surgical-grade stainless steel bracelet is lead-free, so you won't have to worry about friends with allergies.
---
(because laughter and good smells = a happy day)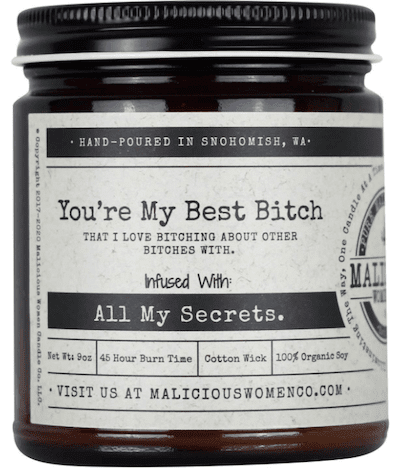 I LOVE THIS COMPANY! I mean, it's called Malicious Women Co. They make soy candles and bath salts, and their packaging is everything. I was seriously laughing out loud at these candles. I want them all. They are smart, snarky, and badass. I feel a little kinship.
Just to give you a sampling of my faves:
Beards, Ink & Muscles – Infused with Spontaneous Panty Dropping
Brains, Beauty, & Booty – Infused with A Motherf'n Trifecta
The Badass in Me Honors The Badass in You – Infused with Mutual Respect
A company made by women for women, so guys, buy these for your ladies and show her some damn respect (please).
---
So there you have it. My fave farewell gift ideas. A lot of these can also be gifts to give when you are leaving. Or birthday gifts, or treat-yo-self gifts, or just because they're fun gifts and you love someone.
Which is your fave? Tell me in the comments below.
Want to remember these to shop for later? Save this pin.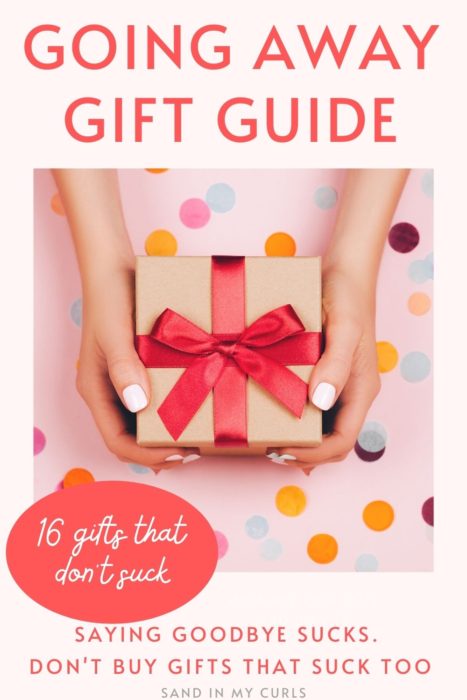 Yay for transparency!  This page contains affiliate links. This means that if you click a link and buy something from this page, I may receive a commission (at no extra cost to you!) This doesn't effect my opinions or my reviews. Everything I do is to benefit you as the reader, so all of my reviews are as honest and unbiased as possible.