Okokokok. I know no one is traveling right now. But I also know we're all chomping at the bit for the moment we are released from house arrest so we can boogie up outta here and see something different. I wanted to be ready and not go back to the same old places. I started doing loads of research, and I thought it would be extremely rude of me not to share all the cool places we can go on a Malaysia short getaway.  
I'm going to be ready and now so are you!
This is by no means an in-depth overview of each place, just a round-up to tantalize your travel-buds (get it – taste buds > travel buds?)
It's a giant rundown of places you've prob never heard of but are worth checking out. I mean, seriously, we need to get creative in our travels these days.
Since many of us haven't taken our big trips home, I threw in a few luxurious short weekend getaways to splurge on.
What this blog is NOT:
This blog is not about the usual places. I've already written about what to do in Kuala Lumpur, Ipoh, and Malacca. I've also written about the best Penang Itinerary and a 5 day Kota Kinabalu adventure guide, so I've got you covered there too, Boo.
This blog is about the other places that so many of us never get to.
Not sure where to go for a short getaway in Malaysia? You will soon.
Buckle up, my friends; this post is a whopper.
Peninsular Malaysia: 11 Options for a Malaysia Short Getaway
Taiping, Perak – Perfect for a Short Getaway in Malaysia for Family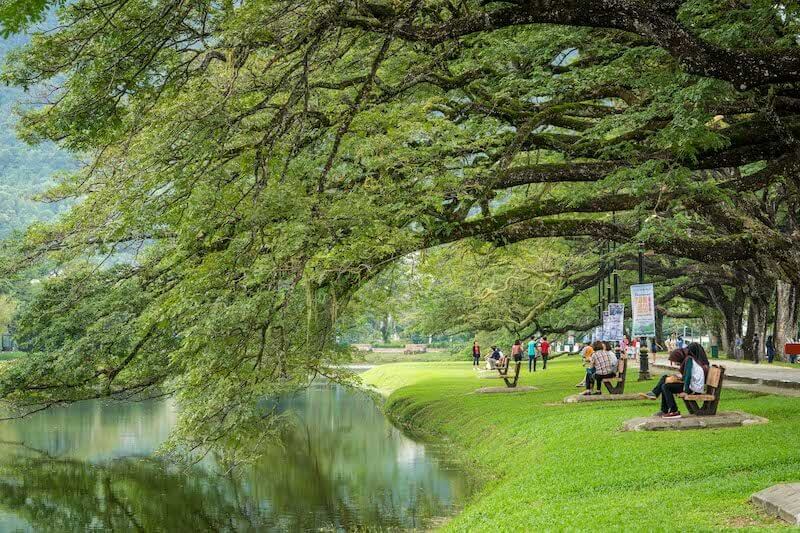 In 2019, Taiping was awarded the world's third most sustainable city at the International Tourismus-Börse (ITB) travel trade show in Berlin, Germany. It ranked just behind Vancouver, Canada, and Ljubljana, Slovenia.
Not gonna lie. I almost spit coffee through my nose when I read that. I mean, Malaysia isn't known for its green initiatives, cleanliness, or environmentally friendly practices. Coffee-to-go comes in a plastic bag, served with a straw, and sealed with a plastic tie. But apparently, it's true.
Anyway, I digress.
Taiping is a lovely little city. But the center of attention is the Taiping Lake Gardens. It was a former mining site that was turned into a public green space by the Brits in 1880. Now it's a gorgeous park and gardens, perfect for a stroll or picnic. It's elegantly manicured with arching Rain Trees that appear to be sipping from the lake. It's easy to laze the day away here.
You can also visit the Taiping War Cemetery dedicated to fallen WWII soldiers. Take a night safari at the zoo. Go on a walking tour of the historical sights.
Take a hard pass on the Perak Museum. When we were there a few years ago, the taxidermy animals were in an unfortunate state – eyeballs popped out, fur missing… you get the idea. There were even a few "original replicas" in the pottery department. It may have been sorted by now, but who knows. (If anyone has been there recently, please tell me it's changed.)
If you feel like hiking and cooling off, check out Maxwell Hill, which is 1250 meters above sea level and great for bird watching.
Kuala Sepetang, Perak – Search for Pink Dolphins
About 40 minutes away from Taiping is the Matang Mangrove Forest Reserve. There are boardwalks to wander the grounds and chalets if you want to stay for longer. But the best thing to do is hop on a boat and go searching for pink freshwater dolphins. There are only two river dolphin species globally, and one of them is here in Malaysia.
Gopeng, Perak – An Adrenaline Filled Weekend in Malaysia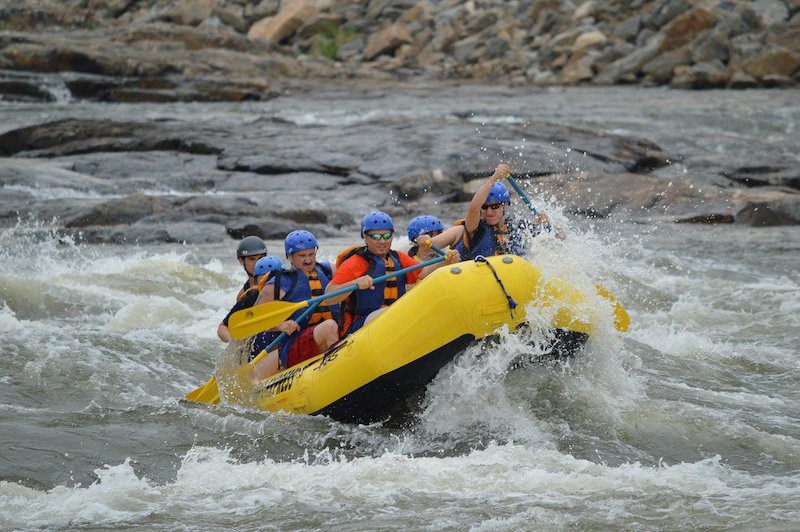 Just outside of Ipoh, Gopeng is an adrenaline junkie's paradise. It's home to rivers full of rapids, miles of caves, and limestone cliffs. We went water rafting here a few years ago and had a fab time.
We've also been spelunking in Gua Tempurung. It's a massive cave system that has an underground river running through it. It's approximately 400 million years old and was used by the communists during the Malayan Emergency – you can still see their etchings on the cave walls.
Take the river tour, and you'll have to shimmy through the narrow little tunnels which open to caverns full of spiky stalactites and stalagmites. If you are claustrophobic, don't take the more extended river tour, it's not for you.
This may not be the best weekend trip in Malaysia to take the kiddos. Depending on their age, the rapids may be too intense. And the river tours through the cave are 4-5 hours, which might be too much for your little ones.
One thing we haven't done yet is abseiling at Geruntum Falls, but I'm ready. Who's with me?  
Another cool thing to do in Gopeng is to go trekking in Ulu Geroh, searching for the stinky but impressive Rafflesia flower.
Banjaran Hot Springs Retreat, Perak – A Romantic Weekend Getaway in Malaysia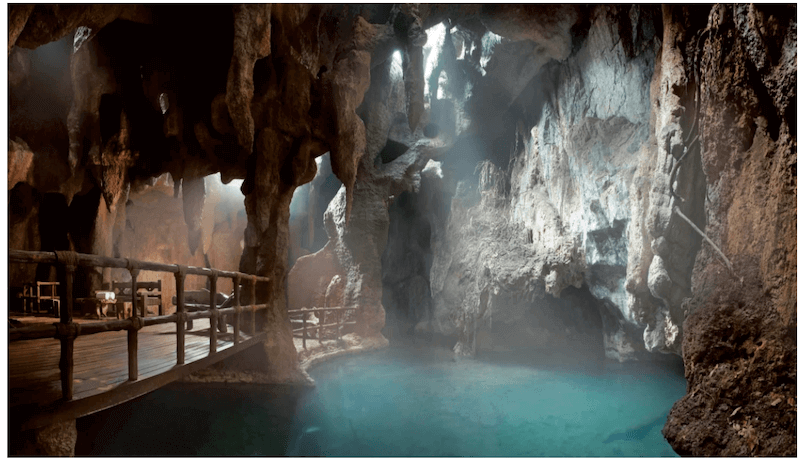 This is not one of those budget weekend getaways for couples. But it's a perfect place to treat-yo-self and indulge.
Not far from Gopeng is the Banjaran Hot Springs Retreat, a luxury property sitting in a 23-acre valley. The views are to die for – ancient limestone hills, lush rainforest, thermal caves, crystal caverns, waterfalls, and mediation caves. Oh, and this place is adults only.
Each villa has a private pool and geothermal hot spring whirlpool, so there's that.
Head to Jeff's Cellar, the restaurant inside a 260 million-year-old limestone cave. It looks right out of a TV set. Like the Bachelor could hand out his final rose there. Couldn't get a more picturesque place for a date night.
Fraser's Hill, Pahang  – A Quick Trip to Keep Your Cool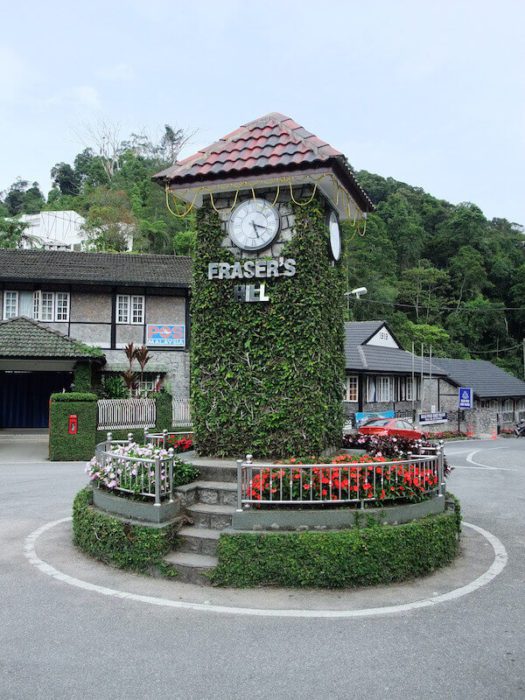 Just like Cameron Highlands, Fraser's Hill is fab when you're looking to cool down.
Named after a Scottish guy who opened up a tin mine in 1890 but then mysteriously vanished in 1915. Not surprising, though, since supposedly he also ran an opium and gambling den, as you did back then.
When the Bishop of Singapore came searching for Fraser, he decided to make the area a hill station retreat to escape the valley's heat. He created a "little England" in the middle of Malaysia with pubs and places for afternoon tea. The town has a vintage English charm.
Now it's an excellent place for birders and golfers who need a respite from the heat.
Kuala Selangor, Selangor – A Short Getaway in Selangor with Plenty to See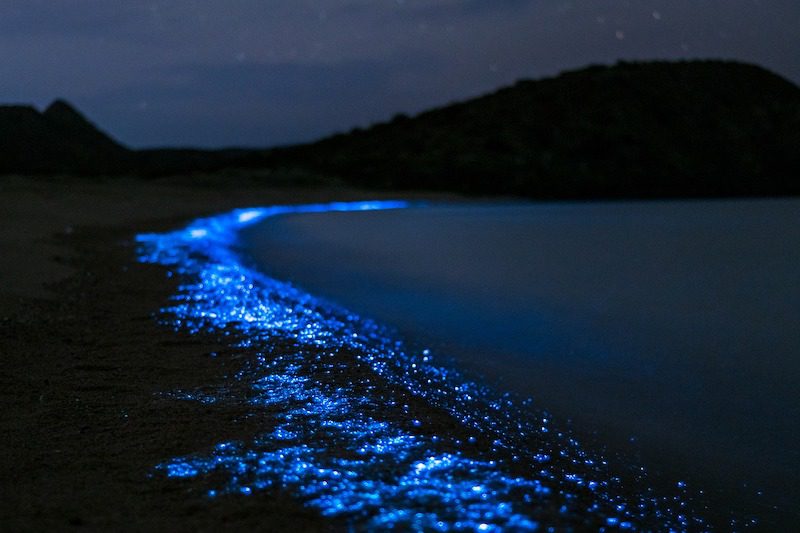 There are a few cool attractions in the area:
Forts and Fireflies:
Start your Selangor weekend getaway at the Estuary of Selangor. It's lined with mangrove swamps. But these particular mangroves are home to thousands and thousands of fireflies.  Take a trip down the river at moonrise, and you'll see all their twinkling lights in what feels like a fairy tale world.
I did this in Kota Kinabalu, and it was one of the most magical moments of that holiday, and I couldn't recommend it more.
Before you hop on a boat, check out the historical Bukit Malawati, which dates back to the 18th century. It was built by the Sultan of Selangor in the late 1700s for protection against the Dutch. But that didn't work. The Dutch invaded, renamed it Fort Altingburg, and built a lighthouse.
However, not to be outdone, in 1785, the Sultan recaptured it > Bukit Malawati. Sadly, after all that tumult, it was eventually destroyed in the Selangor Civil War. There are still things to check out for an hour or two before your light show.
And there are rare silver leaf monkeys in the area, so there's another reason to go.
Go on this Fireflies Night Cruise Tour or this one, and you'll see all the cool stuff above, and it ends with a seafood feast. Not a terrible way to escape the hustle and bustle of life.
Bioluminescence for the win

:
Or what I would do is skip the seafood dinner and add on the Blue Tears natural phenomenon instead. You can eat later.
Blue tears, also known as bioluminescence, occur when plankton glows blue when the water around them is disturbed. It's such a cool thing to witness. I def would make sure it's part of the night. Check out this tour – Bukit Melawati with Fireflies and Blue Tears Tour at Kuala Selangor to make it an easy day out.
Sky Mirror: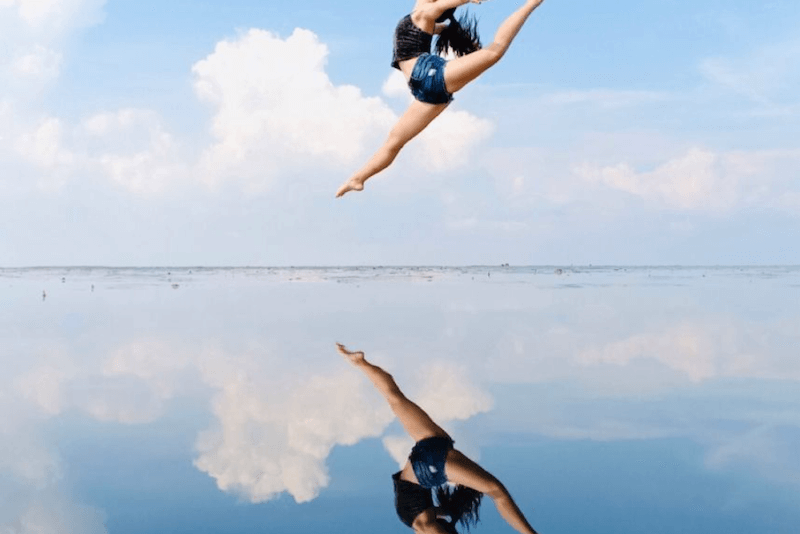 While you're in the area, don't miss Sky Mirror. It's a unique natural wonder you can only see at low tide. When the tide is ideal, a sand bar emerges, and the water reflects a mirror image. It's similar to Bolivian Salt Flats, Salar de Uyuni.
If you don't want to bother trying to get there when the tide is just right, the Sky Mirror and Bukit Melawati Monkey Hill Tour will handle the headaches for you.
Sekinchan, Selangor – A Cheap Malaysia Getaway for a Day or Two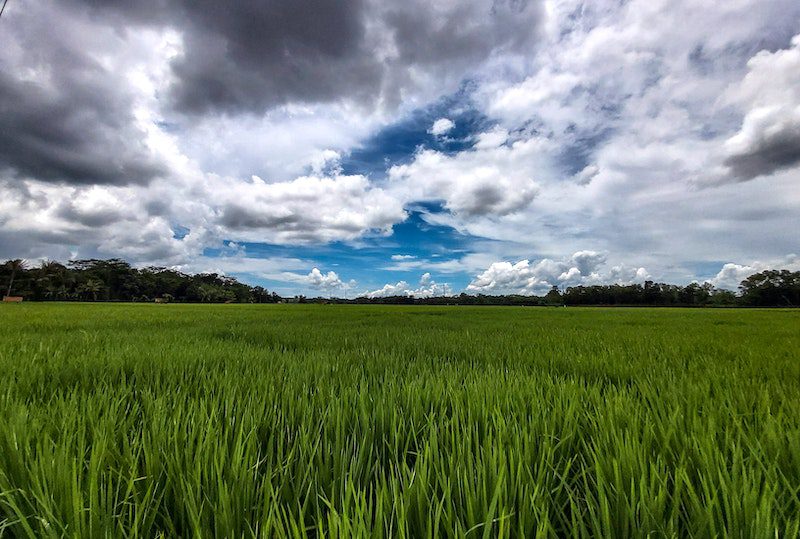 I bet you didn't know that just two hours out of Kuala Lumpur is one of the country's largest rice-producing areas. The lush fields are endless. But be sure to go during March-May or September-November when the paddies are in full bloom and as tall you. Otherwise, you'll see a lot of nothing.
If you are interested in the progression from seed to plate, check out the Paddy Processing Factory and take a tour.
Once you are over the fields of green, head to Pantai Redang for sunset. Then grab a fresh seafood dinner from the Bagan fishing village.
Sekinchan is a relaxing weekend getaway in Selangor and can easily be combined with the Sky Mirror on these tours: Sky Mirror – Kuala Selangor and Sekinchan Paddy Field Tour and Sky Mirror & Sekinchan Paddy tour.
Port Dickson, Negeri Sembilan – A Beachy Short Trip Away From KL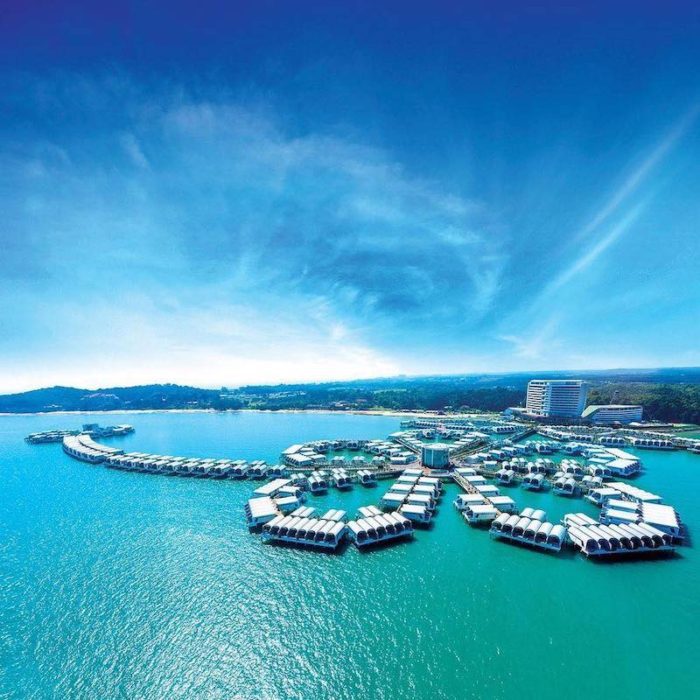 If you're looking for a short getaway from KL, Port Dickson is your spot.
It's only an hour from KL, but it couldn't be more different. With 18 km of coastline, Port Dickson is a perfect breather from the big city.
Spend the day in the Cape Rachado Nature Reserve. It has more than 80 hectares of forest, sandy beaches, and a Portuguese lighthouse from the 16th century. But the Blue Lagoon is the ultimate beach in the area for teal waters and soft sand.
One of the best reasons to go to Port Dickson is to stay in the Lexis Hibiscus's over-water bungalows. This place is massive. There are 522 luxurious, overwater villas constructed in the shape of a hibiscus flower, Malaysia's national flower.
Each of the 800sf overwater villas has a private pool, steam room, and a glass floor panel to watch the marine life swimming below. The property holds a couple of Guinness records for the most overwater bungalows and the most swimming pools (643) in one hotel.
Kuantan, Pahang – A Laidback Town Kinda Vacay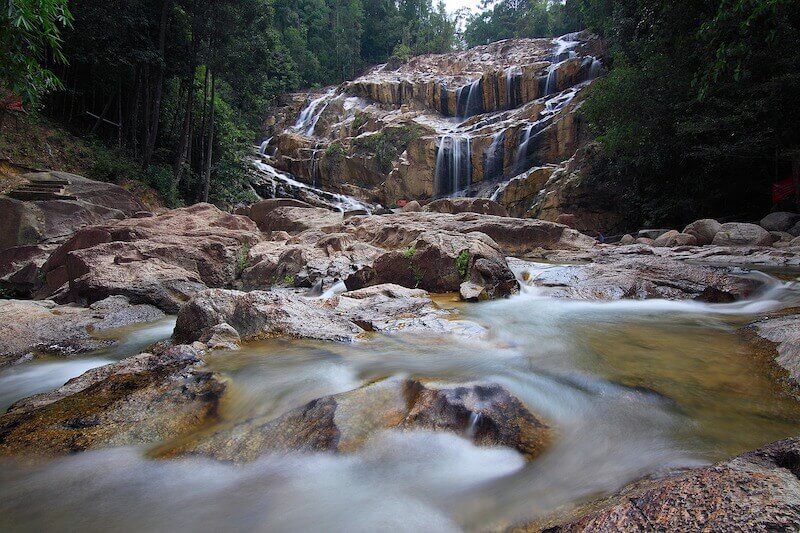 Kuantan is a laidback, off-the-beaten-track town that is often overlooked. Its old-world charm remains, even with the modern skyscrapers that loom overhead. But there are some cool things to do during this short trip in Malaysia.
The beautiful Sultan Ahmad Shah State Mosque with its towering minarets is worth a visit. As are the night markets and fishing villages.
If you feel like a sunrise hike, head to Bukit Panorama for the best views of the area.
A little outside the city are Sungai Pandan and Rainbow Waterfalls. Both require quick hikes, but Rainbow falls is further, so if you are short on time, stick to Sungai Pandan.
Or, if you're feeling beachy, spend the day at Teluk Chempedak and eat some fresh seafood.
Cherating, Pahang –  A Budget Weekend Getaway in Malaysia.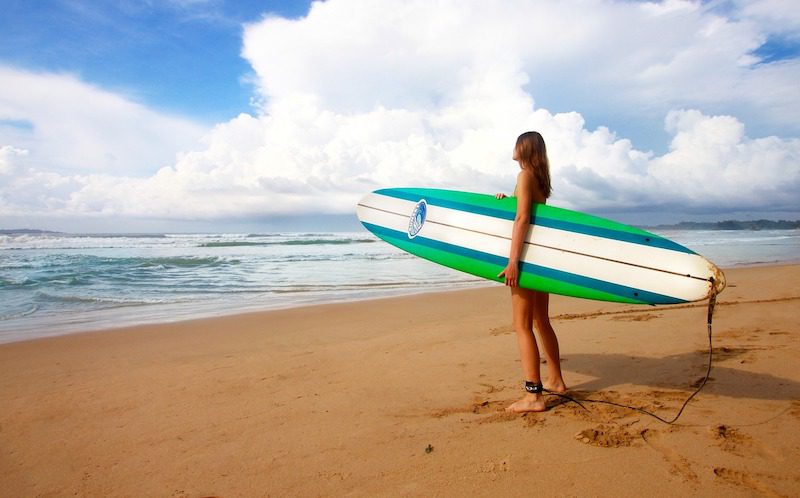 Believe it or not, Malaysia has a surf spot!
Head to Cherating during the monsoon season (November-December) for some serious waves. The wide sandy beach is gorgeous and worth planting on for a few days. The rest of the year, the waves aren't great, but there is a turtle sanctuary to visit.
The town itself is small, but the fishing village ensures you'll be able to have a seafood feast nightly.  
Asia's first Club Med is located here if you're into all-inclusives. But then it wouldn't be a budget Malaysia weekend.
Taman Negara, Pahang – A Nature Lovers Short Weekend Trip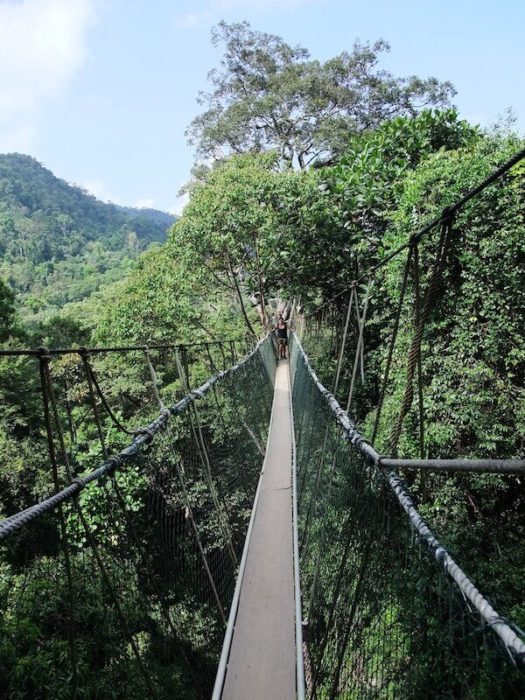 If you are looking for a short getaway in Malaysia to reconnect with nature, check out Taman Negara National Park.
This national park was established in the 1930s and encompasses a million-year-old rainforest and ecosystem. It is one of the oldest rainforests in the world, older than the Amazon.  
You can take riverboat trips to see flora and fauna. Or choose from a bevy of hikes ranging from a few hours to multiple days. Either way, there is a lot to see there.
There are more than 380 species of birds in the jungle. If you are a birder, go in May or August because most of the fruits are in season. More fruit = loads of happy birds.
You can also spot deer, tapirs, wild boar, and possibly elephants. Walk on the Canopy Walkway, the world's tallest and longest suspension bridge.
Take a night safari to make sure you eke out every last drop of wildlife spotting options available.
You can choose to go for 2 days and 1 night trip in Malaysia or opt for more time, but I wouldn't try to squeeze it all in one day unless you have to.
It's the best getaway in Malaysia (outside of Borneo) for nature lovers.
You will need a guide for any of the hikes so you can book any of these tours and avoid the hassles:
Taman Negara National Park Overnight Tours, Taman Negara National Park Join-In Day Tour, or Taman Negara Private Day Tour from Kuala Lumpur.
3 Island Options for Your Malaysia Short Getaway
If you are looking for relaxing places to visit in Malaysia, the islands are a must. If you haven't been to Langkawi, go now. And read my ultimate Langkawi itinerary before you go.
Pangkor Island, Perak – A Short Getaway in Malaysia for Couples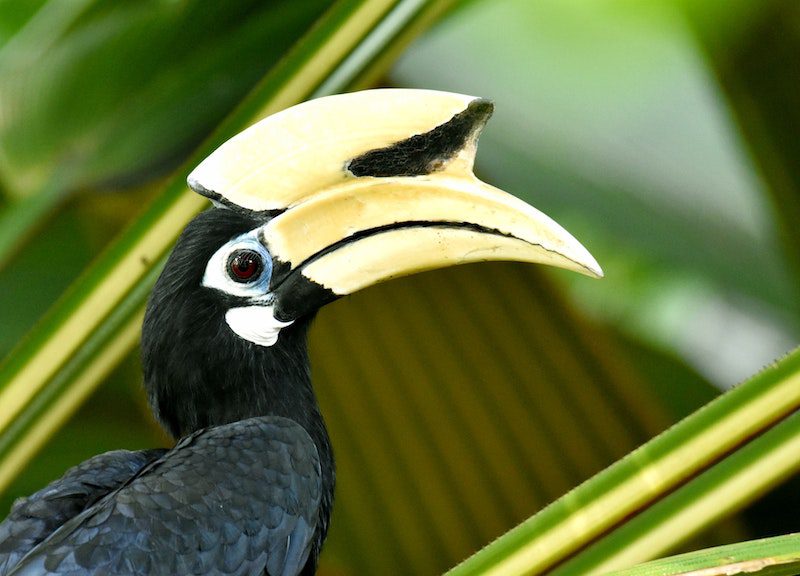 It's one of the few islands off the west coast besides Langkawi, so it's easily accessible by us left coasters.
Yet, for some reason, so few people go there.
Unlike the Perhentian Islands, it's open all year round but avoid the rainy season from Oct-Dec.
Pangkor Island is all about beaches and nature. You can go kayaking, hiking, or village-hopping, or just have a lazy weekend on the beach. When we were there, the water was warm, like bathwater and crystal clear.
Most of the resorts have feeding stations for the island's famous hornbills. It's incredible to watch these birds skillfully eat with that massive honking beak.
If you go in June, head to Teluk Nipah beach at night to see the Blue Tears.
If you are looking for something extraordinary, head to Pangkor Laut Resort. It's a private island just for the resort and one of the most breathtaking places for a Malaysia weekend trip.
Sibu Island, Johor – A Robinson Crusoe Hideaway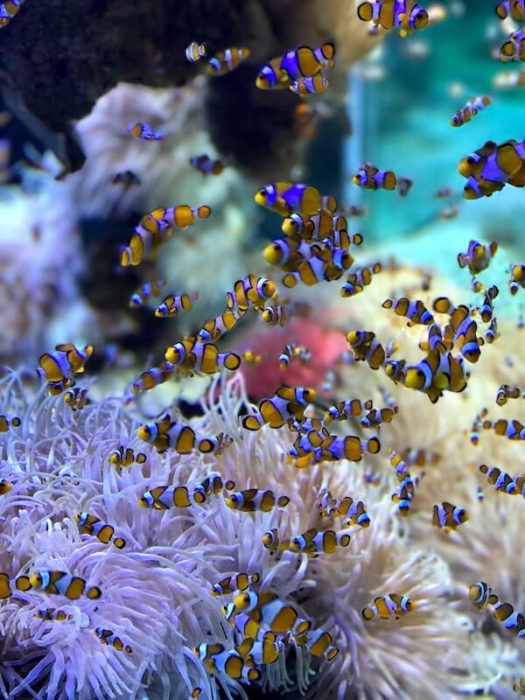 If you are looking for a true Malaysian getaway, one of those castaway types of vacations, head to Sibu from April to September.
It's not the easiest to get to since it's further south than Tioman Island, near Johor Bahru, but usually, those are the best places to explore. Because of its proximity, it's more popular with Singaporeans than Malaysians.
The island is part of a National Marine Park, so it's a dream for scuba divers and snorkelers. It's only 6km by 1 km with lush green forest in the center – you can walk the island's circumference in a day.
The tiny island has fewer than 200 people, so you are really getting away from it all during this short trip in Malaysia.
Lang Tengah, Terengganu – A Short Getaway in Malaysia For Friends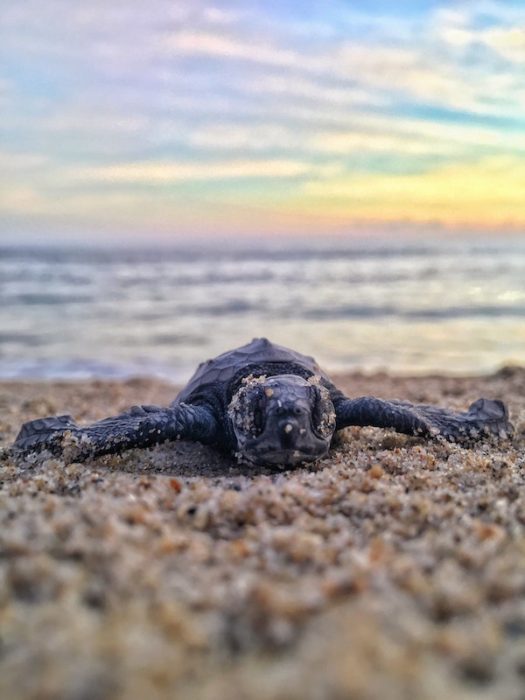 This little island is smack in the middle of the Perhentians and Redang Island – its name means eagle in the middle. And just like its neighbors, the water is azure and the sand soft and plush.
Lang Tengah is a divers and snorkelers paradise. There are loads of rays, coral, reef sharks, turtles, and all the colorful fish you can dream up.
Even with its proximity to the nearby islands, Lang Tengah has a lot less tourism and development.
The Lang Tengah Turtle Watch Sanctuary accepts volunteers for a week or more. If that's too much of a commitment, you can visit for a few hours and adopt a turtle.
Since there isn't a whole lot to do, go with a group of friends and have the run of the place. Best time to go is from March to September.
Borneo : 3 Options for Your Short Trip in Malaysian
Sandakan, Sabah – A Wildlife Lover's Dream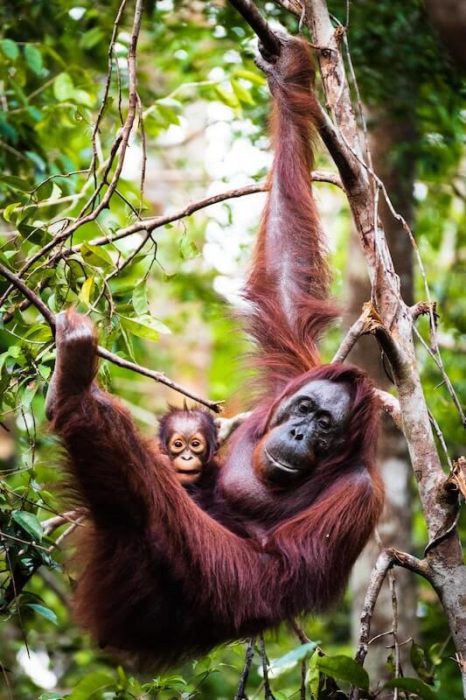 Sandakan may not be the first place you think of when you think of Borneo.
Kota Kinabalu and Kuching overshadow it for sure, and I get why.
Kota Kinabalu has all the adventures of the mountain and the islands. Kuching is a cute city with a river running through it. Both are must-see places in Malaysian Borneo.  
But what's excellent about Sandakan is that it's a jumping-off place for a whole bunch of adventures – it's perfect for a Malaysia short getaway.
Orangutans
Start off with a visit to the nearby orangutan sanctuary – Sepilok Orangutan Rehabilitation Centre. Spend the afternoon watching orangutans in the wild and learning about their plight.
Turtles
Another adventure to tick off the bucket list is a night at Turtle Island National Park. Part of the experience is watching mama turtle lay her eggs in the sand. After they are collected and she is tagged, you'll get to set a group of baby turtles free and watch them frantically scoot themselves into the ocean.
River Safari
Two hours south of Sandakan is the Kinabatangan River, one of the longest rivers in Borneo.
There is a lot to see, so spend at least two nights and three days exploring the area. The Kinabatangan Wildlife Sanctuary is the place to see pygmy elephants, orangutans, proboscis monkeys, crocs, and zillions of birds. You can hike in the jungle, take river cruises and night walks.
Don't just show up. You'll need to book ahead. Most package tours are all-inclusive and will pick you up in Sandakan, so you won't have to worry about transport or anything else for that matter. This 3D2N Kinabatangan River Wildlife Adventure tour sorts out all the details for you.
April through August is the best time to go.
Bako National Park, Sarawak – Monkeys and Sea Stacks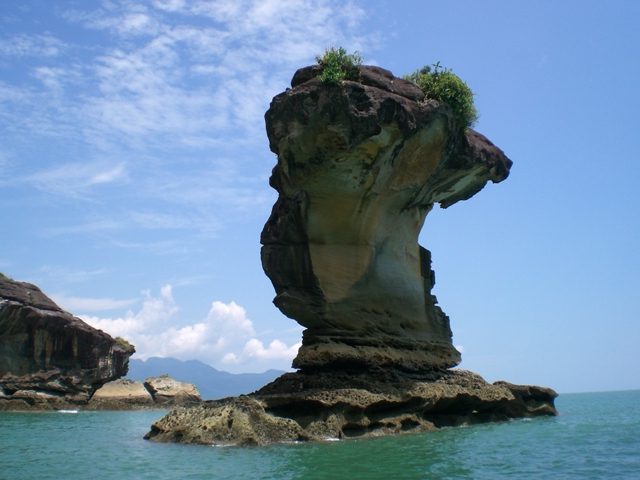 Bako is near Kuching and is full of wildlife, and unique rock formations called sea stacks.
There is a lot to see here, but the proboscis monkeys are the stars of the show.  Besides those long-nosed pot-bellied cuties, you'll find bearded pigs, secluded beaches, mangroves, flying lemurs, waterfalls, and birds-a-plenty.
The hikes range in duration and intensity, and you can do them on your own if you wish. Because it's so close to Kuching, which has direct flights from Penang and KL, it's an easy place for a quick weekend getaway in Malaysia.
Mulu National Park, Sarawak – An intense Short Trip in Malaysia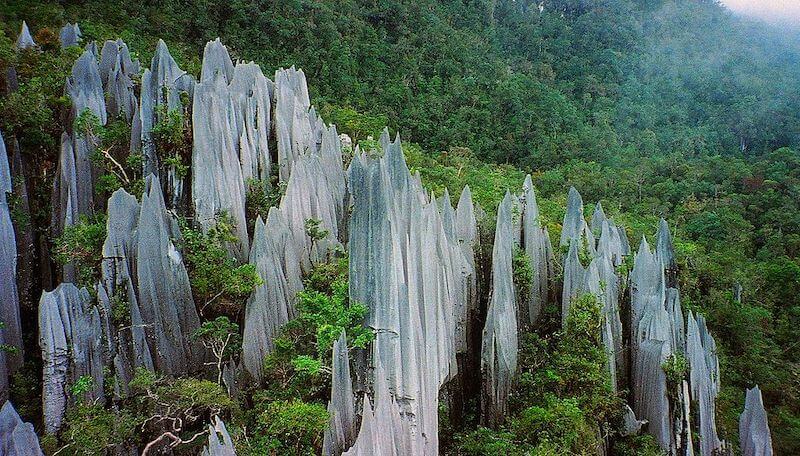 Mulu National Park is a UNESCO World Heritage Site unlike any others in Malaysia.
The park has a lot of attractions for various levels of outdoorsy-ness. There are adventure caves where you'll swim through ancient underground rivers. Show caves where you'll see all flora and fauna (read creepy-crawlies) that survive inside. And more extreme adventure where you'll hike and climb for days.  
A few Mulu Highlights include:
The Pinnacles – fierce-looking knife-like rock formations jutting into the sky. It takes two days to hike there, so it's not for wimps like me.
The Caves: Deer Cave has a massive bat exodus every night. I mean really massive. There are 3 million bats in Deer Cave, and apparently, they're all starving around 5pm when they swarm out of the cave in search of food. It's Bat Happy Hour!
If you're a serious hiker, you can spend 4 days and 3 nights climbing Gunung (Mt) Mulu.
There are no roads to get here. You can hike in (ummm no), take a boat (sounds good), or fly from Miri (even better) and recommended by the park. This is def not the most effortless Malaysia short getaway. Still, if you're an outdoor enthusiast and like to get off the beaten path, Mulu might be your happy place.
The Round-Up Wrap-Up
So often, we ignore the destinations closest to us in lieu of something different, more exotic. But since Covid had its way with the world, international travel is off the table for many of us.
Enter the Malaysia Short Getaway. It will solve your wanderlusty madness. But above all else, be safe. Don't let your lust for travel get in the way of good judgment.
This is just a teaser, a travel temptress to get the juices flowing when you are ready to take off.
Now you know 18 places for a short trip in Malaysia. Which one are you going to first? Tell me in the comments below.
---
Tip: Obviously, the economy is taking a beating with all the MCOs (movement control orders). What is open today may be sadly shut tomorrow, so be sure to do your research.
Note: I don't usually mention tours in my blogs, but some places are more of a hassle to set it up yourself and need to be planned ahead. In those cases, I linked to Klook or Get Your Guide tours because they are very reputable companies and booking platforms for all sorts of activities. At the time of writing, most of these places and tour companies are offering sales, flexible changes, or free cancellations.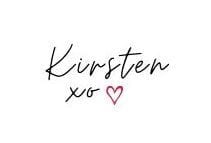 ---
Want to save this for later? Of course you do. There is so much goodness. So PIN IT!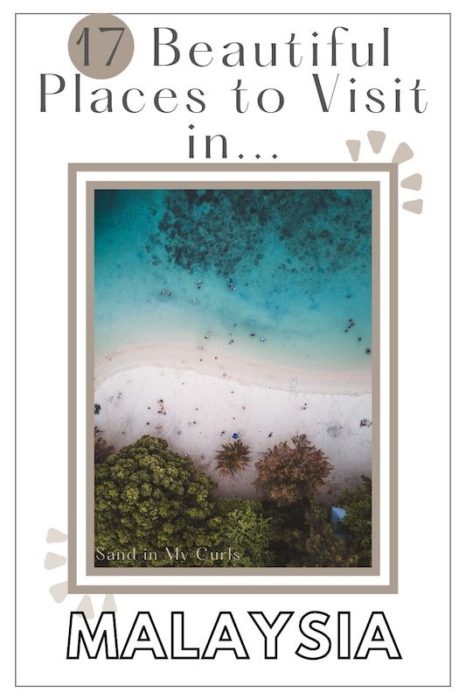 Yay for transparency!  This page contains affiliate links. This means if you click a link and buy something on this page, I may receive a commission (at no extra cost to you!) This doesn't affect my opinions or my reviews. Everything I do is to benefit you as the reader, so all of my reviews are as honest and unbiased as possible.